Here's proof that Vanessa Hudgens has great fashion sense — she just pulled off an all-denim look with loose high-waist cutoffs. Believe me when I say loose high-waist denim cutoffs are not the most flattering pieces on the planet. They're like mom jeans, in my opinion. You'd have to be painfully thin and very good at mixing and matching to be able get away with looking good in a pair.
Vanessa, on the other hand, simply belted her ripped shorts on the waist, then teamed them with a gray cropped tee and a light-wash denim jacket. To add more drama to the getup, she layered on some necklaces, toted a fringed purse, and then topped off everything with ankle-tie denim blue espadrille wedges. Plus, she rocked the look without any makeup yet still managed to look super cool.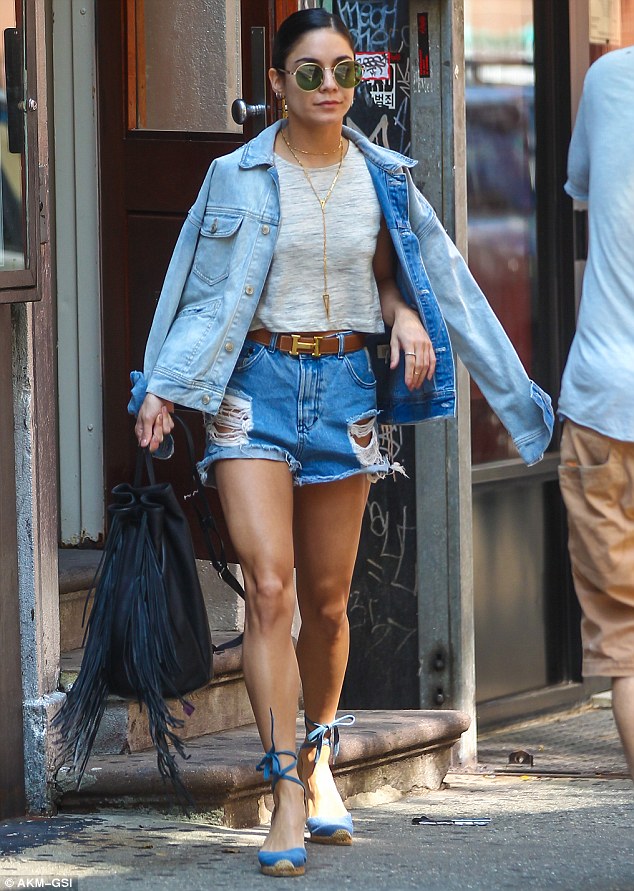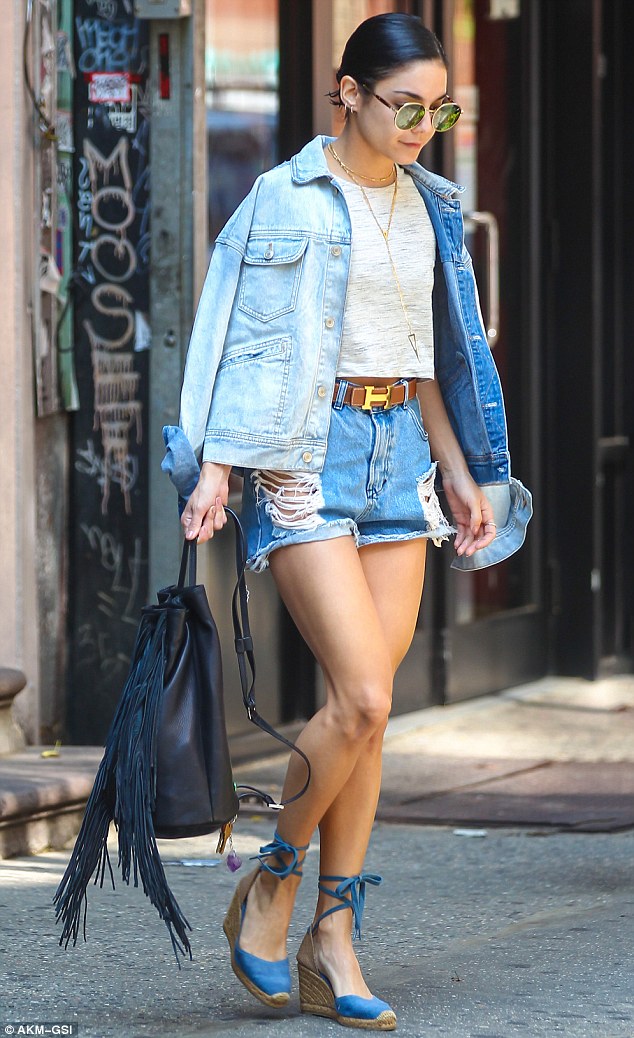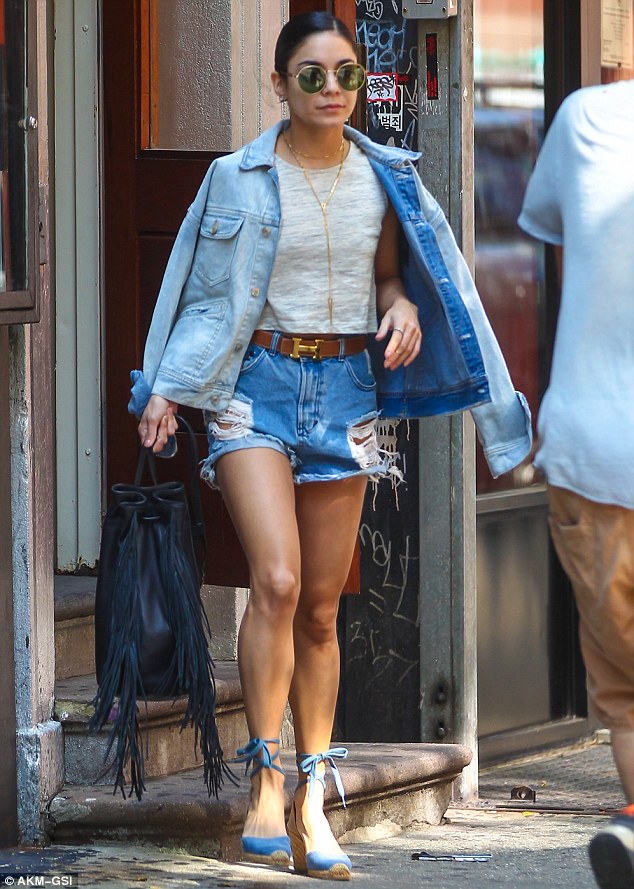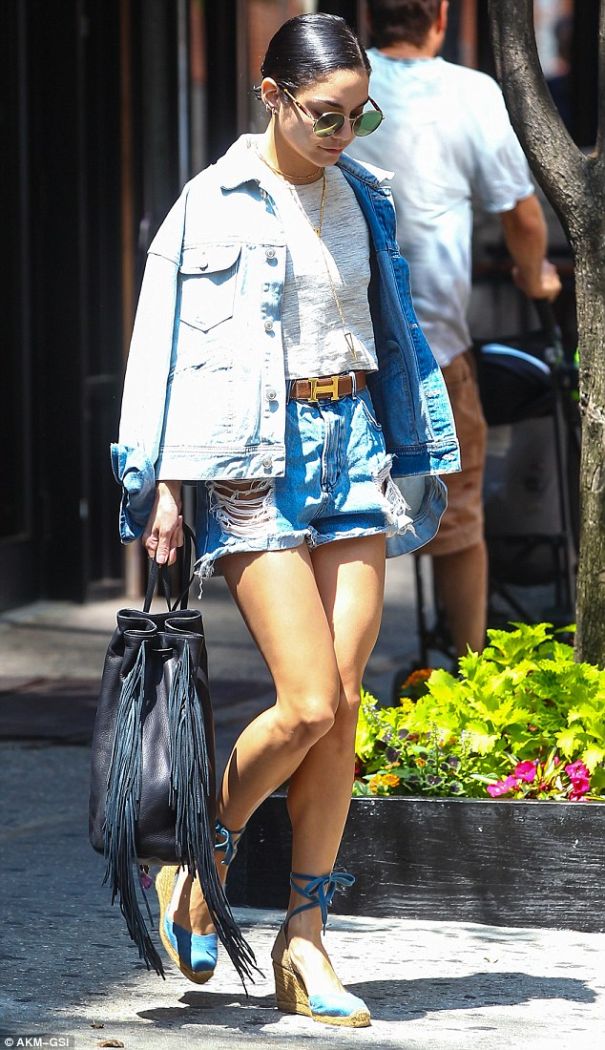 Vanessa Hudgens steps out in an all-denim look in New York City on May 30, 2015
Doesn't she look amazing?!
The getup is chic and fabulous. Period. I like how toned and tanned her legs look against the denim too. The whole mix looks perfect and every single item is well-appointed.
So would you like to steal Vanessa's all-denim New York style?
I say why not?!
First things first, you'll need to find loose high-waist ripped cutoffs that will flatter your hips and legs. Here's a piece from UNIF you can consider, but go one size up with the pair to achieve the loose fit.
Once you have the shorts in order, belt the pair on the waist (go with a nice buckled belt), then team with a cropped gray tee and a denim jacket. Finally, top off the mix with cool eyewear and a pair of ankle-tie denim espadrille wedges.
Vanessa's sunglasses are from Wildfox. You can grab 'em over here. They retail at $189. As for her ankle-tie espadrilles, they're from a label called Castañer. They're crafted from denim blue canvas textile and feature matching blue ribbon ties that wrap around the ankles. The shoes also come with 4-inch-tall jute wedge heels.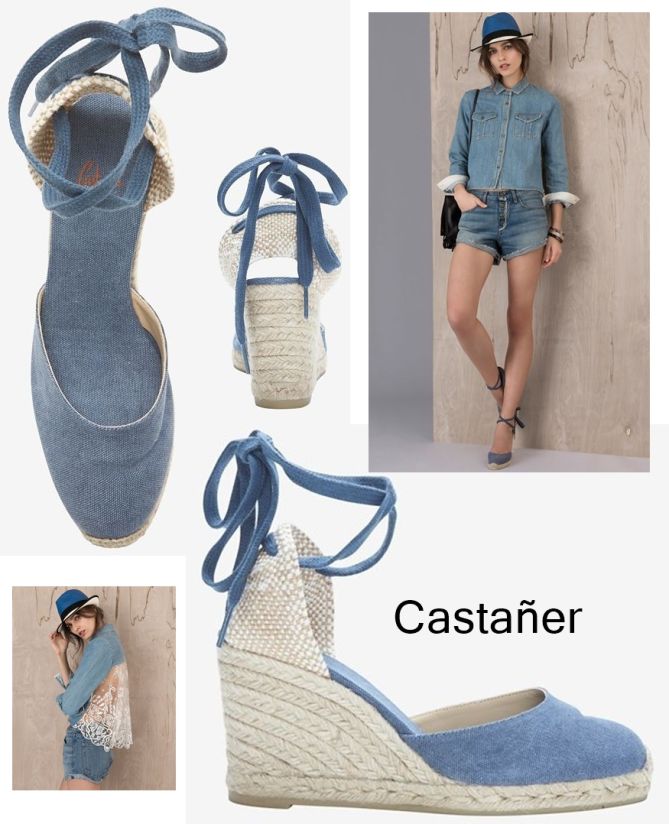 Castañer Canvas Wedge Espadrilles in Denim Blue, $195
You can find Vanessa's wedges online. They retail at almost $200. For gals on a budget, what I can recommend are these striped denim blue espadrilles from Splendid. They're not wedges, but they're just as cute and summery. Plus, a pair will only cost you $88: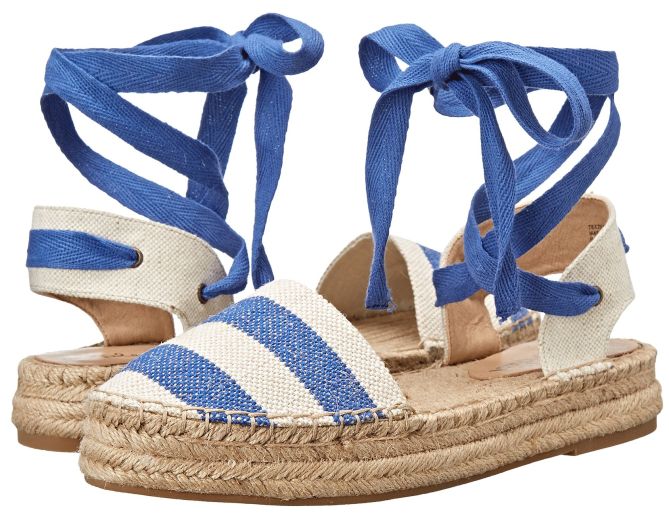 Splendid Eveleigh Espadrilles, $88