As the daughter of a billionaire heiress there isn't much Sophia hasn't already experienced. Yet Tamara Ecclestone, 33, was able to capture the look of pure love and wonder on her four-year-old's face as she met a lion cub for the first time. Taking to Instagram on Wednesday, the socialite shared snaps of the pair cuddling big cats at The Black Jaguar-White Tiger sanctuary in Mexico.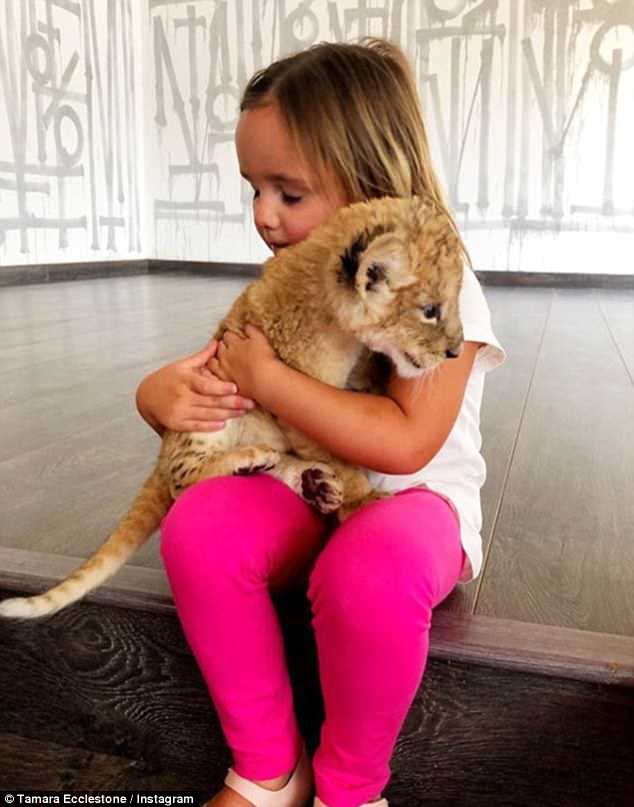 In the sweet snaps, Sophia looked besotted as she cuddled the lion cub, while Tamara captioned the image: 'This just melts my heart thank you for the most special day today.' Tamara also enjoyed a cuddle with the cub, beaming broadly whilst allowing her natural beauty to shine through as she went make-up free for the shot.
Her husband Jay Rutland was also seen with the animals, stroking a lion and tiger cub at the sanctuary, which is owned by his friend, Eddie.
The Black Jaguar-White Tiger™ Foundation, is a nonprofit organization that rescues animals from 'sad circumstances like circuses, breeding facilities (Both legal and illegal) and from people that have them as pets, providing them with a home, the best food, medical care and a life of dignity and Love for the rest of their lives.'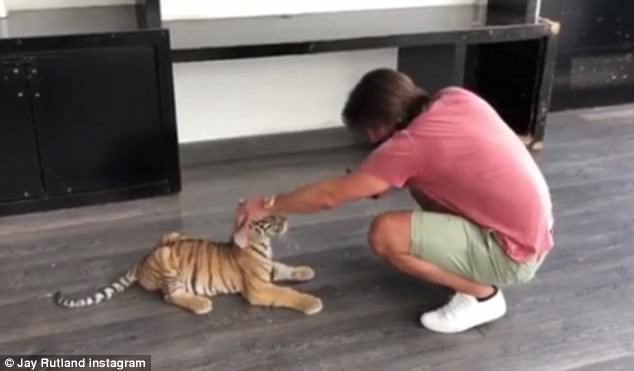 The family jetted to Mexico this week following their stint in the Bahamas.  The holiday is the fifth the daughter of British business magnate Bernie Ecclestone and her family have indulged in this year, having kicked off 2018 with a holiday to California with her husband Jay Rutland and their little one. They have also enjoyed two skiing trips as well as a balmy break to Dubai. Last week, Tamara's social media followers were quick to scorn her for 'spoiling' Sophia with a life-size cake, mountain of presents and lavish birthday party at a London eatery.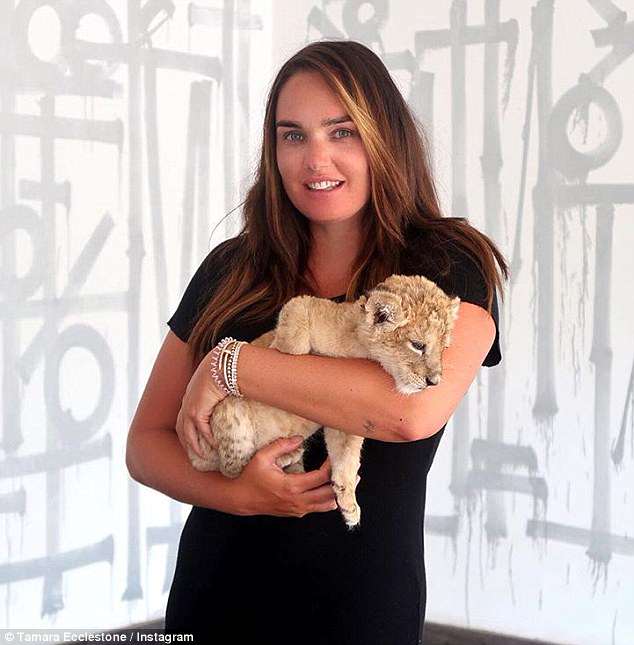 But Tamara insisted her critics are just 'envious, jealous and insecure', when she clapped back at trolls on Instagram after she was harangued by commenters on her posts about adorable Fifi's celebrations. 'Never do the envy, jealous and insecure,' she wrote. 'Be the hustler, the well-wisher, the go-getter.' She posted the cryptic message last week, alongside the simple caption, 'Never,' to reiterate her point. Echoing her annoyance, she defended her darling daughter in a recent interview, as she said: 'Fifi's not spoilt. She loves going on private jets but she also takes the tube and the bus! She's even been on the subway in New York. 'And she's addicted to Sainsbury's. I've taught her that she speaks to everyone exactly the same – whether that's the cleaner of the CEO. When she goes on play dates with the other children she shares all her toys.'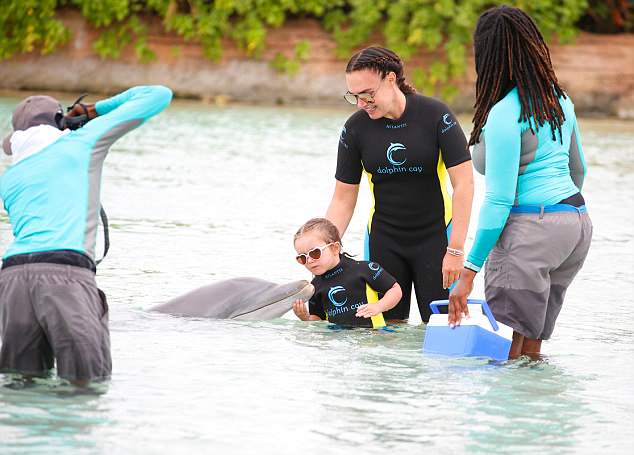 Tamara Ecclestone and daughter Sophia play with dolphins during family break in the Bahamas. Sophia looked especially cute in her heart-shaped sunglasses as she gently held the marine creature and leaned in for a kiss. Tamara also wore aviator sunglasses to protect her eyes from the bright sun, as she encouraged her daughter to play to her hearts content.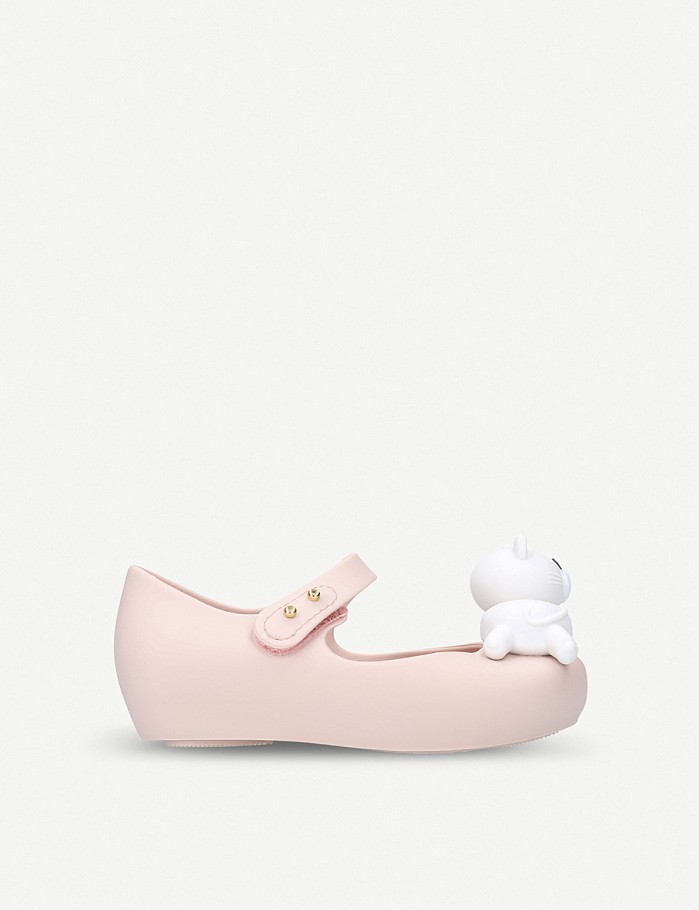 Tamara Ecclestone took her husband and daughter Sophia to visit a tiger sanctuary whilst on holiday in Mexico this week. Cuddling the cubs, the family looked like they were having a great day out!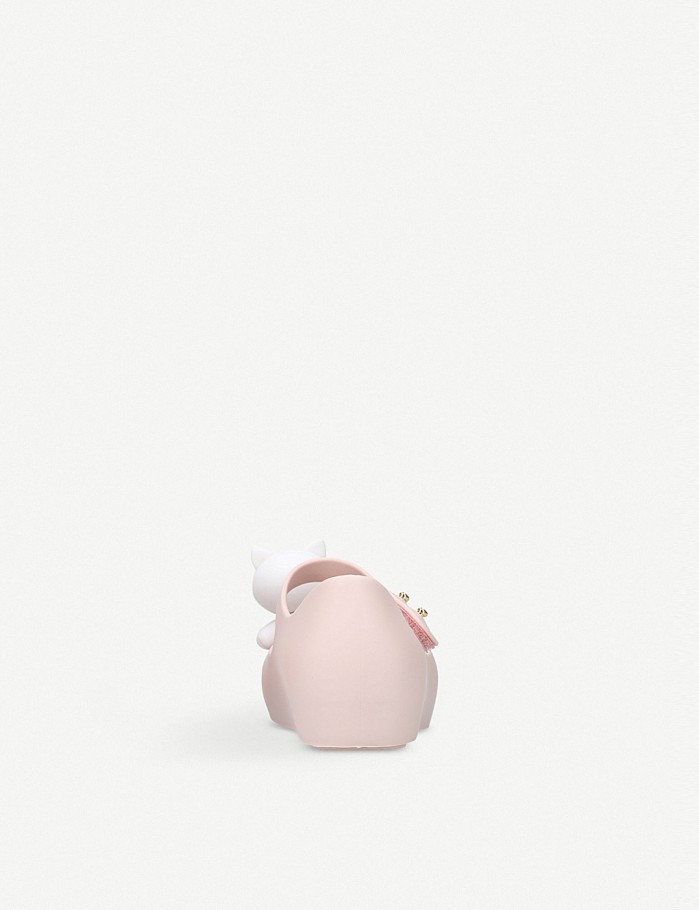 And little Sophia was certainly dressed appropriately for the occasion wearing cat adorned shoes with her pink and white outfit. These Mary Janes are by Melissa and feature cute kitties on the toes and are made of eco materials.
Click right to get them now or for more choice check out our roundup of alternatives in the carousel below: