January Jones is currently in the hot seat for allegedly having an affair with celebrity chef, Bobby Fly, back in 2010. This claim was revealed by Bobby's soon-to-be ex-wife, Stephanie March, who is currently fighting to have her pre-nup with Flay nullified in order to get more alimony.
Whether or not this is true, I really can't say. But it IS possible. And if it is indeed true, then most likely, Bobby is the father of January's child.
Speaking of January, the Mad Men star was spotted in a rather chic boy-meets-girl getup early this month. I'm a sucker for androgynous dressing so I couldn't wait to share her outfit with you.
January ran errands in Los Angeles on June 4 while rocking a pair of breezy wide-leg cropped trousers — or otherwise known to many as culottes.
I'm not a culottes fan, but the way she wore 'em was super neat. She teamed the bottoms with a white button-up collared shirt, and then wrapped a baby blue sweater around the waist for added drama. Capping off the ensemble were dark sunnies, a brown mini bag, a fedora hat, and a pair of white oxfords detailed with cutouts. The mix was 100% on point — really elegant, cool, and stylish.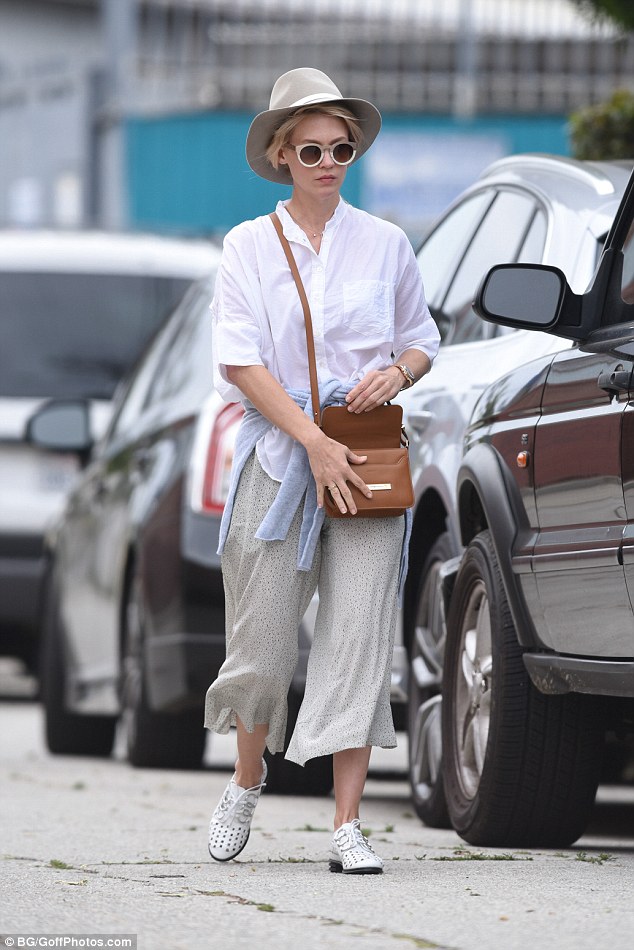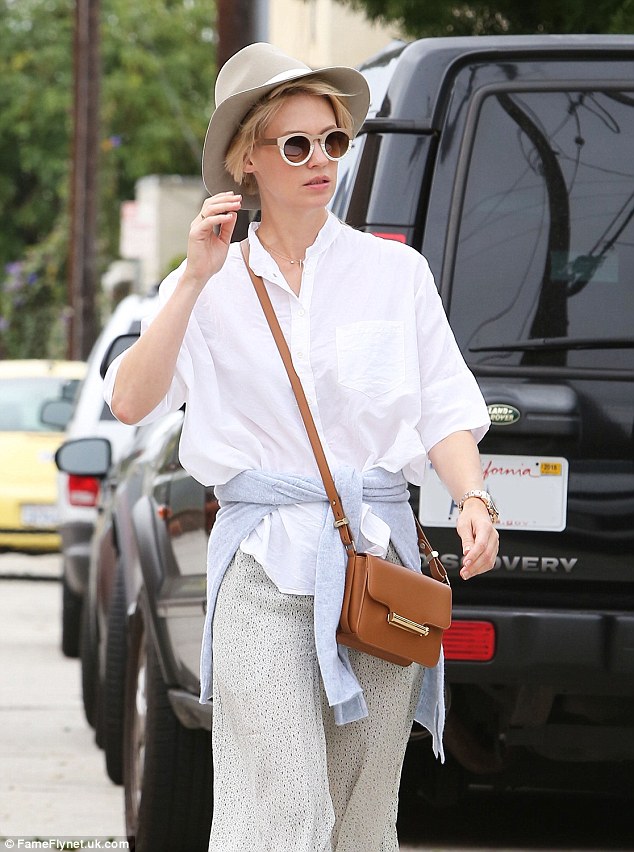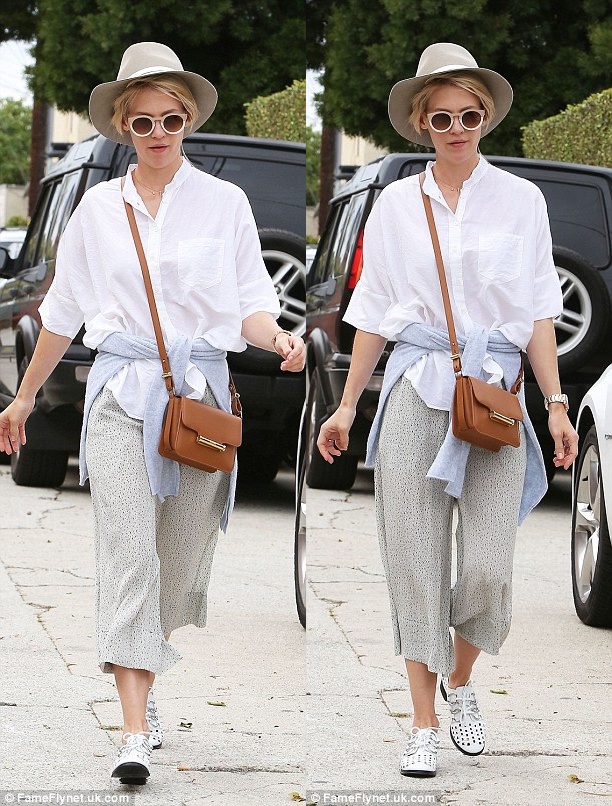 January Jones runs errands in Los Angeles on June 4, 2015
How do you like January's take on culottes and oxfords, hit or miss?
I love the combination she put together. It looks so comfortable and summer-appropriate. In fact, I think it's a great outfit to copy, especially this season when culottes are the rage.
I couldn't find any details on January's breezy bottoms and shirt, but you can easily grab similar pieces that will fit your budget. Try these checkered culottes from C/Meo Collection: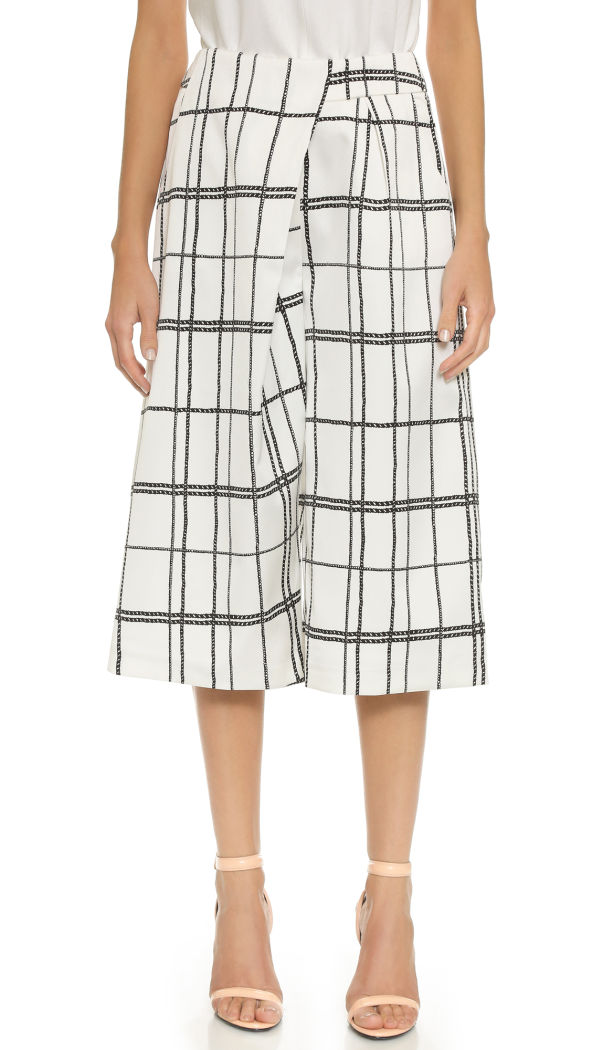 C/Meo Collection Lady Killer Culottes, $180
Team the pants with a white button-up shirt, and then wrap a pastel-hued sweater around your waist. Don't forget to fine tune your getup with the right extras — a hat, sunnies, and some white oxfords or borrowed-from-the-boys lace-ups.
There's no info on January's hat, but her sunnies are from Rebecca Taylor, while her white lace-ups are from Opening Ceremony. They're the "Mae" multi-wring oxfords, a style detailed with ridged heels and skinny strand weave through the cutouts. Below is a closer look: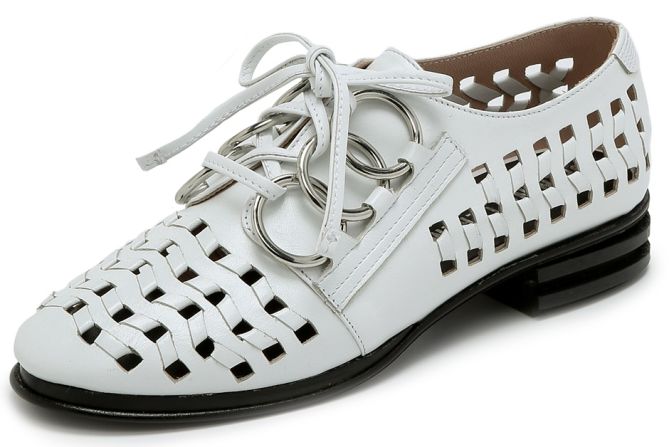 Opening Ceremony Mae Multi Ring Oxfords, $232.50 (was $465)
The Mae oxfords are currently on sale at 50% off if you want a pair. If you're not too keen on spending $200 on shoes, feel free to search for oxfords that can fit your budget. Here's a great option that will only cost you $120.