The predominantly female cast of Ocean's Eight has been filming in New York for some weeks now. And Rihanna joined Sandra Bullock and Sarah Paulson on a rainy day at the outdoor set on Tuesday.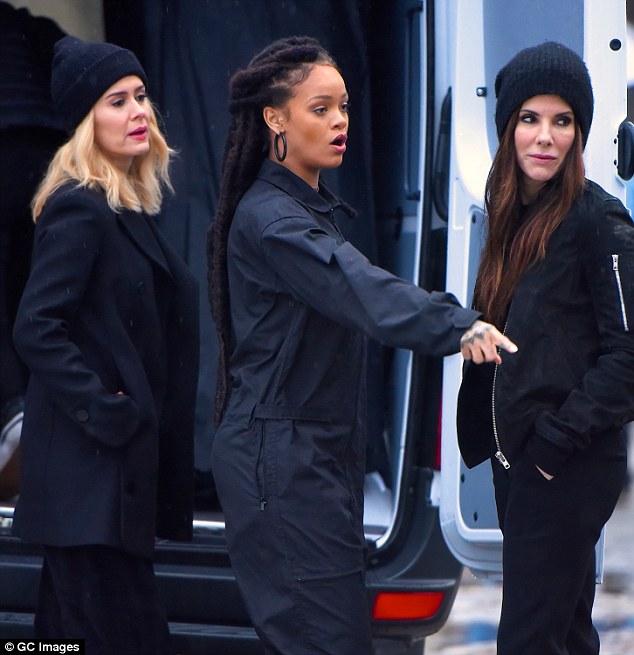 The 28-year-old superstar appeared to be filming some sort of heist scene for the upcoming female-driven remake of the popular franchise. Riri and Sandra film a diamond exchange scene together. Rihanna and Sandra had on padded coats while filming in Central Park. Over the weekend, Rihanna participated in the Women's Solidarity March in NYC.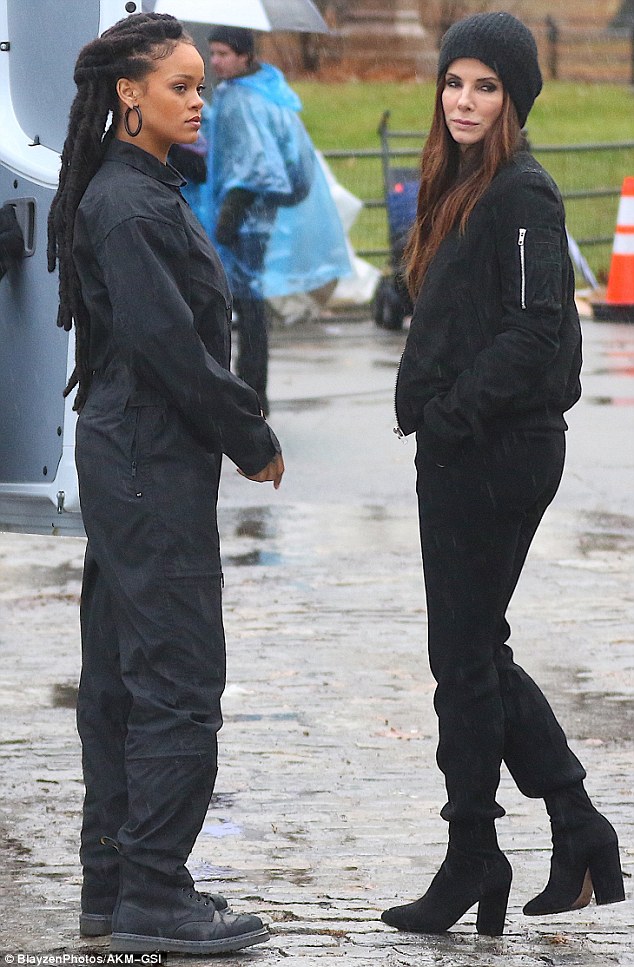 Rihanna appeared to be wearing a dark black prison jumpsuit and had her long hair in large dreadlocks for the scene. She was wearing large, black hoop earring and had on quite a bit of makeup for an escaped criminal.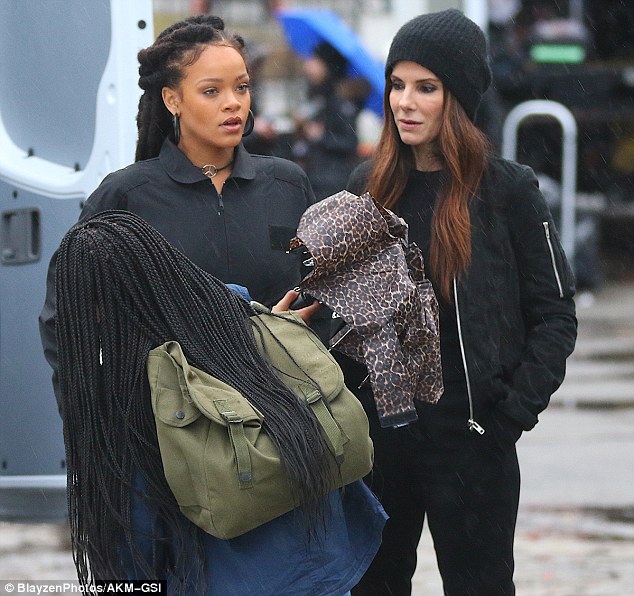 They also filmed a few scenes inside a van that could potentially be the getaway vehicle in their scene. The actresses appeared to chat with a passerby on the street, who was not dressed to make a grand escape.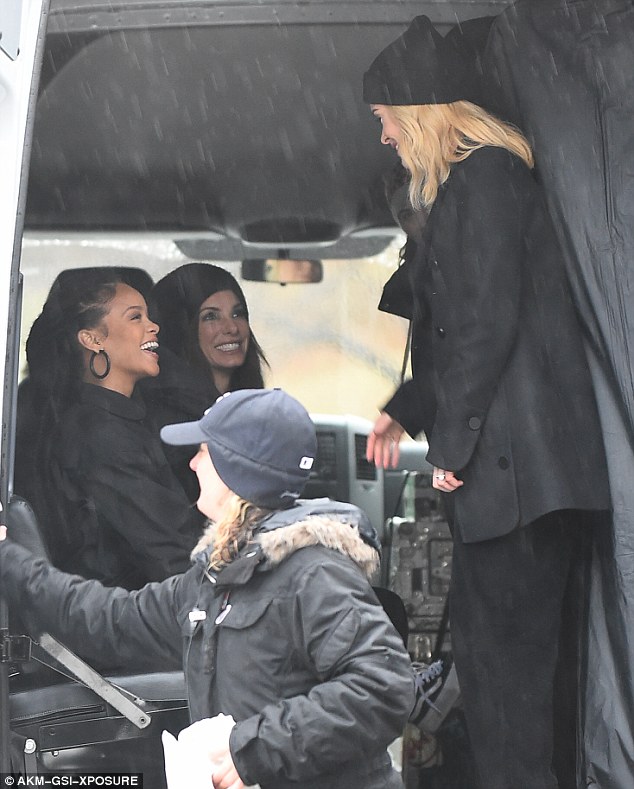 She joined film stars Sandra Bullock and Sarah Paulson as the actresses filmed outside in the rain. The multi-platinum hit-maker and A-list actresses seemed to be having a good time between takes as they were spotted laughing and talking to each other in the rain. The trio laughed and chatted as they seemed to wait for their next take inside the van. Ocean's Eight, an all-female spinoff of George Clooney's Ocean's Eleven, stars Cate Blanchett, Anne Hathaway, Helena Bonham Carter, Sandra Bullock and more Hollywood heavy-hitters. Ocean's Eight also stars Mindy Kaling and Awkwafina and features cameos from Anna Wintour, Kim Kardashian, Kendall Jenner, Hailey Baldwin, Zayn Malik and others.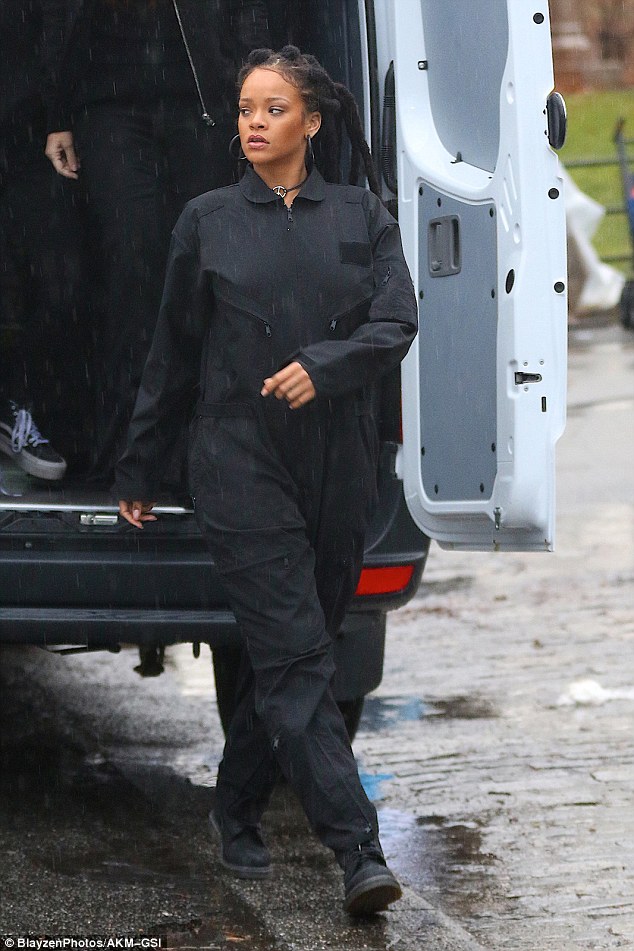 Rihanna looked around as she stepped out of the van.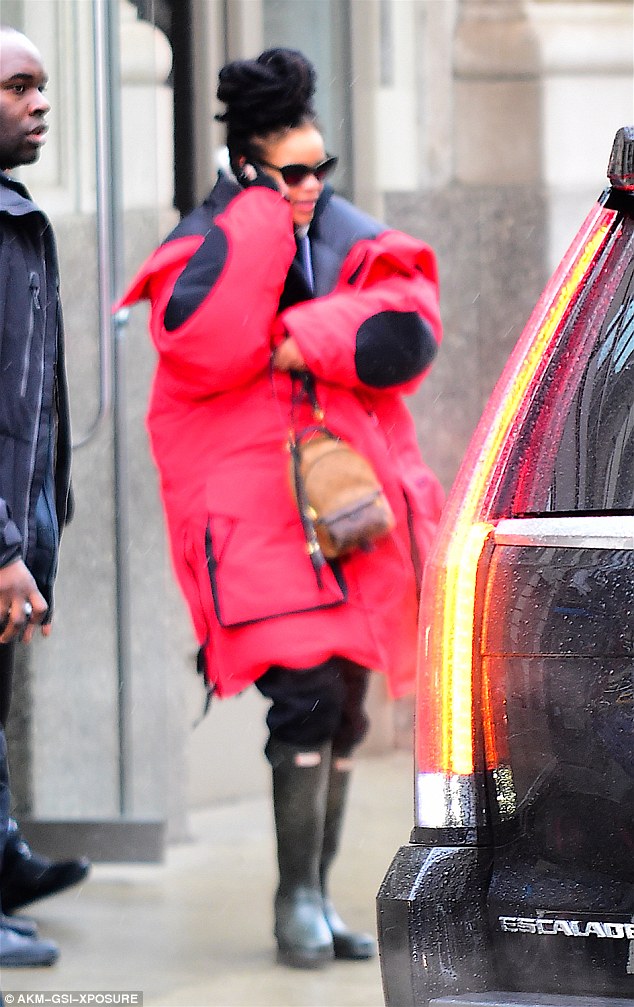 Earlier in the day, RiRi was seen arriving to set with her dreadlocks high on her head and covered up with a vastly oversized red raincoat.  She teamed it with black trousers that she tucked into dark green rubber boots, making extra sure her feet wouldn't get wet.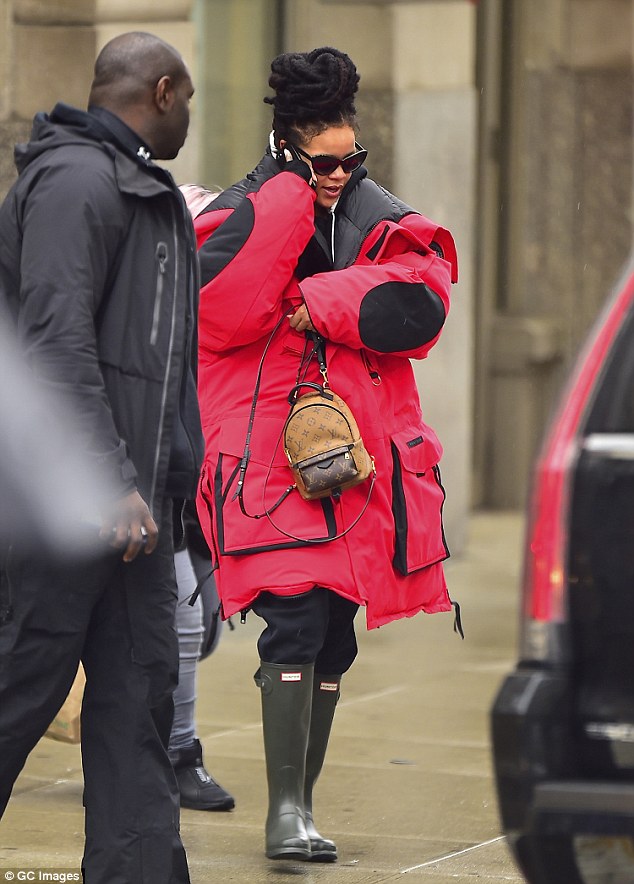 RiRi took the hood of her raincoat down when an assistant turned up with an umbrella that he held over her head. The Work singer appeared to be on the phone for most of the time.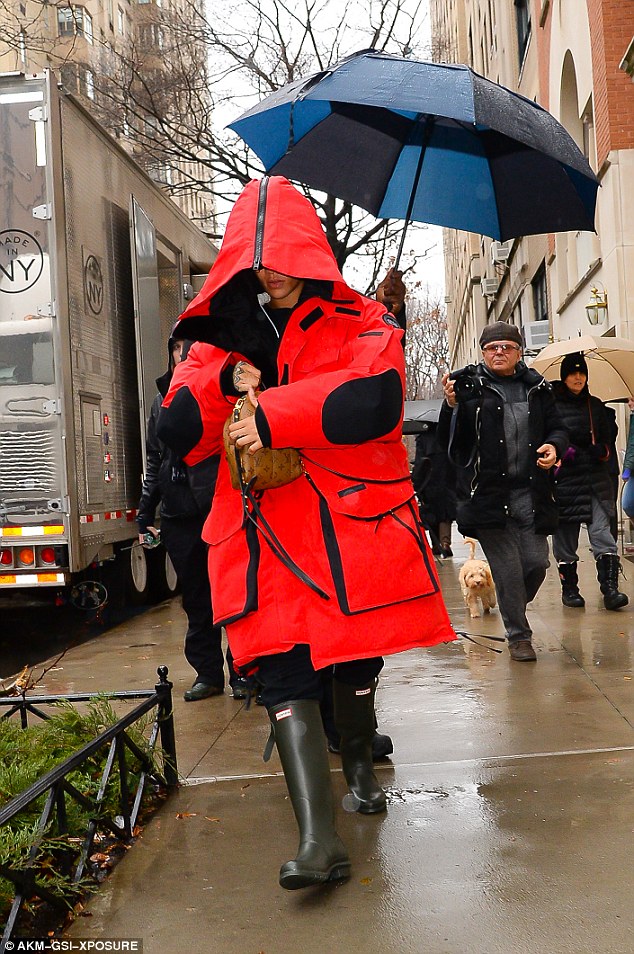 An assistant held an umbrella over the 28-year-old's head on the rainy day.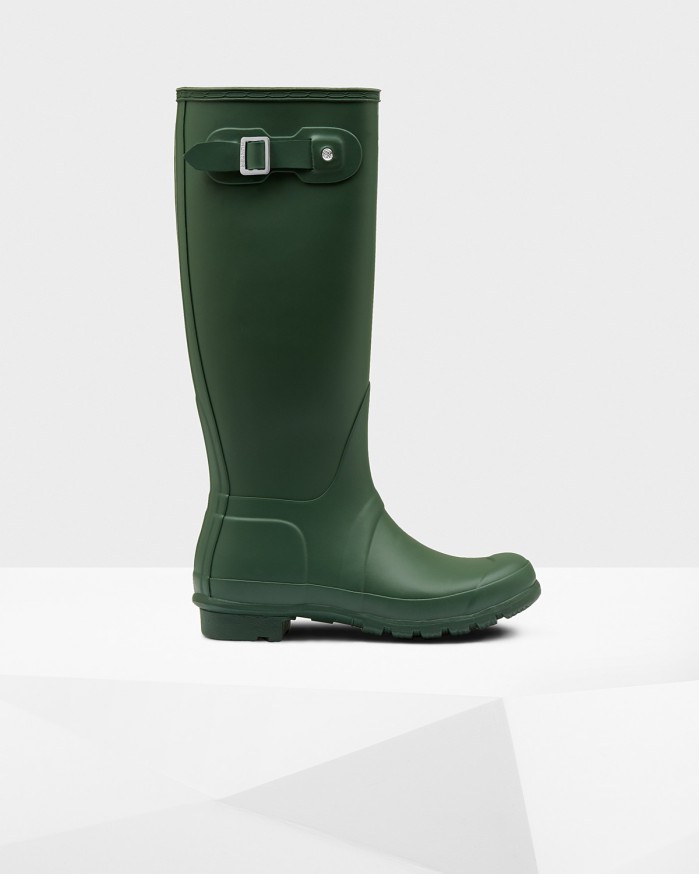 When it comes to rain boots, you can't get much more classic than British heritage brand Hunter and this bottle green pair are timeless.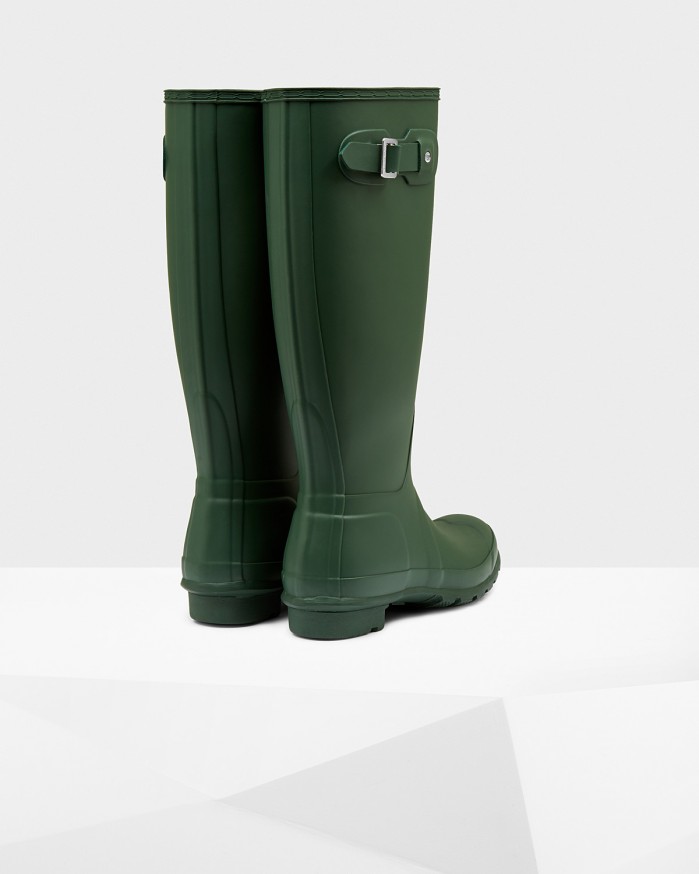 First introduced in 1956, the Original Tall boot is handcrafted from 28 parts and built on the original last for exceptional fit and comfort. This iconic style lies at the heart of the Hunter Original brand.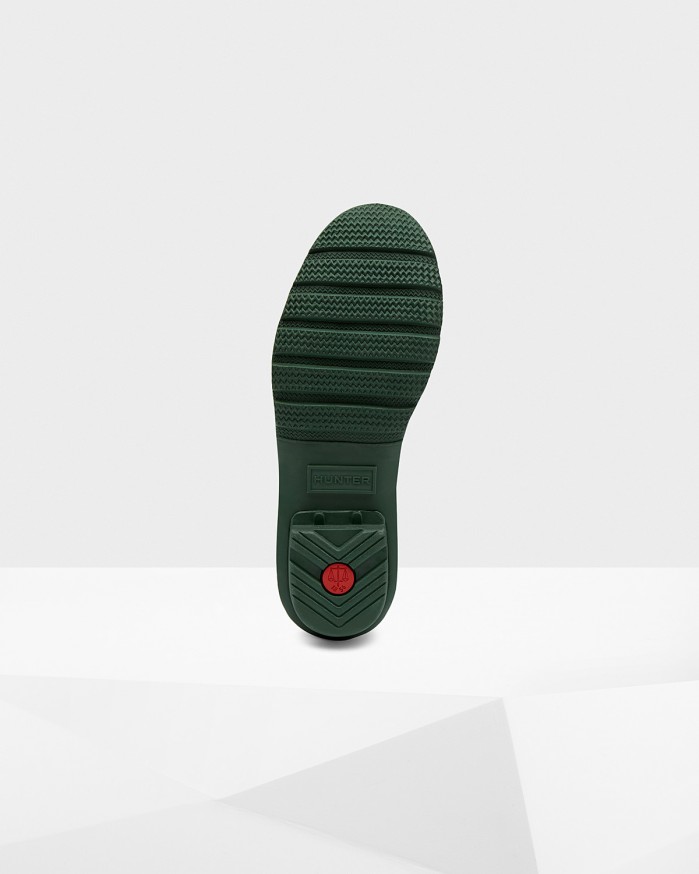 Click on Buy to grab Rihanna's boots now. And check out Hunter's Core Concept collection while you're there for more waterproofs that will brighten up a rainy day!