Pictured giggling with glee as he donned a helmet aboard an EC145 helicopter, Prince George looked set to follow in his pilot father's footsteps on Friday. The third in line to the throne, who turns four tomorrow, couldn't hide his excitement as he took a peek at the interior of a helicopter before waving goodbye to the German city and heading home.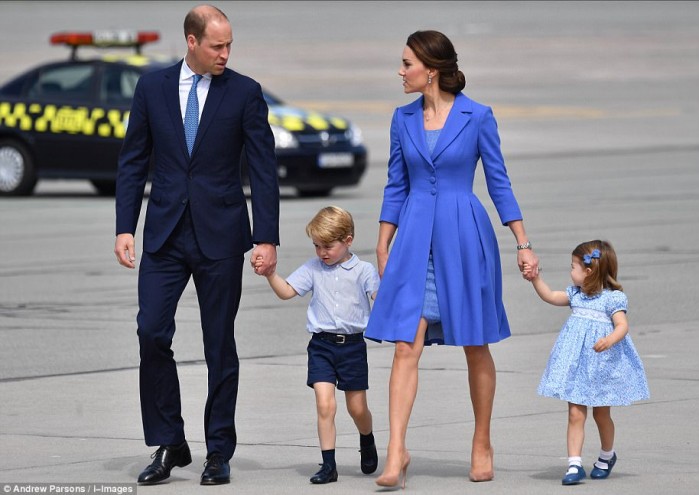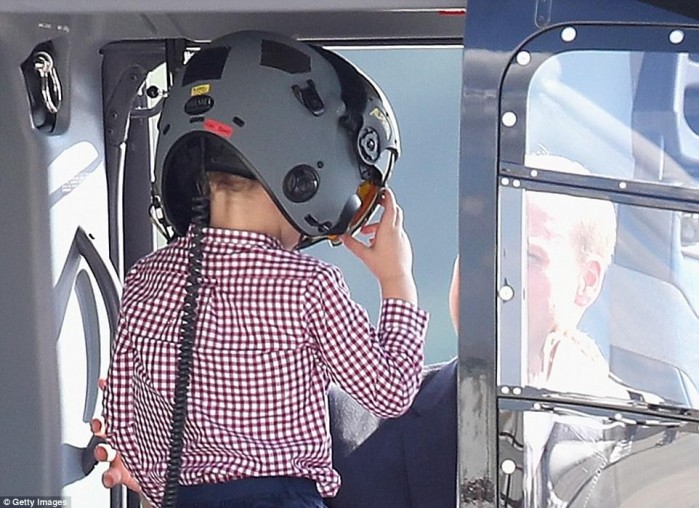 George and Charlotte were invited to explore an EC145 helicopter – the same one The Duke of Cambridge flies with the East Anglia Air Ambulance.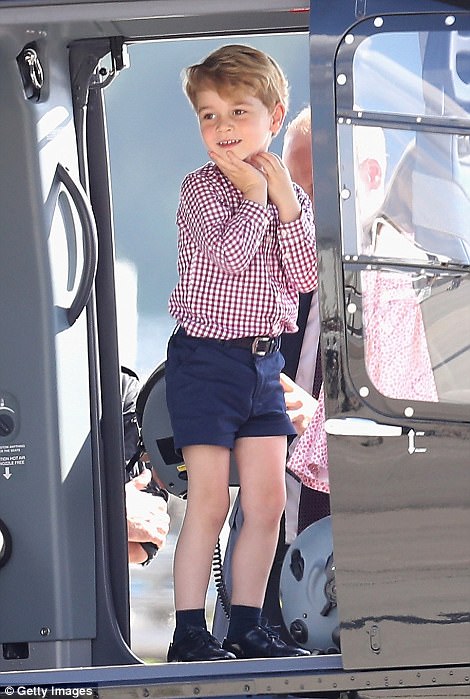 His father, who has served a long career in the airforce, helped affix his son's helmet before letting him explore the helicopter. Prince George couldn't contain his giddiness as he toured the helicopter's interiors and impressive control station, worth an estimated £12million combined.
They were a special treat for little George who palace sources say is 'helicopter crazy.'  William was seen showing his son how to open and close the door. They then headed to the private jet with Charlotte's bad mood completely evaporated as she skipped towards the steps.  They were seen off by the British ambassador Sir Sebastian Wood and the mayor of Hamburg Olaf Schulz. Diplomatic Charlotte shook hands with both and the youngsters were handed a book each with a red ribbon wrapped around. George bravely bounded up the steps – ready to start his birthday celebrations. Charlotte was helped up the steps by her dotting dad while Kate said a final goodbye to the ambassador and mayor.  The Duke of Cambridge has confirmed he will be leaving his role with the East Anglia Air Ambulance this summer, 18 months after taking up the post. The decision comes as his grandfather, Prince Philip, retires from royal duties this Autumn.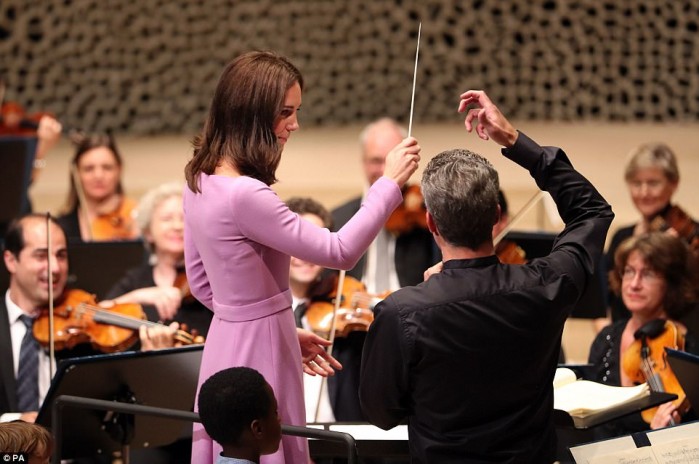 Earlier, the Duchess of Cambridge tried her hand at conducting a prestigious symphony orchestra when she and Prince William visited Hamburg's new concert hall.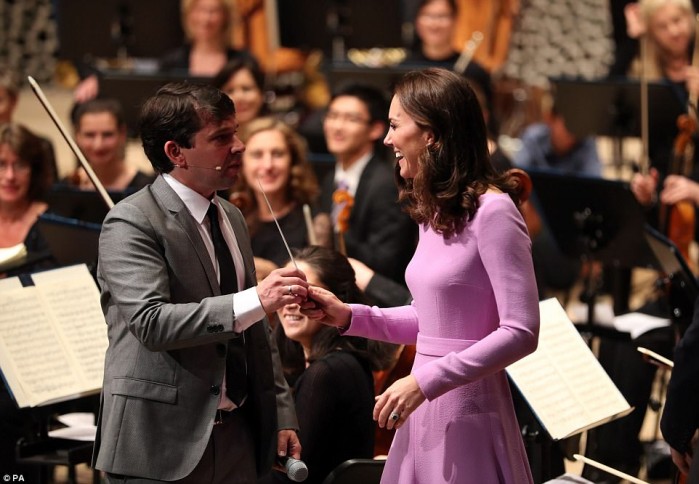 On the last day of their royal tour of Germany, Kate, who comes from a musical family and played flute throughout her school days, took a conductor's baton and directed the Hamburg Symphony Orchestra for a few brief seconds as they played the first four notes of Beethoven's fifth symphony – 'da, da, da, daaa'.  She and William had joined 250 schoolchildren from all over the city taking part in a session designed to introduce them to musical instruments at the Elbphilharmonie, the city's new landmark venue.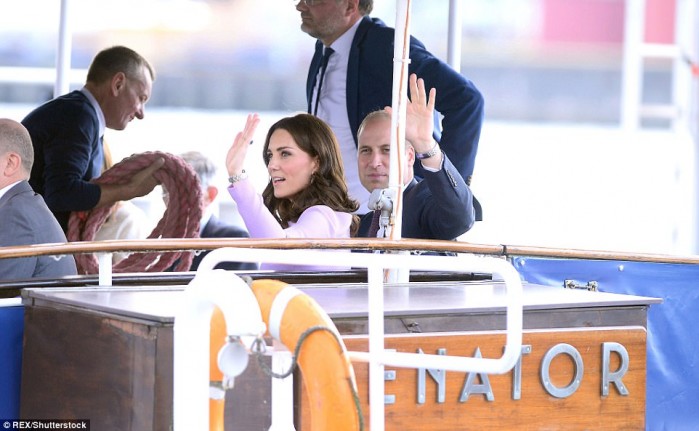 After the walkabout, the couple and their entourage took a boat ride down the Elbe in a pleasure craft called the Senator to the Airbus complex for their final engagement of the five-day tour. Flanked by police in three ribs and a much larger police boat, the royal party were cheered by crowds on the riverside.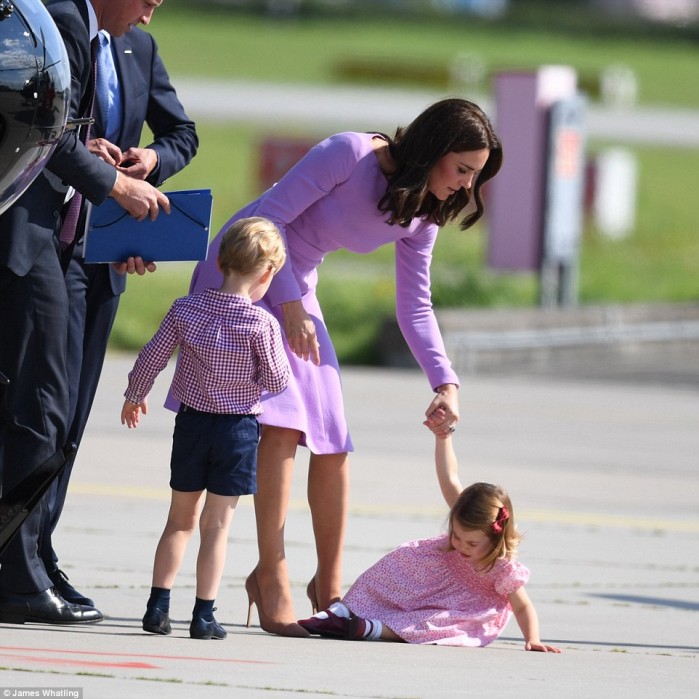 The Duchess gives Charlotte some gentle words of encouragement after she took a tumble. George, by contrast, looked to be in excellent spirits after having a go in a helicopter cockpit with the CEO of Airbus Helicopters, Wolfgang Schoder.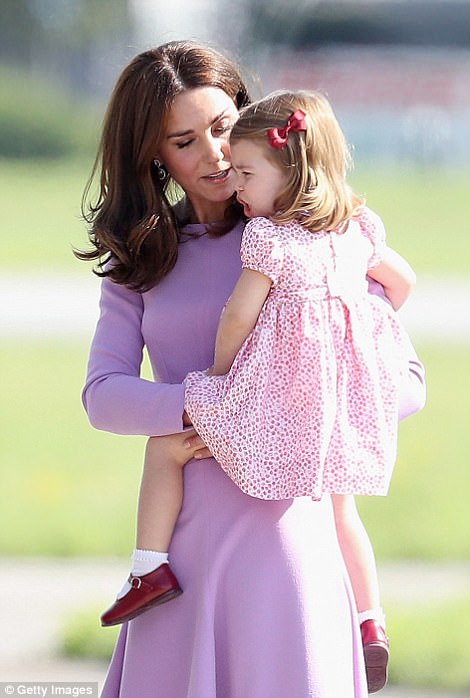 The Duchess appeared to be giving her daughter a talking to after Charlotte erupted into a tantrum on the final day of their five-day royal tour that has taken them to Warsaw, Berlin, Heidelberg and their final stop, Hamburg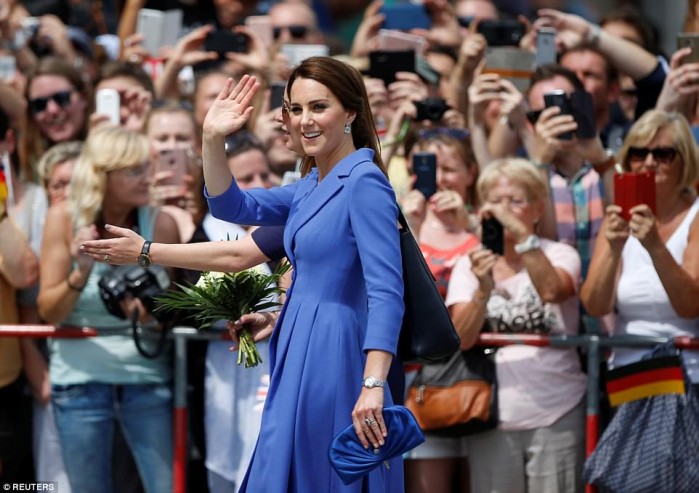 In Berlin on Wednesday, crowds waves and take photos as Kate makes her way to the Brandenburg Gate, accompanied by Private Secretary Rebecca Deacon – echoing the rockstar welcome they received in Gdansk yesterday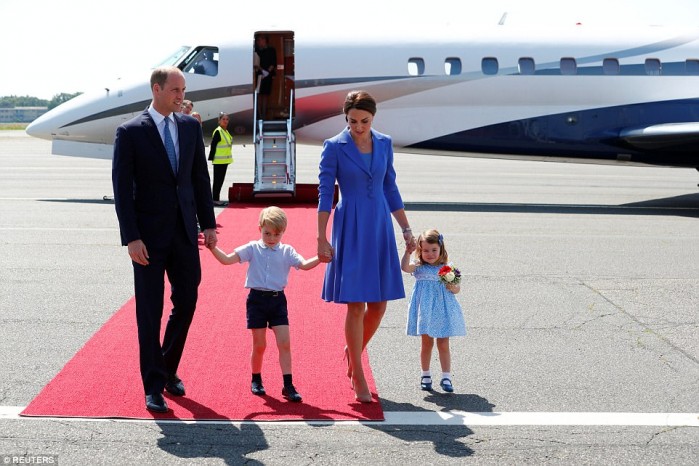 As the royals touched down at Tegel Airport in Berlin on Wednesday afternoon, two-year-old Princess Charlotte looked happy with her mini bouquet, but her older brother seemed to be feeling a little grumpy.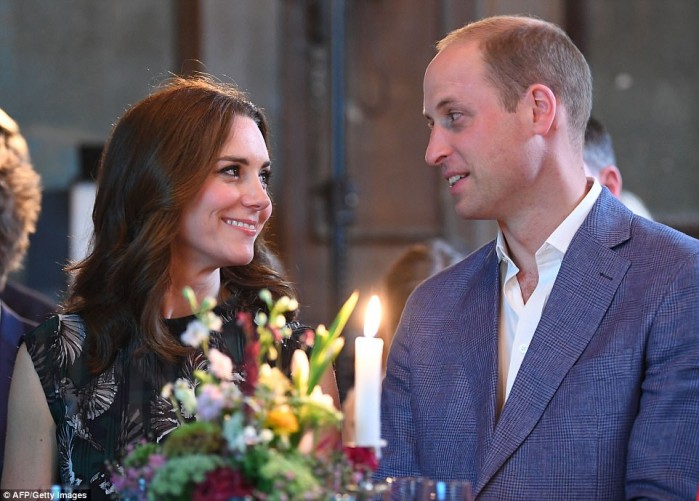 The Duke and Duchess of Cambridge rounded off an action-packed two days in the German capital last night with a glittering reception at Berlin's Clärchens Ballhaus.
And on Friday morning the couple looked to be in excellent spirits as they bid auf wiedersehen to Berlin and boarded their train to Hamburg, their final pit stop.
Kate, 35, wore an A-line lavender dress this morning, paired with a small red clutch, as she waved to crowds at Berlin Hauptbahnho station. Prince George, who turns four tomorrow, and younger sister Princess Charlotte were nowhere to be seen.  On arrival in Hamburg this afternoon, the Duke and Duchess celebrated the joint UK-German year of science which, for 2017, is focused on oceans at the city's Maritime Museum.
They later travelled to the Elbphilarmonie Concert Hall to listen to a special performance given by the Hamburg Symphony Orchestra for the children of Hamburg in the Elbphilarmonie.
For their final engagement before flying back to the UK, the couple toured the Airbus training facilities and met with apprentices, before viewing the final assembly line of an A320 aircraft.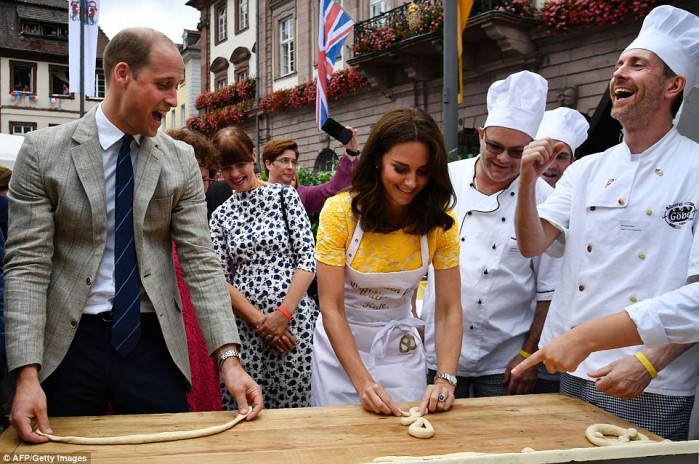 Duke of Cambridge, and his wife Kate share a laugh with Andreas Goebes (right) of the bakers guild Heidelberg, as they form pastry into prezels under the eyes of Heidelberg Mayor Eckart Wuerzne
Girl leather merceditas ideal for all weather. A classic shoe that does not go out of style. Made in Spain, in leather of the best quality. With antiskid rubber sole and buckle closure for a perfect fit to the foot.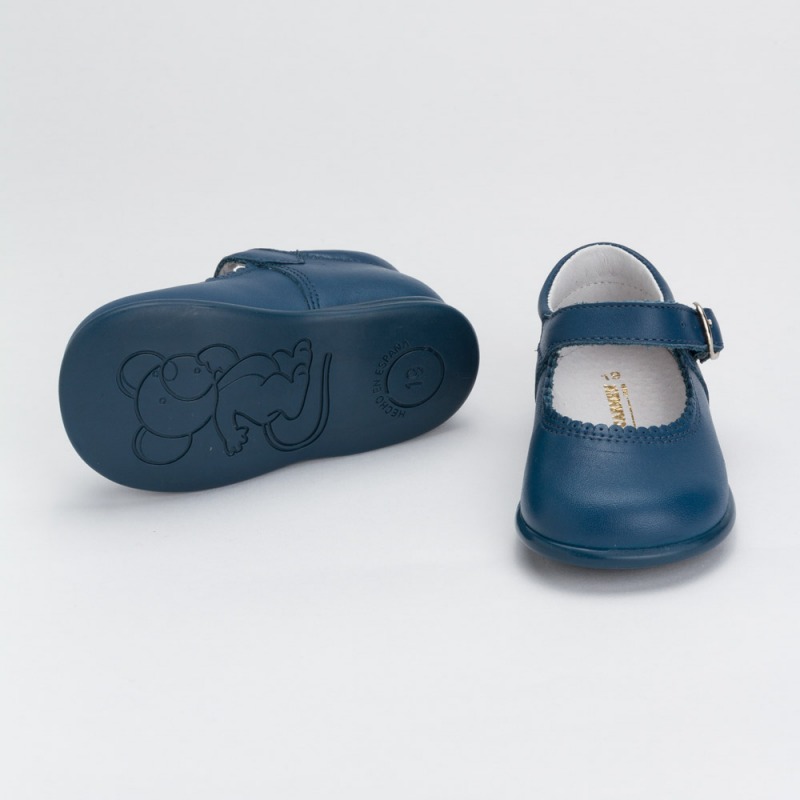 We love the scalloped edges and Mary Jane style, plus they're also available in a rainbow of other colours. Charlotte also has them in burgundy so add them both to your basket now! Click 'Buy' to start shopping, or for more choice check out our line-up of alternatives in the carousel below: