Selena Gomez got a little risqué during the photo call of Hotel Transylvania 2 held in Mexico over the weekend. The young starlet donned a satin red attire of red strapless bandeau teamed with a matching skirt. The tea-length skirt had tongues wagging as it sported a crotch high opening on the front, almost revealing Selena's, er, you know.
Fortunately for Selena, no unsightly displays happened during the event. She was a tad overdressed for the occasion – Her co-stars, Adam Sandler and Kevin James, were both in t-shirts and baggy bottoms – but it didn't matter, of course. Selena teamed her getup with gold strappy sandals from Louboutin, smoky-eye make-up and some rich red lip color.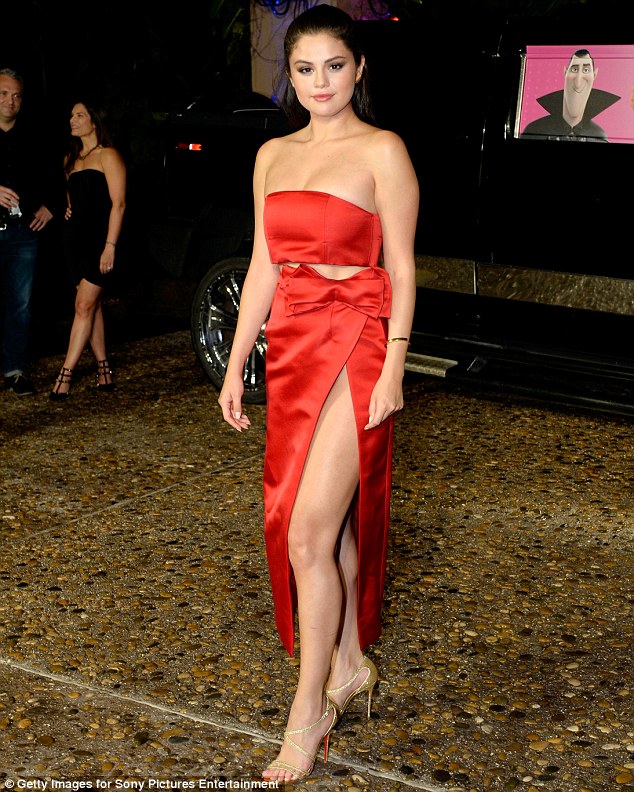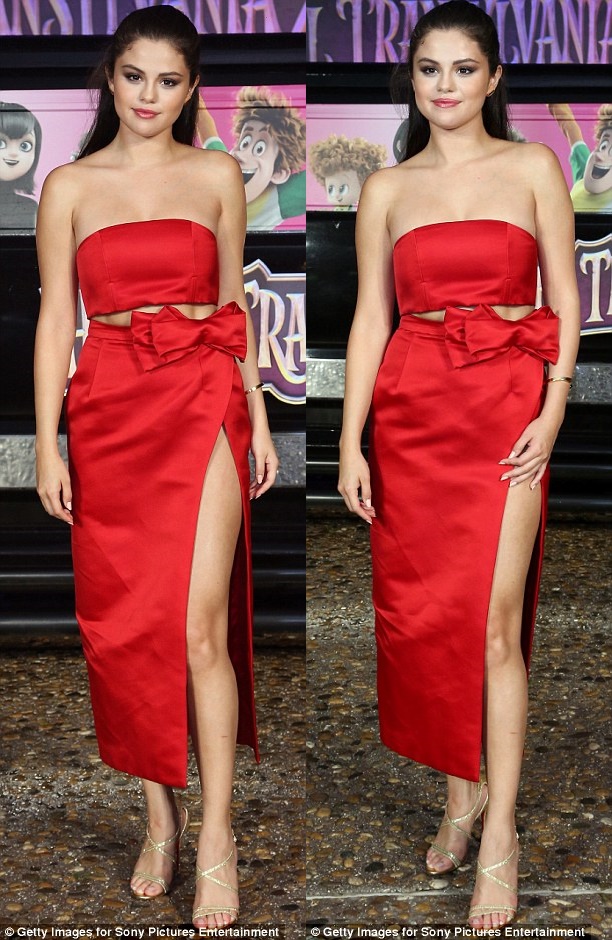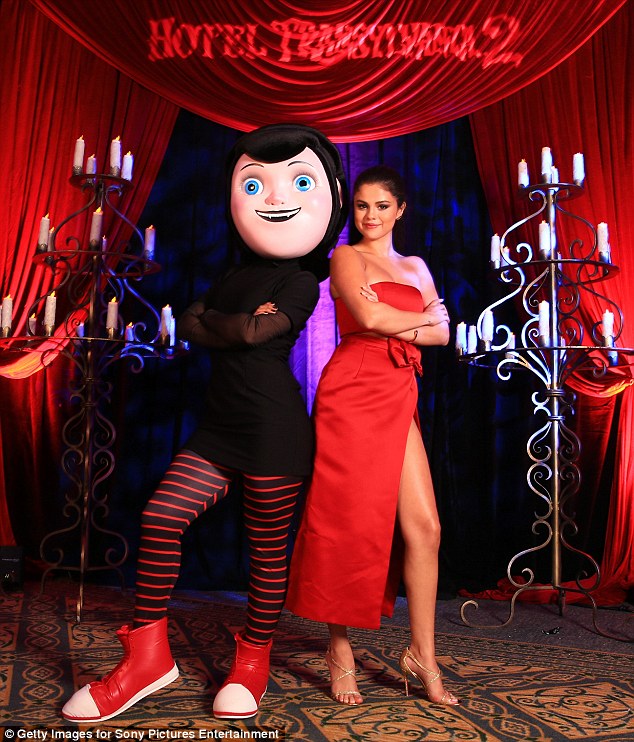 Selena Gomez attends the photo call of Hotel Transylvania 2 in Mexico on June 14, 2015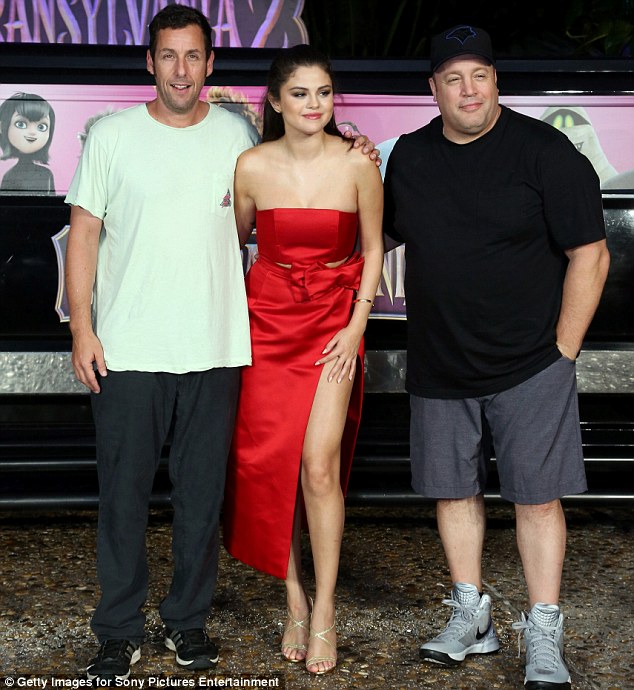 Selena looks overdressed next to her co-stars in the animated flick
How do you like Selena's satin red set?
Very sexy, right? But I do think she has had better days. Don't get me wrong, she looks good. But I am not too fond of the bow on her skirt, and neither am I a fan of the strapless bandeau.
Selena's red attire is from Katie Ermilio. I don't think you can find it online, though. The same goes for her shoes. They're the Christian Louboutin "Gwynitta" sandals, a style detailed with slim criss-cross straps at the ankles and 4-inch-tall heels.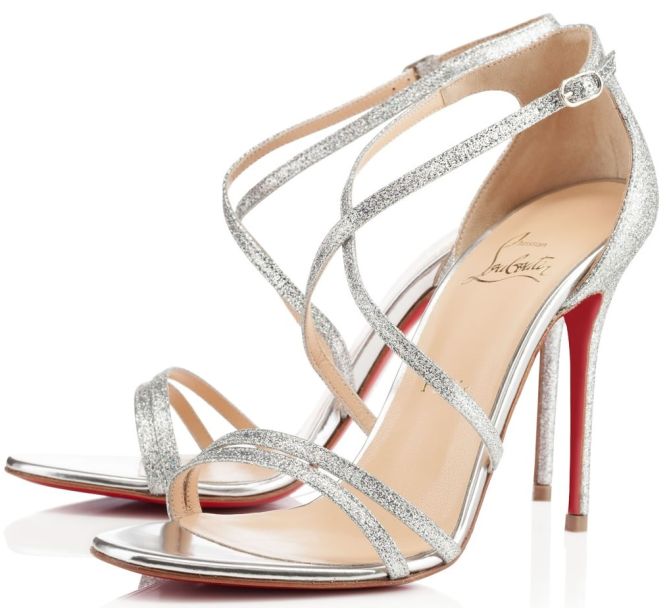 Christian Louboutin Gwynitta Sandalds in Silver Glitter, sold out
A shorter version called the Gwinee can be had, though. The shoes feature the same silhouette, but with 2.75-inch-tall heels. A pair will set you back about $745: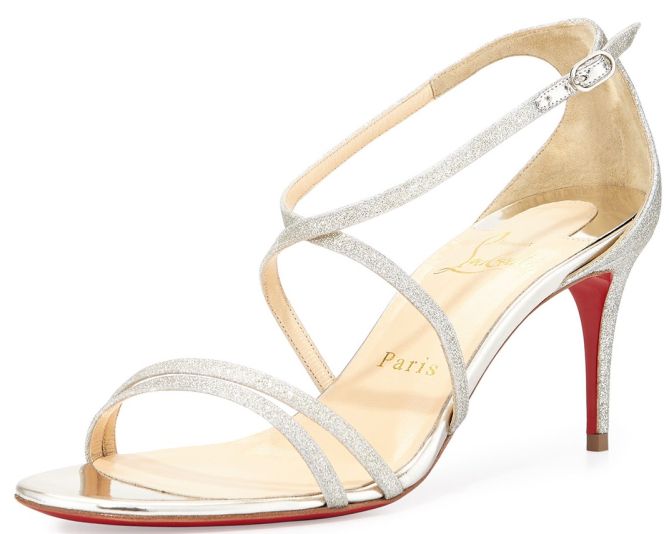 Christian Louboutin Gwinee Sandals, $745
Earlier in the day during the interview session, Selena switched into a Victorian-inspired getup of a puff-sleeved button-down teamed with a black leather mini skirt. She complemented the pairing with mesh pumps. It was a big departure from the red outfit she used a few hours later.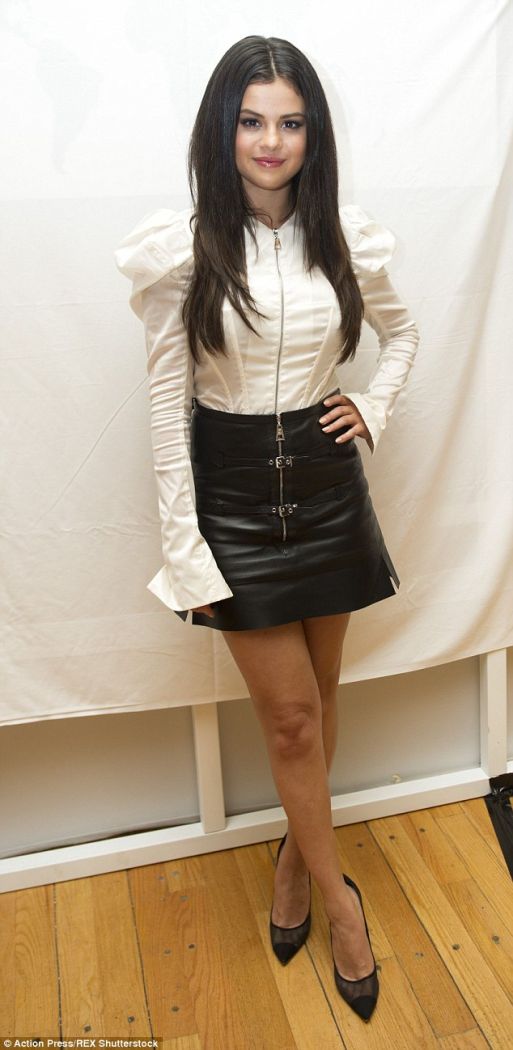 Selena Gomez goes for a sexy Victorian look during the interview session
I couldn't find any deetz on her mesh footwear, but the outfit is from Louis Vuitton's fall 2015 collection. In any case, allow me to shoe you a similar pair from Rupert Sanderson. These come in d'Orsay style: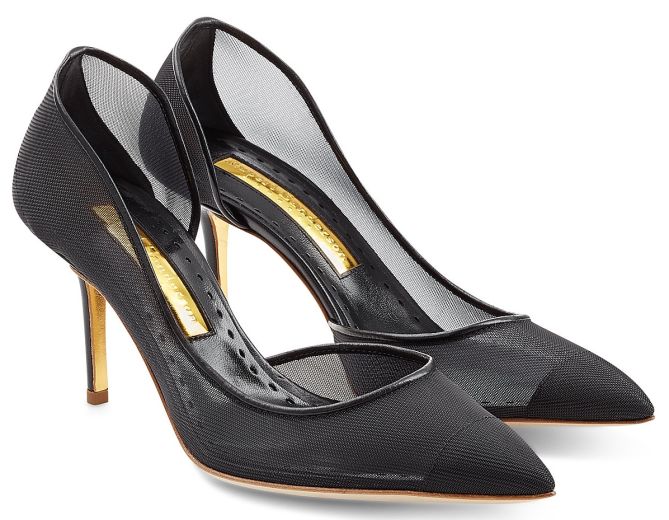 Rupert Sanderson Mesh Cap Toe Pumps, $795
Between the two outfits, which do you think looks better on her? And which pair of shoes do you fancy more? I'm on the fence on this one, so I will let you decide.