Rosie Huntington-Whiteley was hard to miss in her white-washed ensemble while out and about in Paris over the weekend. The leggy blonde visited the City of Lights to join the slew of models who will be walking the runways of Paris Fashion Week Haute Couture Fall/Winter 2015/2016.
On Sunday, Rosie paid a visit to the Dior store in a printed off-white jumpsuit teamed with matching off-white lace-up booties. Sleek shoulder length locks, a wide black belt, and blue-lens sunnies were her finishing touches. Rosie looked chic as ever in her getup. The attire was simple, elegant, classy, yet surprisingly fashion forward.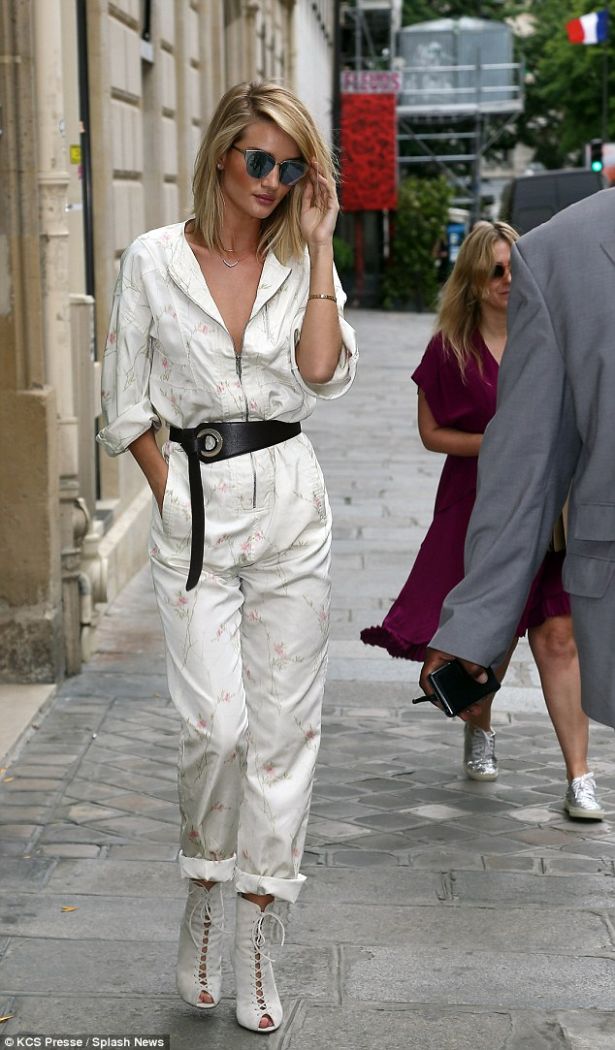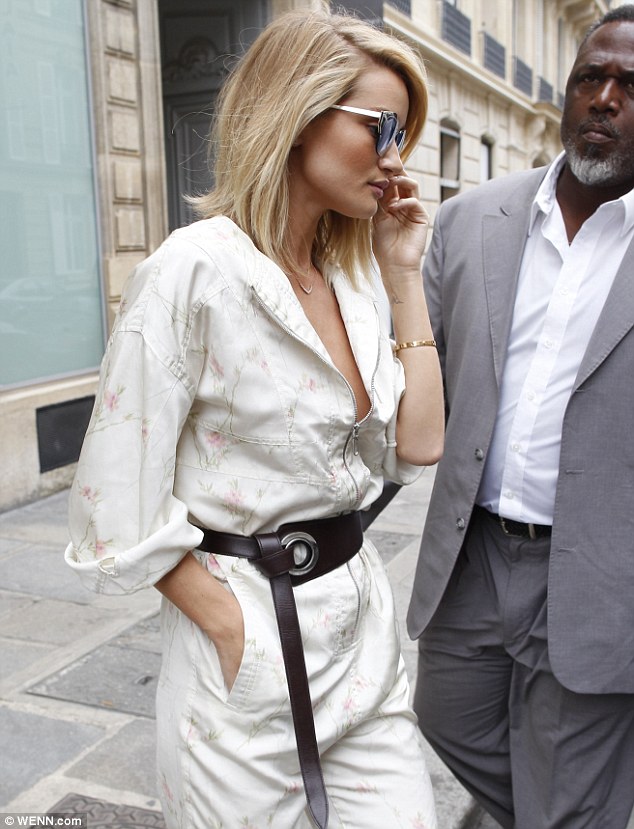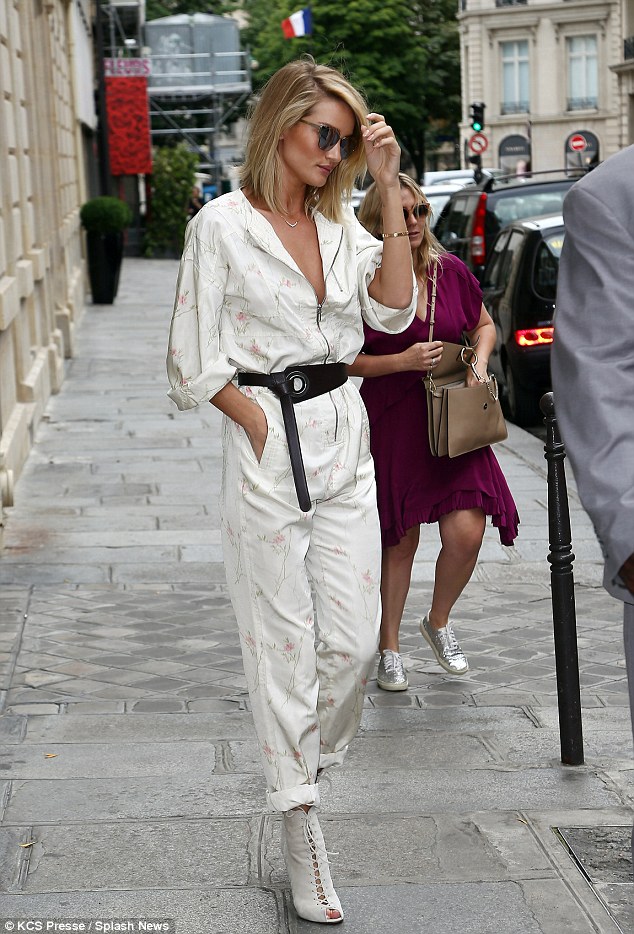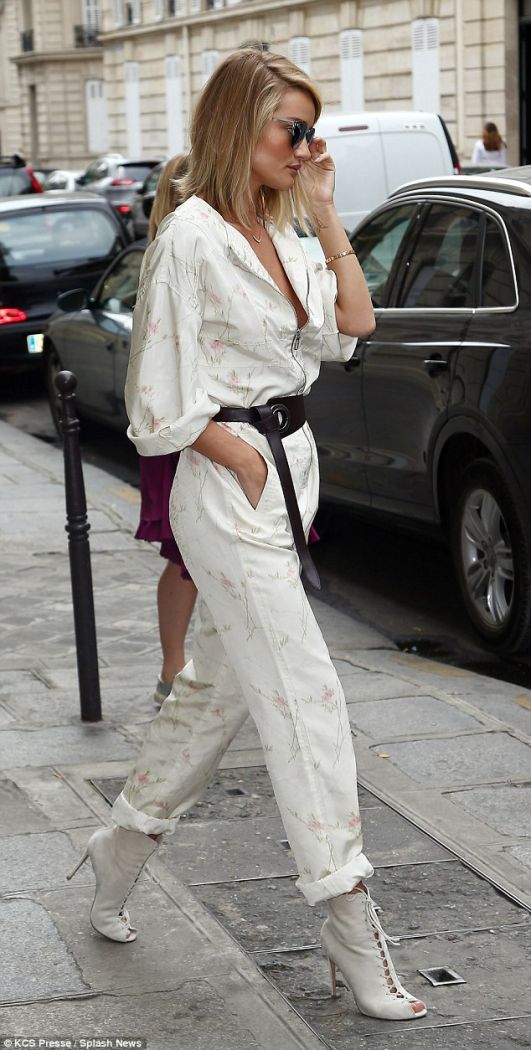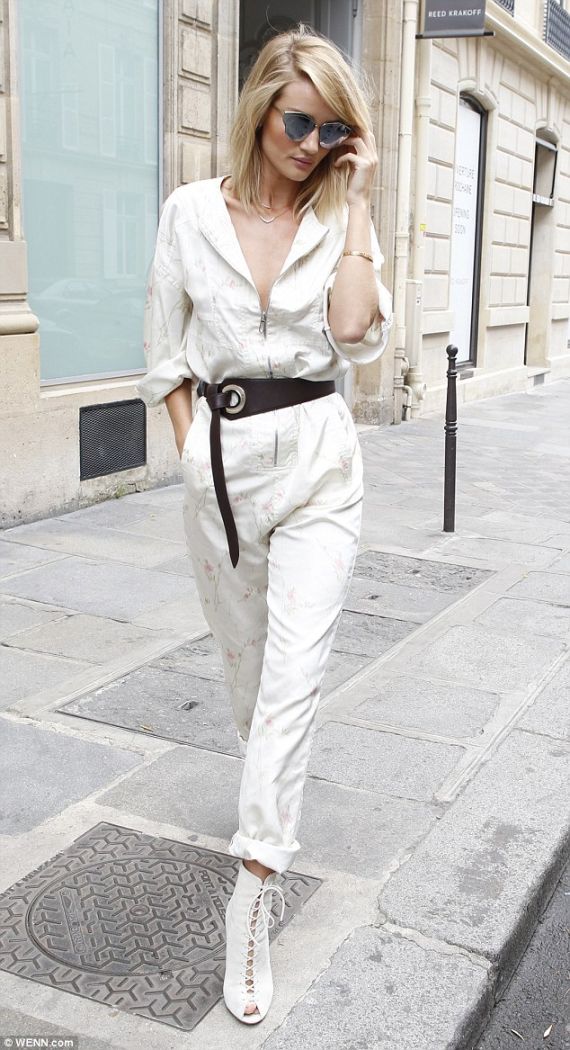 Rosie Huntington-Whiteley looks chic in her white-washed outfit as she visits the Dior store in Paris on July 5, 2015
Do you like Rosie's Parisian street style?
She looks very covered up here — quite the opposite of how she looked a few hours later at the Versace presentation. For the event, the blonde beauty wore a sheer black bondage-inspired creation from the fashion house, then teamed the piece with black ankle-strap sandals.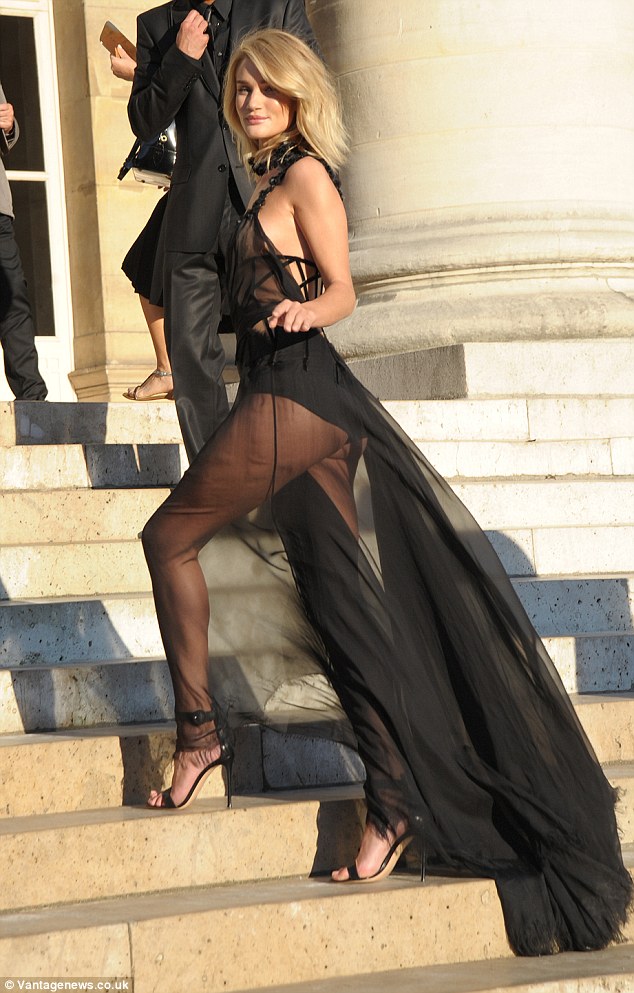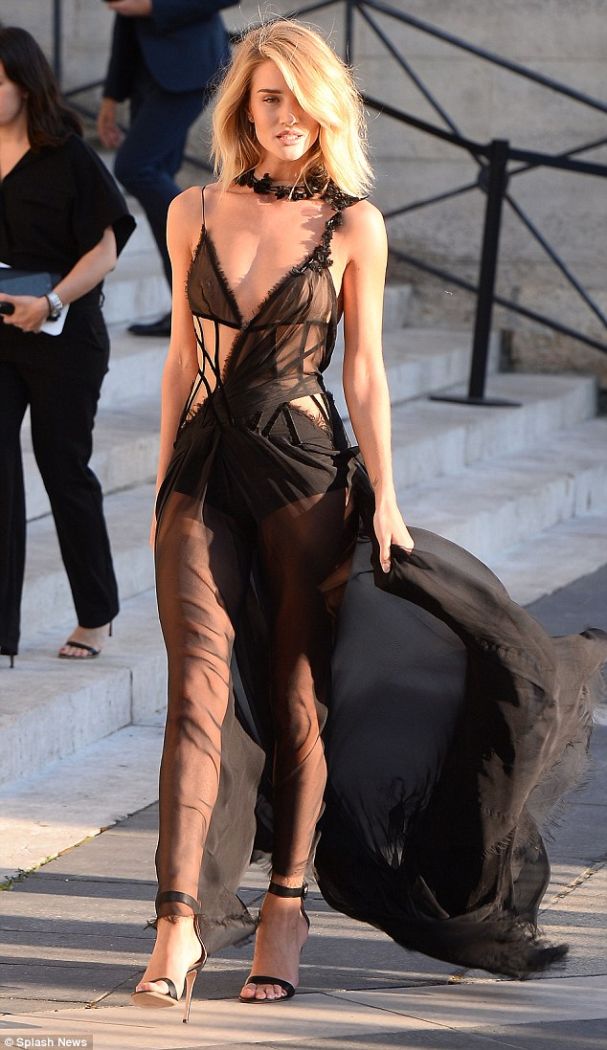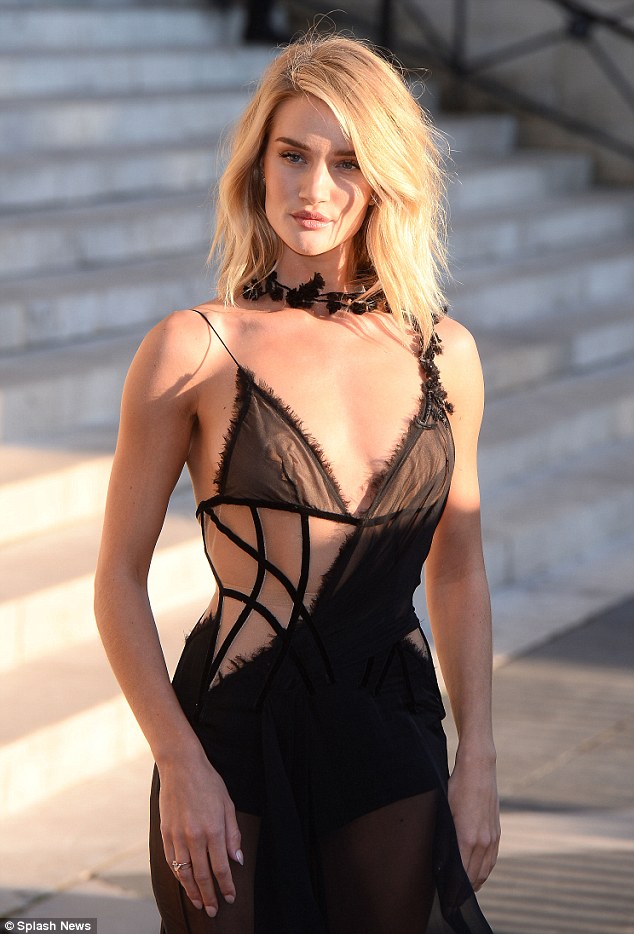 Rosie Huntington-Whiteley dares to bare at the Versace Haute Couture Fall 2015/2016 presentation, July 5, 2015
Between the two outfits, which do you prefer?
The second attire is too revealing for my taste, but I commend her for pulling it off without looking tacky, slutty, or trashy.
Rosie's white jumpsuit, belt, and sunnies are from Dior's spring 2015 collection. Sadly, I couldn't find any details on her footwear. I say the shoes are most likely from Dior as well, but I could be wrong, of course. In any case, if you fancy the silhouette, you can try this pair from Etienne Aigner instead: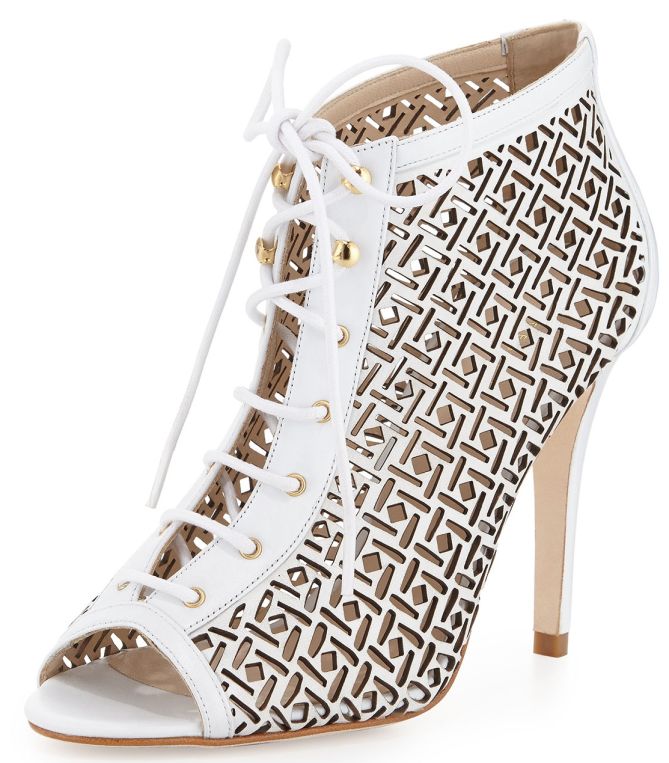 Etienne Aigner Perforated Lace Up Bootie, $299 (was $375)
The scandalous sheer black gown from Rosie's second outfit is from Versace, while her black high heels are the "Portofino" from Gianvito Rossi. They're your classic ankle-strap sandals detailed with circular buckles and 4-inch-tall heels. Below is a closer look at the pair in lace, suede, and leather. They're available online if you wish to make a purchase: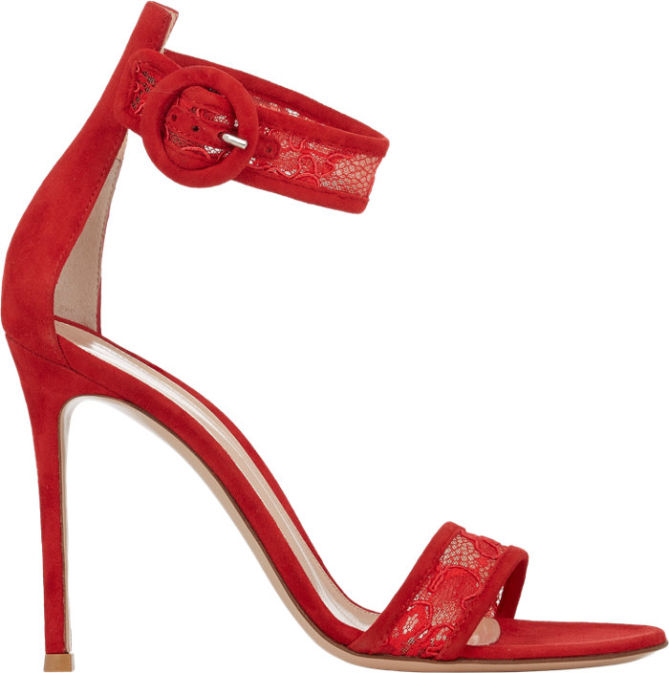 Gianvito Rossi Portofino Ankle Strap Sandals in Red Lace, $309 (was $765)
Gianvito Rossi Portofino Ankle Strap Sandals in Navy Suede, $790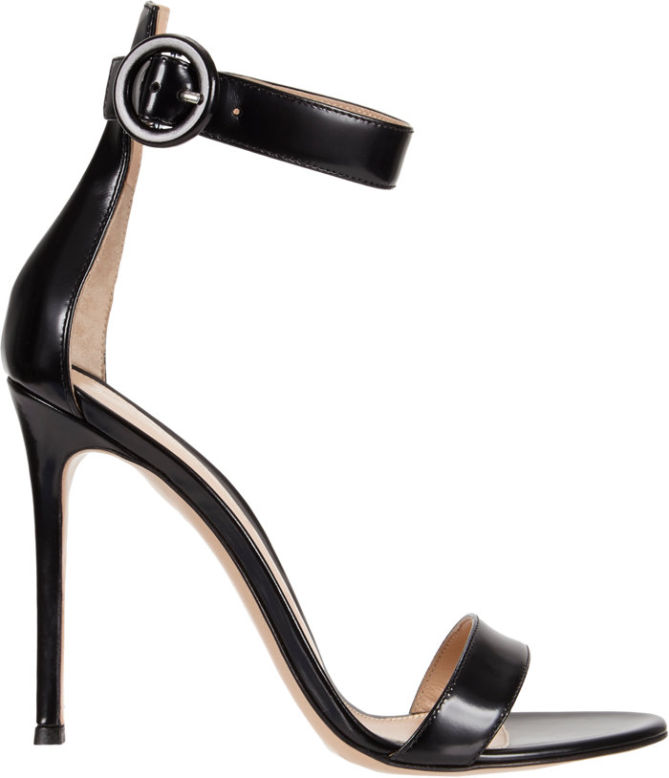 Gianvito Rossi Portofino Ankle Strap Sandals in Black Leather, $765