Rosie Huntington-Whiteley was spotted in New York on Wednesday night. The 30-year-old stunner rocked a chick black and red polka dot blazer as she headed on a night out solo. The actress and model paired it with loose-fit leather trousers, and a sexy pair of studded booties.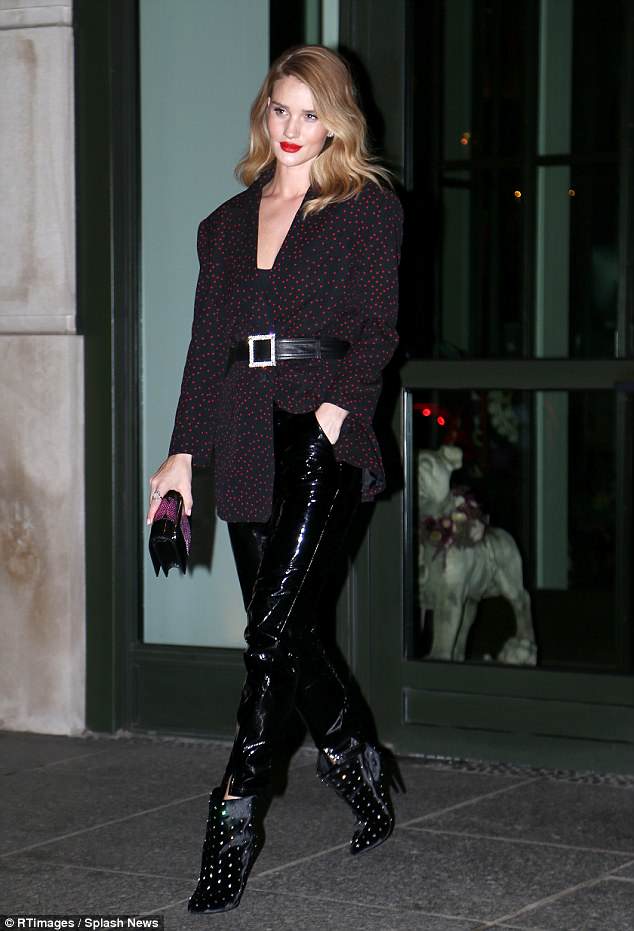 She tied the outfit together with a think black leather belt cinched at the waist. Her only accessory on show was a cute pink and black snakeskin clutch. Her trademark blonde locks were worn in loose waves past her shoulders, while her pout sported a signature bold red lippy.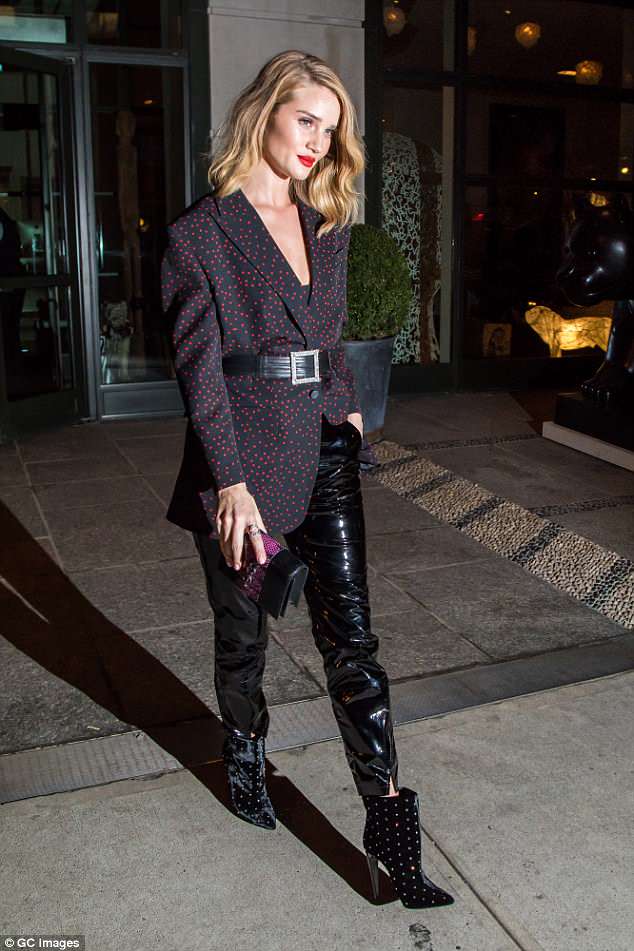 Despite being one of the worlds most in-demand models, she admitted in an interview Harper's Bazaar Arabia published earlier that day that she felt 'unprotected and uncomfortable' when rising up the ranks.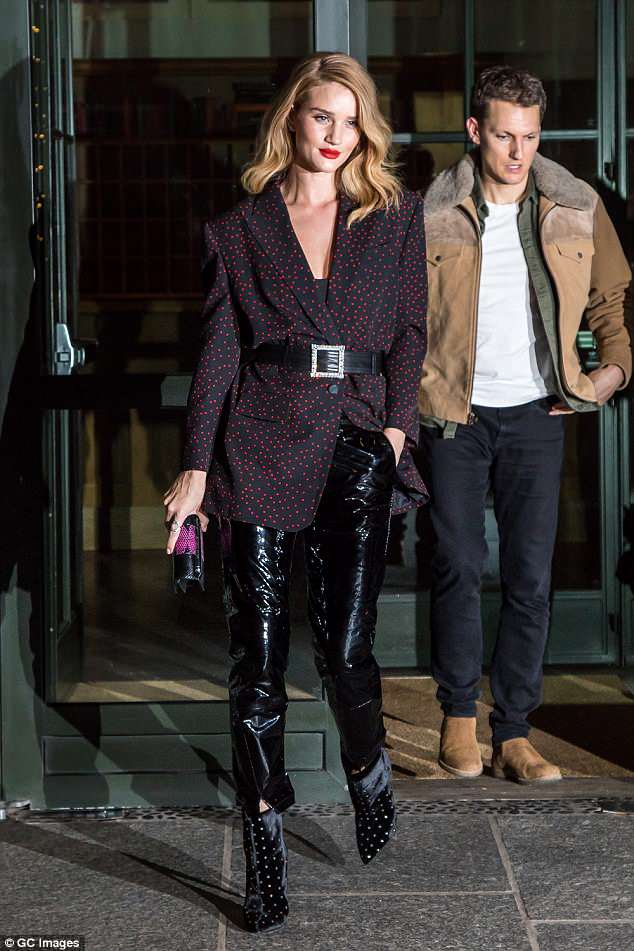 Speaking in light of the #MeToo movement to the mag, she said that it's very easy to be silenced when you're young and starting out in the industry, for fear you'll lose jobs. She explained: '[Women can feel pressure] that if you do speak out, if you do have an opinion, that you are going to lose the job, lose the client and upset people.' Recalling her days starting out as a 16-year-old, she confessed: 'There's definitely been instances where I've felt unprotected and moments where I found myself in situations that were uncomfortable.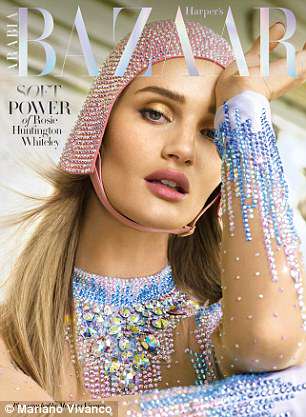 The fashion industry is so relaxed and casual, there's this expectation on models that the more up for it you are, the better, the further you'll go along in your career.' The mother-of-one also hit out at how easy it is for people to photograph models when they're stripping off backstage during shows.  She seethed: 'I've done countless fashion shows where you're in a room, undressing, photographers flying around, people with iPhones, all the crowd and audience coming after the show and you're still half dressed, people are taking photographs of you whilst you're getting changed. It blows my mind that that's acceptable.'  Rosie shares ten-month-old son Jack with 50-year-old fiance Jason Stat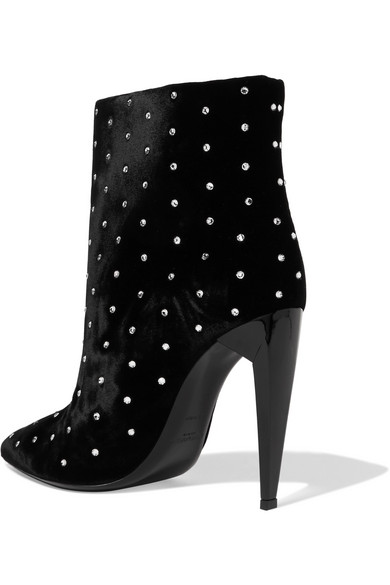 Rosie Huntington-Whiteley looked beyond glam as she strolled through NYC yesterday. The model opted for a chic black and red look, complete with a bright lip and lots of bling! We're particularly obsessed with those boots! They're velvet AND studded with crystals. Does it get any more glam than that?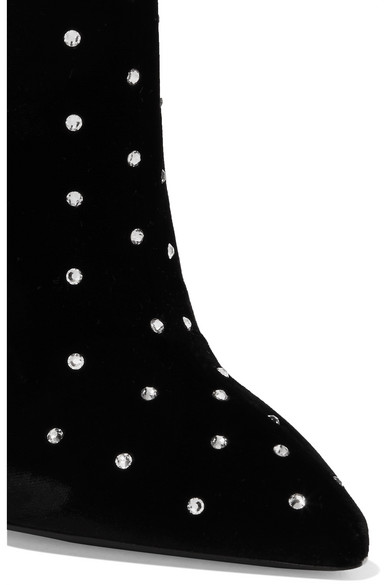 The boots in question are Saint Laurent and can be bought from NET-A-PORTER by clicking right. These chic boots would be perfect to pair with a tailored suit or LBD to add some much needed sparkle to a date night look.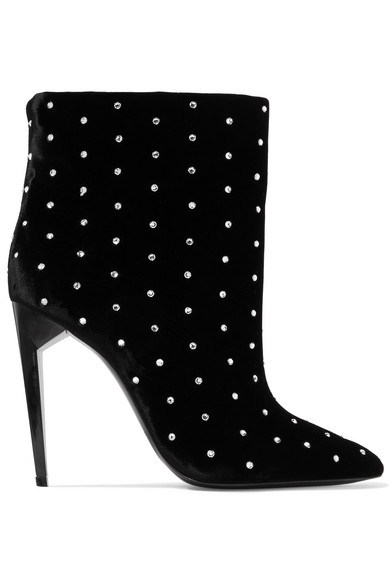 Love the studded style but not so fond of the Saint Laurent price tag? Try our edit below for our favourite alternatives for less. Gianvito Rossi have an almost exact look-a-like. Or, try Missguided for the perfect studded pair on a budget!