Some people think wearing black is boring, but if you follow Rosie Huntington-Whiteley's rule, you will look far from it. The trick is to play with textures and use the right extras to go with.
Early this week, the statuesque model ran errands in West Hollywood in a black leather-themed ensemble that was classy and chic. She wore a light pink silk blouse with black skinny leather pants, and then capped off the combo with black suede ankle boots detailed with cutouts.
For polish, Rosie used a tailored black blazer and then accessorized with a chunky gold necklace. The blonde beauty also toted a chain-detailed leather bag to go with her look. In short, the whole outfit was an interesting mash-up of textures, and she nailed it perfectly.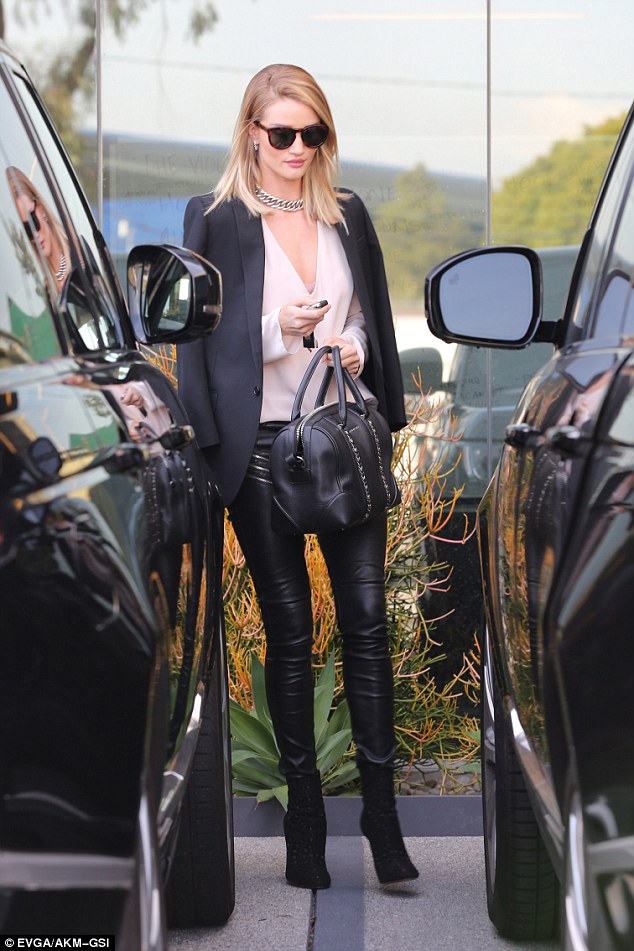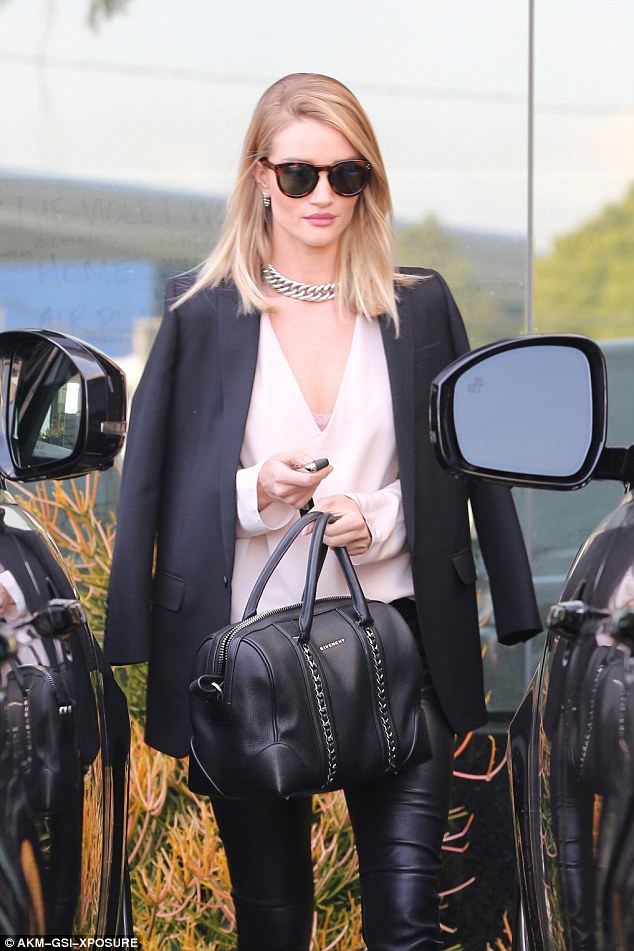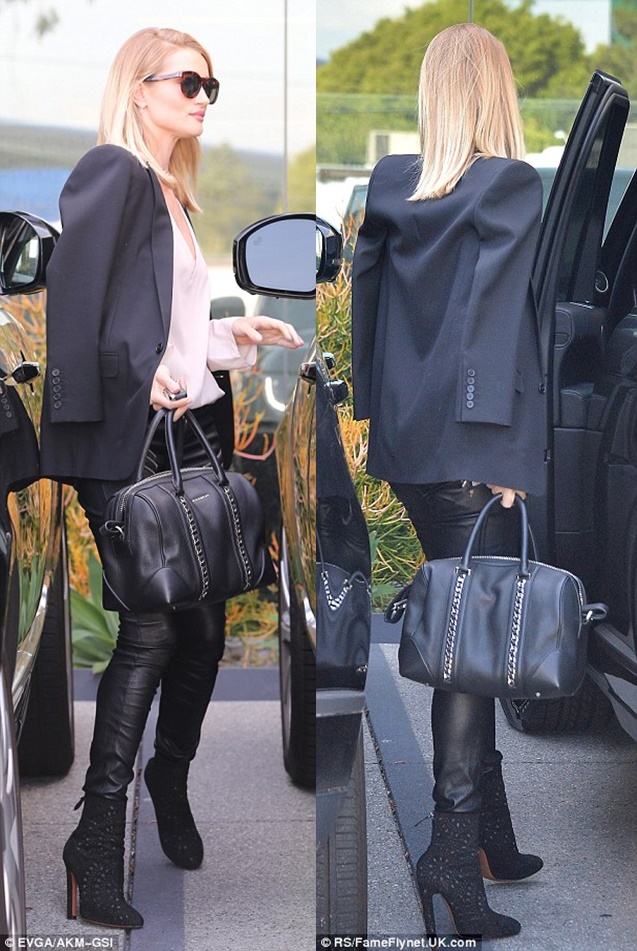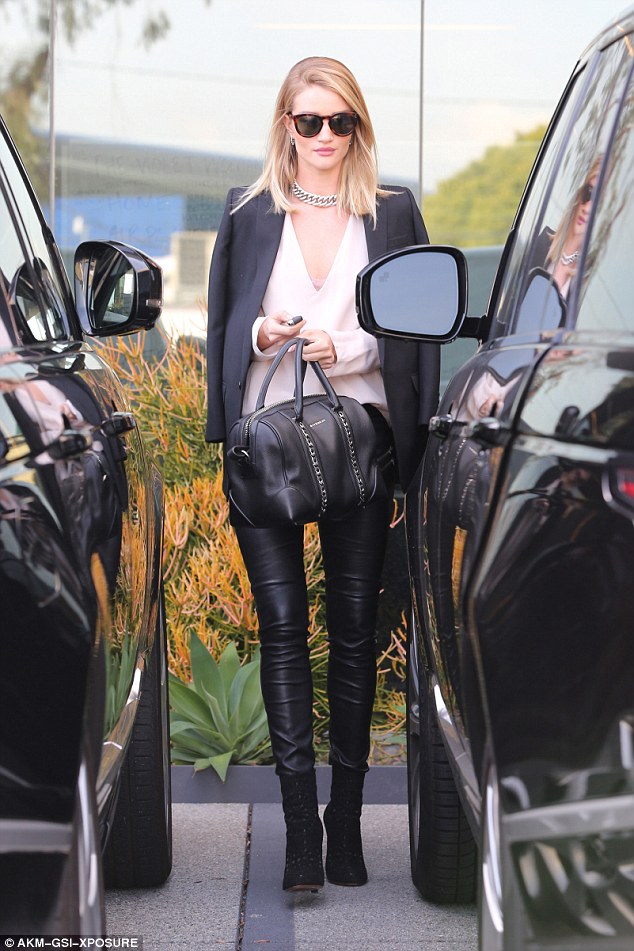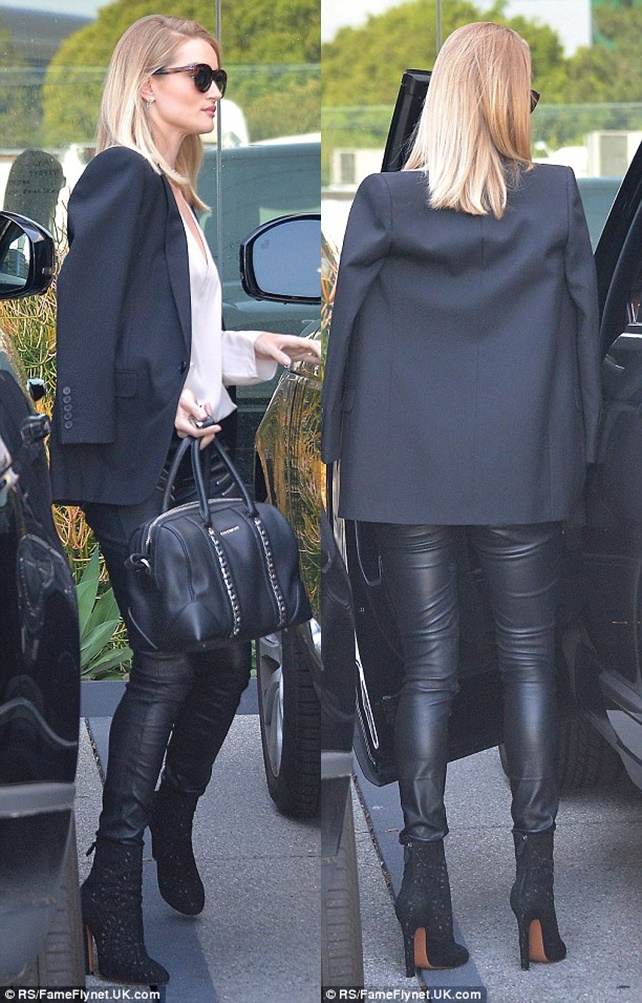 Rosie Huntington-Whiteley runs errands in West Hollywood on March 14, 2016
How about we channel Rosie and rock this attire? You don't have to spend so much on designer pieces to achieve the same effect.
Speaking of designer pieces,  just so you know, Rosie's blouse is from Chloe, while her blazer and pants are from Saint Laurent. Both can be found at Net-A-Porter, and will cost you almost $8000.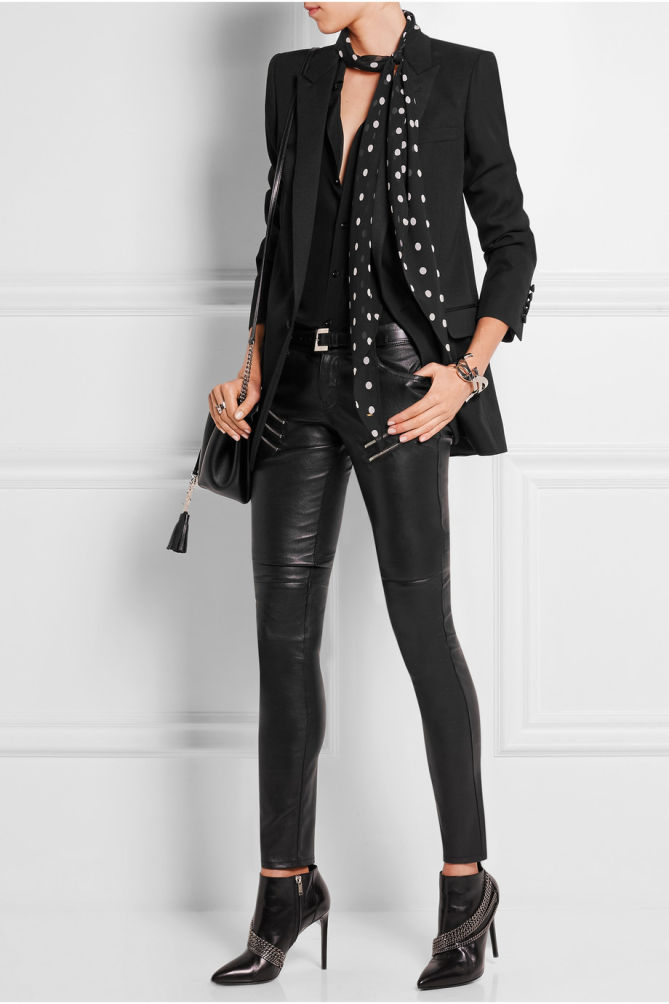 Saint Laurent Satin Trimmed Wool Blazer, $3550 / Saint Laurent Skinny Leather Pants, $3990
I agree. Eight thousand dollars for two pieces of clothing sounds embarrassingly sinful. You can buy a complete wardrobe and pay several months of rent with that kind of money. Then again, if you can afford to spend away that much, it's your choice.
Now onto the shoes. Rosie's boots are from Alaia. I initially thought they were detailed with cutouts, but up close, they are actually embroidered all over. They also come with 4.5-inch-tall heels and shafts that go above the ankles. Cost-wise, they will cost you less than the blazer and pants, but will still set you back a pricey $1810: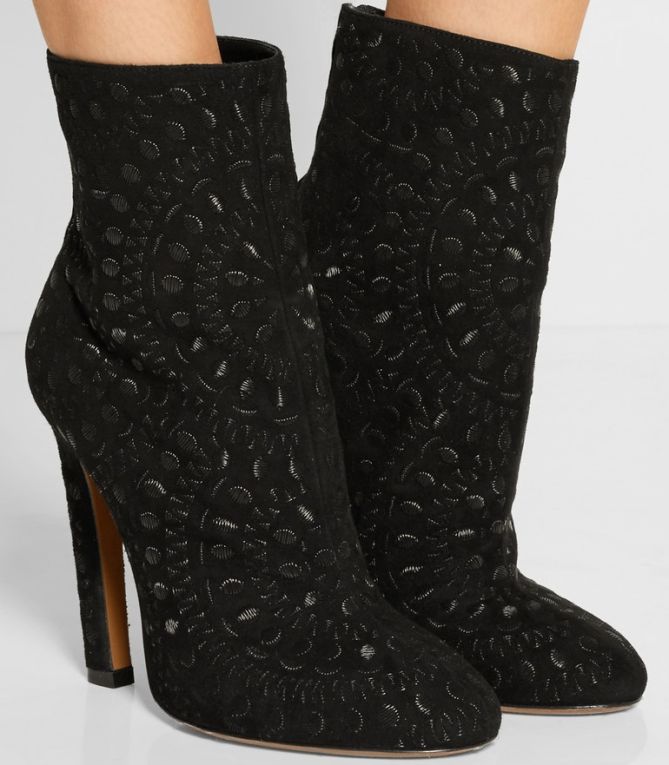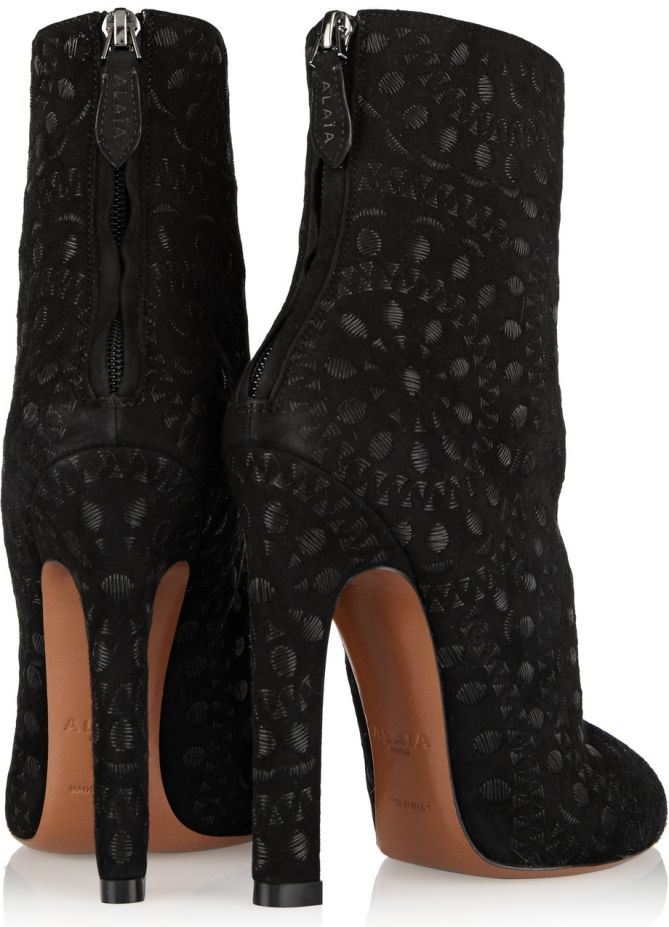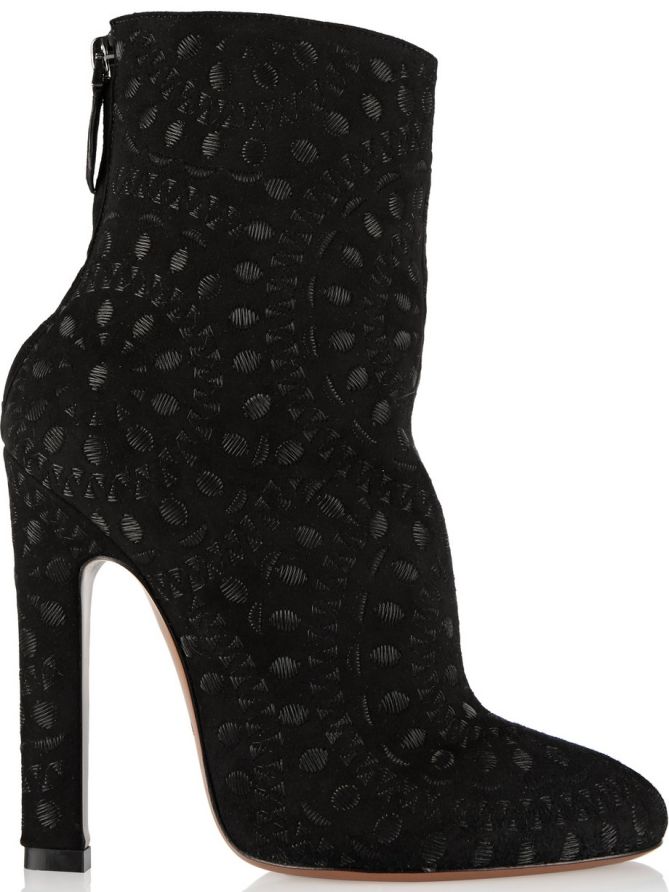 Alaia Embroidered Suede Boots, $1810
If you have $500 to spare, you can actually get yourself some designer shoes similar to Rosie's without spending $1800. Try the Oscar de la Renta "Elkin" boots over at The Outnet. They are on sale at $495. Team with faux leather pants and a black blazer, and then cap off with on-point extras such as cat-eye sunnies, a chunky gold necklace, and a chain-detailed bag.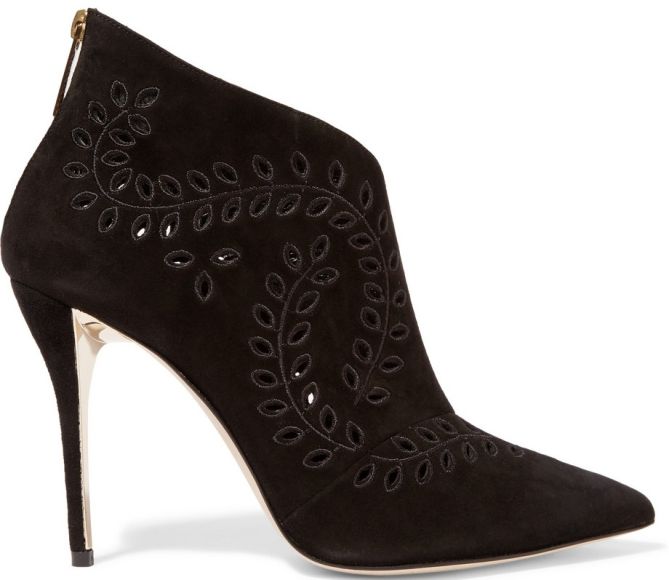 Oscar de la Renta Elkin Laset Cut Boots, $495 (was $990)