Sartorially speaking, Rita Ora has her good days and she has her bad ones. On Monday, it was a spectacular one for the singer, as she hit all the right notes with her outfit when stepped out for a night of fun with friends in Manchester. Rita decked herself in a sexy cutout top paired with a holey jacket and a short skirt — all of which were in black. She complemented the getup with wild blond tresses, statement earrings, a structured purse, and her signature red lip color. What blew me away, however, were the shoes she used to seal the deal — fancy pointy mules that were detailed to the hilt.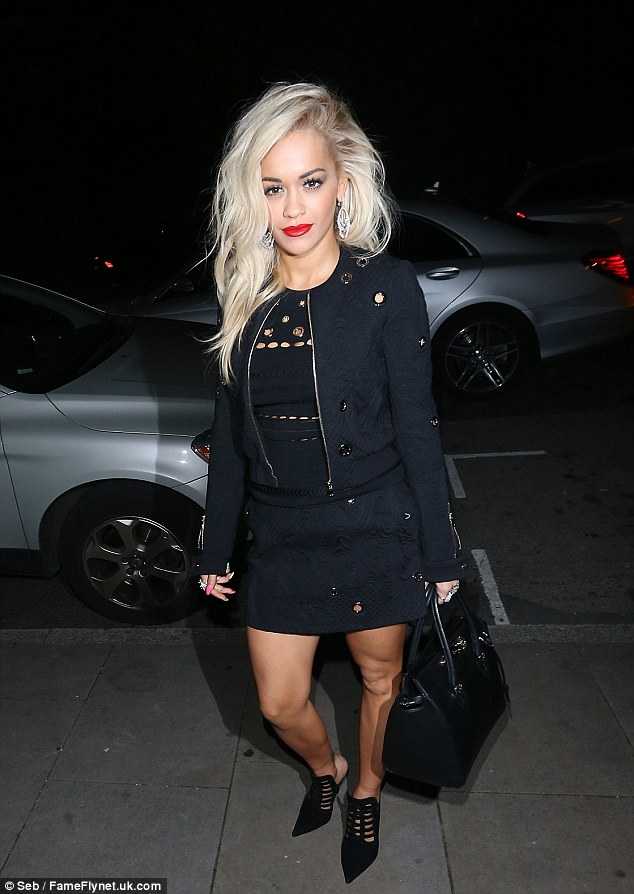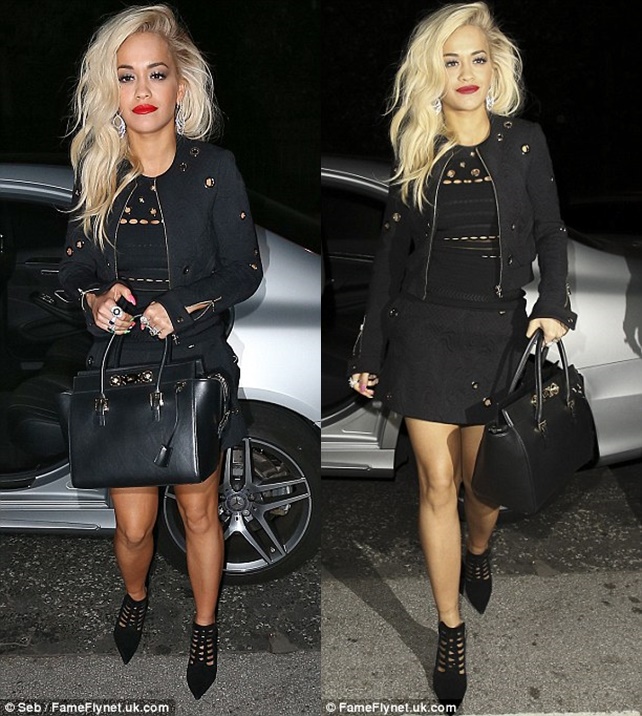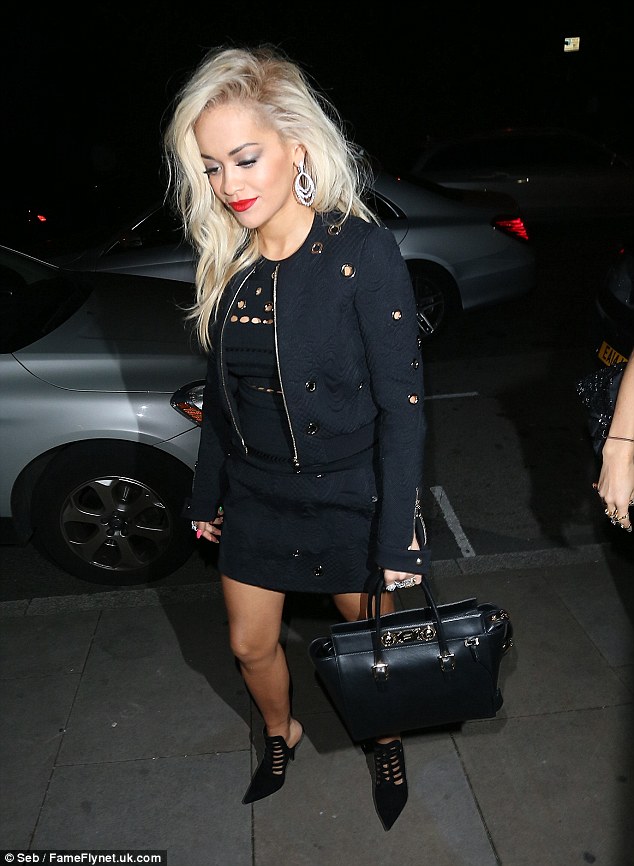 Rita Ora arrives at The Great John Street Hotel in Manchester on September 29, 2014
Wow. Rita looks killer sexy in cutouts here. Do you approve of her getup, or do you think she should have worn something else?
To be honest, I'm not so fond of the cutout top, but I do love her jacket and skirt. I am also crazy interested in her shoes. Those mules look super interesting. Would you agree?
A few clicks on the WWW immediately gave me a name. Rita's fancy heels are from the oh-so glamorous house of Versace.  And here's the thing, they look even more spectacular up close. Aside from the cutouts, these shoes are also fashioned with braid details across the center. They definitely look Victorian inspired, but modern and sexy as well.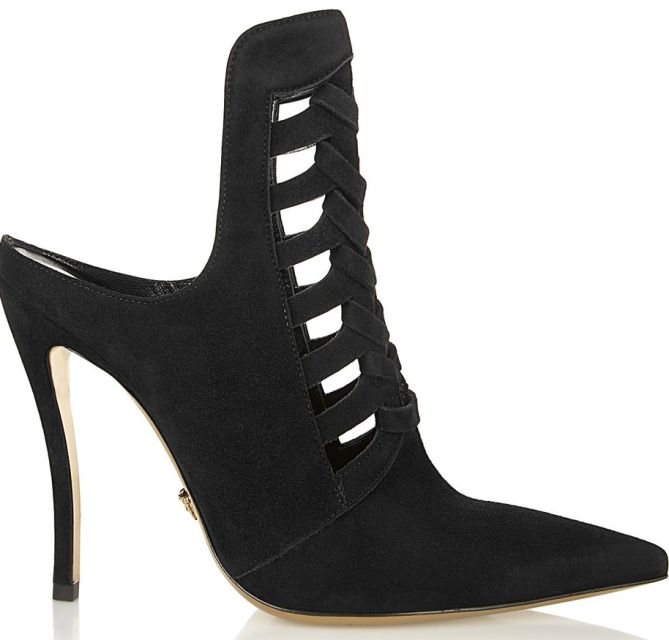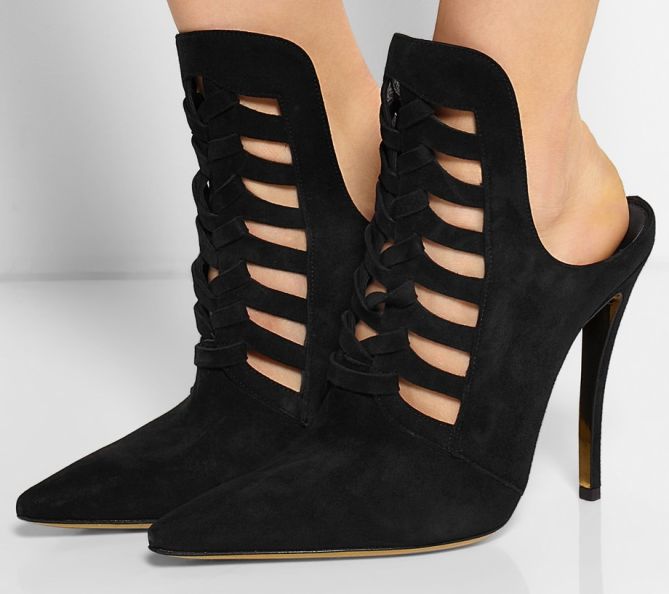 Versace Suede Cutout Mules, $995
To own Rita's Versace slides, feel free to shop for them at Net-A-Porter. For the ladies on a budget, I'm sorry I couldn't find anything similar. However, allow me to introduce to you the "Querada" from Schutz. While these mules do not have sexy cutouts on them, I think the simplicity of the design will serve you well. You can even wear the pair with practically anything. Of course, the best part is that you won't have to spend $995 for a pair.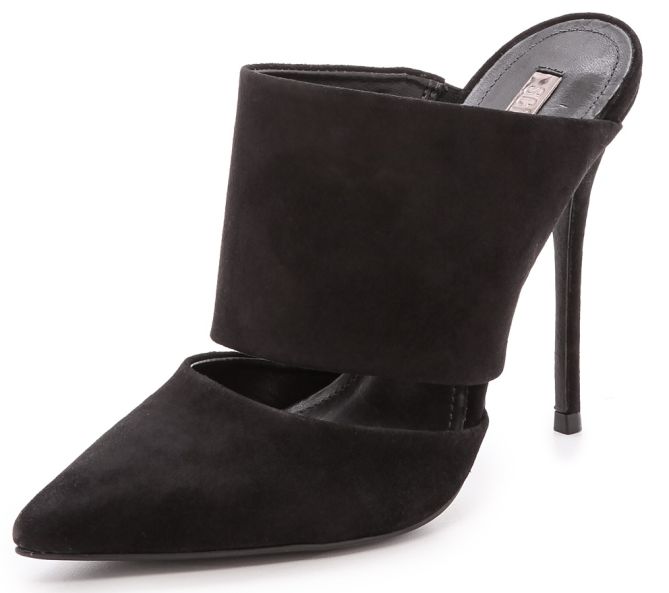 Schutz Querada Suede Mules, $180