I still can't get enough of the recently concluded 2014 MTV Awards — with all the rockin' outfits of the celebrities who graced the event and the sensational and surprising performances.
And yes, I still can't get over that video of Rihanna and boyfriend Drake walking backstage after Riri's performance with Eminem. In the video, you can see Rihanna walking slightly ahead of her boo Drake, but it's obvious that the pair are happy to be in each other's company.
Prior to Riri and Eminem's awesome number, a lot of people were wondering where Drake is since Rihanna sashayed her way on the red carpet alone. There were even speculations that the couple's relationship are already on the rocks that's why the boyfriend was not there supporting the girlfriend.
But those speculations were cut off when Drake was seen watching her lovey through her entire performance backstage. The proud boyfriend then met Riri soon after the performance.
Furthermore, Rihanna was also seen wearing a diamond ring on her left ring finger. Could it be that the R&B couple have already decided to take their relationship into the next level? The R&B stars are reportedly doing really well together and sources revealed that Rihanna has become more of a grown-up ever since she and Drake supposedly became an item.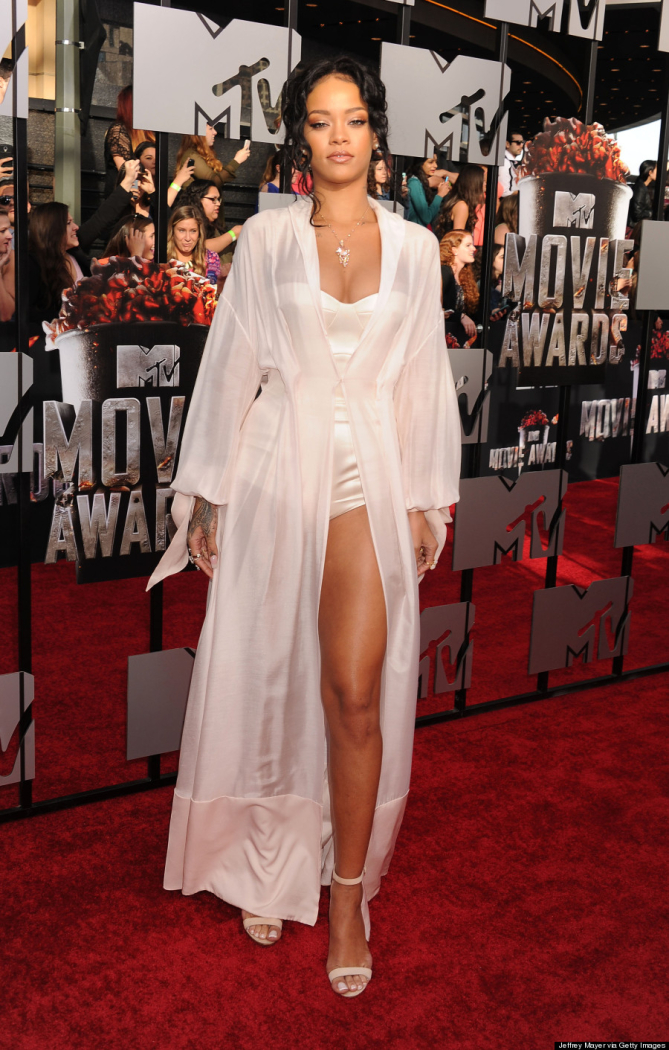 On the fashion side of this post, I'm not really that fascinated with Rihanna's outfit in the 2014 MTV Awards but I have to admit that I like her open-toed sandals here. The R&B star wore an off-white silk satin two-piece outfit including a sleeveless corset bodysuit and sheer robe with ribbon tie sleeves by Russian designer Ulyana Sergeenko. She finished it off with a Manolo Blahnik Chaos Sandals.