Pippa Middleton beamed with pride as she left the church as a married woman on the arm of her new husband James Matthews on Saturday. It was the moment the world had been waiting for and Pippa Middleton didn't disappoint as she dressed to impress in a stunning white Giles Deacon gown for her nuptials to the 41-year-old financier she began dating last year. The 33-year-old beamed with happiness as she displayed her famous figure in the fitted guipure lace gown by the British couturier, whose fans include Abbey Clancy and Kendall Jenner.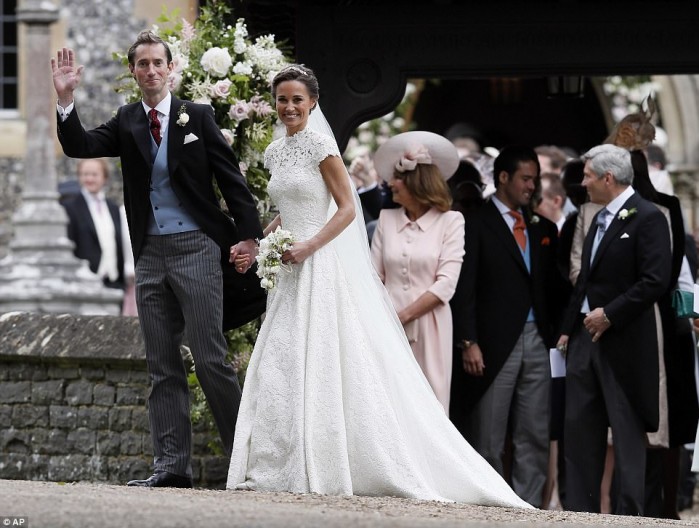 After saying their vows surrounded by their friends and family, the happy couple waved to the crowds as they drove in a Jaguar E-Type from the Englefield estate to the Middleton mansion for the evening reception in the 'portopalace' they've constructed in their garden.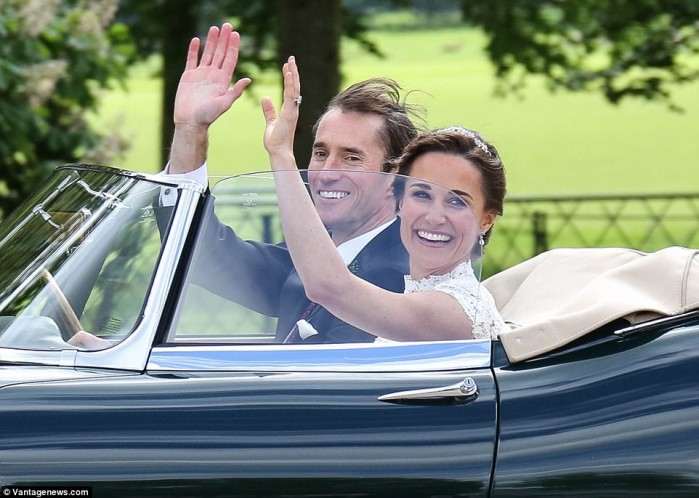 Pippa, in a beautiful classic wedding dress with lace detail, was sporting a shiny new ring on her left hand as her husband manoeuvred the car through the crowded town centre. The long, glamorous veil had been discarded, and the happy couple were squinting into the sharp spring sun.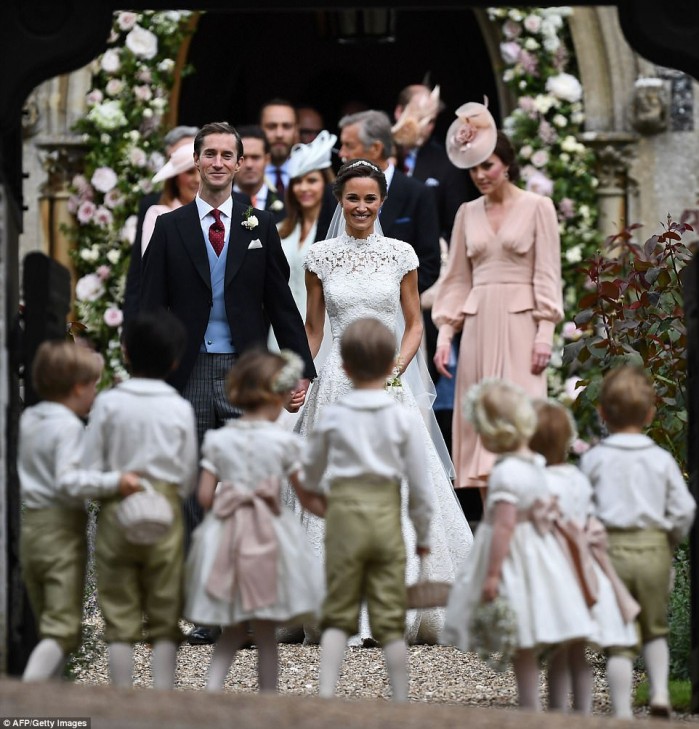 One notable absentee was Prince Harry's girlfriend, Meghan Markle, who is thought to be joining the contingent for the reception back at the Middleton mansion this evening.  Rumours have been circulating for some weeks the Suits actress had been invited to the nuptials despite Pippa's 'no ring, no bring' policy.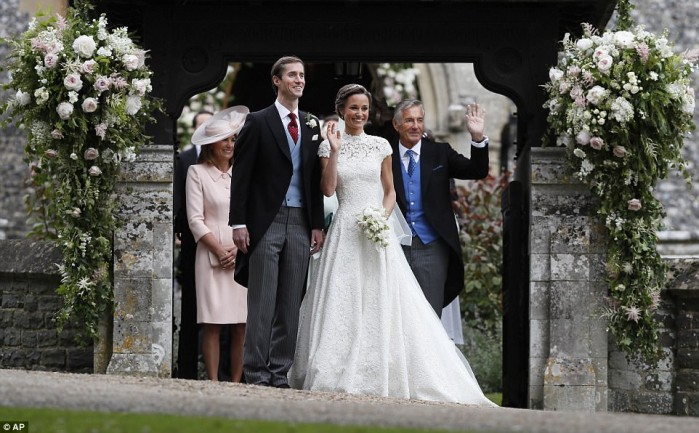 However, some believe Meghan may have chosen to stay away from the church ceremony to avoid upstaging Pippa and bringing more attention to her relationship with Harry.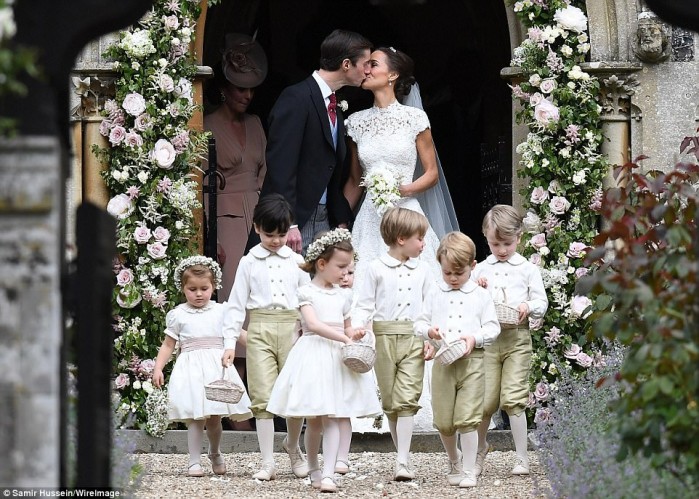 To have her on his arm earlier today at such a high-profile event would once again have re-fuelled suggestions the pair could be set to marry.
Shortly after Pippa and James left, Kate came by in a grey Range Rover, this time with a personal driver behind the wheel. Villagers soon began to speculate whether her husband William and little George and Charlotte were hiding behind the car's tinted back windows. The wedding guests were all leaving the reception at Englefield Town Hall to commence the party at Carol and Michael's home on Pease Hill.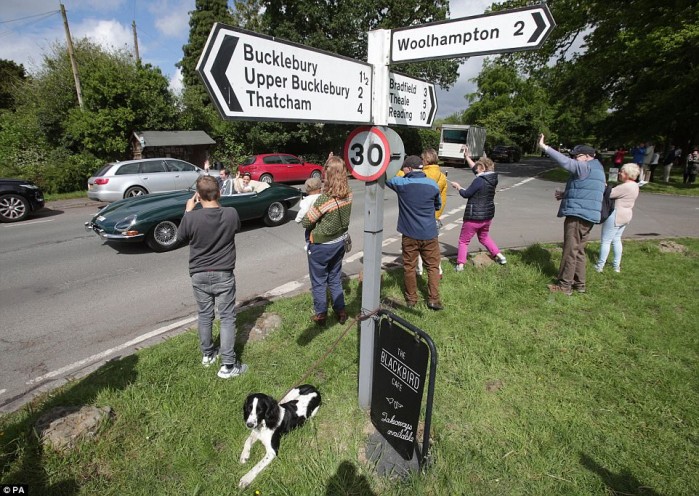 The party is expected to carry on all evening with an estimated 350 high-profile guests. This morning, flanked by her father, Michael Middleton, Pippa beamed with joy as she arrived at the church in a Jaguar Mark V ahead of her vows. Her attentive big sister Kate, who was resplendent in a peach Alexander McQueen dress, Jane Taylor hat and £7,500 Kiki McDonough earrings, was on hand to help arrange her dress as she walked into the church to say her vows.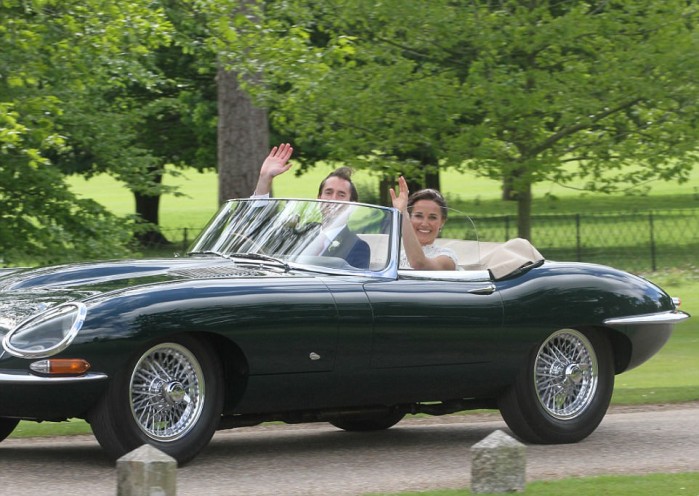 It may have been their aunt's big day but Prince George and Princess Charlotte, dressed in Spanish retailer Pepa and Co, managed to steal the limelight from Pippa as they served as page boy and bridesmaid at the society wedding of the year. Dressed in adorable ensembles, three-year-old George and two-year-old Charlotte stole the hearts of the nation as they put on a charming display at St Mark's Church in Berkshire.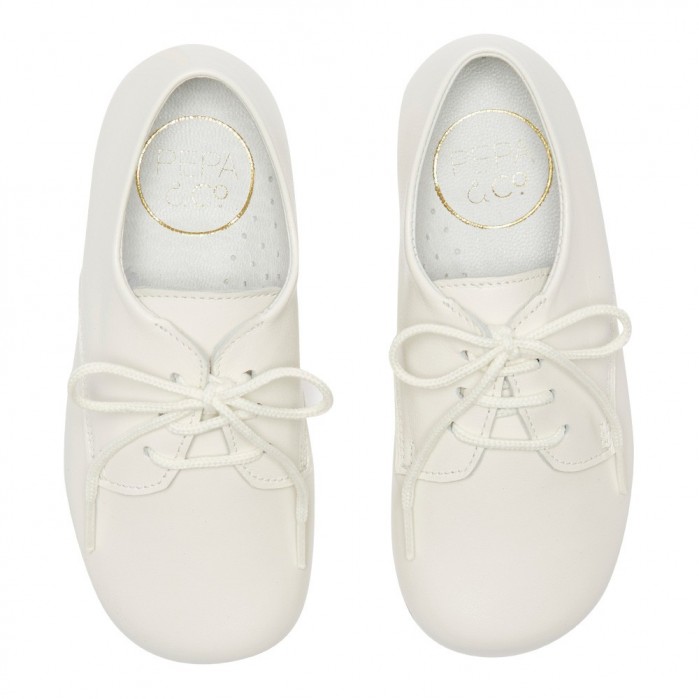 George looked adorable in green satin pantaloons with a Peter Pan collar shirt and a pair of lace-up leather shoes. White shoes might not sound practical for a three-year-old, but they look very smart indeed!
The rest of the look was custom made, but the shoes are actually available to buy, so click (Buy) to snap them up.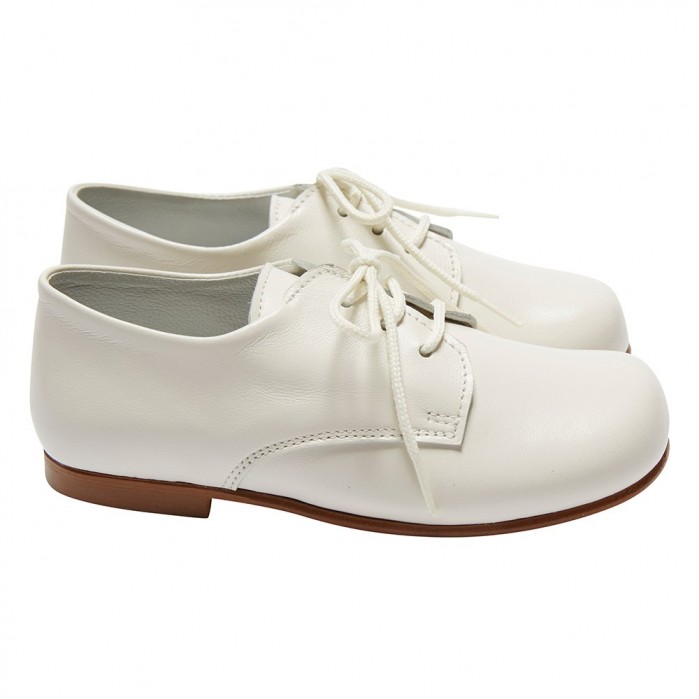 Or dress your page boys like princes with the help of our edit below: