Early this week, Pixie Lott turned heads in a short black pussy-bow dress while leaving the Royal Haymarket Theatre in London. The actress appeared to be in high spirits, so I can only assume her performance as Holly Golightly for the play, Breakfast at Tiffany's, went well. The blond cutie teamed her attire with defined eyes, a gold purse, and strappy pointy heels. At first glance it seemed like another boring black ensemble, but upon closer inspection, it was anything but.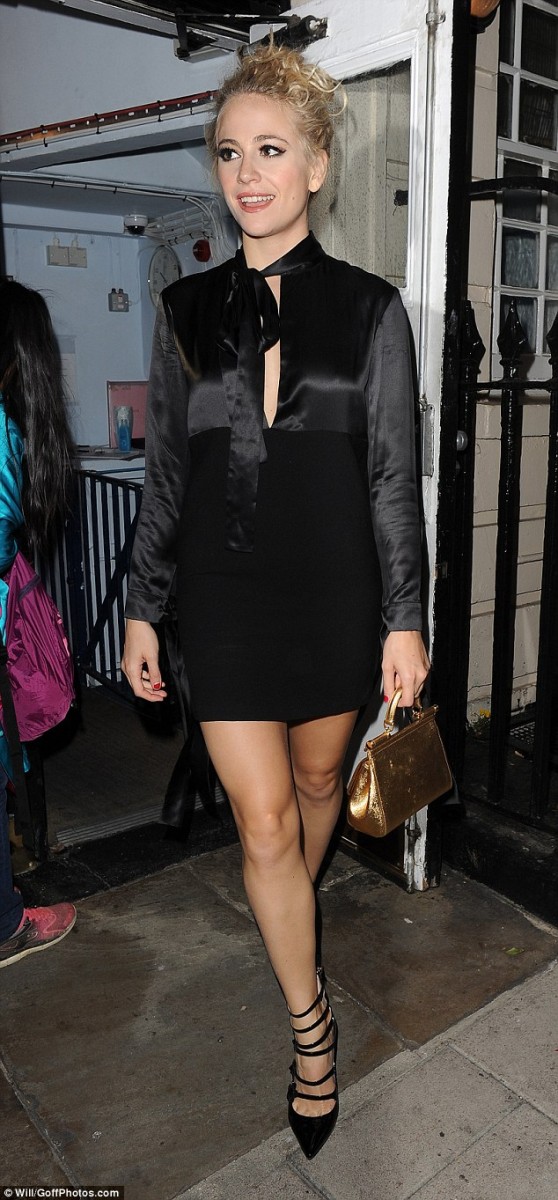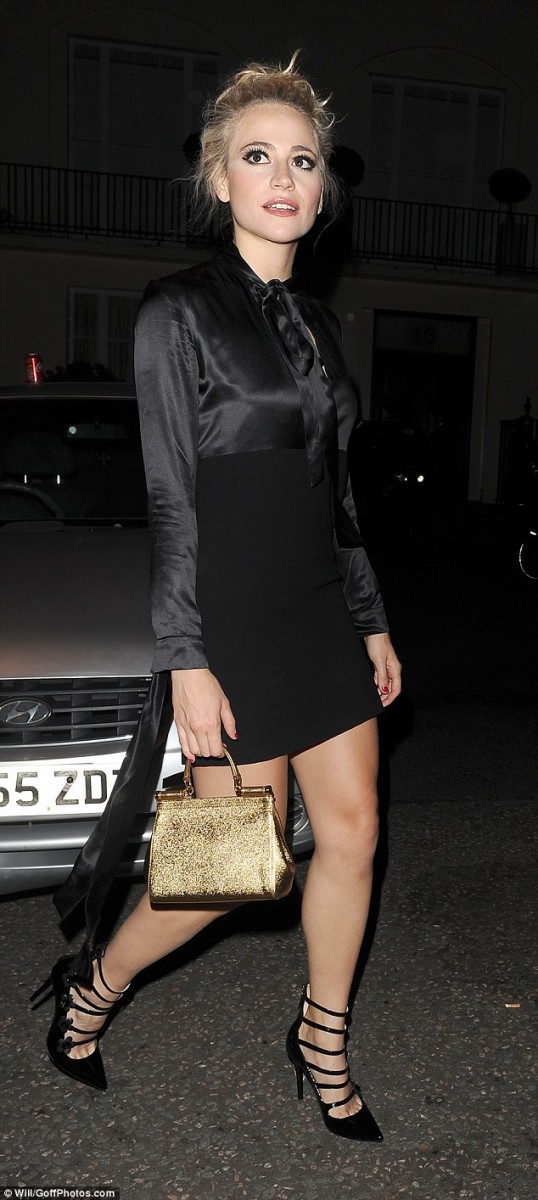 Pixie Lott is all smiles as she exits the Royal Haymarket Theatre after her performance  as Holly Golightly in the stage revival of the classic, Breakfast at Tiffany's, on August 8, 2016
How do you like Pixie's post-performance style? Do you approve?
It's classic yet playful thanks to the extra long sash on the sleeves and flower-embellished buckled straps on her shoes. Altogether, I think she looks great. A little quirky, perhaps, but definitely polished and pretty.
Speaking of shoes, any thoughts on Pixie's pair? Do you think she wore the right heels to go with the dress? Do you find the pumps sexy? What can you say about the flower embellishments on the straps?
No details were released on Pixie's whole outfit, but what I can tell you is her pumps are from Fendi. They're the "Flowerland", a style detailed with pointed toes, 4.25-inch-tall heels, 5.25-inch-tall shafts, and decorative floral appliques at the buckled straps. They're also crafted from liquid patent leather and feature zipper closures on the back for ease of wear. Here's a closer look: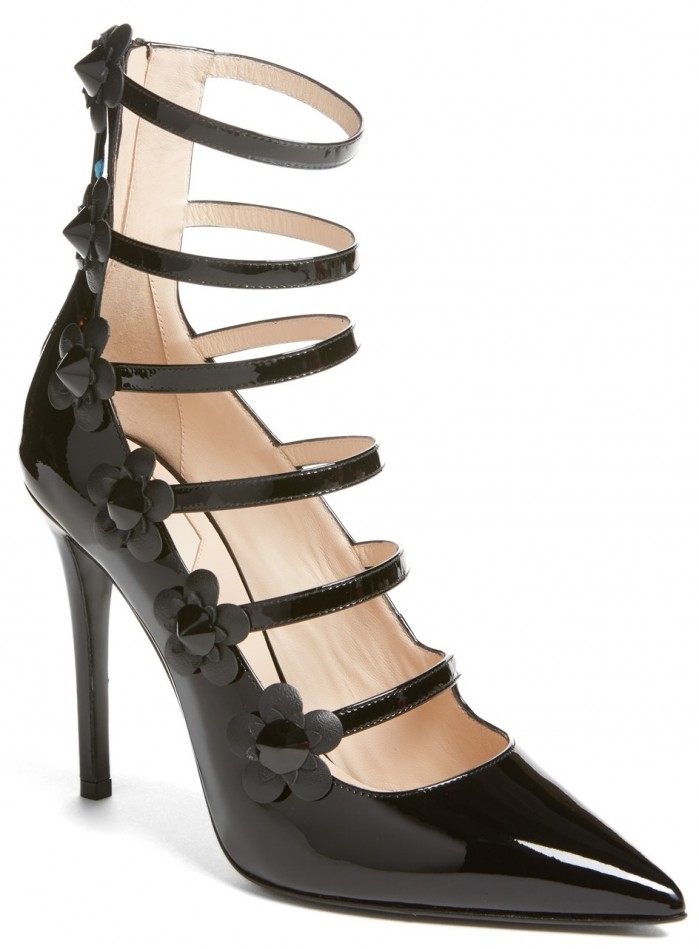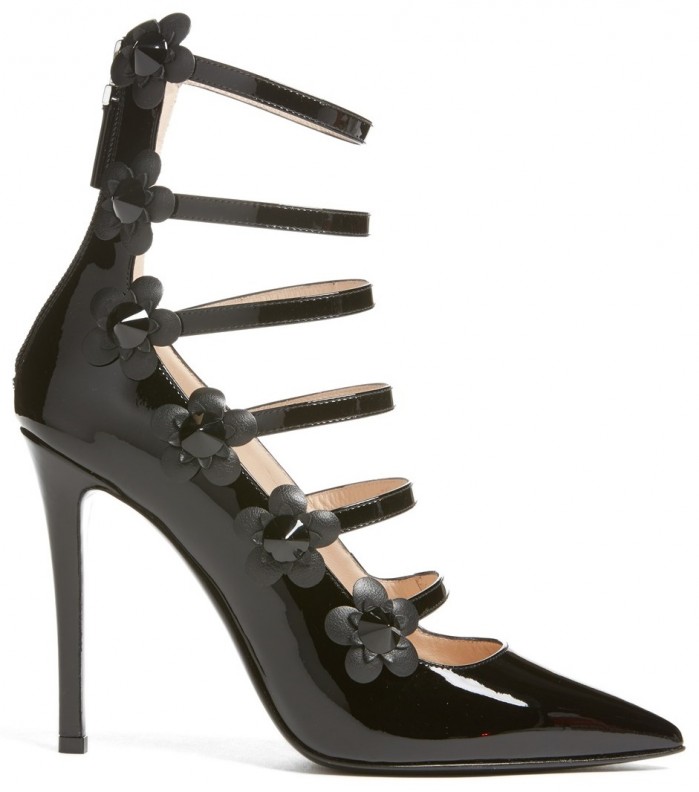 Fendi Flowerland Strappy Pumps, $1150
Do you like what you see?
You can find the Flowerland over at Nordstrom. They retail at over $1000. To steal Pixie's style, wear with this pussy-bow dress from Emilio Pucci, which will set you back a whopping $1600:
Emilio Pucci Pussy Bow Dress, $1620
For the gals looking to copy the look for much less, I chanced upon the perfect dress from Boohoo while I did my search. It's only $18. Also, below the frock is an alternative to the Fendi pumps. They're by MissGuided, and they retail at an affordable $56.
Boohoo Tal Tanisha Skater Dress, $18 (was $52)
MissGuided Ultra Elastic Strappy Court Shoes, $56