The world may not be exactly on her side after all the issues about her, but Lindsay Lohan definitely still has that fashionable charm that could create stir among netizens and on-lookers whenever she's spotted.
Just recently, Lindsay was spotted sporting two different outfits which were actually not super stellar, but because she'd worn them gorgeously, there might just be a potential for these outfits to gain style hits.
First outfit: Lindsay wore a pajama-like printed trousers and a matching top and then capped it off with a lace jacket, a floppy hat and a girly bow-detailed pumps, on her way to the Ed Sullivan where she's going to have a guest appearance at the David Letterman show. It may looked like just that, a pajama, for some but I would say Lindsay was able to pull it off and looked fairly decent in the whole ensemble.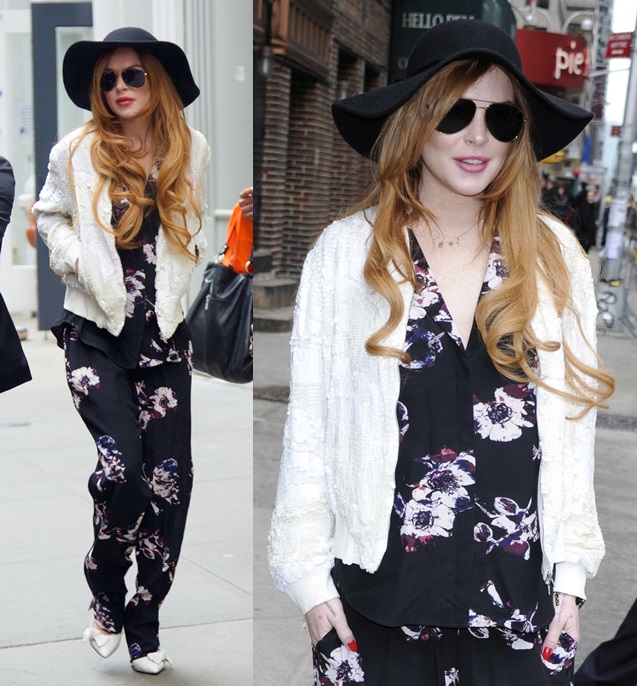 Before her turn came at the David Letterman show, Lindsay was spotted wearing not the pajama anymore, but a really unique piano-patterned sequined dress from UK brand Ashish. She still wore the same hat she was wearing with the pj's outfit to give a rocking look to her piano dress. Lindsay totally rocked this outfit with some thigh-high stockings and a pair of black pointy cap toe booties from Christian Louboutin.
Do you think the same with me?
So which one looked better on Lindsay? The Pajama outfit or the Piano Dress?
Whichever. But I think Lindsay's  Christian Louboutin booties is sooo gorgeous. It's called "Calamijane" and if I have a word to describe it, it would be "KILLER." It features extremely pointy toes that are detailed with perforated and scalloped metal caps and sits on a pin-think 4-inch tall wrapped heels.