Olivia Palermo stepped out on Wednesday in an all-black ensemble that, dare I say, was far from boring. The beautiful socialite was stylishly dressed in cropped wrap trousers teamed with a matching blouse and a long cardigan detailed with peek-a-boo slits on the shoulders. She skillfully complemented the trio with cat-eye sunnies, on-point jewelry, a snake-print bag, and a gorgeous pair of strappy cage sandals.
The whole getup was nothing short of fabulous. Olivia painted quite a picture as she went about her business. In fact, you can honestly understand why the papz were drawn to her. She simply looked perfect!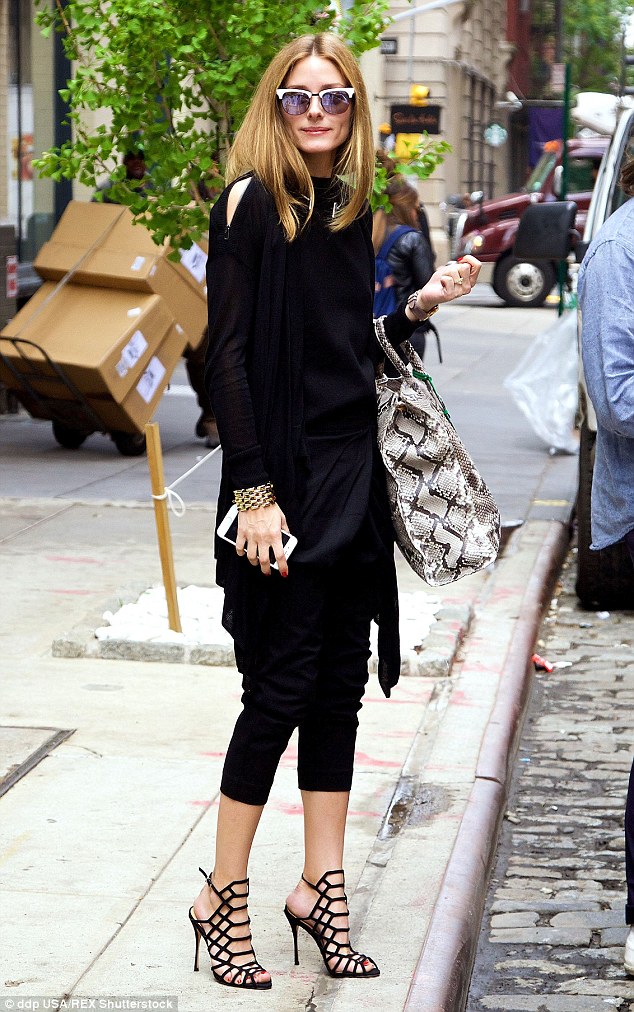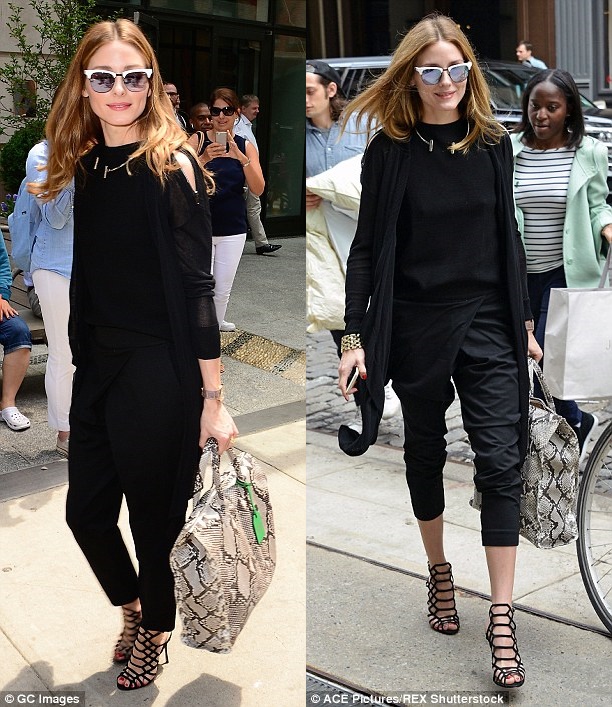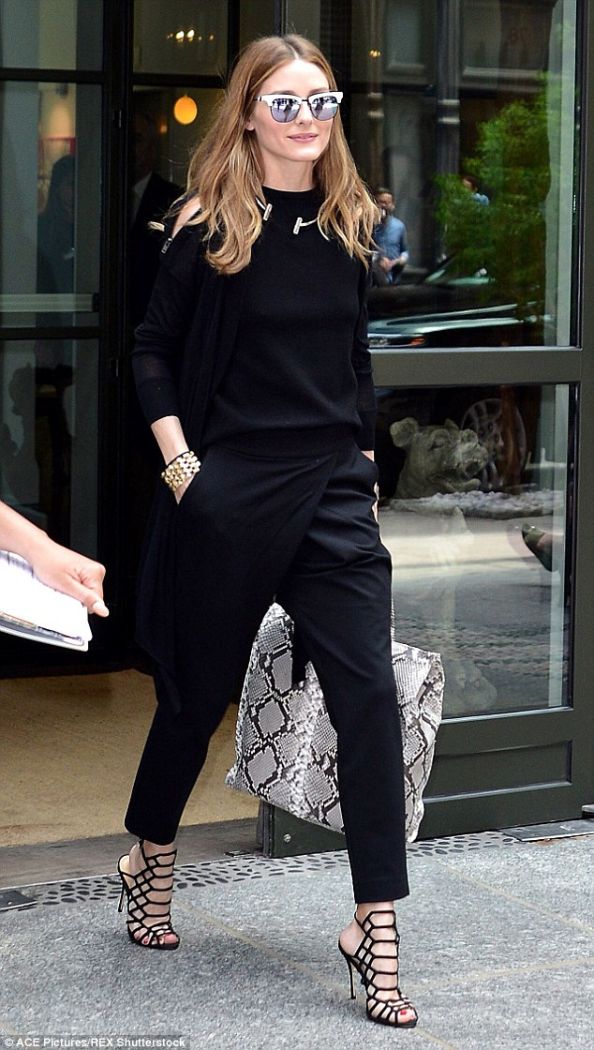 Olivia Palermo steps out in an all-black ensemble in New York City on June 3, 2015
Doesn't she look amazing?
Sometimes, I wish I could be in her shoes for a day. I wonder how it would be like…
But just because you're not Olivia doesn't mean you can't replicate her style. She's a pro at mixing and matching, so why not take a cue?
The one thing you need to remember is that Olivia always, and I mean always, puts her best footwear forward. In any outfit, her shoes — especially the heeled ones — never fail to impress. Most of the time, they're statement-making, as can be seen in the photos above.
I couldn't find any details on Olivia's three-piece outfit (well, not yet anyway), but I did manage to locate her shoes after weeding through countless (and I mean countless) strappy heels on the web.
Believe me, it took me a while to ID them, but I'm so happy I found the pair. I'm also so very excited to share the information with you because contrary to what most of you might think, Ms. P's fancy heels aren't that expensive.
On Olivia are the "Juliana" from Schutz. They're crafted from nubuck leather and feature slim cutout straps all over. They also feature 4.5-inch-tall heels. The best part, of course, is the price tag. The Juliana will only set you back a reasonable $190.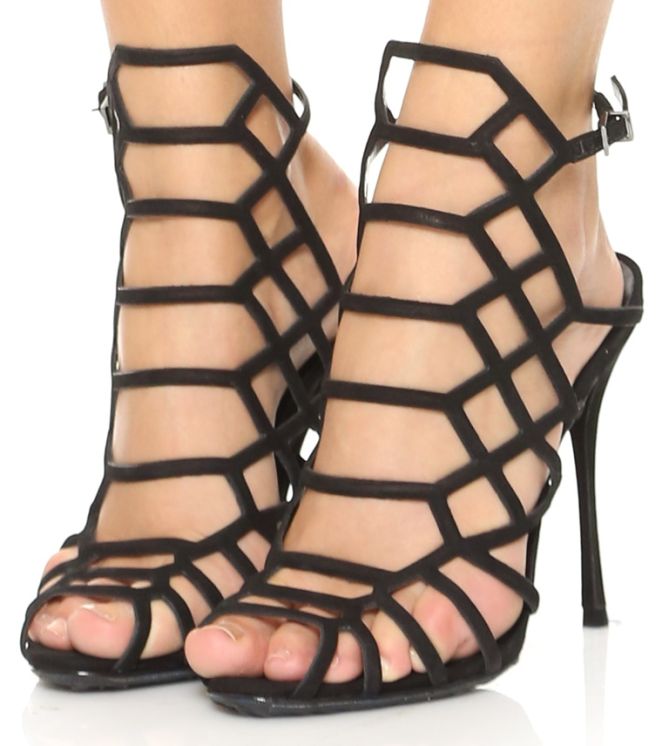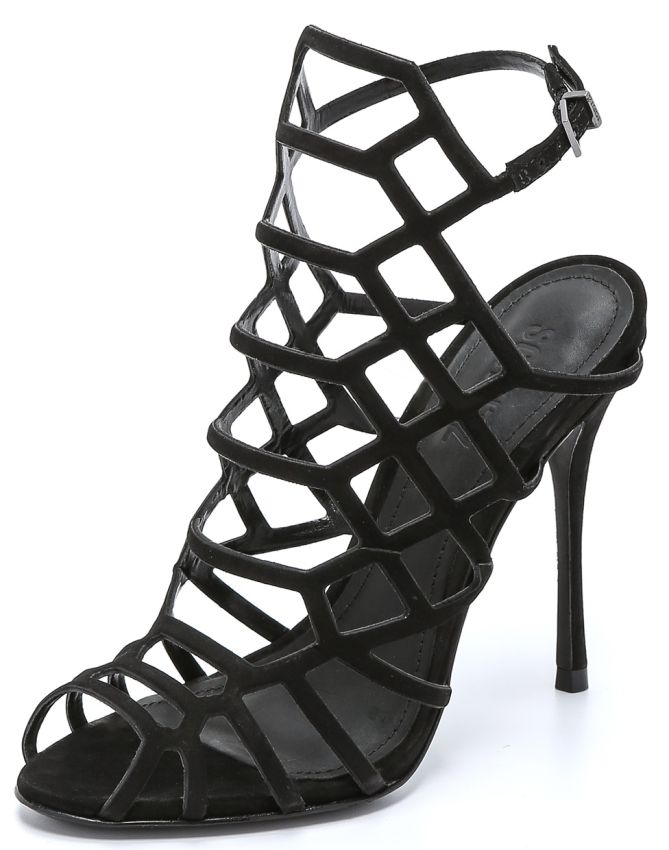 Schutz Juliana Caged Sandals, $190
This is why I'm a huge fan of Olivia. She's the queen of high-low fashion; plus, anything she wears always looks like a million bucks. Olivia is proof that you don't have to spend on expensive designer digs in order to look posh and fabulous. Feel free to grab the Juliana sandals online. They also come in nude, snakeskin, and hot pink.