Do you like wearing denim on denim?
Olivia Palermo took denim dressing to a whole new level when she attended a Kate Spade event in New York on Tuesday. The stylish socialite wore not just two, but three pieces of denim clothing. She rocked a faded blue shirt and blue skinny jeans for the occasion, and then topped off the combo with a beautifully patterned denim jacket.
In keeping with her style sense, Olivia complemented the getup with a gem-encrusted box clutch and a cuff bracelet from the label. She also wore nude ankle-strap pumps to punctuate the whole mix. Altogether, it was another fashion hit for Olivia.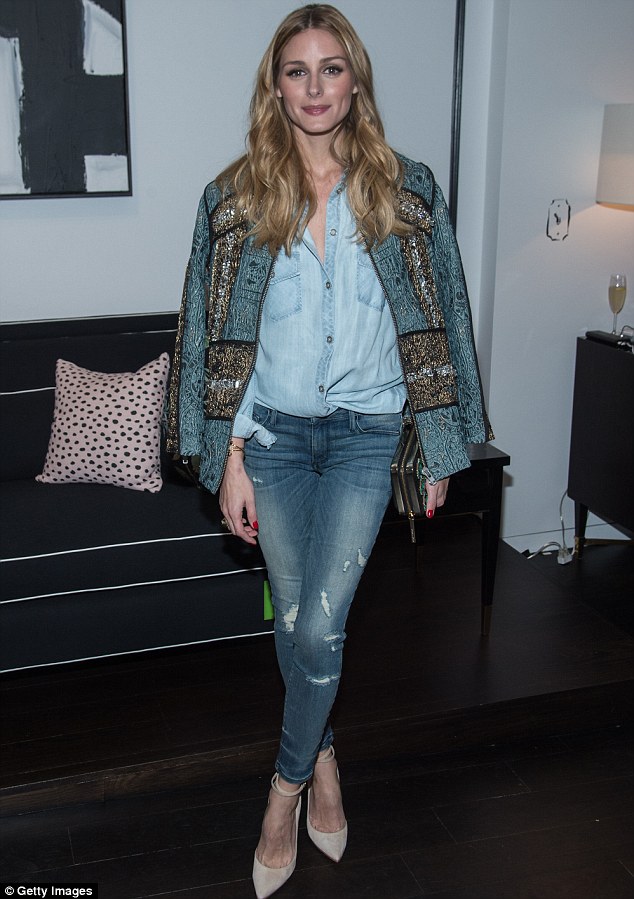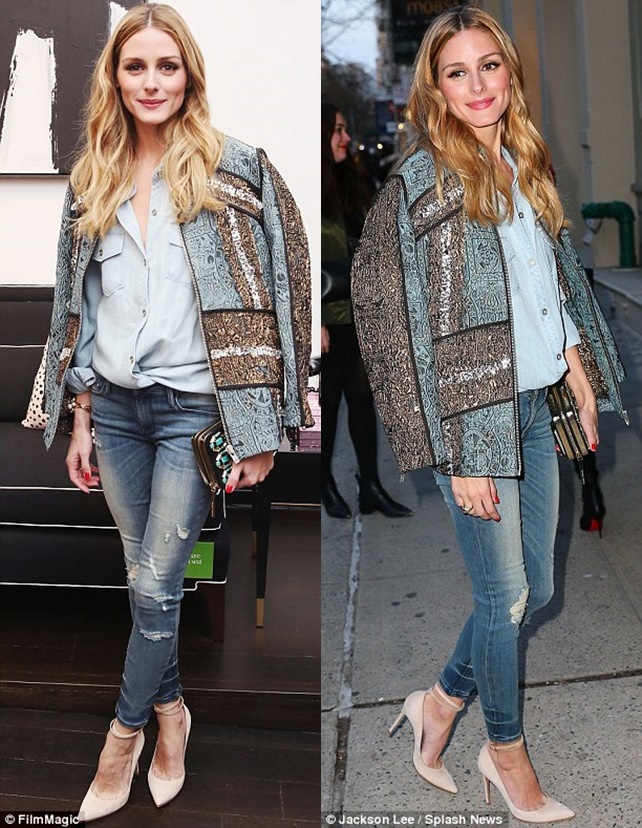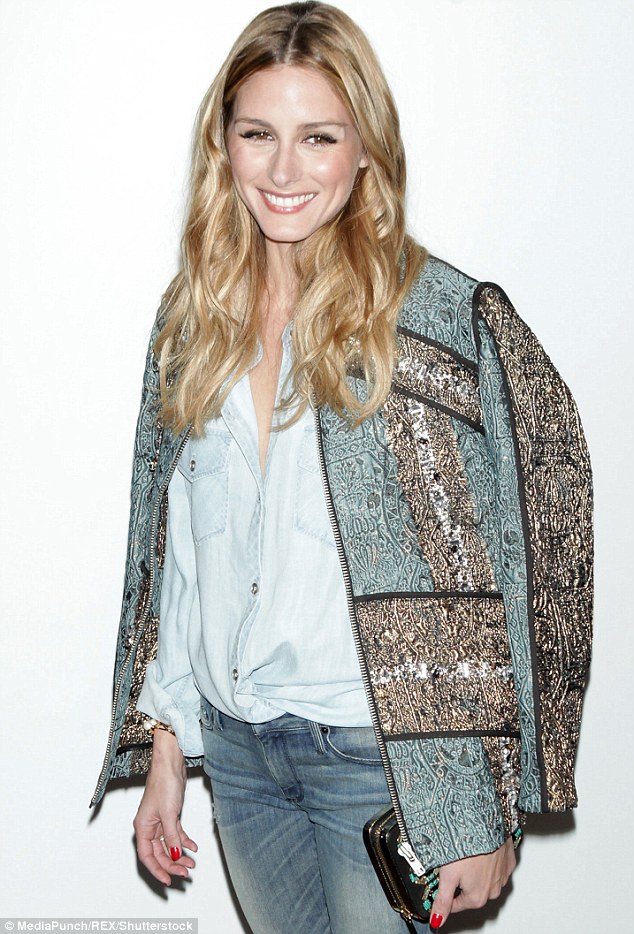 Olivia Palermo attends the Kate Spade Pop Up Shop in New York City on March 22, 2016
Wow. That denim jacket is gorgeous! That, and the embellished clutch. The rest of her outfit are simply there to complement and emphasize the statement pieces.
Would you like to steal Olivia's style?
The jacket is from H&M. Sorry, ladies. It isn't available online. And I doubt you'll find it in stores too, because it is beautiful. And as you know, anything beautiful with an affordable price tag never stays available for very long. The same applies to the clutch, but you can still grab the cuff bracelet over at Shopbop.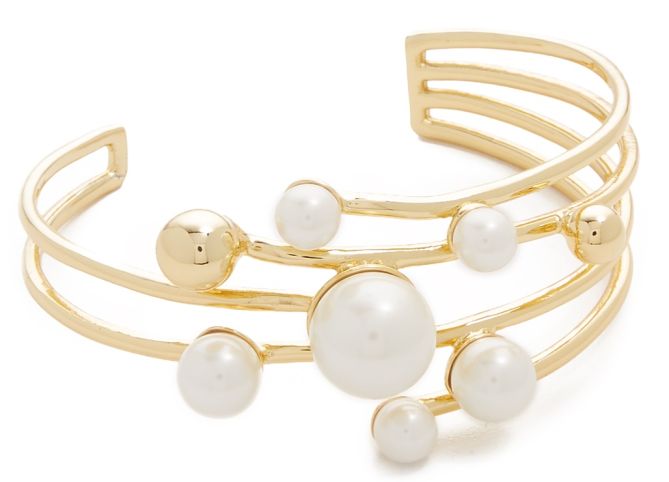 Kate Spade Bits and Baubles Statement Cuff, $98
Olivia's light wash shirt is from Rails, while her ripped skinnies are from Black Orchid. Below is a similar pair with a much lighter wash. Both can be found online if you fancy checking them out: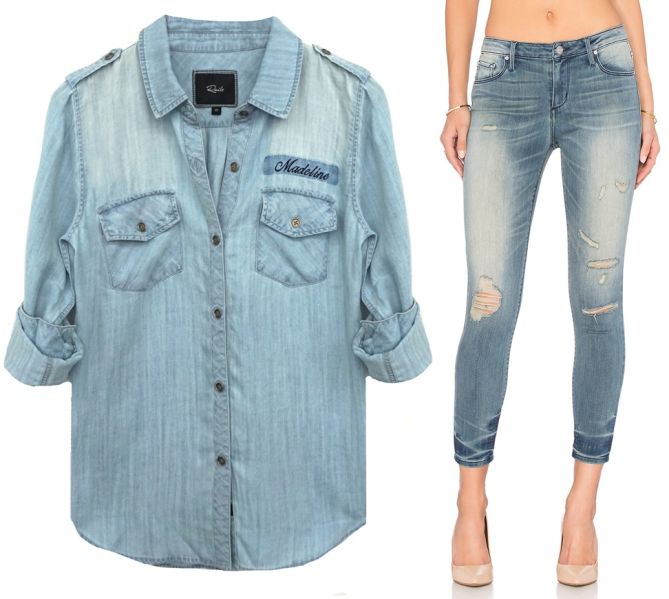 Rails Monogrammed Tyson Denim Shirt, $178 / Black Orchid Jude Crop Skinny Jeans, $198
Of course, there's no better pair to wear with an all-denim look than nude heels. For Olivia, she chose Gianvito Rossi's classic double ankle-wrap pumps. The style is no longer available, but here is a similar pair in black for your reference: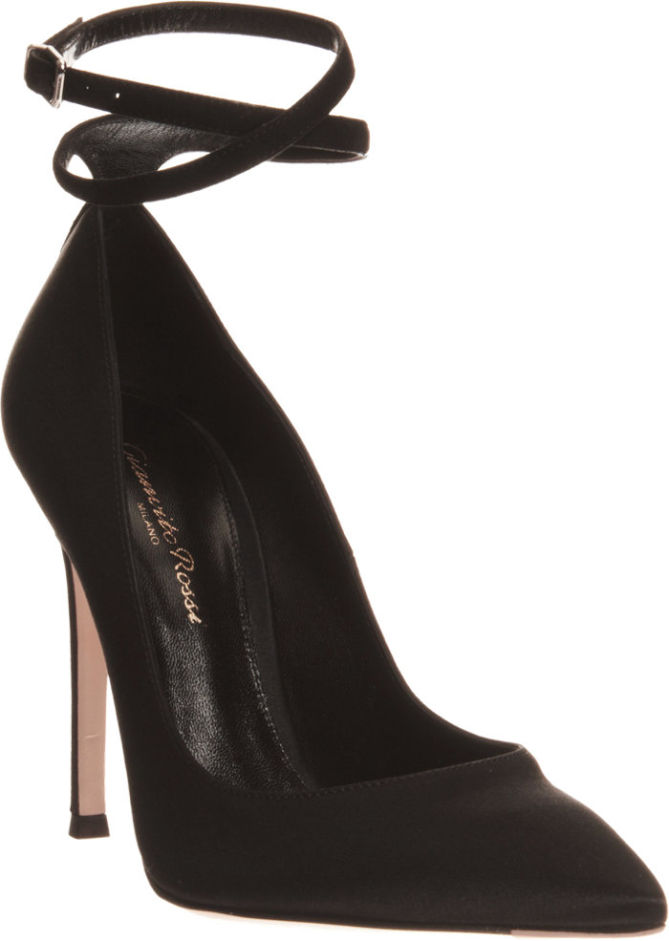 Gianvito Rossi Double Ankle Wrap Pumps, sold out
They feature pointed toes, 4-inch-tall heels, and slim straps that go around the ankles twice. Since the shoes are sold out, an alternative you can consider would be the nude suede "Carla" pumps, also from Gianvito Rossi. Of course, you can always make your own interpretation of Olivia's all-denim attire with pieces you can afford: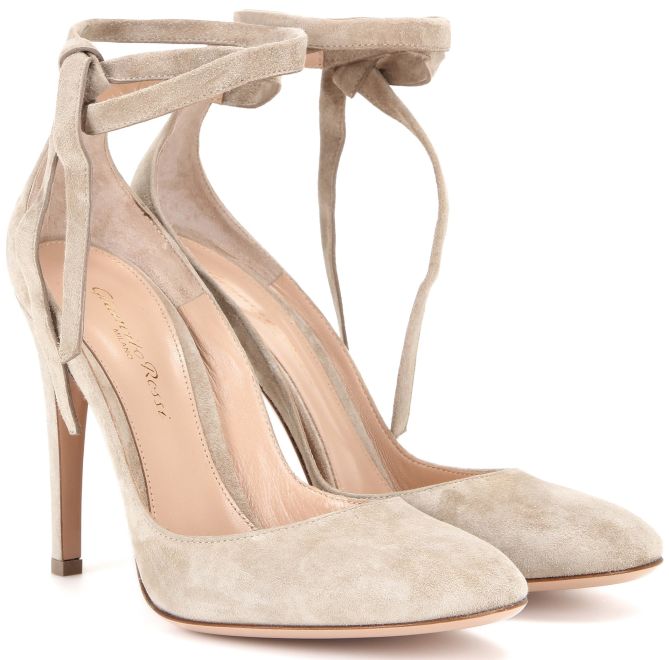 Gianvito Rossi Carla Ankle Strap Pumps, $895