Natalie Portman sure surprised a whole lot of fans on Thursday. The actress, who usually prefers feminine frocks in classic or toned-down colors, made quite a statement in a technicolor ensemble at the Ballet National de Paris Opening Season Gala held in Paris, France.
Natalie wore a Dior Haute Couture creation done in shades of green, yellow, red, blue, and white. It was an eye-catching choice that did not fail to turn heads. She complemented the two-piece attire with a neat updo, statement earrings, and a pair of red satin pumps. The whole getup was adventurous and playful, but it was also elegant, so you can understand why Natalie chose to wear it.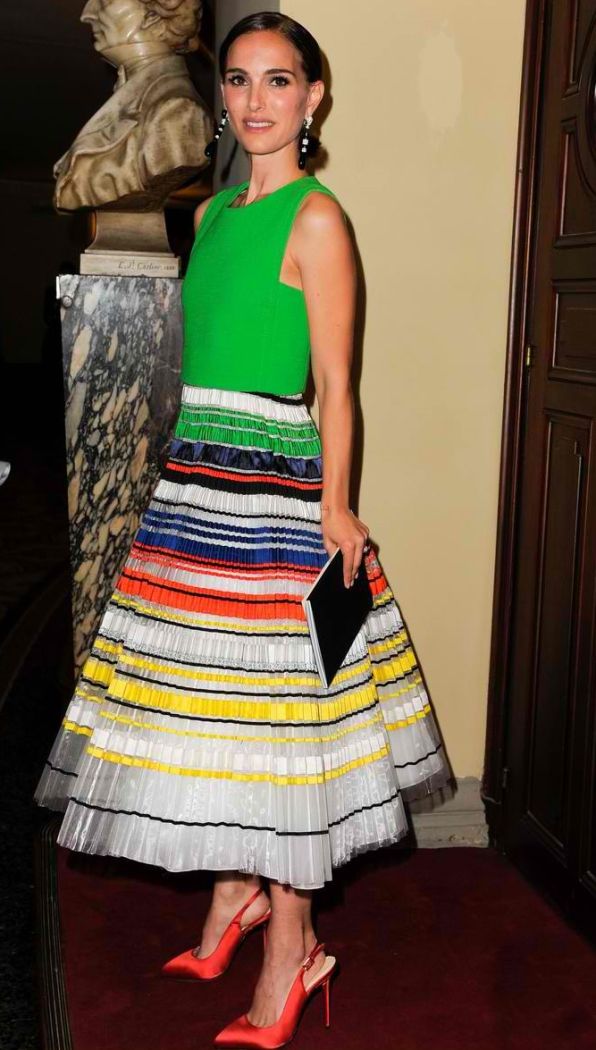 Natalie Portman attends the Ballet National de Paris Opening Season Gala held in Paris, France, on September 24, 2015
I'm the kind of girl who gravitates towards blacks, whites, and beiges, but for some reason, I like Natalie's outfit. I think it suits her. It made her look youthful. The colors become her.
Now on to the footwear. What do you think of Natalie's choice to wear red satin shoes with her getup? Would you consider the pair on-point, or should she have slipped into a different pair?
Natalie's red satin slingback pumps are from Charlotte Olympia. As to which style from the label, that I've yet to find out. However, they look very similar to the "Monroe" pumps below. These shoes are done in red suede, but the silhouette is very similar: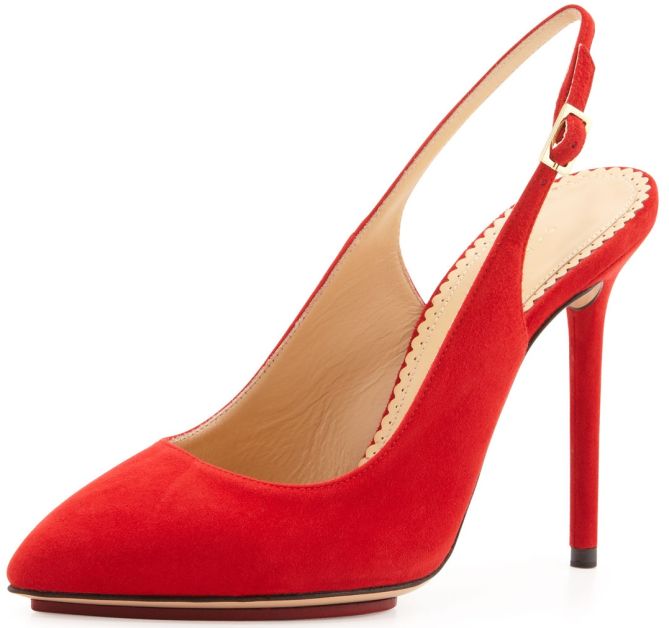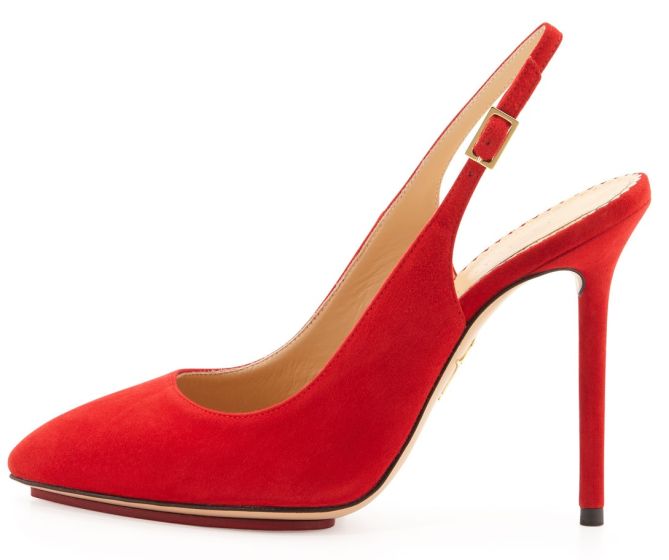 Charlotte Olympia Monroe Slingback Pumps, sold out
The Monroe pumps are already sold out, but you can find the slingback version of the Dolly online if you don't mind your pumps with platforms.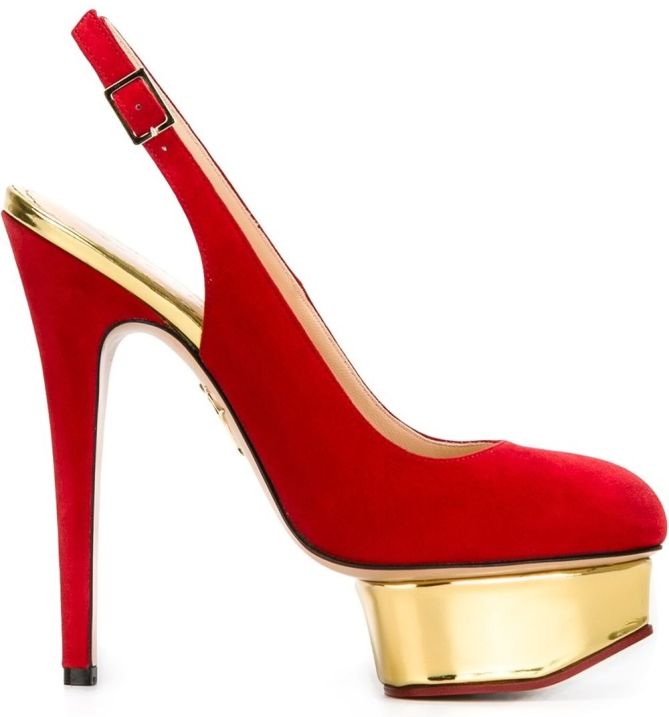 Charlotte Olympia Dolly Platform Slingback Pumps, $661
Of course, you really need not spend that much if you just want red slingback pumps regardless of the brand. Try these affordable options from Sam Edelman and Nine West instead. Team your choice with a green crop top and a multicolored striped tea-length skirt to achieve Natalie's style: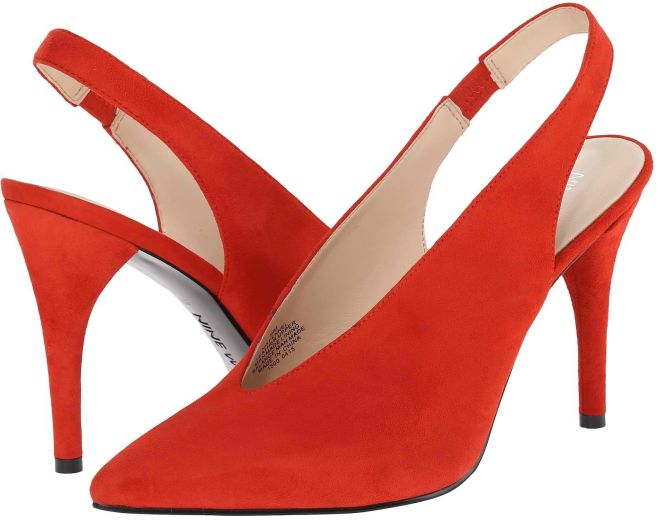 Nine West Fennel Pumps, $89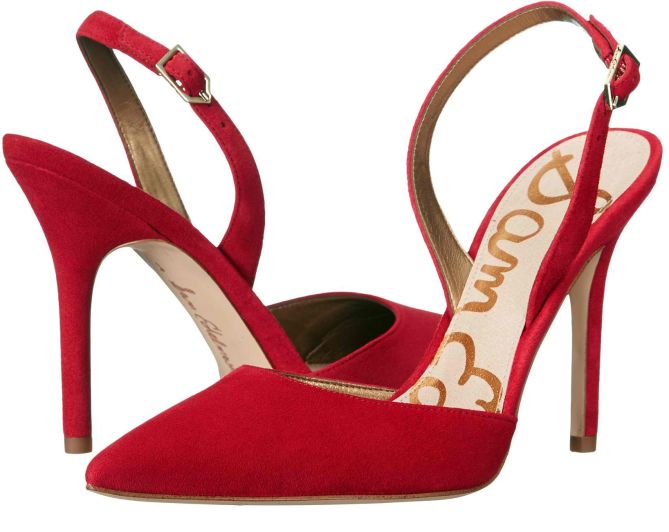 Sam Edelman Dora Pumps, $100