Miley Cyrus sure knows how to stop traffic and make you do a double-take. The singer and former Disney star may be back with Liam — a highly possible reason why you see less of her crazy antics — but that doesn't mean she's done with her over-the-top sartorial choices.
While out on a lunch date with Liam at Nobu in Malibu on Sunday, the "Wrecking Ball" singer decided to rock double denim in the most playful way. She showcased her taut tummy in a pair of crop wide-leg jeans and a green crop top, but then went on to accessorize the otherwise normal combination with statement-making extras composed of an overly embellished denim shirt and some chunky black slides decorated with multicolored gems.
Not content with the catchy mix, Miley added more drama to her look by way of white angular sunnies, a multicolored belt, and a printed backpack.
The combination was too much for me, but then again, who am I to judge? This is Miley we're talking about. And she can pull off anything. Check out these photos and then tell me if you agree: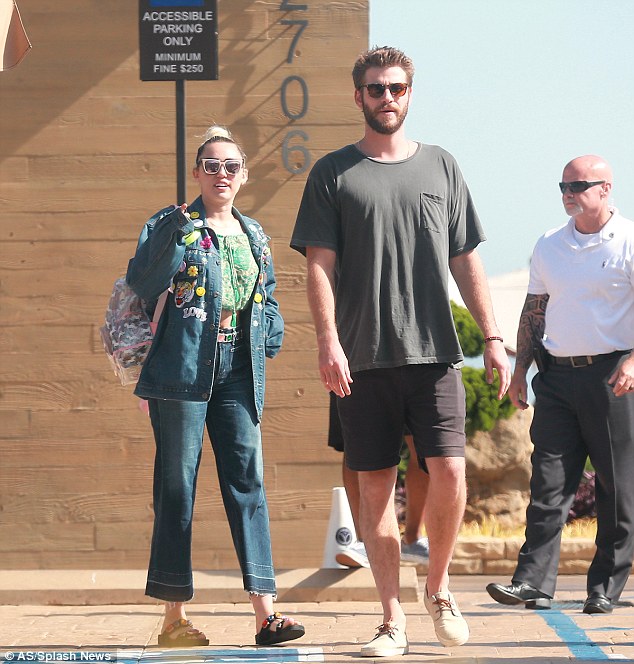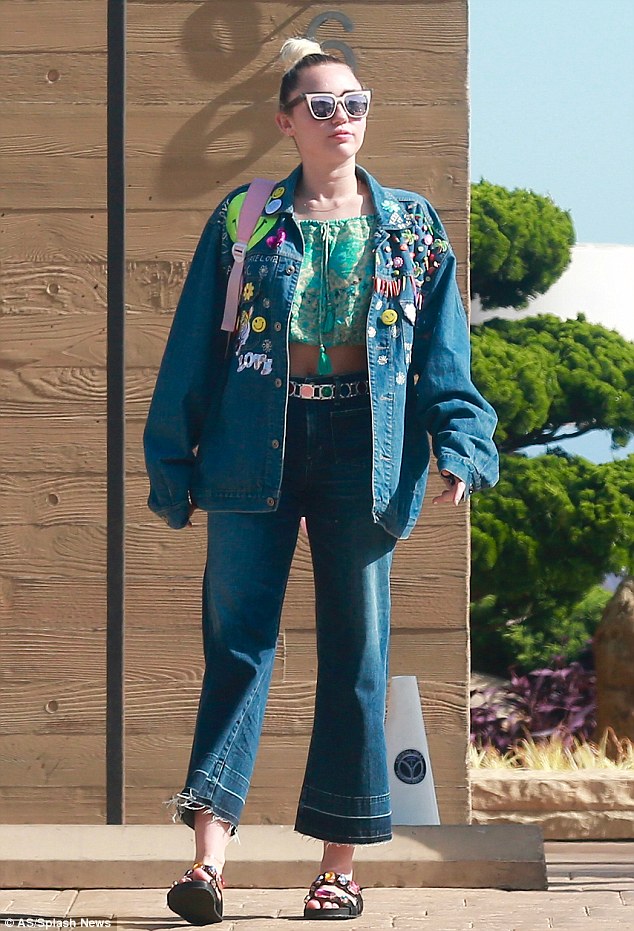 Miley Cyrus and Liam Hemsworth step out for a lunch date at Nobu restaurant in Malibu on July 10, 2016
Well, ladies, what do you think? Did Miley pull off this double-denim getup or did she fail to impress?
I'm all for self-expression through fashion, but she looks like she's going through a very "childish" phase here. The color choices, the bright pins and appliques, they're all very, er, "tween-ish". Would you agree?
Don't get me wrong, I think the mix she put together shows promise if she wore it the right way. If I could re-do the outfit, I would remove all those colorful add-ons on the denim shirt, fold or scrunch-up the sleeves to her elbows, remove the tacky belt, switch the backpack to a more polished-looking piece (in black!) or instead go with a mini-crossbody (see below for example), and definitely fix her hair. She can choose to keep the sandals and make them the focal point of her outfit.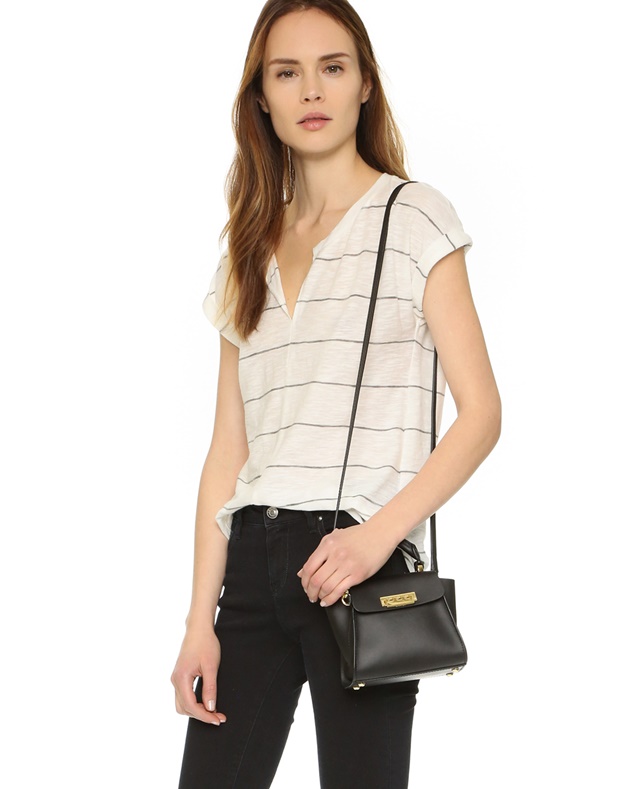 ZAC Zac Posen Eartha Top Handle, $295
Speaking of the pair, they are from Sophia Webster — the "Becky" slides, which is a style that comes in several renditions. Here's a closer look at the Becky for you. They're crafted from suede leather, feature corrugated soles, and are embellished with chunky multicolored "gems" on the wide scalloped straps: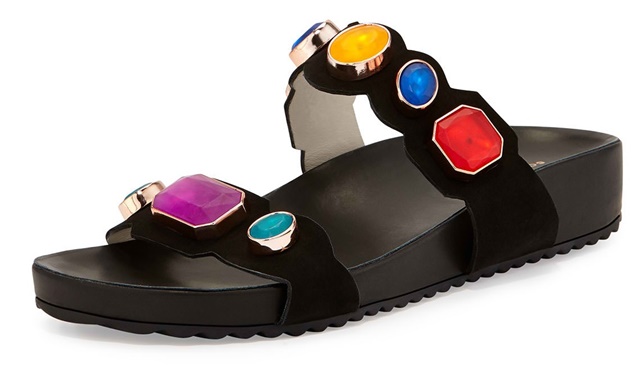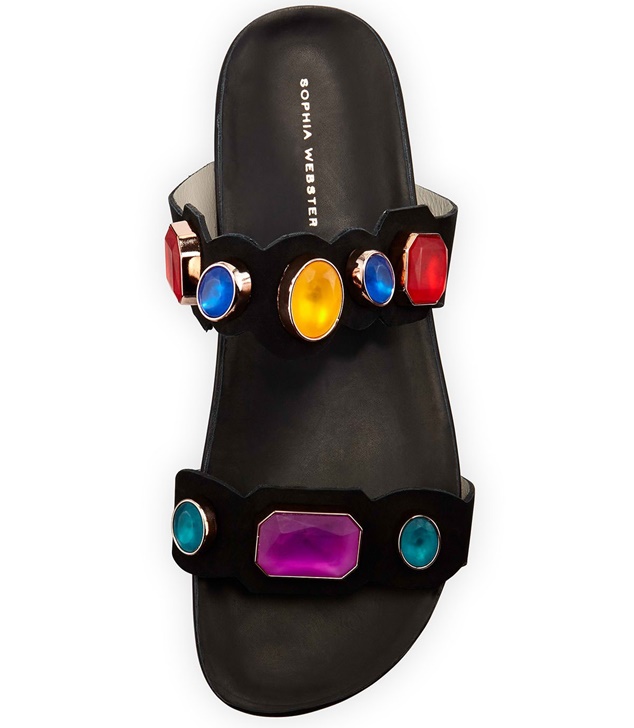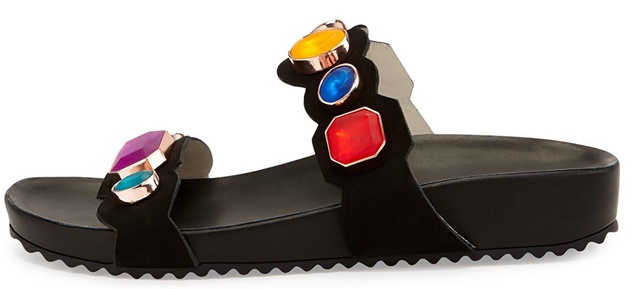 Sophia Webster Becky Sandals in Black Multi, $375 (sold out)
Do you like what you see?
Sadly, the sandals are already sold out online. You can, however, grab the white stripes version over at Forward. The sandals are currently on sale at $263. Another version is also on sale at Yoox, though it is more expensive: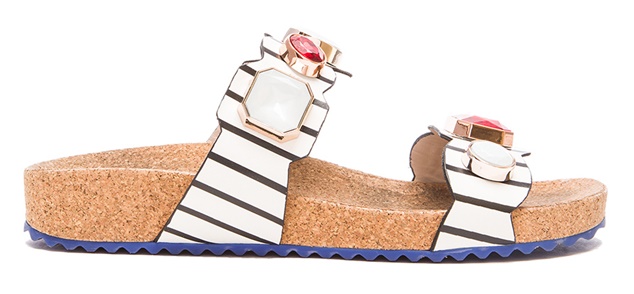 Sophia Webster Becky Jeweled Sandals in White Jeweled Stripes, $263 (was $375)

Sophia Webster Becky Sandals in White Cutouts, $418 (was $566)
Also, if you're interested in Miley's jeans and jeans, you can find both online. The denims are from A GOLD E, while the off-shoulder crop top is from a label called Spell.
A GOLD E June High Rise Sailor Jeans, $148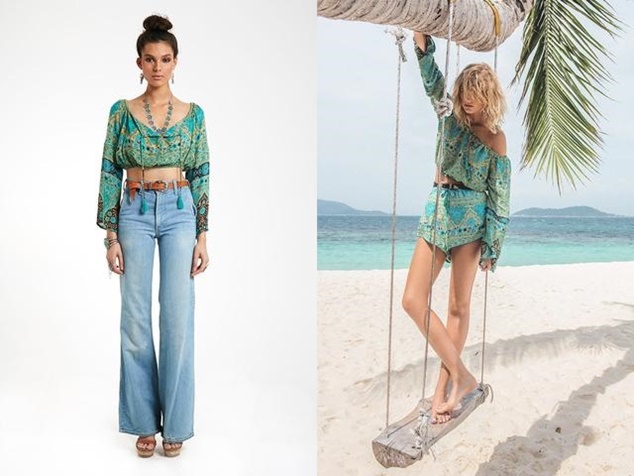 Spell Aloha Fox Off Shoulder Top, AUD$49 (was AUD$119)