Whether you agree with me or not, I think Miley Cyrus is a shrewd business woman. Yes, she's just another celebrity, but she knows what to do to get people talking — which in turn, keeps her relevant in the showbiz world.
This season, Miley is on a roll. Apart from appearing on the cover of ELLE's October issue, she will also be hosting the upcoming MTV VMAs. She made an appearance on Jimmy Kimmel Live! on Wednesday, and the stint also got everyone talking.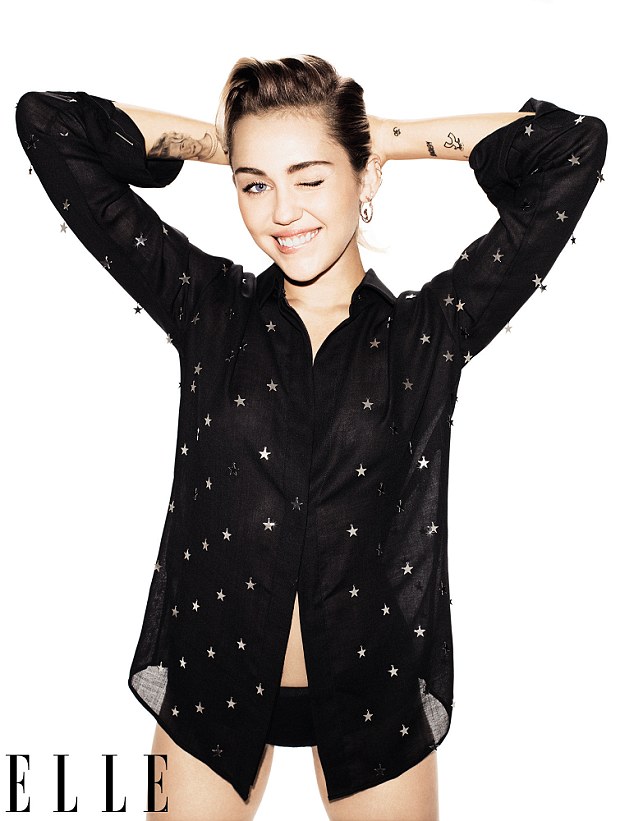 The former Hannah Montana star arrived at the venue in a sporty attire of sweater, denim shorts, and pink Nike Air Jordan sneakers. She teamed the mix with catchy bunny ears, which made her quite hard to miss.
Miley arrives at the Jimmy Kimmel Live! studio in Hollywood for her appearance, August 26, 2015
For the guesting, Miley made Jimmy Kimmel ultra uncomfortable by wearing nothing but star-shaped nipple pasties and an open cape to cover her rack. Her ensemble for the show was quite glitzy, by the way. It was filled with sequins and glitter, and she made it even more unforgettable by styling her hair with lots of unnecessary decorations.
Altogether, though, the interview was very entertaining to watch. In fact, you could tell from the way she handled herself that Miley is actually smart and she knows full well what she's doing.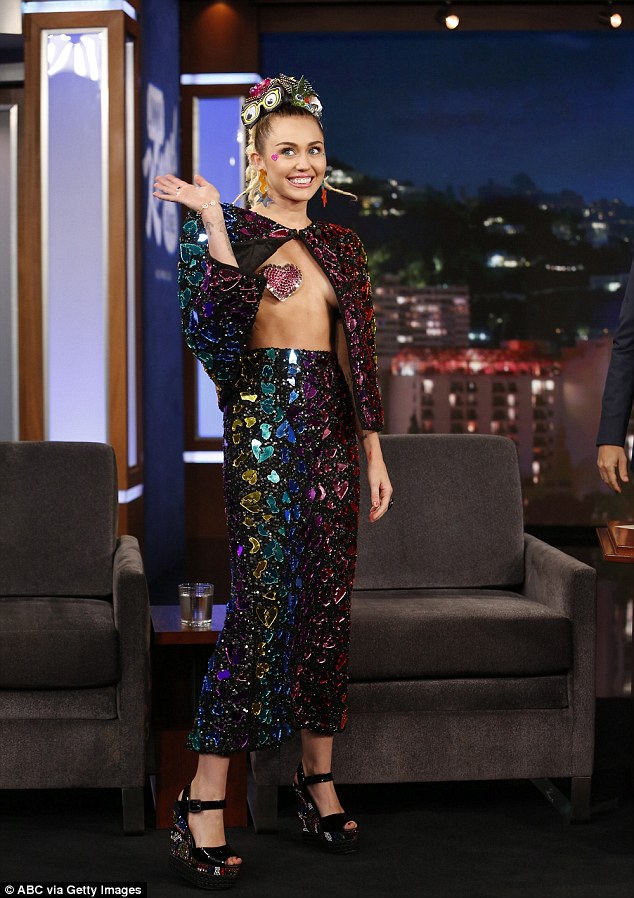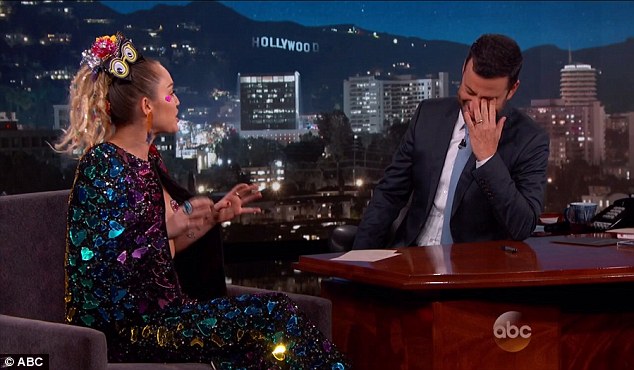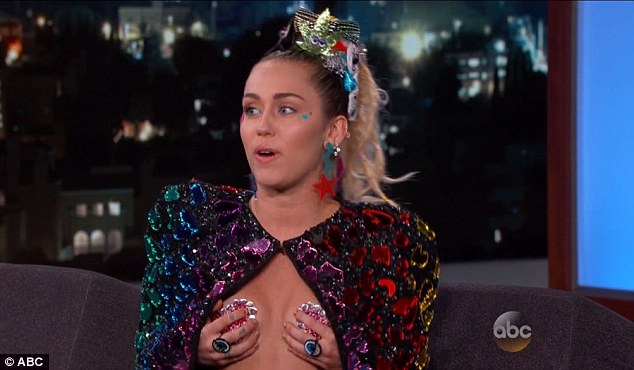 Miley wears nothing but nipple pasties for her appearance Jimmy Kimmel Live!
Given that we're all about shoes here, I couldn't help but notice the glittery and colorful wedges Miley used to go with her, er, costume. I couldn't find information on the pair, but fortunately, I managed to locate the sandals after a few clicks. They're the "Love & Peace" patent sandals from Giuseppe Zanotti, and they are gorgeous up close. I'm not a fan of super high platforms, but the beadwork on these shoes are truly sublime. Take a look: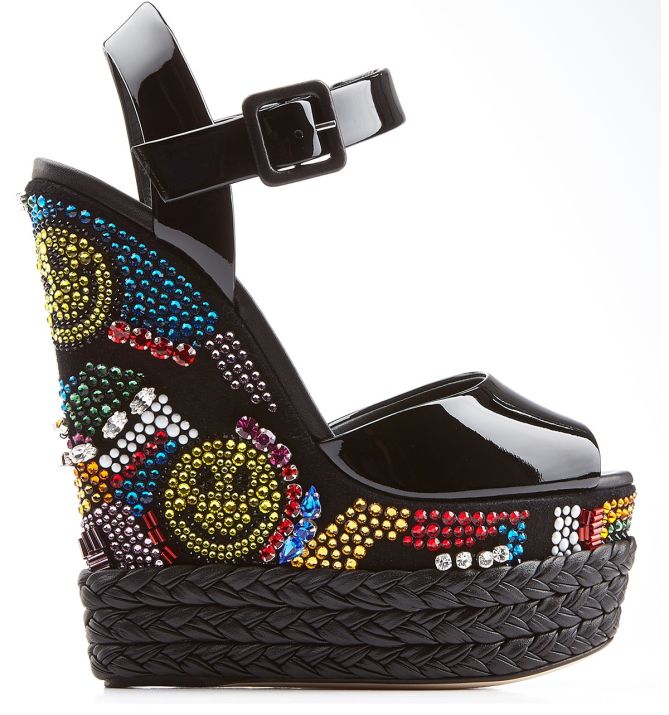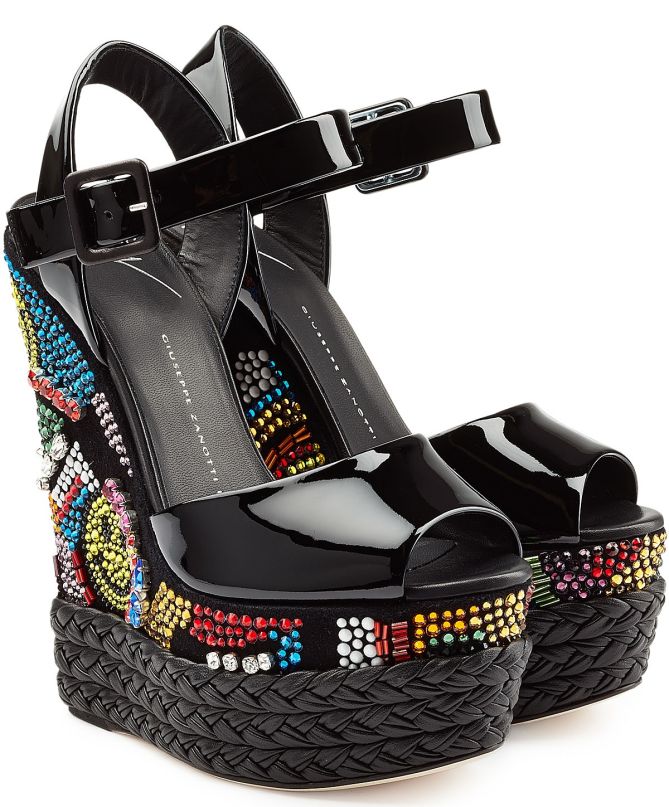 Giuseppe Zanotti Love & Peach Patent Wedge Sandals, $1557 (was $2595)
Pretty fancy. Would you agree?
They're in patent, but as you may notice, Miley's sandals are in suede, a variant that I couldn't find. That said, I think they go pretty well with her shiny cape and trousers.
For the gals interested in Miley's pink Nike Air Jordan sneakers, they're the "4Gs" in pink-purple combination. I'm guessing they're part of a limited edition line-up because I can't find 'em anywhere. For reference, however, here's a pair in red-white combi: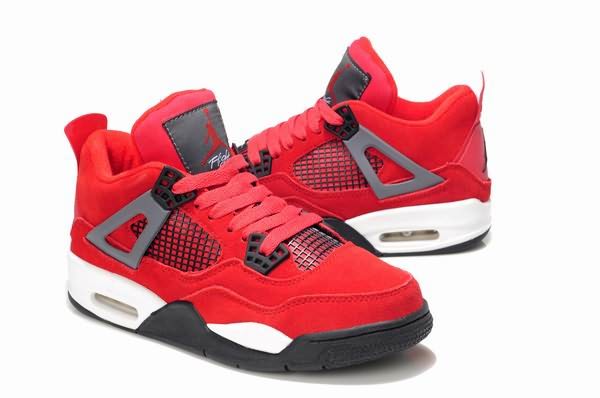 Nike Air Jordan 4Gs Sneakers in Red-White
By the way, during the show, Jimmy also showed a clip of Miley going undercover as an Aussie reporter hired to interview people on the street what they think of Miley Cyrus. Check out the clip below. It's fun to watch, and you can't help but admire the young woman for how she handled the bad comments.