Pretty mother-to-be and future Mrs. Ashton Kutcher Mila Kunis looked even more gorgeous in a super short black dress when she appeared on the Jimmy Kimmel Live!  just recently. The actress' guesting in the said show was even remarkable because she took the opportunity to shout out to all the future fathers to stop saying "we're pregnant" because men don't get pregnant. Mila said it in a quite funny way that amused Jimmy as well.
According to Mila, she's enjoying every bit of her pregnant state. She said she is embracing the changes in her body, especially her chest. The actress also shared her plans for the delivery room, saying that her fiance will be present at the birth but will remain level with her head at all times.
It seems like Mila and Ashton are really perfectly blooming with each other. Love is very evident in both of the couple's faces. Mila even stressed that the day Ashton asked her hand in marriage was the best day of her life.
 "I cried. I was a mess. Not to discredit any relationships in my past, but this relationship is different."
And yes, we couldn't deny the fact that she's still hot even with the baby bump!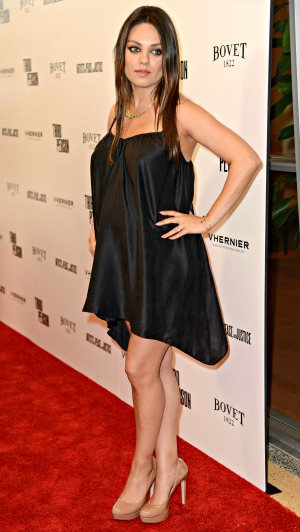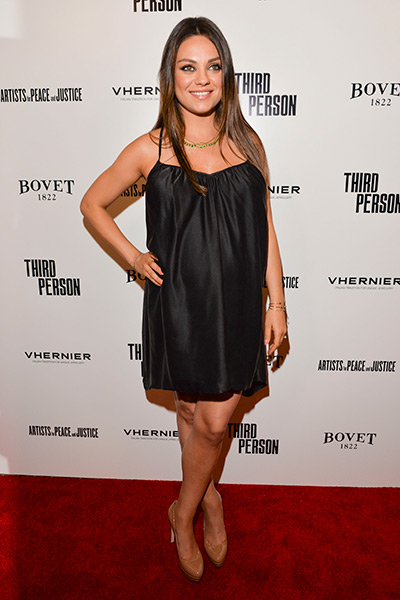 Mila's little black dress just looked perfect on her. Showing off her gams was a sneaky way to distract people from focusing on her swollen belly, but it worked perfectly. The actress capped off the entire look by wearing a nude platform pumps which made her legs looked even longer and lean.
Mila's nude platform pumps was unidentified, though, but I found a good alternative with a similar style just in case you're fancying her pumps — the Michael Kors Ionna Pump.