I consider Margot Robbie as one lucky gal. She managed to break into the A-list Hollywood scene in such a short span of time and with not much effort. Well, I'm sure she worked hard for every role, but at least she didn't have to struggle for so long just to get recognized. You could say she isn't just a pretty face, because if that was the only thing she had to offer, she wouldn't get picked to play big parts. And, let's not forget the girl CAN dress.
Margot is currently busy promoting her new movie, Suicide Squad, in New York City, and so far, she has displayed some serious fashion sense for the press tour. The Gold Coast native's off-duty style has been consistently chic as well. Early Wednesday morning, she stepped out in a short black slip dress and a long coat. Yes, the 26-year-old Aussie could have looked like she just rolled out of bed and put on a robe, but she pulled off the getup with no issues. She even complemented the mix with on-point extras like a whipstitch-detailed shoulder bag, some retro sunnies, and flat snake-print lace-up sandals.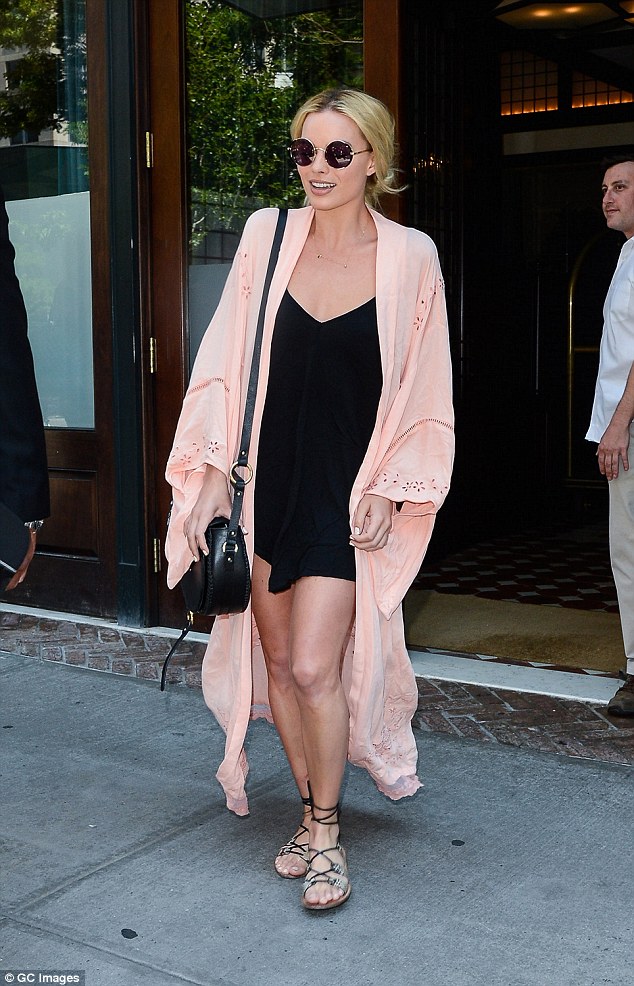 Margot Robbie steps out to enjoy the sights in New York City before the Suicide Squad promotion on July 28, 2016
Come evening, Margot joined Will Smith and other co-stars for a night out in the Big Apple. Perhaps the venue called for something grunge and cool because the actress decided to wear chunky lace-up boots with her off-shoulder frock.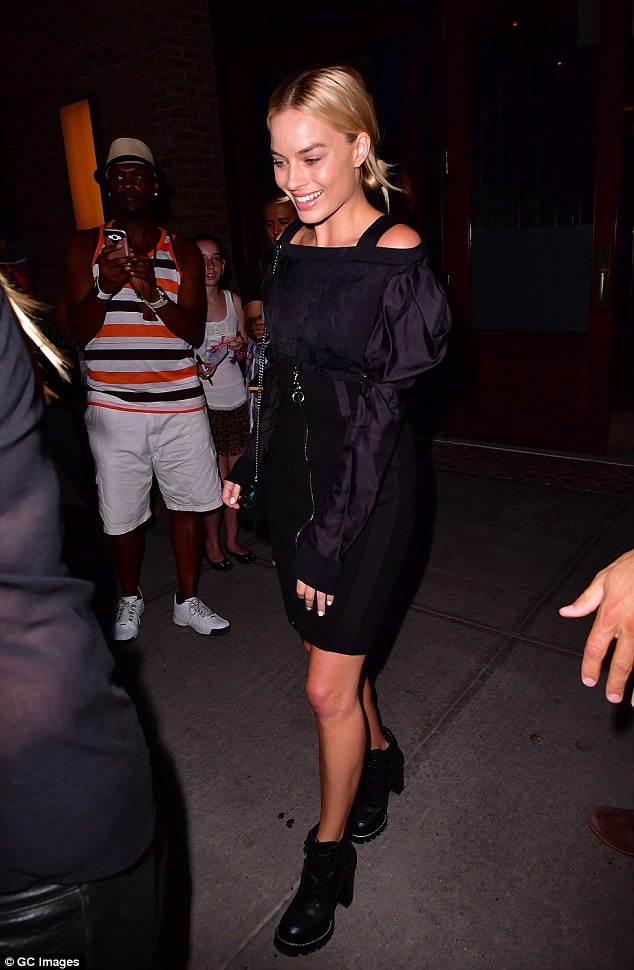 Margot joins her co-stars for a night out in the Big Apple on July 28, 2016
When it comes to work, however, Margot knows when and how to look fabulous. The following day, she easily transformed herself for a promotional appearance. She went ultra girly in a floral Gucci dress and matching Gucci platform heels. Capping off the getup was a gorgeous embellished Gucci purse.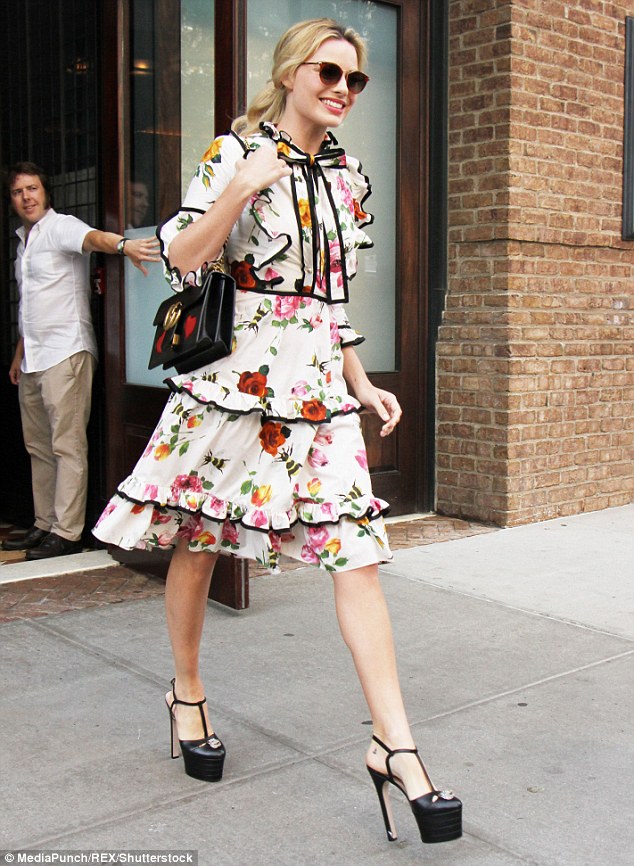 Margot Robbie is all set and ready to promote her new movie in NYC while decked in head-to-toe Gucci on July 29, 2016
On the same day, Margot switched into a sexier outfit for another press run. The second ensemble — a short and ruffled LBD with cold-shoulder cutouts — was less feminine and more bombshell-worthy. She complemented the piece with black ankle-strap sandals and dark-eye makeup.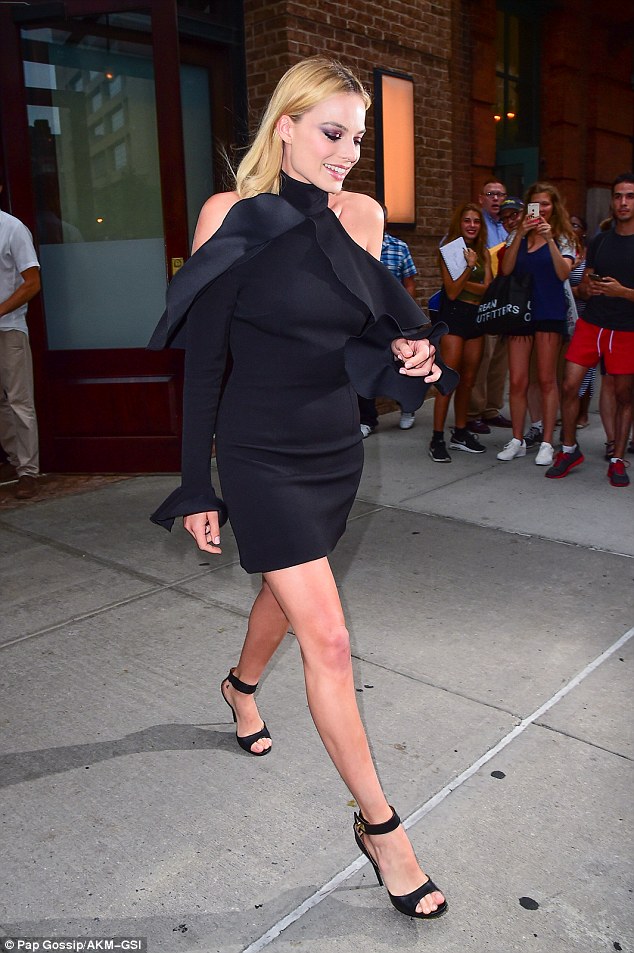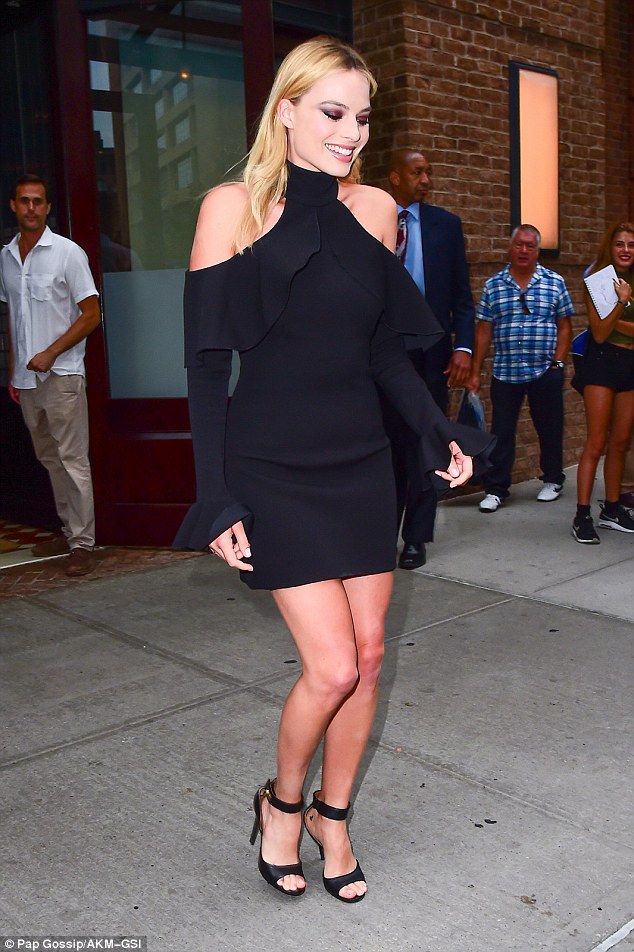 Margot transforms into a blond bombshell for another appearance in NYC on July 29, 2016
How do you like Margot's on and off-duty style? Of the four outfits, which is your favorite?
I think she looks amazing whether or not she's dolled up. She is naturally attractive, and while she's no seasoned style star, she knows how to dress for her figure.
If you're looking to steal Margot's many looks here, then be sure to check out Spell & The Gypsy Collective because that's where she scored her long coat. I couldn't find any details on her flat lace-up sandals, but my hunch is they're from Ancient Greek Sandals. Check out the pair below: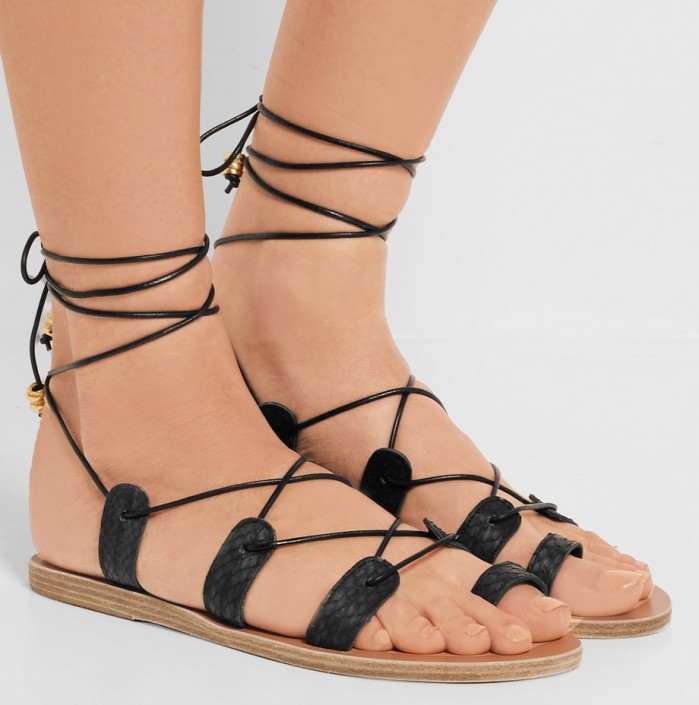 Ancient Greek Sandals + Ilias LALAoUnis Alcyone Lace Up Snake Sandals, $465
No information has been released on Margot's grunge all-black club attire from the second photo, but you can easily channel it with these boots from Dr. Martens: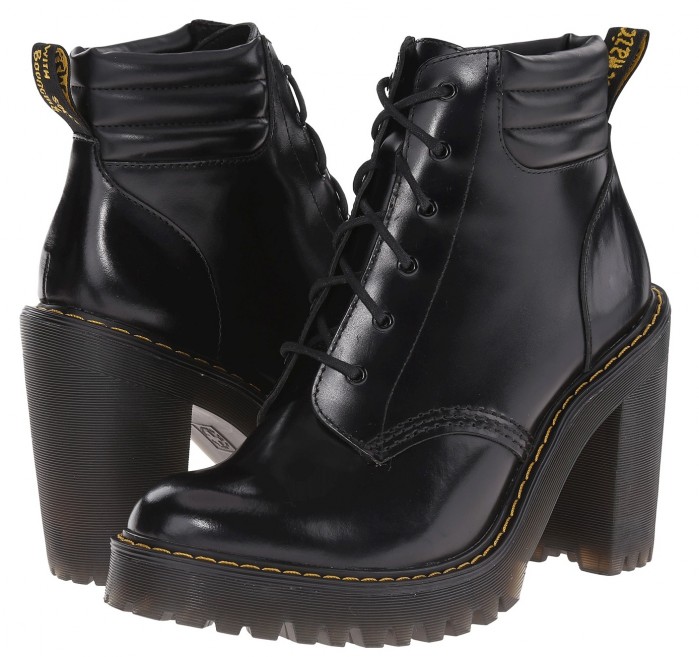 Dr. Martents Persephone Boots, $160
And for those who fancy Margot's Gucci ensemble, the dress, purse, and shoes can be found online. Here's a closer look at the pieces. Trust that you will be splurging big time if you choose to copy her outfit to the T: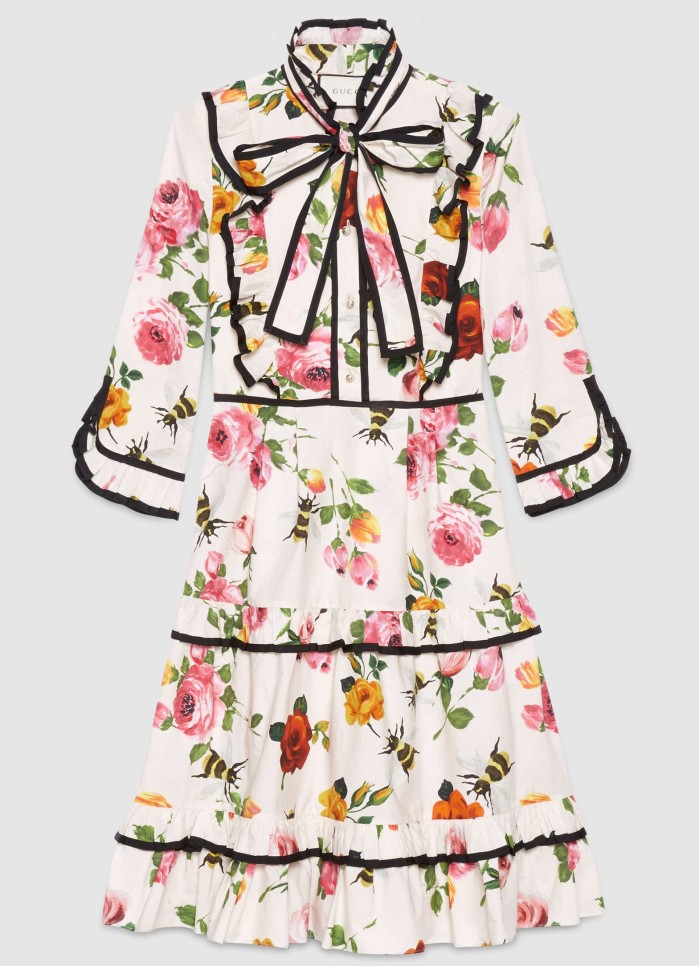 Gucci Rose Print Cotton Poplin Dress, $2600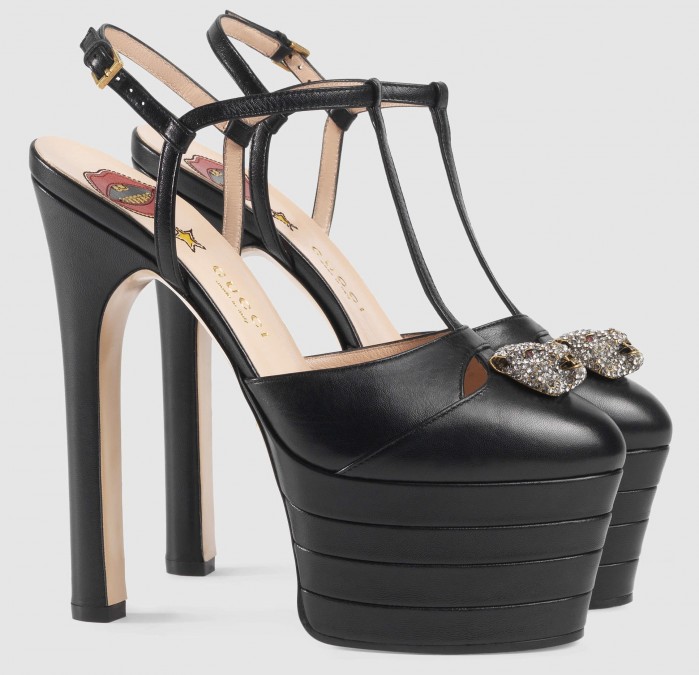 Gucci Leather Platform Pumps, $1200
Margot's ruffled LBD from the last set of pics is from Elie Saab, while her ankle-strap heels are by Givenchy. They appear to be the Shark Lock sandals, like the pair below. Ready to go shopping?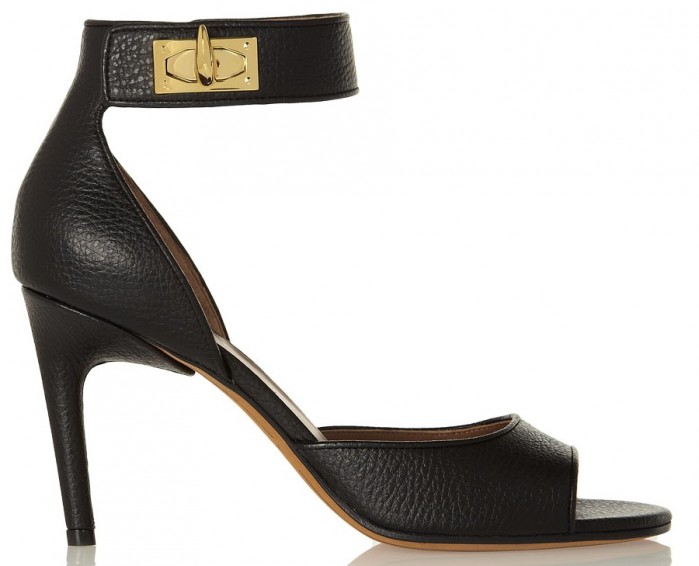 Givenchy Shark Lock Sandals, $995