If you've been busy as a bee, then you probably have no clue that Madonna locked lips with Drake while the two performed at Coachella over the weekend. It's not what you think, though. It was an unexpected move coming from Madge, and let's just say Drake appeared to have not enjoyed the display. Feel free to Google a video of the incident, but below are enough screenshots to tell you the story.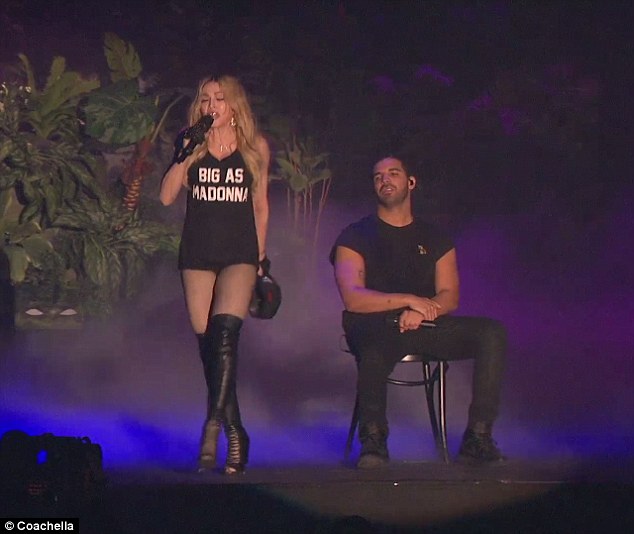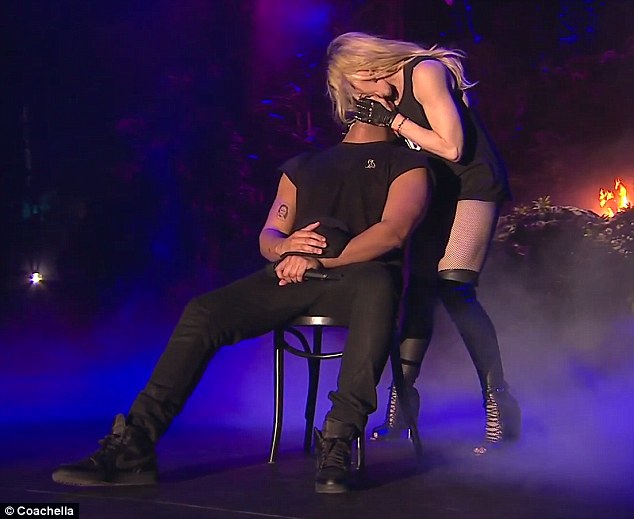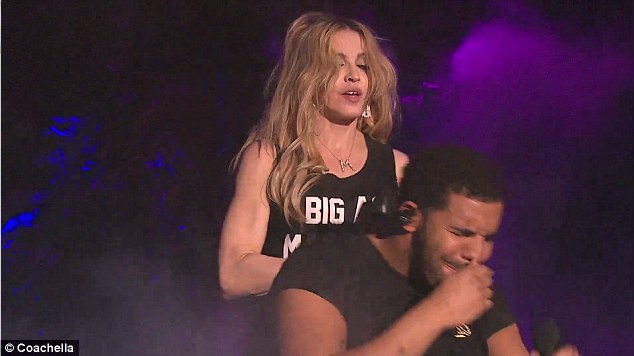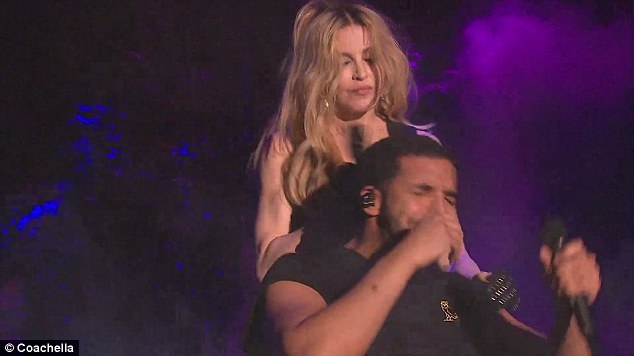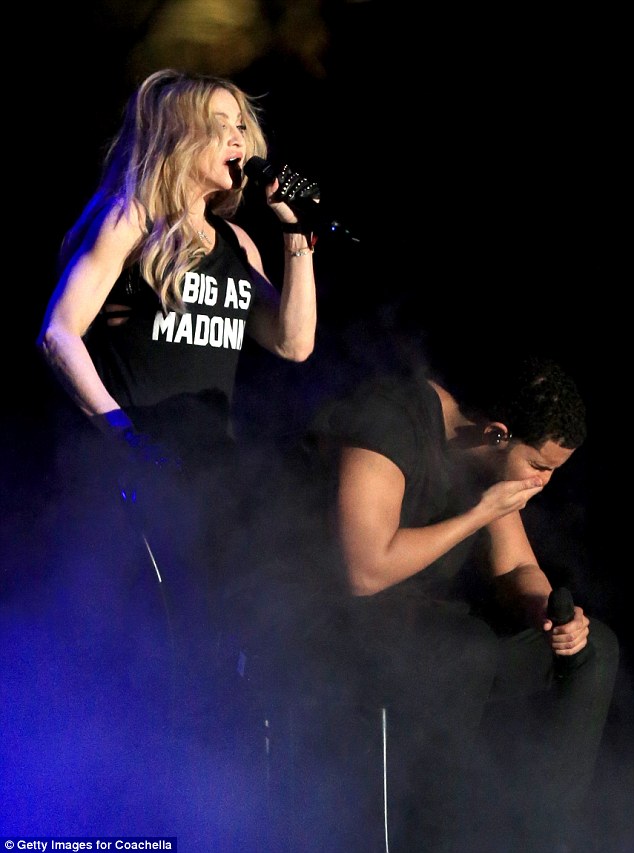 Madonna gives Drake a French kiss while performing at the 2015 Coachella Music Festival in Indio, California, on April 12, 2015
Oh well. She probably bit his tongue, noh?
Painful lip-lock aside, let's talk about Madonna's outfit for the performance. It's quite dressed-down — definitely not like the usual overdecorated "costumes" she wears whenever she hits the stage. But fortunately, I would say this is the best she's looked in quite a while. Would you agree? I mean, you wouldn't think she's 56 in these photos.
Madonna's top is no doubt custom made, but her boots aren't. They're actually from Givenchy. They feature an open-toe silhouette detailed with lace-ups and tall stretchy shafts that reach the thighs. Below is a closer look at the pair: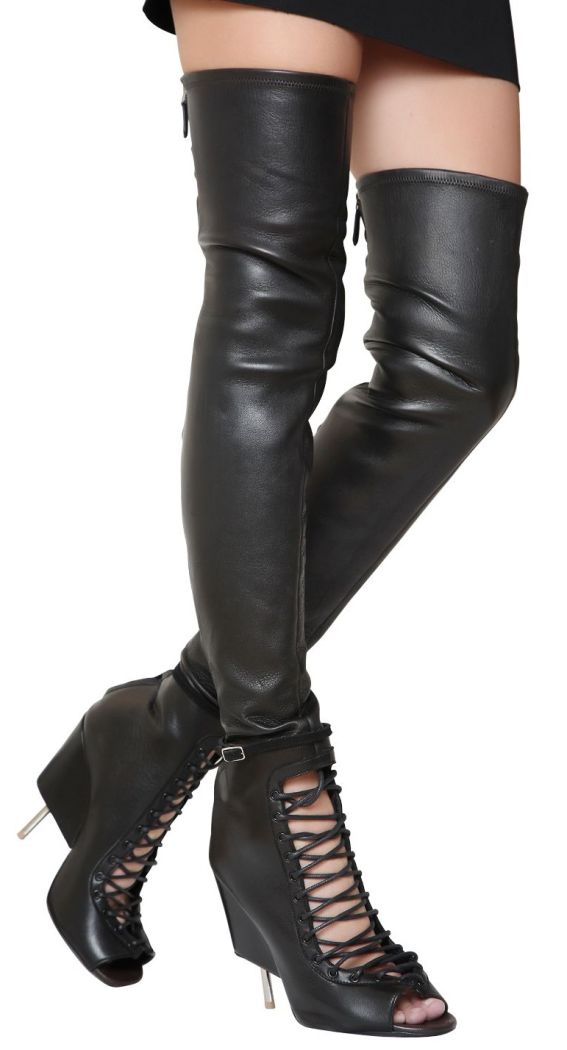 Givenchy Lace-Up Thigh High Leather Open-Toe Boots, $3625
The boots retailed at a pricey $3625 when they came out, so I'm guessing Givenchy probably just produced a limited number considering only 2% of the population would be willing to spend that much on a pair of shoes.
As expected, they are also no longer available, but if you're keen on grabbing something similar, you can try the boot style Givenchy is currently offering. The "Narlia" offers a more streamlined design that makes the pair very wearable. They don't have the lace-up details, but they are open at the toes and offer the label's signature heel silhouette.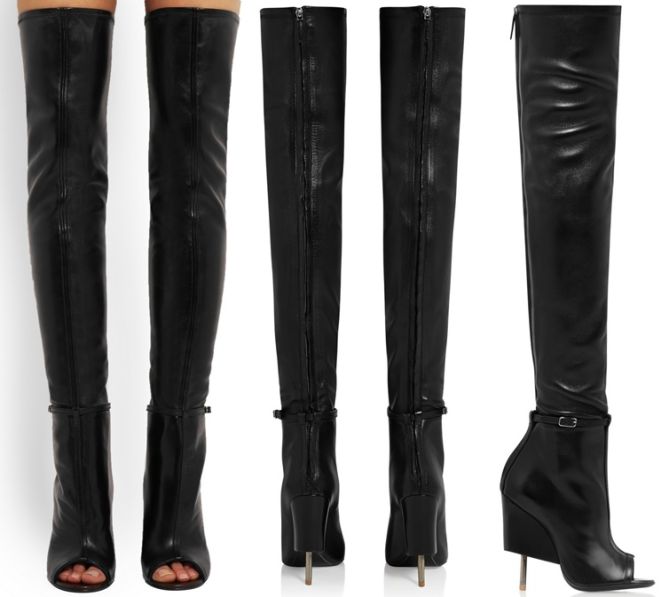 Givenchy Narlia Thigh High Open Toe Leather Boots, $2995