Kylie, who's recently split from her 27-year-old on-off beau Tyga, posted an Instagram photo that night of herself wearing the selfsame outfit, sitting at the foot of a bed.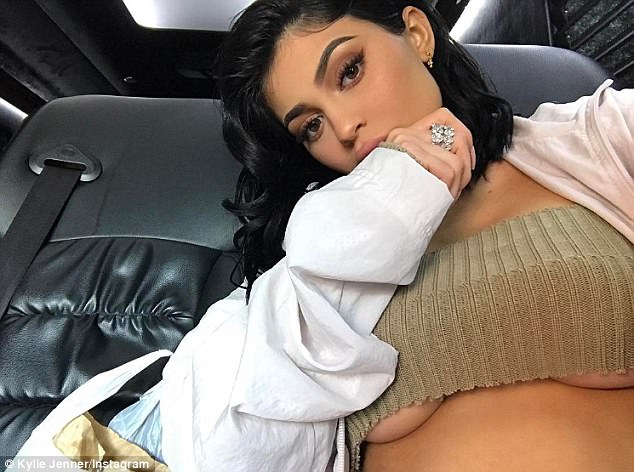 When Kylie Jenner slipped into a dull green tube top that flashed a bit of cleavage – from above and below – she made sure to let her social media following know. The 19-year-old posted an Instagram photo in which she looked down at the camera while raising a hand to her face, throwing her glistening rings into relief.  She'd flung a white jacket over the tube top and had teased her hair into waves, posing in what looked like the seat of a car for the Saturday post.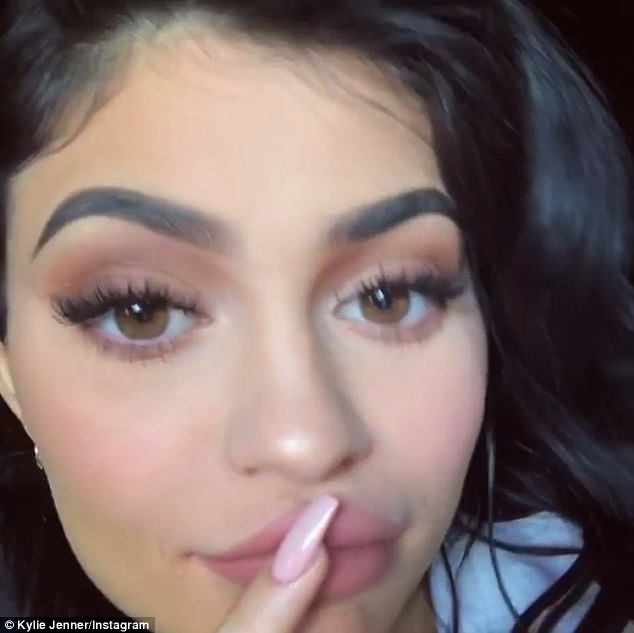 Next up on her Instagram page came a brief video that showed snatches of footage of her sitting in that same apparent car with her pal Jordyn Woods.  Captioning: 'I'm gonna delete this soon,' Kylie lifted an index finger with a long pale pink nail to her lips, making a faint high squeaking noise as she did.  Kylie had given her Snapchat following an update on the same outfit from the same location, pouting and extending her tongue as she filmed herself.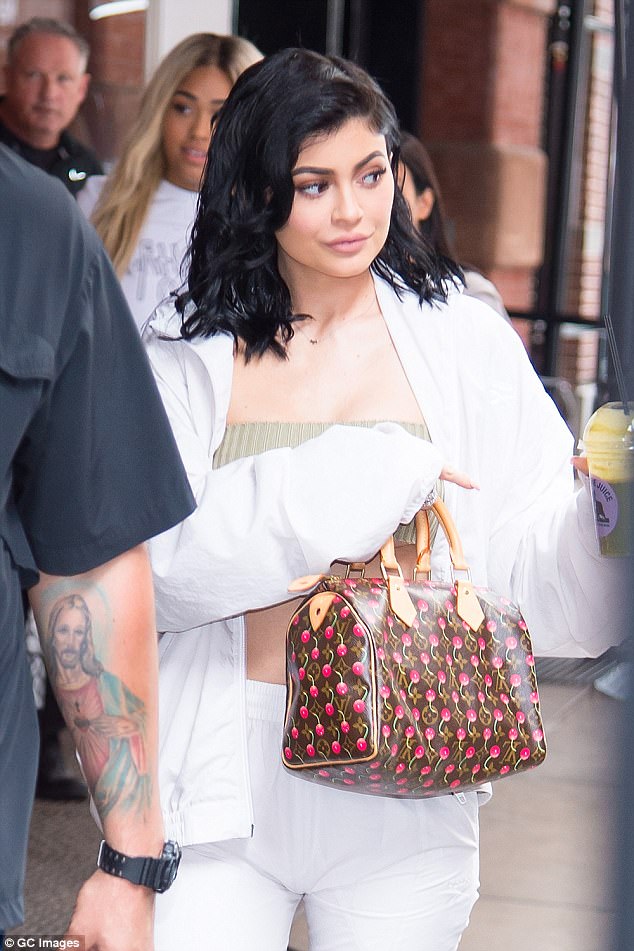 She'd been spotted that day out and about around Egg Harbor Township in Atlantic City, and photos revealed she'd matched the jacket with white sweats.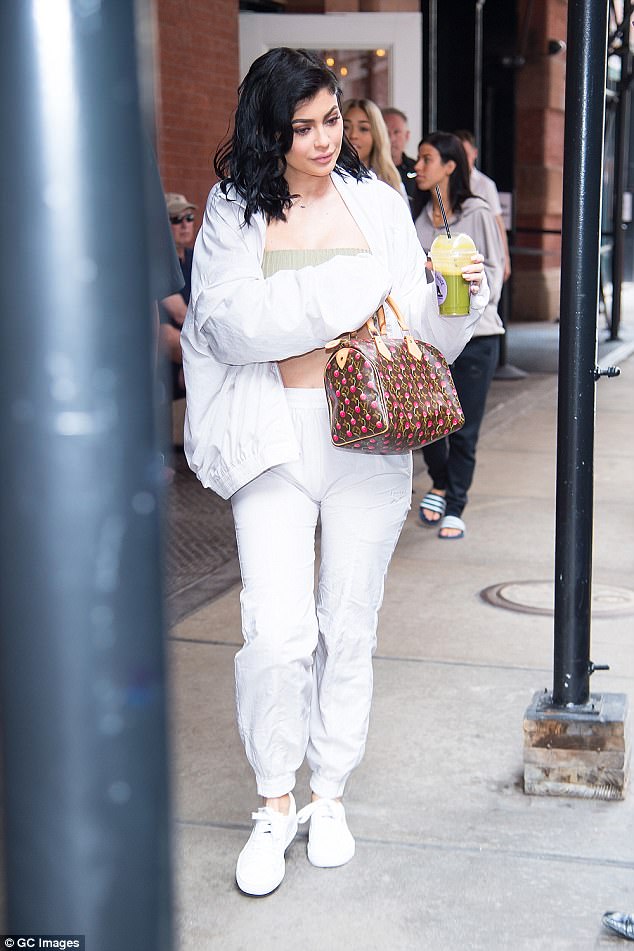 White shoes rounded out the look, and the pop of color came by way of her Louis Vuitton cherry-speckled purse, which she's been seen with before.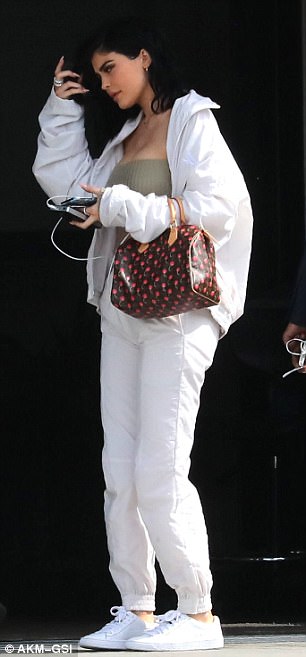 She'd accessorized with a pair of black sunglasses, and as she took them off and brushed her hair from her face with one hand, she grasped her phone with the other.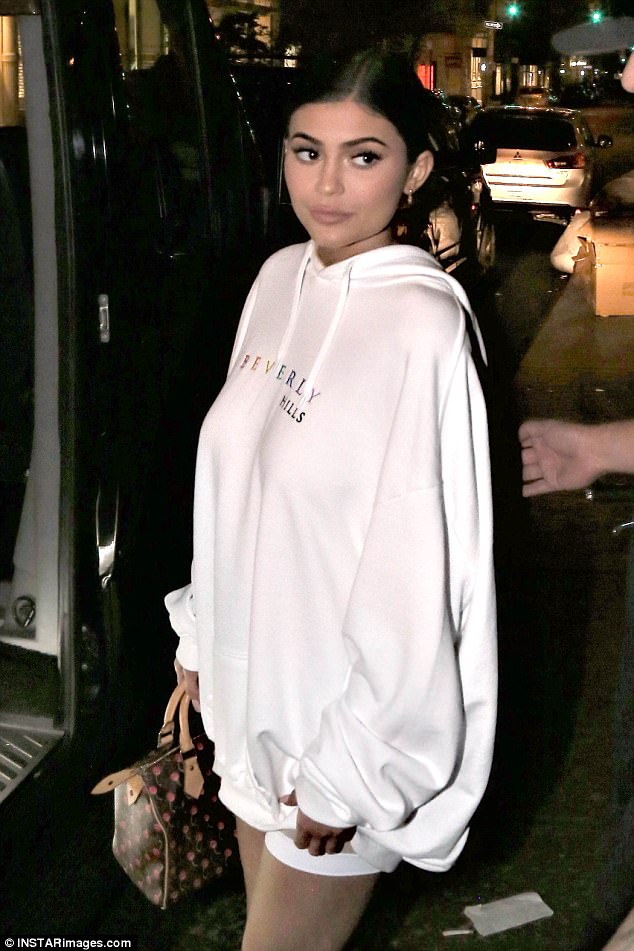 Kylie was photographed on Friday night hitting the pavement in Los Angeles in a pair of tiny white shorts that were largely sheer. Spilling over the shorts – often obscuring them entirely – was a voluminous white Vetements hoodie the cosmetics-flogger had flung on for the evening. 'BEVERLY hILLS' was emblazoned in rainbow and black across the front of the hoodie, which third party seller The RealReal is hawking online for $995.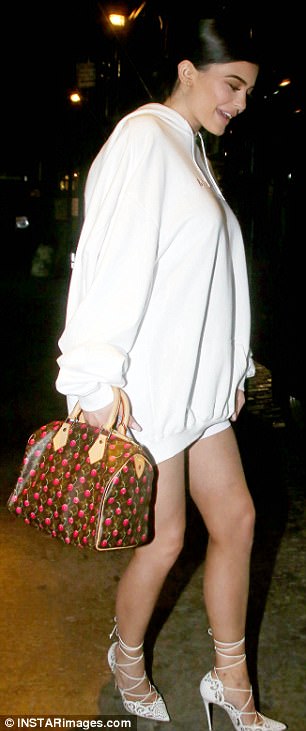 She emphasized her legs by way of a pair of strap-heavy patterned stilettos and grasped a bulging Louis Vuitton purse speckled with cherry designs. Her hair slicked severely back and wound into a low bun, she was spotted clambering into a large automobile, where a female friend was waiting for her.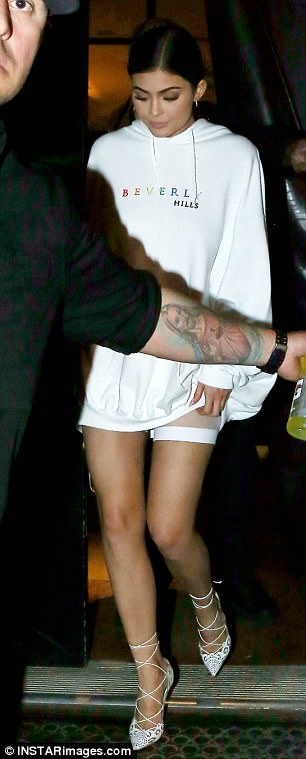 She'd earlier uploaded an Instagram photo snapped on what appeared to be a private jet, in which she sat wearing a set of grey camouflage sweats. Sitting on her lap facing her – and wearing, incidentally, a hoodie with a photo of Kylie's face on the back – was Kylie's assistant Victoria Villarroel Gamero. Kylie's written: 'assistant goals' in the caption to the photo, which sees the reality star covering her face with one hand as her assistant checks a phone.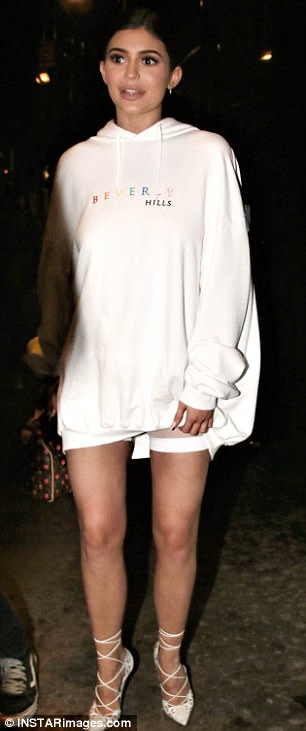 E! News revealed earlier this month that E! are rolling out an 'eight-episode docu-series' about the Keeping Up With The Kardashians star, entitled Life Of Kylie. Quoth Kylie, in her typically scintillating fashion: 'These couple years have been such an incredible journey with the support of my fans.' She went on: 'This show will allow me to give them a peek inside all of the exciting things I am working on as well as some personal time with friends.'
The star gave her sporty get up a high fashion twist with a pair of super sassy, lace up heels by Christian Louboutin. Swoon! The designer's 'Impera' pumps have been very popular amongst the a-listers and fashion fans for a while, which has sadly meant that they have sold out online. Don't panic though shoe lovers, as we have cherry picked some equally chic lace-ups below, that all come with a price tag of $32 and under. Head to Boohoo or Missguided to step into the trend without breaking the bank.