Just when you thought this week was going to be boring, you get some juicy news from the the reality TV queen herself, Kim Kardashian.
The voluptuous mother-of-two posted the phone conversation between husband Kanye West and Taylor Swift on SnapChat. Note that this was the conversation Kanye said he had with the pop star asking for her permission to use certain lyrics for his song, Famous. And in case you've been living under a rock, this is the song where Kanye calls Taylor a "B*tch".
The strange thing is if you listen to the whole thing, there is no mention of the "B" word. Kanye DID NOT tell Taylor he was going to use the word in his song — which only proves Taylor's point — that the "permission" Kanye said he got from Taylor (to use the word "B*tch") DOES NOT exist.
An even stranger thing, in my opinion, is why would Kanye recorded the conversation in the first place? It's as if he was planning to do something bad, something pre-meditated — like take her by surprise (which he did) and make a huge fuss of it several months after by posting the phone convo on SnapChat (via Kim K.).
In other words, it all boils down to Kanye and Kim capitalizing on Taylor Swift's popularity so they can gain theirs. Would you agree?
I'm not siding with Taylor here, but you also have to see it her way. To be called a bitch in a song that gets played over and over again all around the globe, is indeed character assassination; and she gladly pointed that out through a tweet.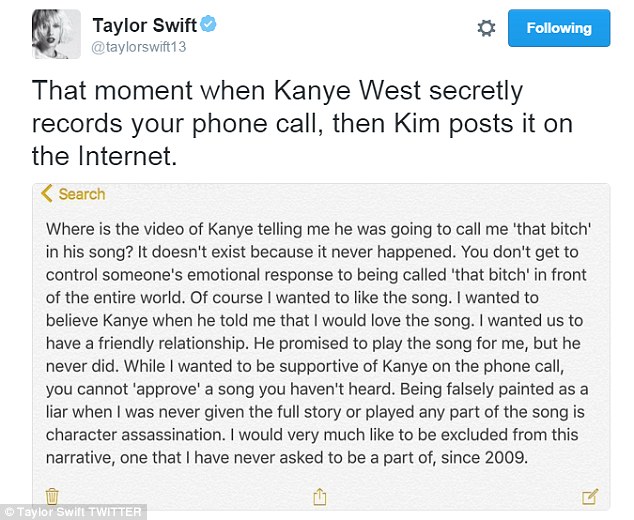 Taylor Swift speaks out regarding the issue with a long tweet
You know, I can't help but hope that Taylor will come out with a song about this issue. I have a feeling she will.
Speaking of Kim, she was spotted attending Revolve Clothing's Hamptons Party in New York on Saturday. For the occasion, the brunette beauty ignored the warm weather by opting to wear a nude sweater dress and a pair of denim over-the-knee boots.
No doubt, the outfit was chosen so she could flaunt her figure, which looked very shapely thanks to a strict regimen of diet and exercise. Kim barely wore any jewelry save for a pair of earrings. She then capped off the getup with a messy top-knot and some dark eyewear.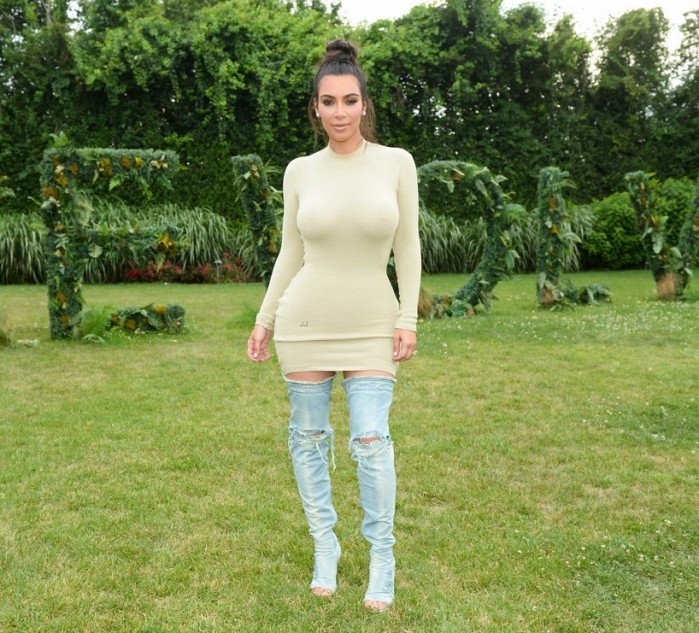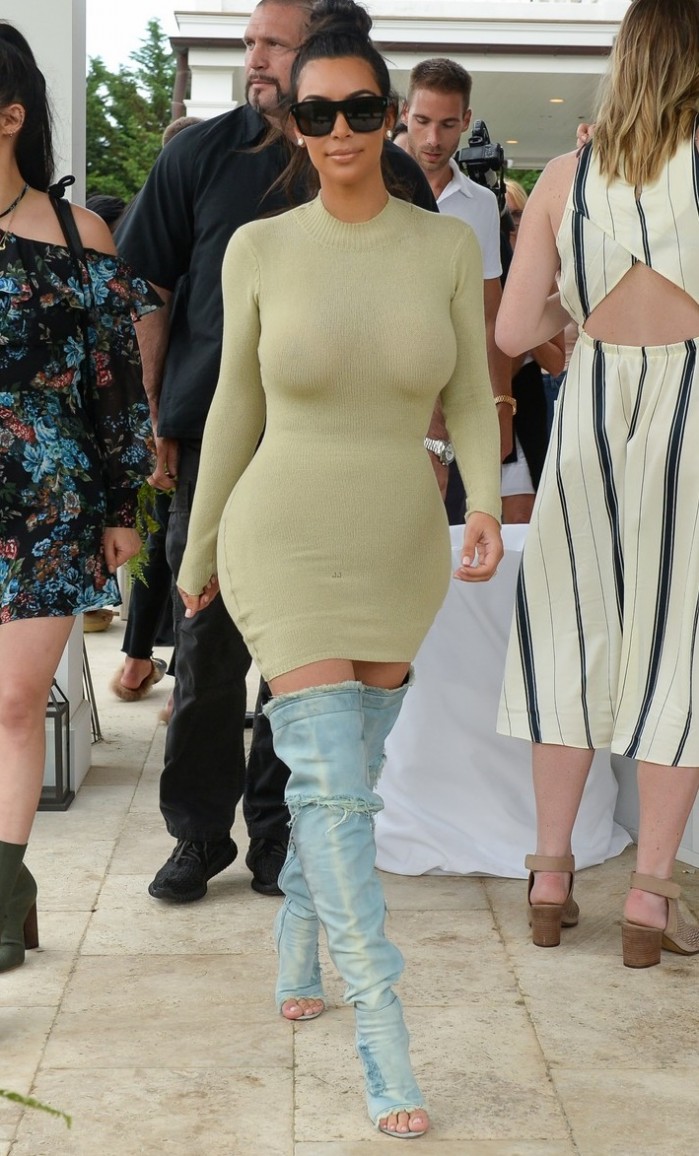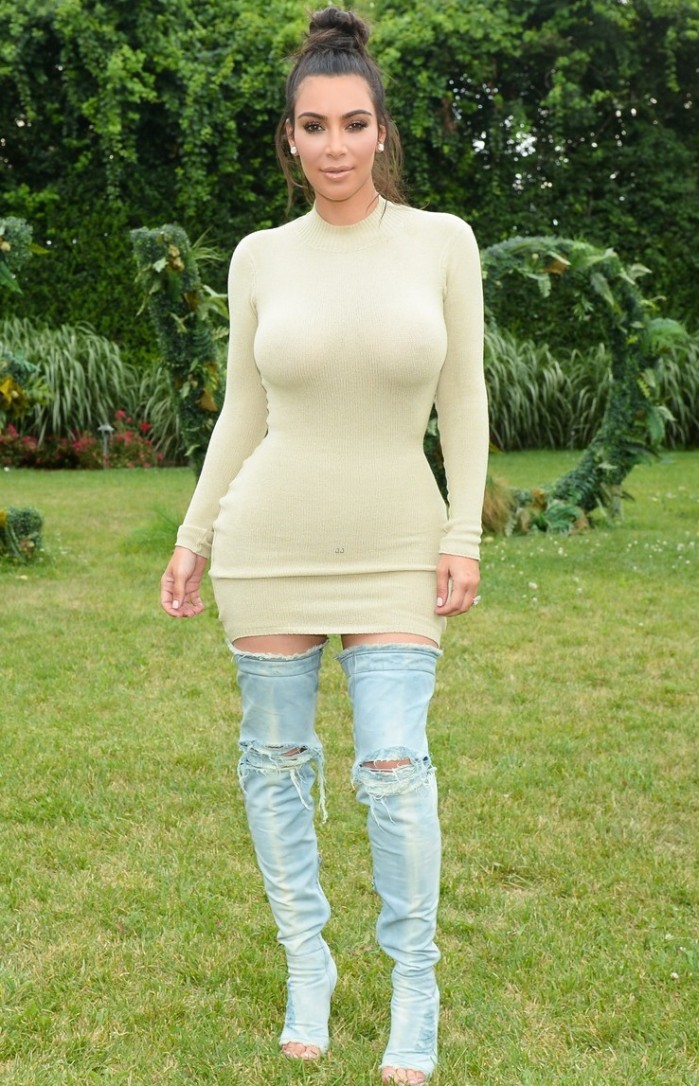 Kim Kardashian attends the Revolve Clothing Hamptons Party on July 16, 2016
Any thoughts on Kim's outfit?
Kim's dress is  from a label called Trois, while her boots are from Yeezy. You can find the dress and boots at Revolve, but only the nude and army green versions of the pair are available there. In any case, if you're digging Kim's style here, feel free to grab the pieces online. Wear with a top-knot and oversized sunnies, and you're all set!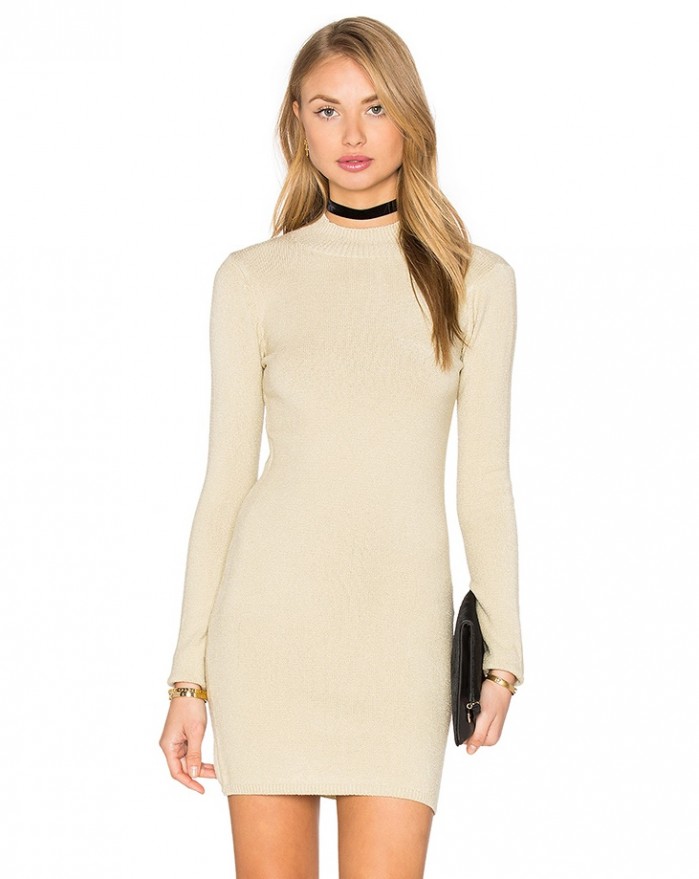 Trois x Revolve Campbell Dress, $215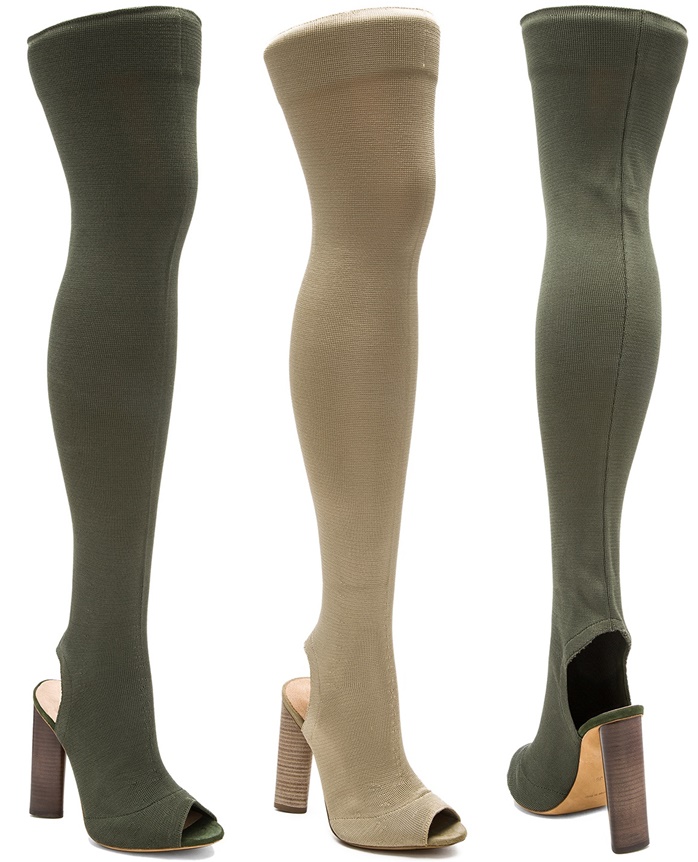 Yeezy Season 2 High Knit Boots, $995