Kim Kardashian has shared a few photos of her third child already. But on Saturday morning the 33-year-old KKW Beauty mogul posted the first good look at Chicago without a filter. In an Instagram post captioned 'Morning cutie' her little bundle of joy is seen looking up at mommy while wearing a darling pink-and-white Mori onesie with bib. This post comes just two days after the baby turned two months old. She was born on January 15.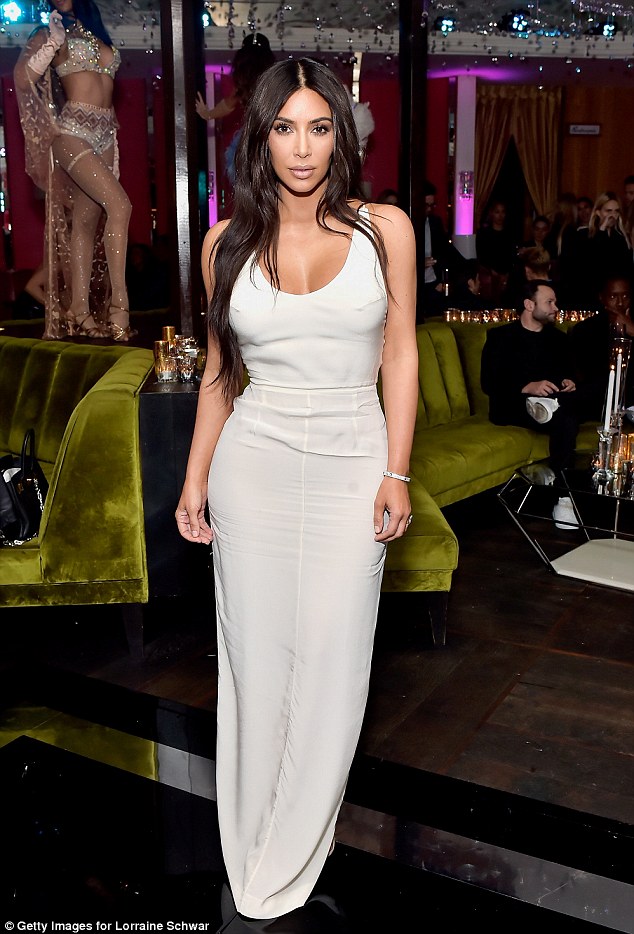 'I hope you guys enjoy it and use the computers and the basketball court and everything that they've worked so hard [on]…' Meanwhile, when asked if Kanye emails her with notes on what to wear, Kim told Elle.com: 'Absolutely he does.' She added: 'Kanye sent me an email to not wear huge sunglasses anymore and what he does is he'll just send me amazing mood boards and great references of smaller glasses and say 'Oh my god, you have to have your team find these' and 'These look really cool, you have to find these'. 'He sends me inspirational e-mails. Whether it's home decor or vacation spots, he sends me these mood boards. He's really good at that.' Meanwhile, sister Kylie Jenner has also been posting new photos of baby girl Stormi, who was born February 1. Sources from People say that the 20-year-old Lip Kit mogul has been taking well to motherhood and is extremely 'hands on.'
The little girl appeared to be laying on a white bed with cushions and a blanket near her. Chicago was full of expression as she seemed happy to be awake and spending quality time with her reality TV mommy. The little lady, whose father is rapper Kanye West, 40, also displayed a lot of dark hair.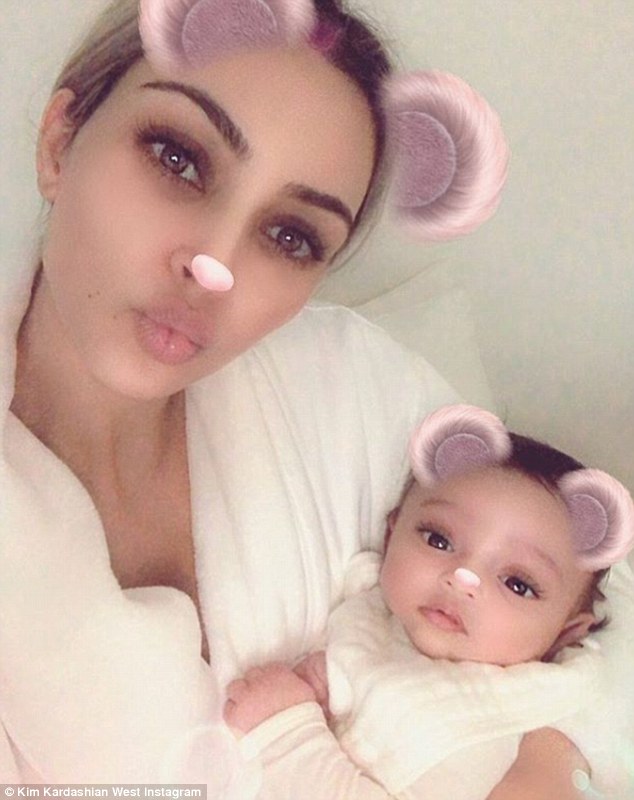 The child was born on January 15 via gestational carrier in Los Angeles weighing six pounds and seven ounces. This is a third child for Kim and Kanye, who also have daughter North, aged four, and son Saint, aged one.  This post comes one day after the newly brunette star was seen stopping by the Watts Empowerment Center in LA to receive the 'Key to our Heart' for her family's donation to the program. And cameras were there to capture it all for the family's TV show The Keeping Up With the Kardashians which has been on the air for 10 years. Kim wore a solid, oversize hoodie paired with a set of fitted athletic shorts from West's Yeezy collection.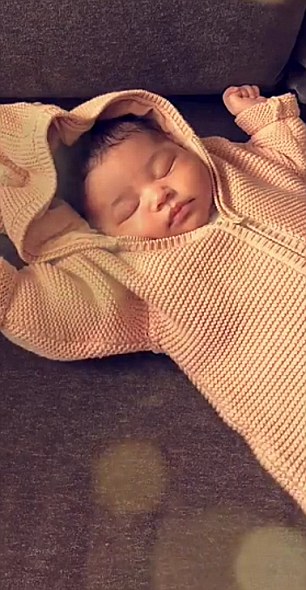 The mother-of three accessorized her workout look with a fanny pack.The reality vet added a pair of white socks, which she scrunched down, and worn-in sneakers. As per usual, Kim maintained her glam with a full face of make-up and hair extensions. In a video shared on Youtube, Kim, Kris, Kourtney, and Corey can be seen surrounded by a crowd at the youth center. Kim took the mic to give an impromptu speech. '…We're so proud that you guys get to see, really all the amazing things my mom and Corey have done to set up this center, ' began the Armenian beauty.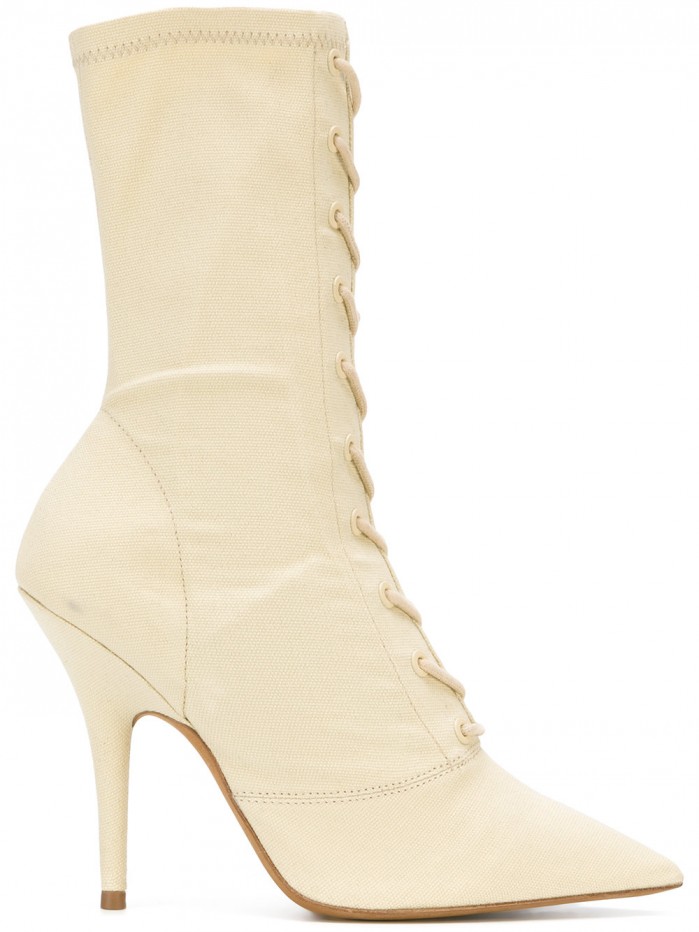 Who better to take footwear inspiration from than a woman who must surely own more shoes than we've had hot dinners? And that is, of course, Kim Kardashian whose collection includes countless styles by Manolo Blahnik, Gianvito Rossi, Balmain, Saint Laurent, Balenciaga and Sergio Rossi to name a few.
But the brand that's getting prime space in her walk-in wardrobe is Yeezy and there are no prizes for guessing why. Plus, to be fair, Kanye West's shoe designs have been hugely popular with his trainers and sock boots becoming sell outs.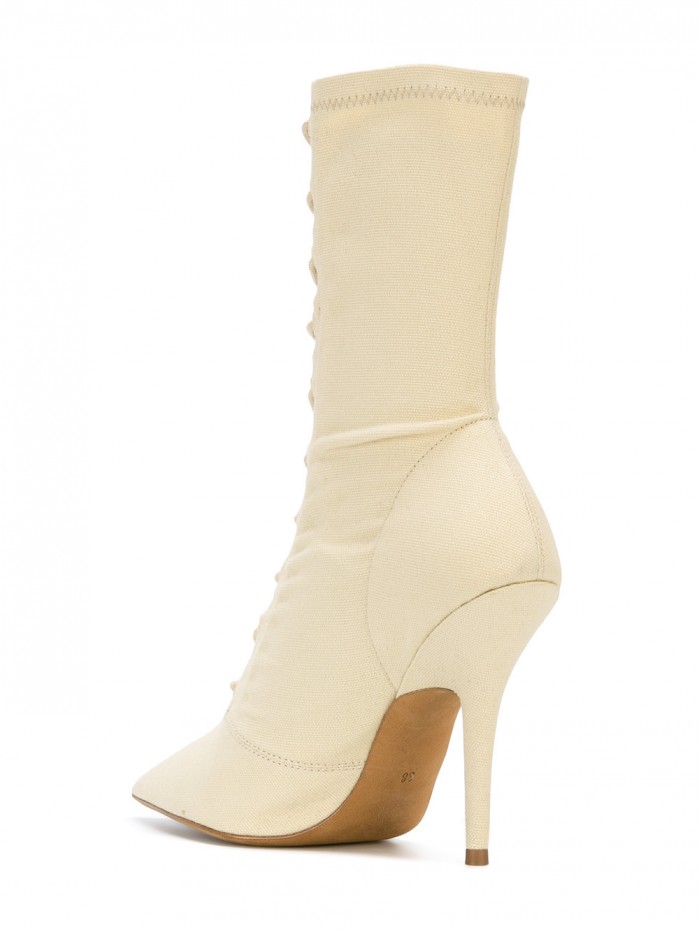 And we predict the same for this lace up style from his Season 6 collection. We love the spike stiletto, nude suede and pointed toe. They're perfect for styling with skinny jeans or would look killer with a floaty midi dress. Click right to make them yours, or get the look for less with our high-street picks below: