Holey shirts and ripped jeans. I know they're on-trend to a certain degree, and I have nothing against such articles of clothing, but I sometimes wonder why people buy them. I mean, if you want a holey shirt, why not make one yourself? Or if you want a pair of ripped denims, why not rip jeans you already own instead of spending unnecessary moolah for another pair?
Obviously, I don't buy such clothes. Instead, I make them myself. They're easy to do and you can watch video tutorials on YouTube if you need tips.
Speaking of which, did you know that holey garments have actually caught the attention of a certain high fashion label? Apparently, the people over at Chanel have a couple of pieces in their fall 2014 lineup that feature the "holey" treatment.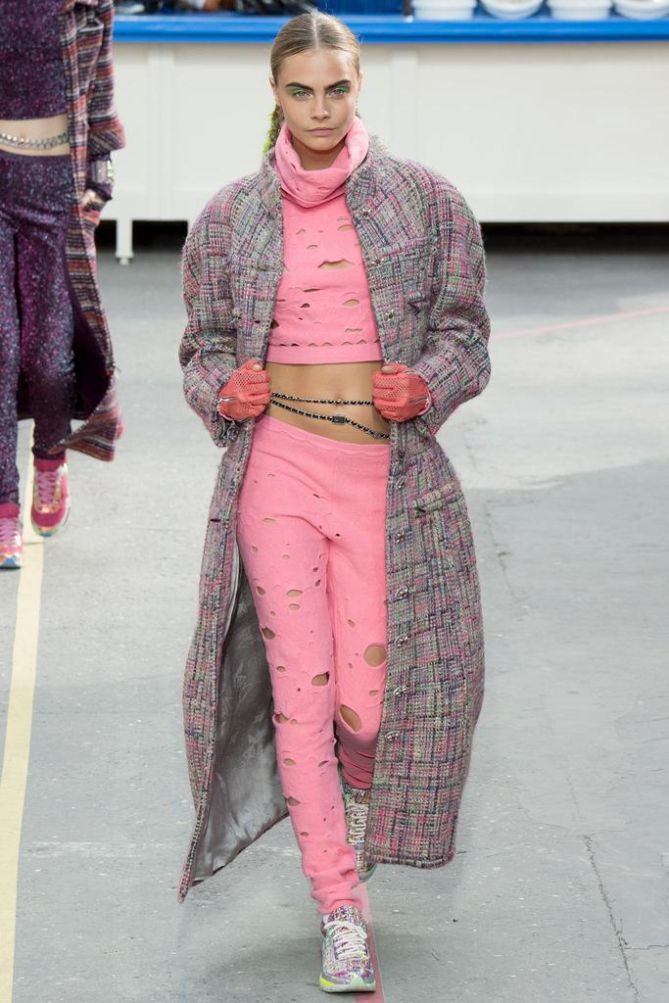 Cara Delevingne wears a holey top and pants on the Chanel fall 2014 runway
A pair of holey pants and crop top that Cara Delevingne fashioned on the runway back in February were recently spotted on none other than Kim Kardashian. The reality TV star wore the outfit for her flight from Paris to Los Angeles on Wednesday. Kim wore the combination with a long grey coat, oversized eyewear, and some taupe-colored pointy stilettos.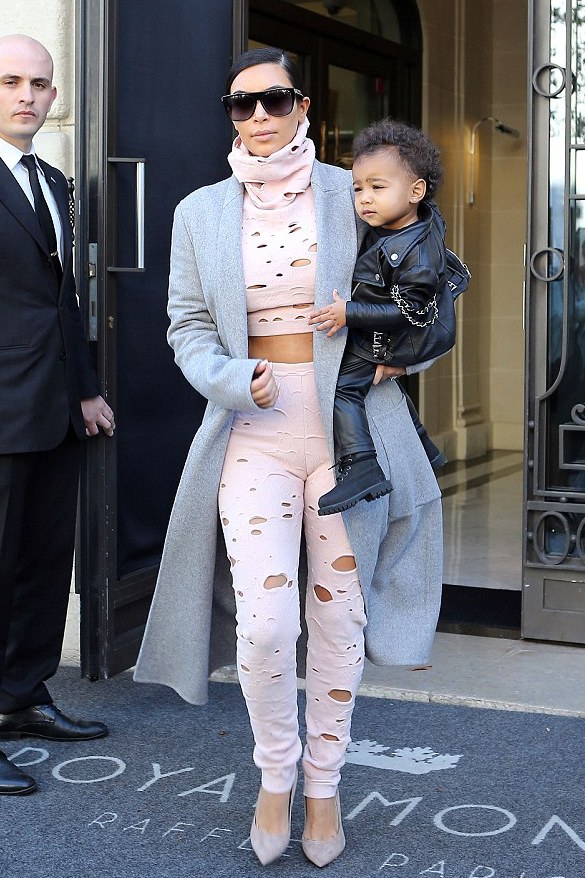 Kim Kardashian leaves her hotel in Paris with her daughter, North, for a flight back to Los Angeles, October 1, 2014
Kim Kardashian arrives at LAX while decked in a holey outfit on October 1, 2014
What do you think of Kim's latest airport style, do you approve? Or do you think she looks ridiculous? She looks alright, yes? I'm not fond of the outfit, but I think she was able to pull it off.
Would you wear a holey top and pair of pants for a plane ride?
I've yet to get the details on Kim's long knitted coat, but from what I've gathered, her pointy pumps are from Giuseppe Zanotti. Below is a similar pair in light blue suede. They feature 4-inch-tall  heels and a very classic pointed silhouette.  You can score these shoes online for a discounted price of $570: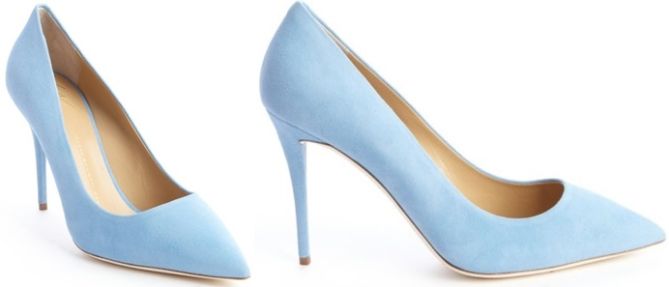 Giuseppe Zanotti Pointy Pumps in Sky Blue Suede, $570 (was $695)
To copy Kim's  airport style, simply grab a crop top and some matching sweatpants, then cut out certain areas to create the holes. Top the combo with a cozy coat, then cap off with large sunnies and some pointy heels. Try the pieces below. Except for the shoes, the rest won't cost you too much money: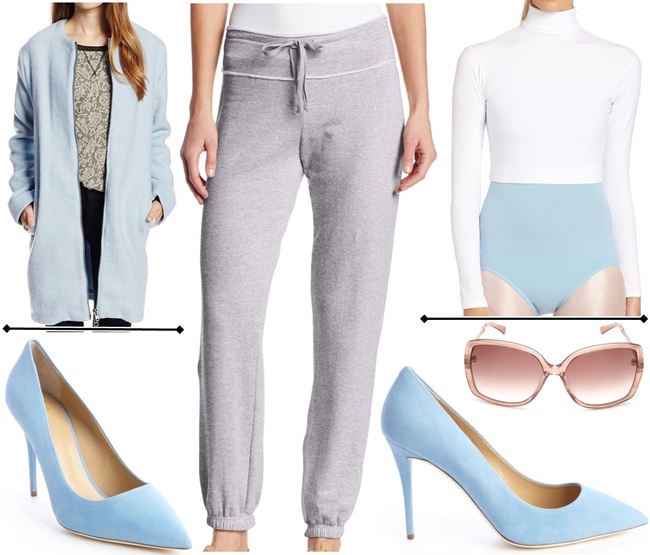 BB Dakota Liezel Coat, $140 / Capezio Turtleneck Crop Top, $21.50 / Pink Lotus Drawstring Heathered Sweatpants, $21 / Kate Spade Darryl Sunglasses, $83 (was $145)