Kim Kardashian was sporting a new look on Wednesday evening when she dined with friends at the Bel-Air restaurant in Los Angeles. The 36-year-old TV queen looked a bit like singer Ariana Grande with her high ponytail, but the risque outfit was all Kim. This sighting comes just as the wife of Kanye West shared a teaser for the 14th season of Keeping Up With The Kardashians which sees her confirm the hire of a surrogate.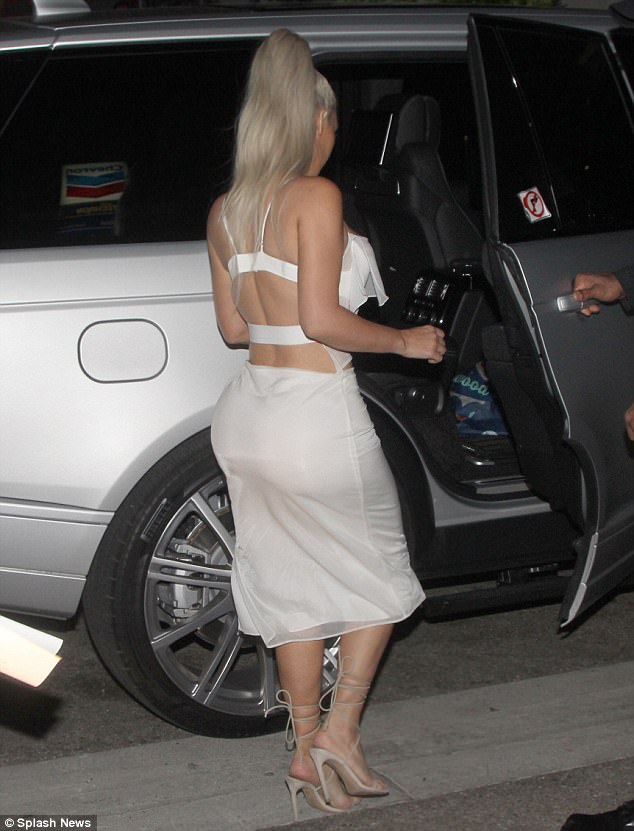 For months it has been claimed that Kim hired a surrogate who is pregnant with her baby. The woman, who has reportedly been put up in style in LA by Kim and Kanye, is allegedly due in January. This will be a third child for Kim and Kanye who already have Saint, aged one, and North, aged four.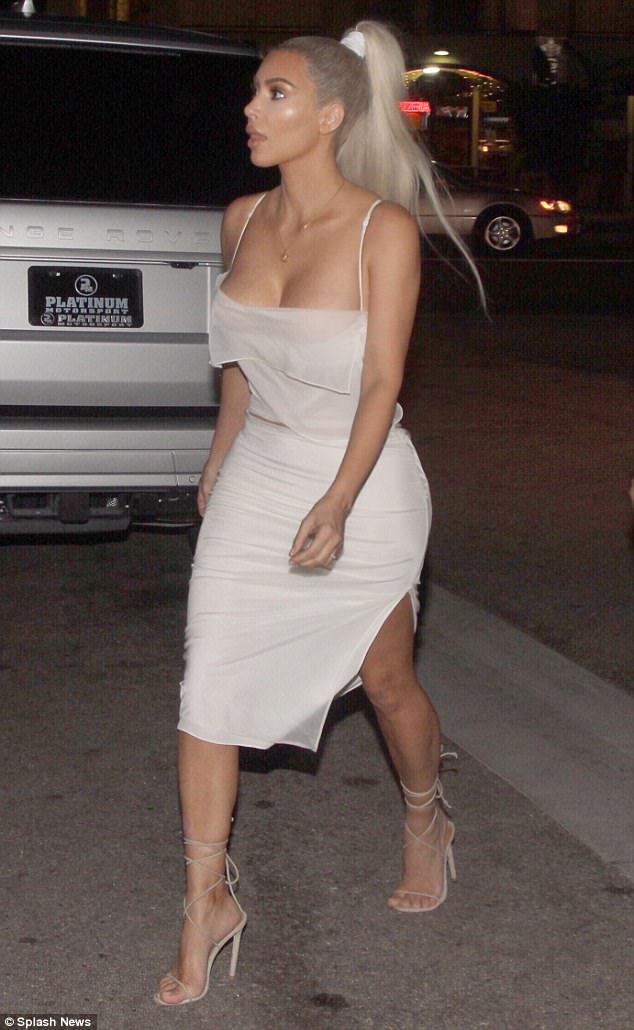 At the very end of the video, Kim is shown FaceTiming with sister Khloe as she queries: 'What happens every time I say "guess what?"' The 33-year-old younger sibling replies: 'You're either pregnant or a person is pregnant.' Then Kim jubilantly declares: 'We're having a baby!'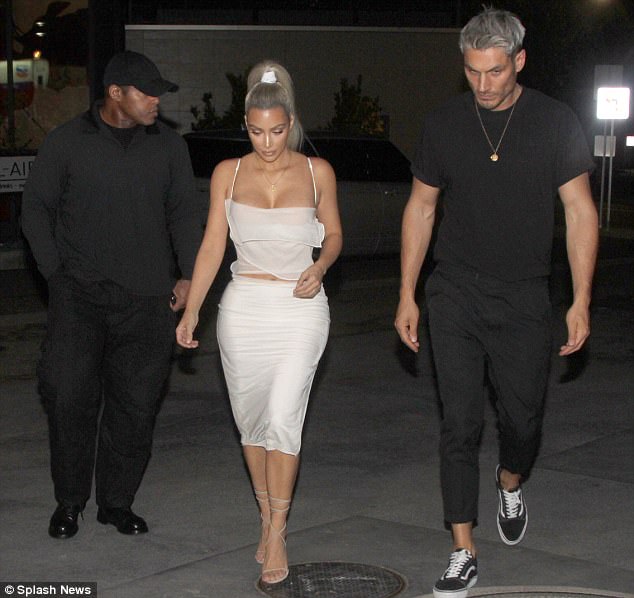 Earlier this month sources told TMZ the surrogate and her husband are both African-American and in their 20s, and their five-year marriage is described as 'solid'. The woman, a college graduate and registered Democrat, is already the mother of two young boys, and is said to be in 'great physical shape'. It was previously revealed Kanye and 36-year-old Kim- had hired an unnamed woman through an agency to carry their baby for $45,000, which would be paid in 10 equal installments.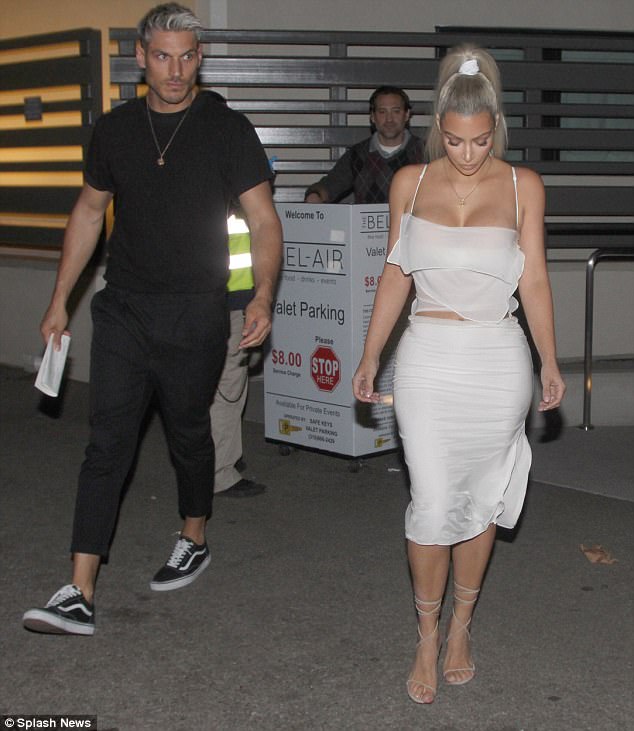 It was also agreed the woman would receive an extra $5,000 per child in the event of a multiple pregnancy and an additional $4,000 if she lost reproductive organs in the process. In return, the surrogate agreed that she would not smoke, drink or do drugs as well as refrain from using hot tubs or saunas, handling or changing cat litter, applying hair dye, drinking more than one caffeinated drink per day or eating raw fish. In addition there reportedly were also terms that the woman would restrict sexual activity in the weeks leading up to the pregnancy, including foregoing intercourse for three weeks after embryo implantation.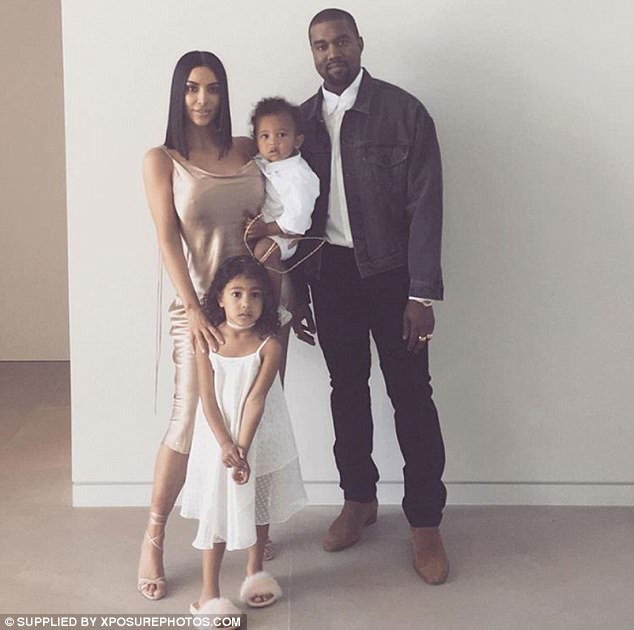 The agreement also stated the Keeping Up With the Kardashians star – who was advised against getting pregnant again by doctors because of the life-threatening complications she has previously suffered – and her Good Life hitmaker spouse 'assume the legal and parental responsibilities for any child … that may possess any congenital or other abnormalities or defects'. The confirmation comes at an interesting time as there have been reports this week that Kim's sister Khloe and half-sister Kylie are also expecting their first children.  The rest of the minute-long Keeping Up With The Kardashians clip featured what most diehard fans would expect from the upcoming 14th season including lavish vacations, new romances, and tons of drama.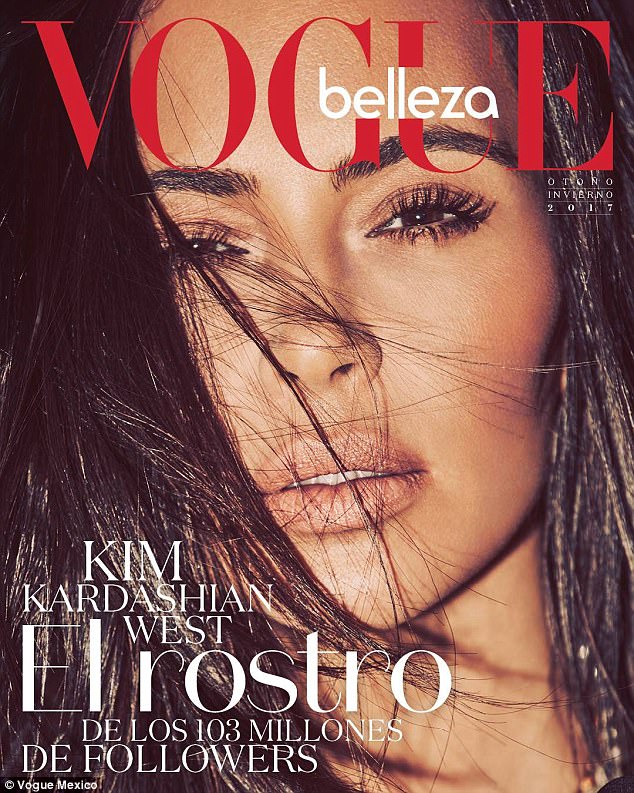 On Wednesday, Kim looked stunning after recently claiming she is the most 'fit' she has ever been. The star wore a white bra top with a thin material over the front, barely covering her assets. The skirt went to the knee and had a very thin material as well. Strappy beige heels looked difficult to walk in, but Kim carried it off. And the reality diva wore her blonde locks in a very high ponytail, which is Grande's signature look. Kim added a gold pendant necklace.  She was seen with a male friend and a bodyguard as she walked to and from her silver Range Rover.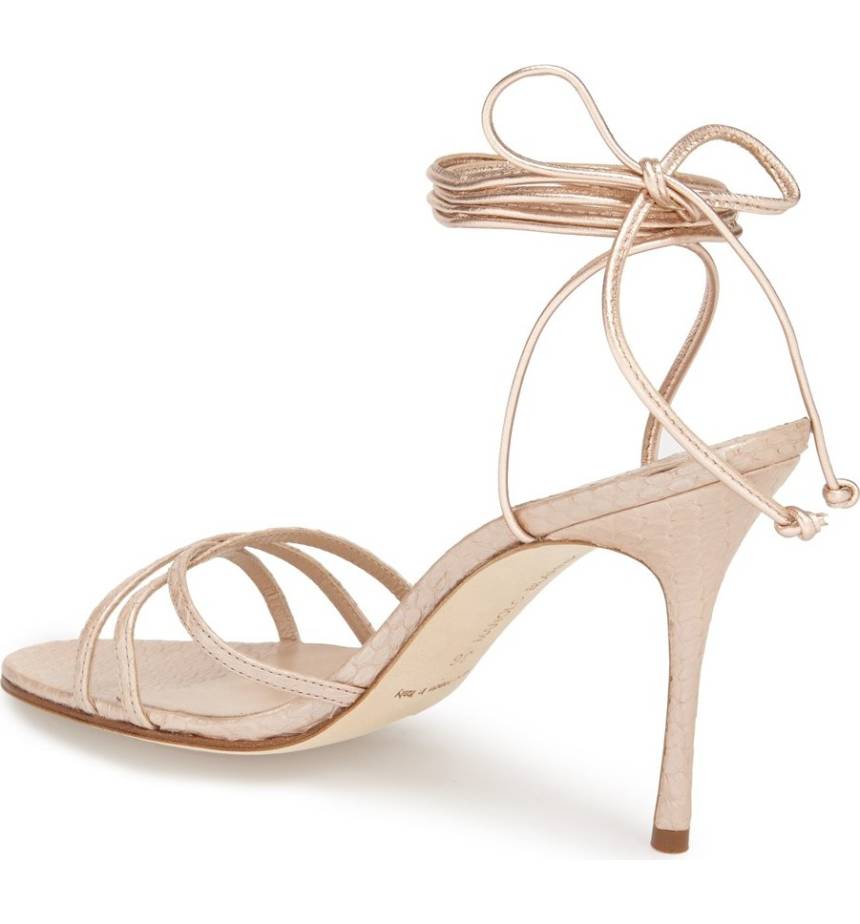 Kim accessorized her look with a pair of nude strappy lace up sandals from one of her favourite designers, Manolo Blahnik.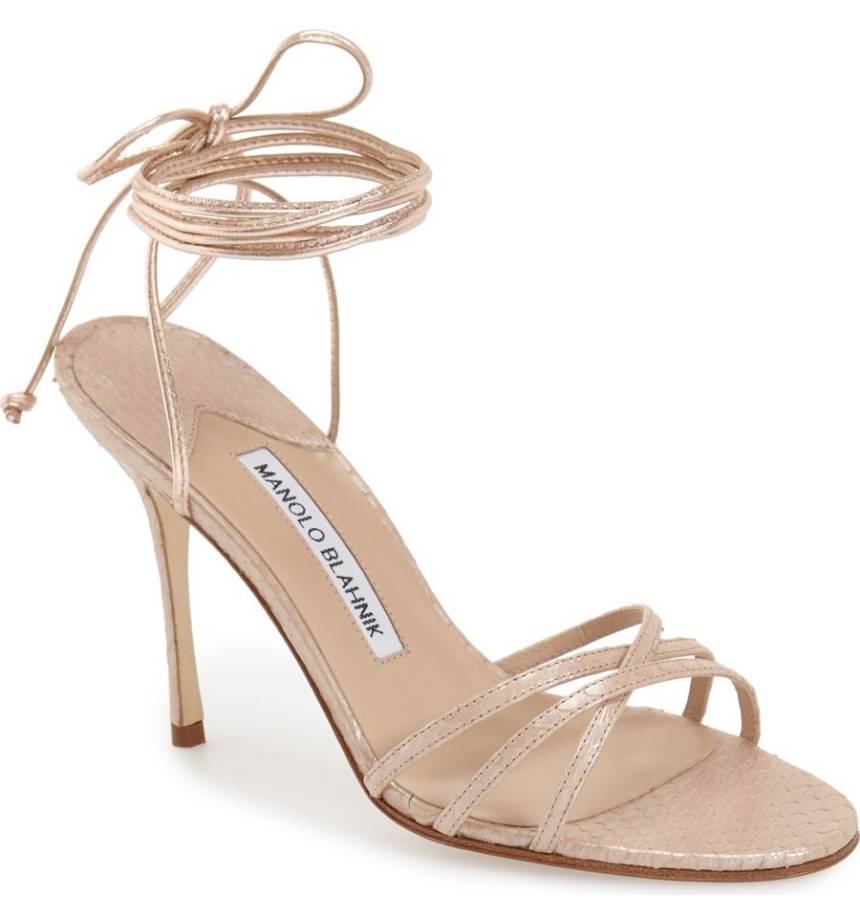 Kim's gorgeous heels are universally appealing. They're a classic, versatile style that promise to be a hard-working member of your shoe collection.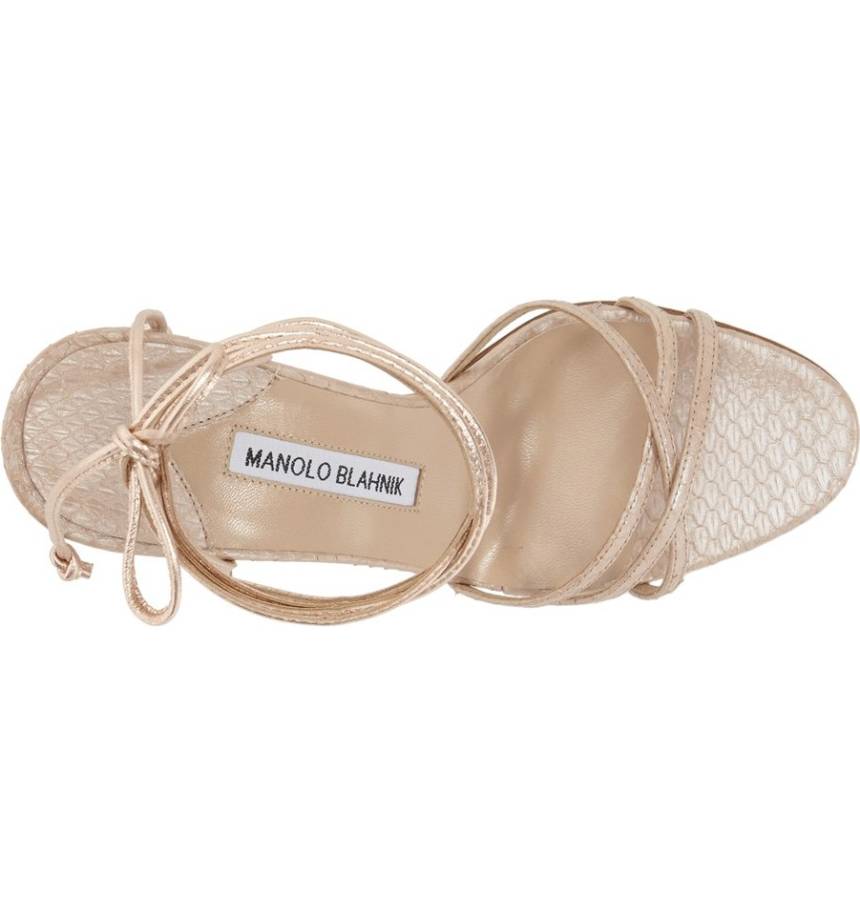 Or how about you save yourself some pennies and head to Missguided instead who have some absolute dead ringers for Kim's designer originals!