It's been a good few months since Khloe's separation from Lamar, and it certainly seems the reality TV star is enjoying her newly-single status. She has been flaunting one sexy look after another too. I'm guessing it's her way of telling Lamar what he's missing.
At the Elton John AIDS Foundation Oscar Awards Party, Khloe sizzled in a red velvet gown that flaunted her curves. The look was very vampy and she looked every bit the vixen — kind of like Jessica Rabbit, only tanner and more mysterious.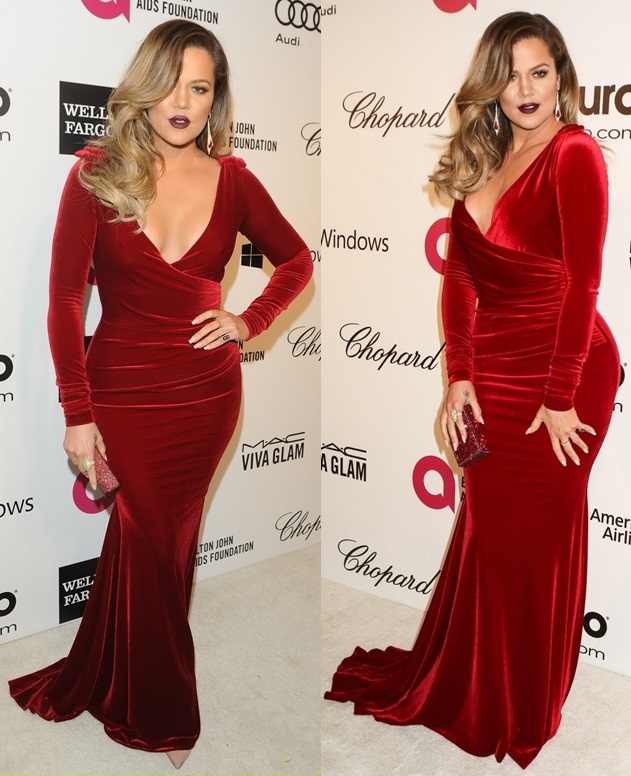 Khloe Kardashian attends the Elton John AIDS Foundation Oscar Awards Party, March 2, 2014
Fast forward to last week and the tallest of the Kardashian sisters was spotted looking extra hot once again while arriving at Loews Hollywood Hotel. Her super sexy outfit consisted of an extremely skimpy pair of daisy dukes worn with a sheer-paneled cami and a black jacket.
Not content with the sexiness, Khloe amped up the outfit even further by capping it off with thigh-high buckled boots that would have put any BDSM-loving dominatrix to shame.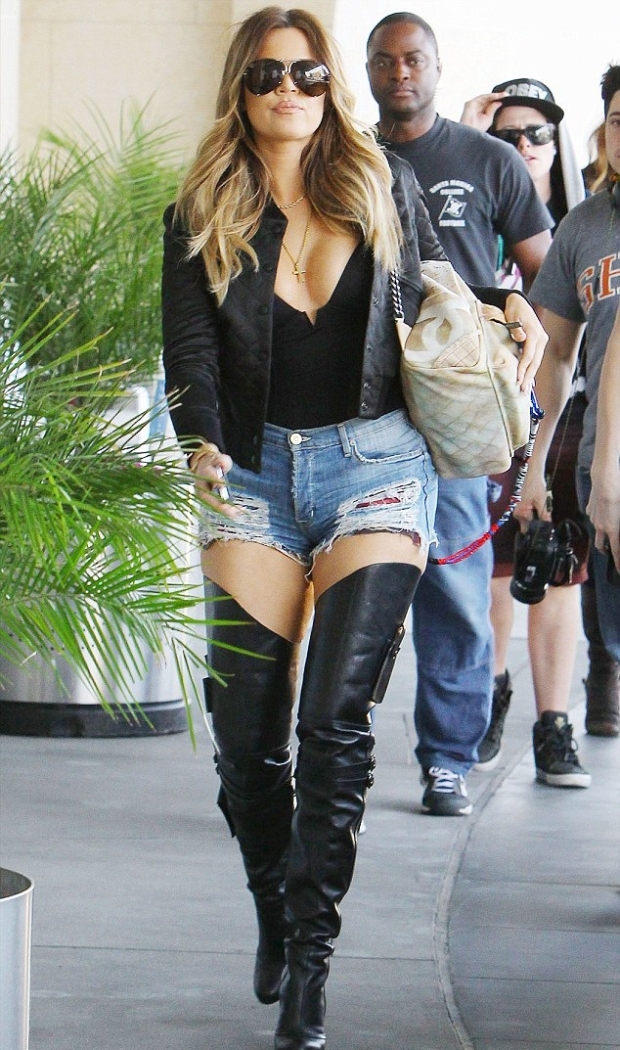 Khloe Kardashian arrives at Loews Hollywood Hotel in a skimpy outfit and black thigh-high boots, March 7, 2014
Wow, those denim cutoffs are way too short. Actually, I stand corrected. The whole combination looks really sinful. I sadly find it tacky — close to looking like Julia Robert's Pretty Woman, sorry to say. Do you like her outfit?
Thigh-high boots and denim cutoffs don't go well together (unless you wear those cutoffs with black tights). They make you look, er, a little cheap, noh?
Khloe would have been better off pairing the shoes with, say, black leggings or black jeans. But for what it's worth, let's cut her some slack for today. She is, after all, going through a nasty divorce and most likely not in her best element. Besides, those boots look really risque for anyone's own good. I honestly don't think anyone, even an angel, can rock the pair without looking like she's up for some trouble. Would you agree?
Khloe's thigh-high boots are surprisingly from Christian Louboutin. They're called the "Seann Girl", and they're from the designer's Spring 2013 collection. Celebrities like Beyonce and Rihanna have actually been spotted sporting the pair in the past.
These boots feature 3.5-inch tall heels, raised paneling, two buckled straps at the knees, zip closures for ease of wear, and whopping 25-inch tall shafts. The most unique details on these shoes, however, are the buttoned cellphone pocket and credit card slots that decorate the outside of the thighs. Also, before I forget to mention, the Seann Girl boots retailed at a hefty $3795 when they were released: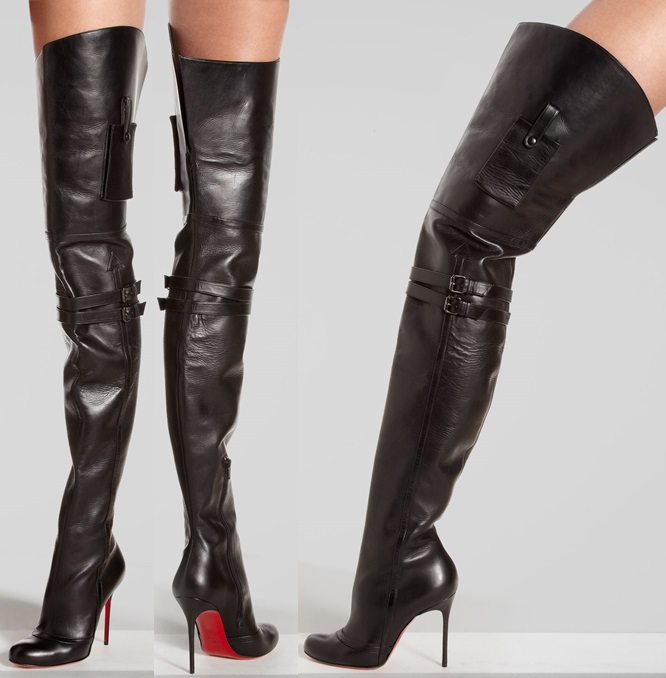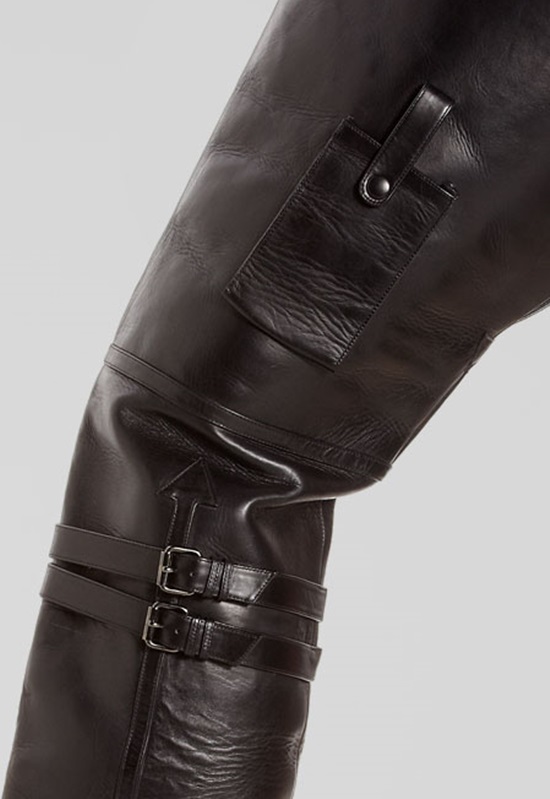 Christian Louboutin Seann Girl Over the Knee Boots, $3795 (sold out)
Hmmm…you like?
Too much for my sartorial sensibilities, I'm afraid. But if you can afford them and you think you can wear them with flair, then go ahead and search for a pair.
For those on a budget, I recommend these $45 thigh-high boots from Shiekh. These are crafted from vegan leather, feature 24.5-inch tall shafts, and also offer the double buckled straps at the knees. These run a little higher with their 4-inch tall heels, but you should be able to manage that with the accompanying 1.5-inch thick platforms. So what do you think? Will  you grab a pair?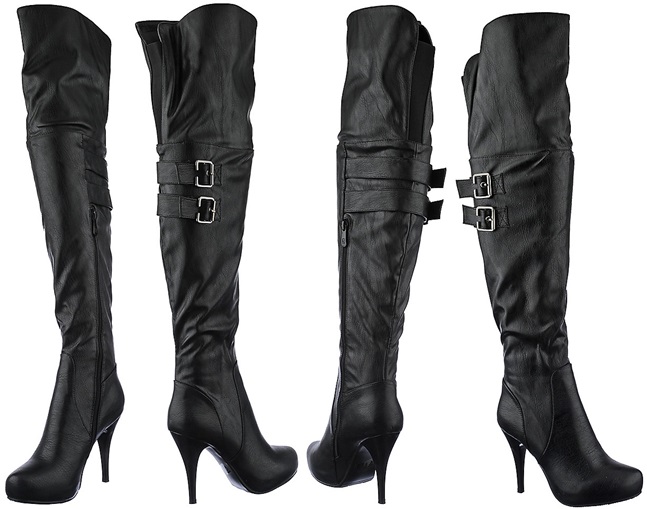 Shiekh Beyond Brianna Thigh High Boots, $45 (was $70)