Fringes and feathers.
I can appreciate such frilly add-ons for as long as they come in minimal doses. Certain people, however, love them to the hilt. Olivia Palermo is one such person. And the style icon fashions them with such flair that even the fringe or feather-phobic will end up wanting to give such extras a try.
Another person who loves her fringes is Khloe Kardashian. The reality TV star was spotted sporting double doses of fringe as she arrived at LAX for her flight to Dubai on Wednesday. Khloe's airport attire included all-black separates — a black long-sleeved top worn with black skinny jeans — which she teamed with all-black, though certainly not boring, extras consisting of oversized sunnies, a fringed purse, and a pair of fringed boots. Khloe also punctuated the whole mix with gold earrings and fiery red lop color.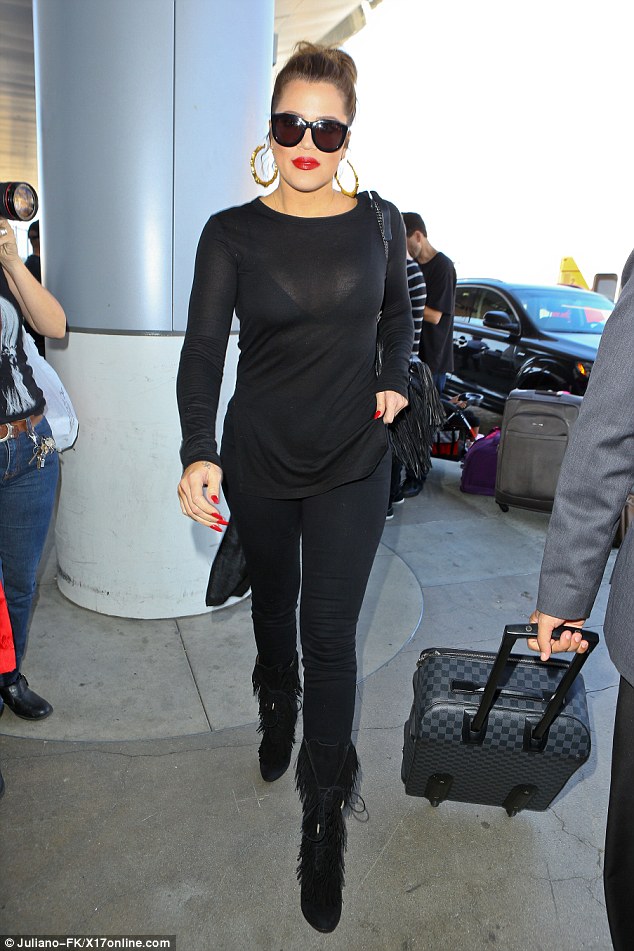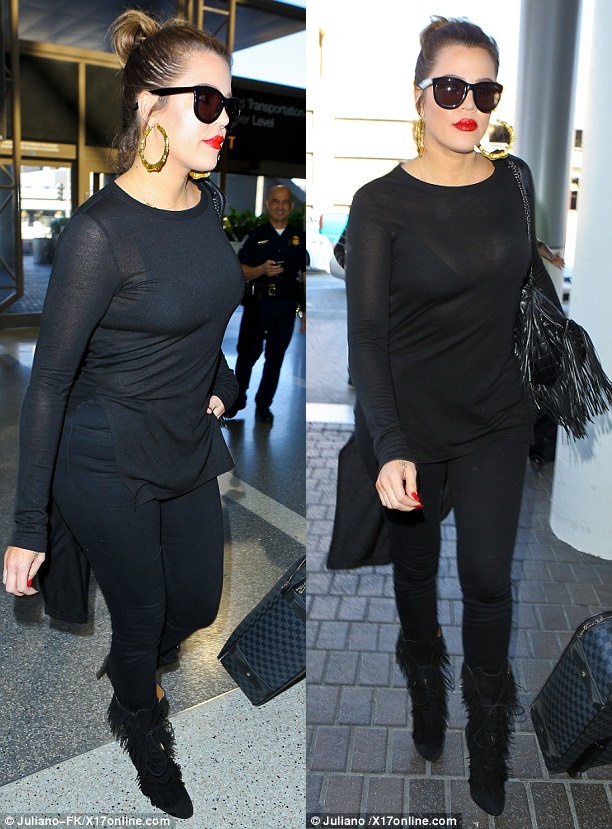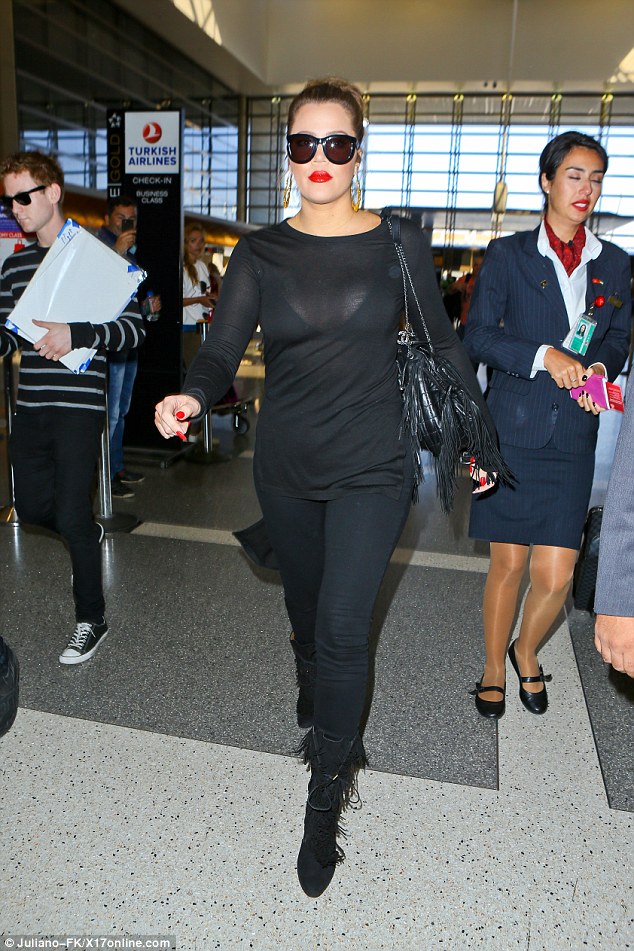 Khloe Kardashian arrives at LAX in an all-black outfit detailed with fringes, October 8, 2014
I can't say I love the pairing she put together here, but at least she doesn't look overdone thanks to the lack of color. I mean, imagine how things would have turned out if, say, her boots and purse were in two different colors. Probably a little too festive for her own good, yah?
So do you approve of Khloe's airport style or do you think she's overdressed again?
I don't have the details on her outfit yet, but the boots look very similar to these brown fringed stunners from Aquazzura. The "Carly"feature leather fringes at the opening and through the lace-up front. You can also see whip stitch detailing along the vamps and just right above the heel counters. And while these boots may look complicated and hard to put on, the lace-up design is actually purely decorative. There are concealed zipper closures along the inner sides for ease of wear. The heels on these boots are 4 inches tall while the shafts reach mid-calf at 10 inches (tall).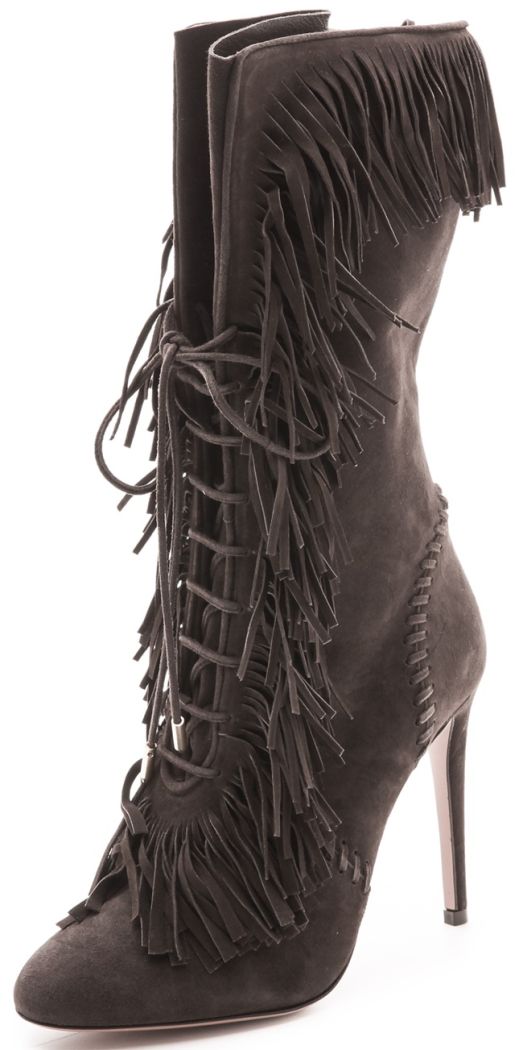 Aquazzura Carly Fringe Mid Calf Boots, $1175
This particular style is very bohemian in look and feel. If you can get with the heavily decorated appearance, feel free to score a pair in your size online. They retail at $1175.
If you wear the Aquazzura Carly, will you team them with a fringed purse like Khloe?
On a side note, I see the relevance in sporting details like fringes and feathers if you want to spice up an all-black attire. Such add-ons will definitely keep your getup from looking too classic or boring. Though I honestly don't believe in wearing them in multiple doses.
Now if you want to steal Khloe's airport style for less, wear your all-black separates with these really interesting buckled and fringed boots from Naughty Monkey: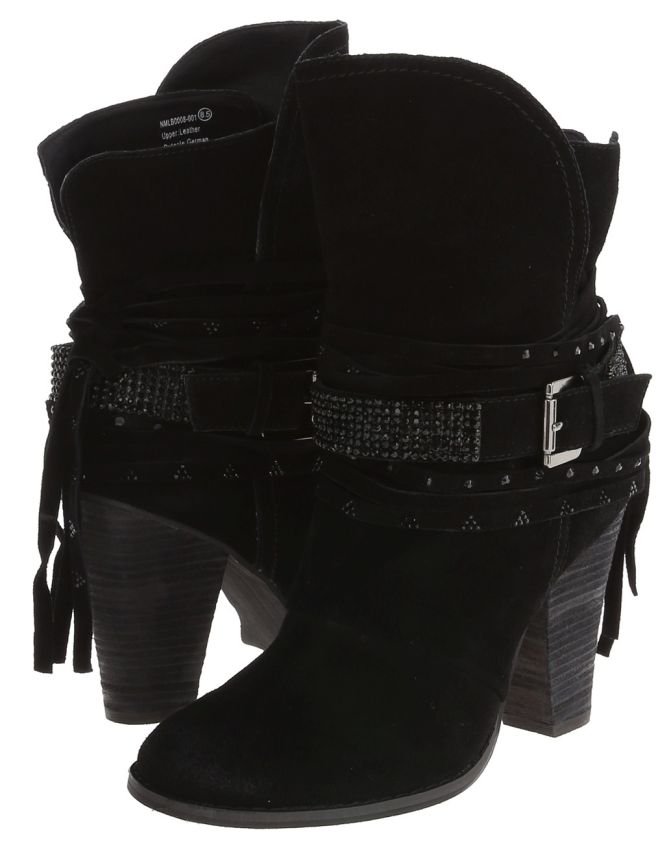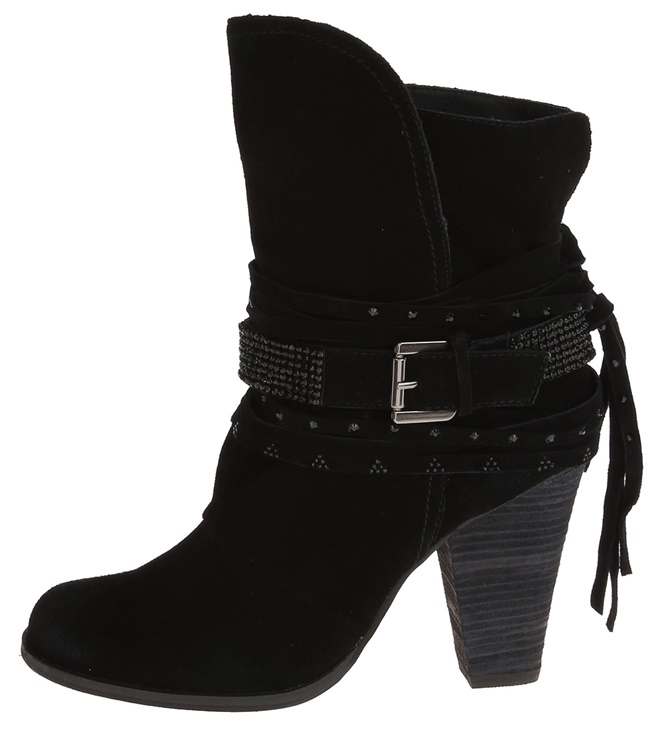 Naughty Monkey Santa Anna Fringe Boots, $120