Kate Upton was spotted filming some scenes for her new movie, The Layover, in Canada on Tuesday. The buxom beauty was decked in what appeared to be corporate attire — a beige top with a matching below-the-knee pencil skirt — infused with an edgy twist via a leather jacket and black ankle booties.
At first glance, I couldn't help but think a pair of nude pumps and a structured blazer would have been the more appropriate add-ons. After a while, though, the whole getup grew on me. Check out Kate's outfit, then tell me if you think she nailed the look.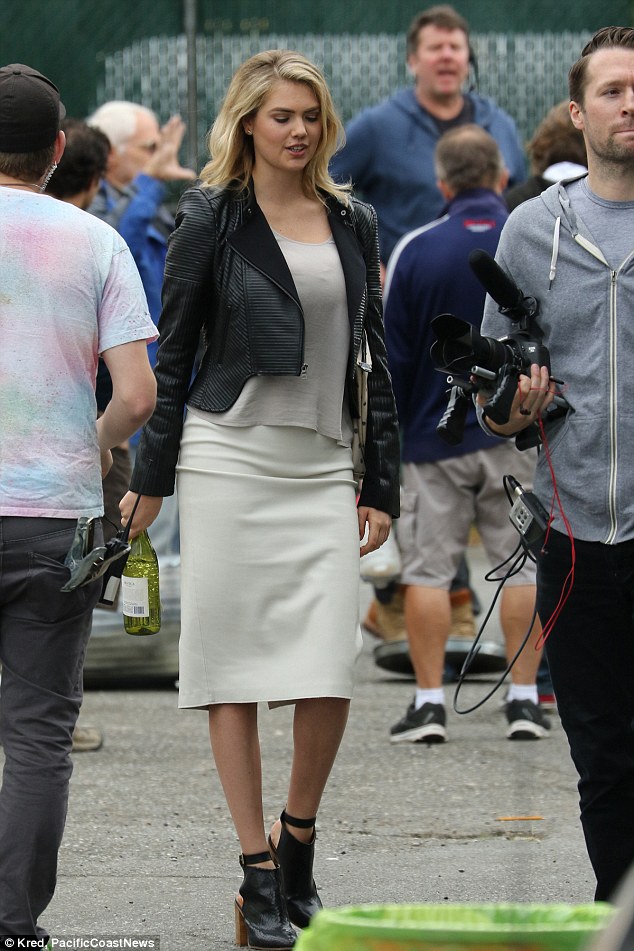 Kate Upton films scenes for her new movie, The Layover, in Canada on May 26, 2015
Well, any thoughts?
Blame it on the stylist for putting together such a stark contrast and such an unusual pairing. Fortunately for Kate, she managed to pull it off all thanks to some long legs and a tall frame.
Do you think you can rock her outfit and get away with it?
If that's a yes, then I suggest you grab the Steve Madden Madyy booties. I couldn't find any details on Kate's shoes, but they look very similar to the Madyy save for the color of the block heels:
Steve Madden Madyy Ankle Strap Booties, $77 (was $110)
Team the shoes with a beige below-the-knee pencil skirt, a top in the same color, and a black leather jacket, then you're all set to looking edgy yet sophisticated a la Kate!