Kate Hudson loves her statement footwear. On Thursday, the actress was spotted stepping out in New York City in a pair of peacock painted suede thigh-high boots that commanded attention. I guess you could say she took the word  "peacocking" literally.
For the clueless, peacocking in fashion is putting on a colorful outfit that will guarantee you a spotlight. It's not an everyday look, nor is it relatable or real-looking, but on camera, it looks good. It's what most street style bloggers do so their pictures offer lots of impact.
Now back to Kate. The actress wore her peacock boots with skinny jeans, a beige top, and a maroon coat for the day out. Strange as it may sound, she looked fabulous in the outfit. It was flamboyant, but she pulled it off anyway.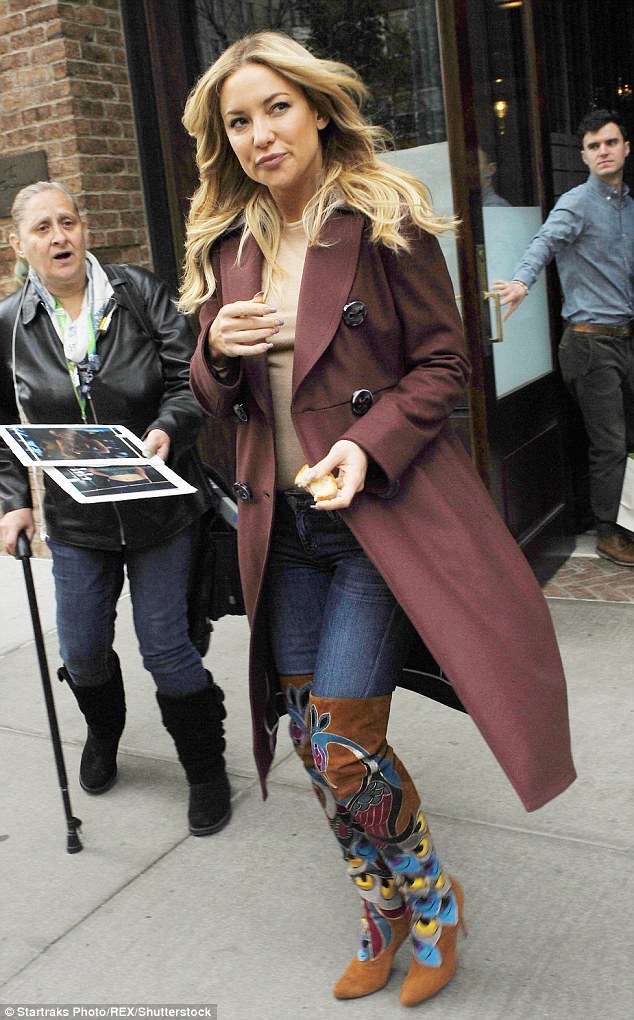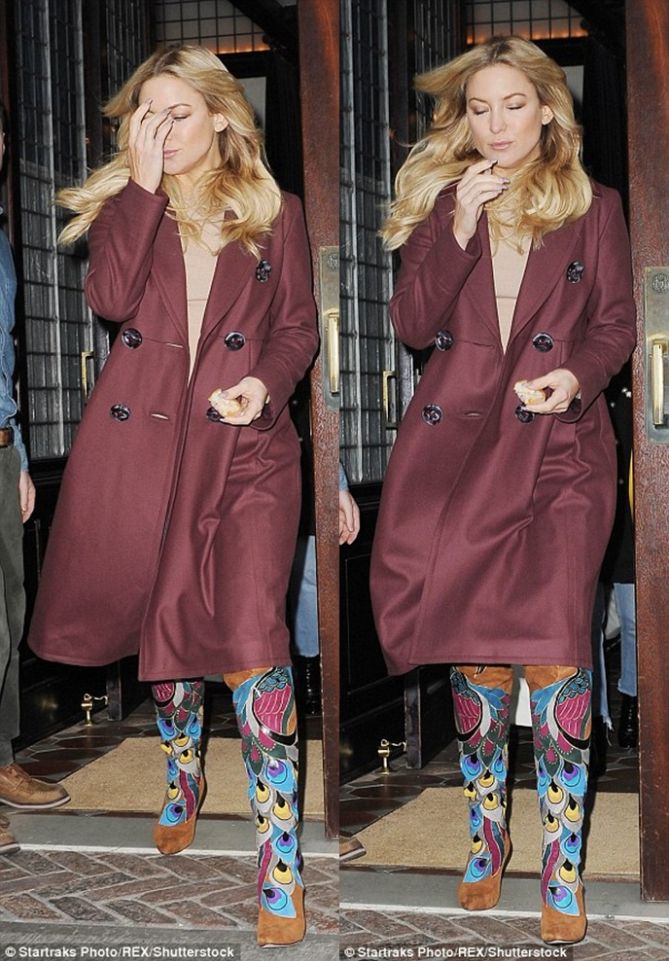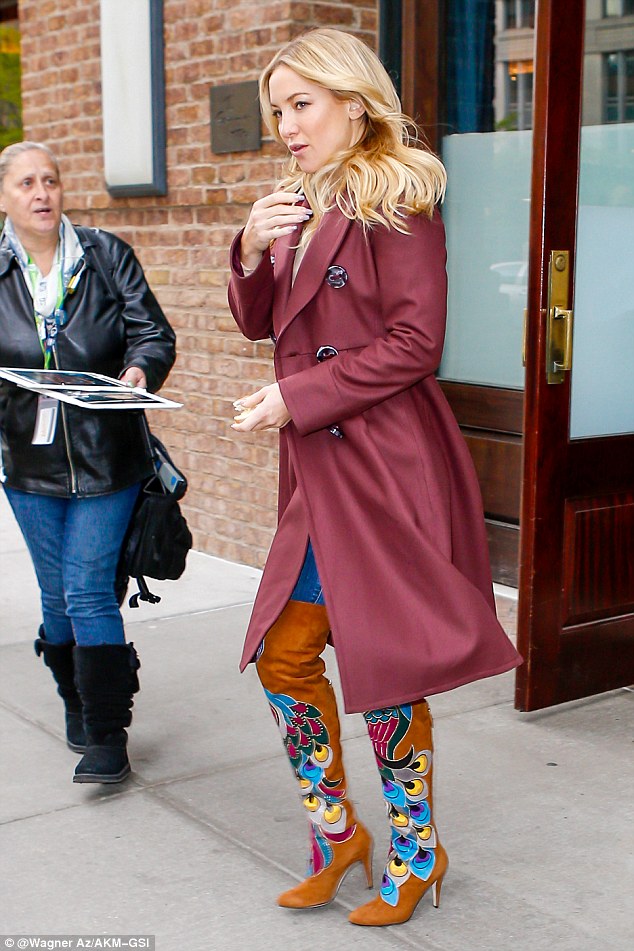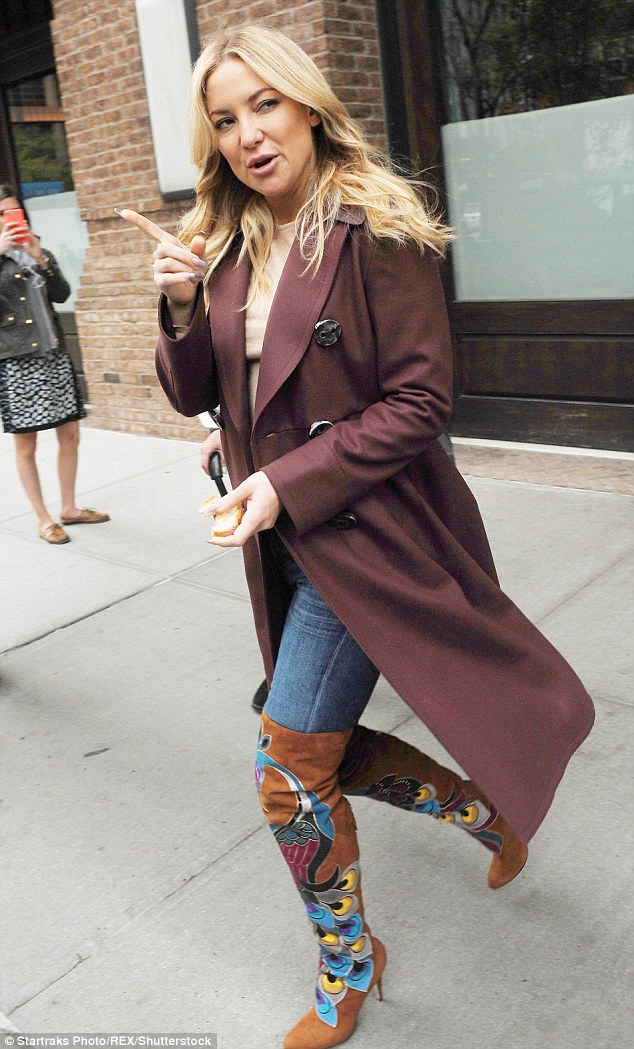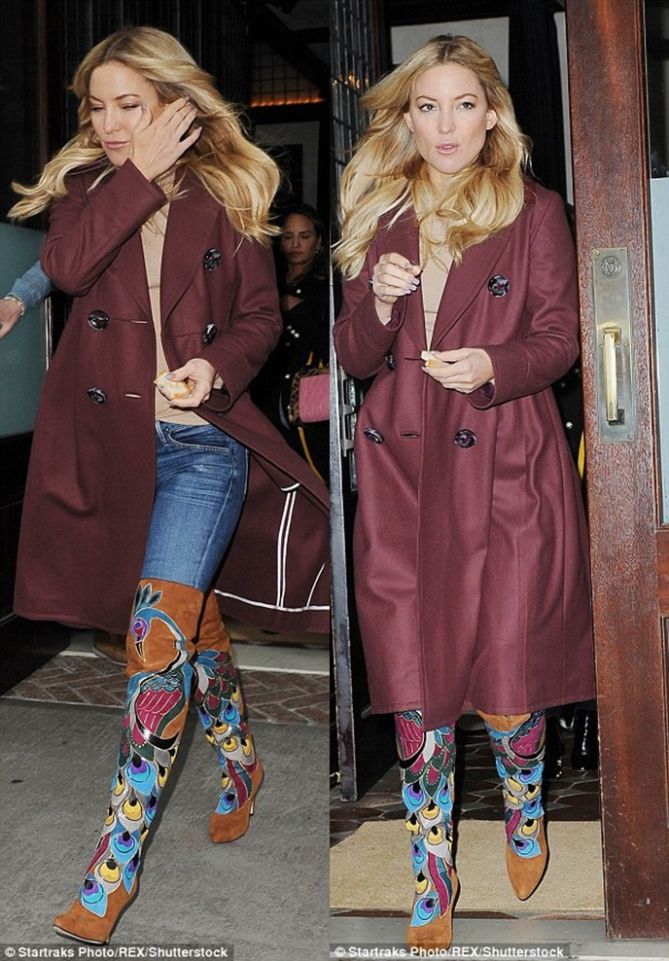 Kate Hudson wears colorful boots while out and about in New York City on April 28, 2016
You have to hand it to Kate. She knows how to style even the most outrageous-looking footwear. Keeping everything else toned down in the outfit was a good move. It highlighted her fancy boots and kept her looking chic yet glamorous.
The day before, Kate was spotted sporting another pair of statement heels while arriving at JFK. She rocked bell-bottom jeans with a white top and an army green jacket, and then capped off the mix with chunky and bold leopard-print platform sandals.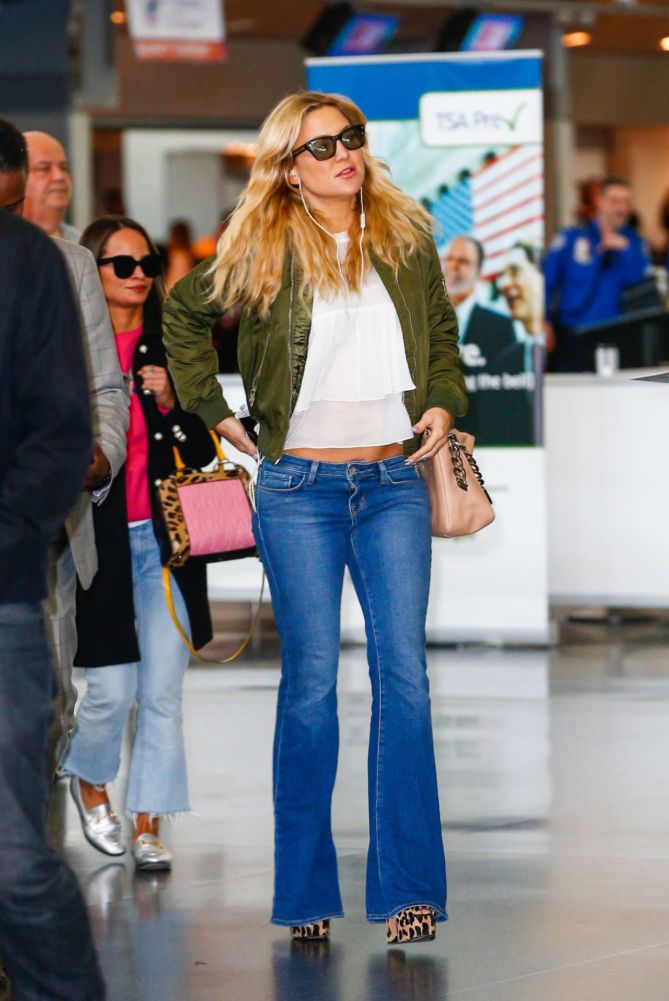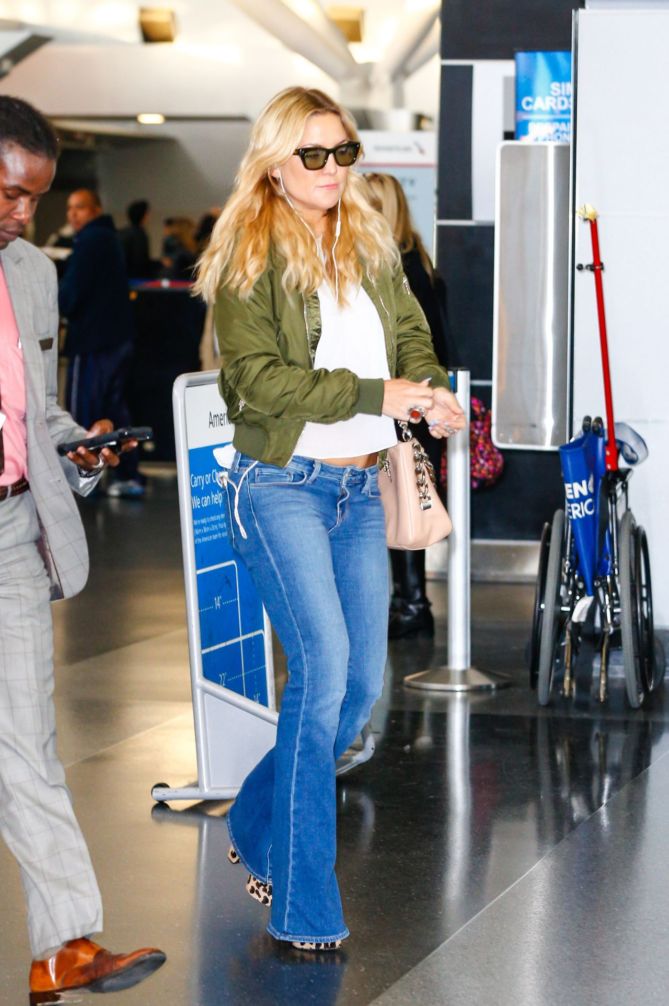 Kate Hudson arrives at JFK airport in a 70s-inspired attire, April 27, 2016
It was reported that Kate's birthday bash was wild. Judging from her fashion sense, I can only assume the news was accurate. Kate's a free spirited gal and it shows in her choices.
Kate's peacock-painted boots are from Brian Atwood, while her leopard print heels are from Giuseppe Zanotti. The boots are no longer available, but here they are up close for you: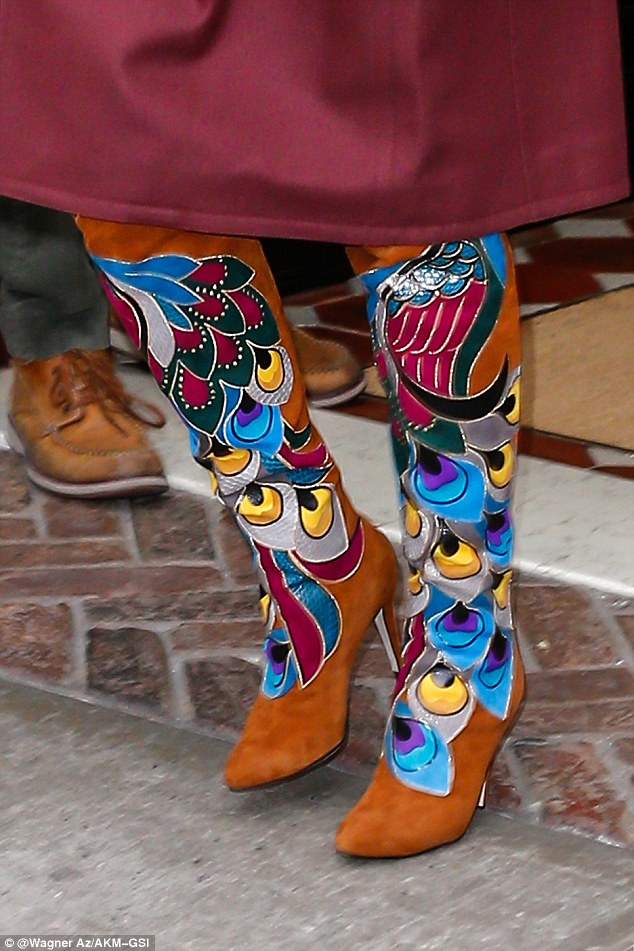 Brian Atwood Biba Tan Suede Peacock Thigh Boots, sold out
Kate's platform sandals  from Giuseppe Zanotti, on the other hand, are available at Neiman Marcus. They're  the "Lavinia" in leopard print. The shoes are crafted from printed grosgrain material and feature 5-inch-tall heels, as well as 2-inch-thick platforms. If you like the silhouette, feel free to purchase them online.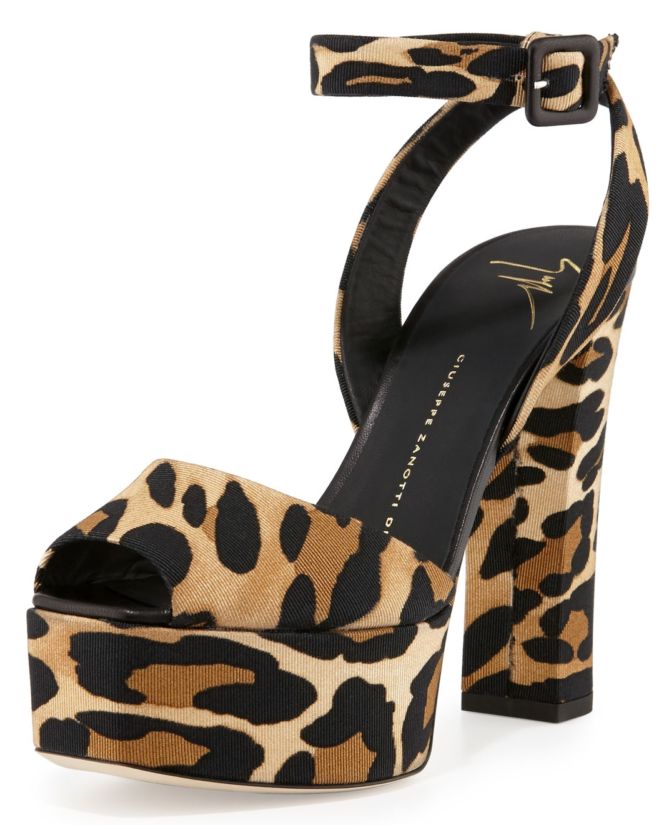 Giuseppe Zanotti Lavinia Leopard Print Platform Sandals, $795