The Stuart Weitzman Lowland and Highland boots are among 2015's top buys (or trends, if you can call 'em that). Basically, they made thigh-grazing boot ultra popular again. Not that they ever went away to begin with, but there's a stigma that comes with thigh boots (think Julia Roberts in Pretty Woman), and Stuart Weitzman somehow managed to turn that into something covetable.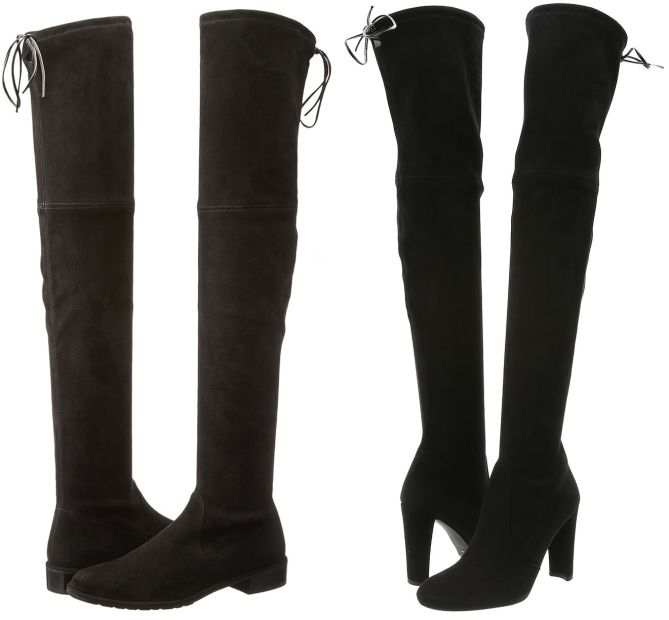 Stuart Weitzman Lowland Boots, $798 and Stuart Weitzman Highland Boots, $798
With a shaft height of almost 24 inches, both the Lowland and Highland boots are guaranteed to make your legs look long and lean. This is especially the case if you pick the suede version in black, and then team the pair with black skinny jeans or tights.
Another very popular look being worn by the celebs is to wear the tall boots with an oversized sweater and nothing else underneath. This sexy getup will expose just enough skin without actually revealing anything.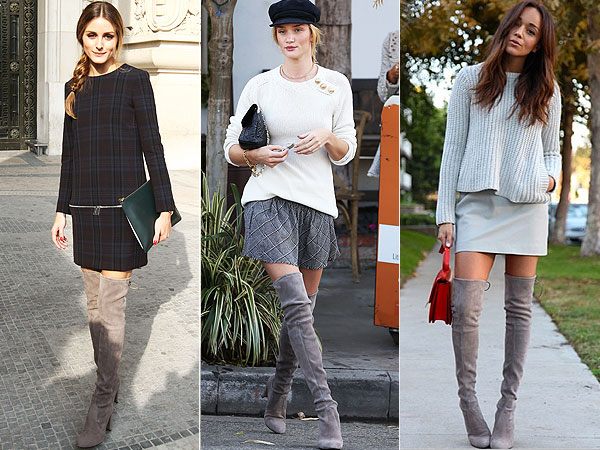 Olivia Palermo, Rosie Huntington-Whiteley, and Ashley Madekwe in the Stuart Weitzman Highland boots
So why am I blabbing on about the Lowland and Highland from SW?
Well, normally, both boot styles will reach just right below your thighs if you're of average height. On Karlie Kloss, however, the boots were just tall enough to cover her knees. She was spotted wearing the pair twice this week, all while heading to her classes (in case you haven't heard, Karlie is back in school).
While the Lowlands didn't look odd on the statuesque model, they certainly didn't seem like a pair of Lowlands to me; more like the 5050 boots instead. Seriously, I never thought anyone could make the boots look short.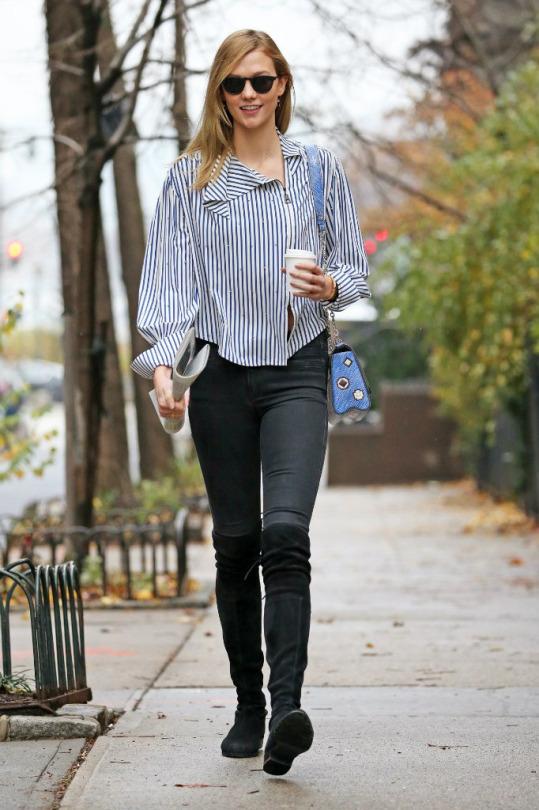 Karlie Kloss spotted heading to school in New York on December 8, 2015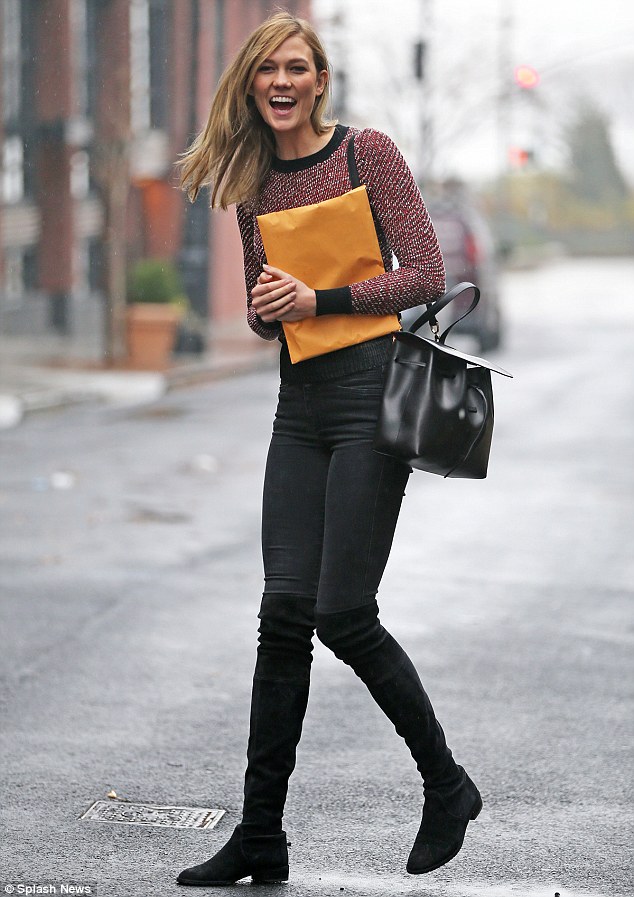 Karlie  Kloss smiles as heads to class in the Lowland boots, December 2, 2015
Karlie is about 5'10" tall and she has really long legs, so I guess this explains why the Lowlands don't go up as high on her. It could also be that her upper legs are really long, hence the fit. In any case, she still looks fab in them.
If you don't own a pair of Lowland or Highland OTK boots in your closet, I urge you to grab one. The hefty price tag will probably hold you back, but the splurge may be worth it. A set will cost you $798
For the frugal fashionista, you're free to find dupes that fit your budget. Try alternative labels like Jeffrey Campbell and such. Or check out these options from ASOS: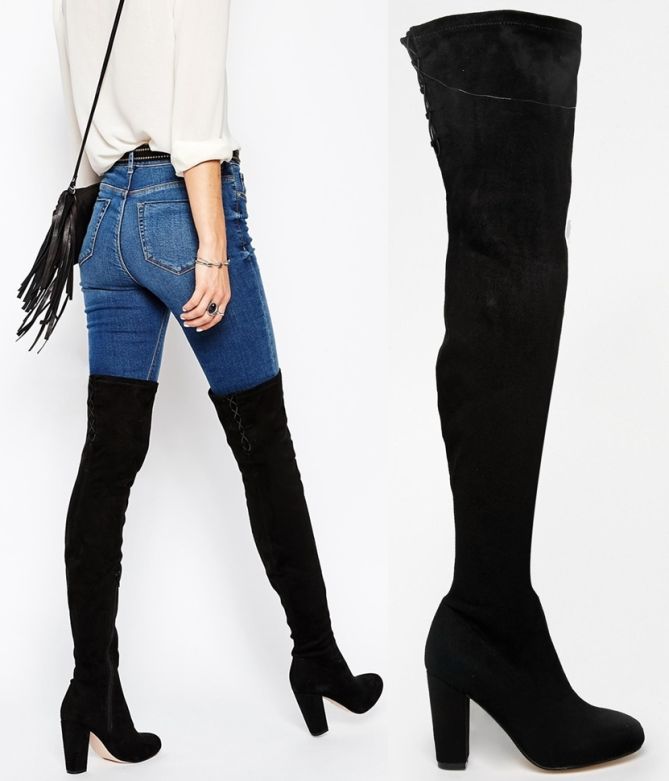 ASOS Key to My Heart Lace Up Over the Knee Boots, $108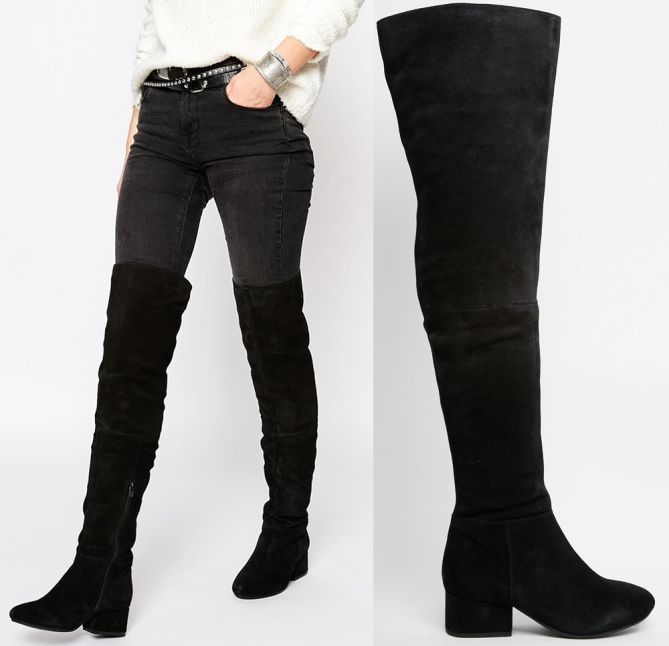 Park Lane Block Heel Suede Over the Knee Boots, $144 (was $207)