For high-profile celebrity-packed social gatherings like the Serpentine Gallery Summer Party held in London on Thursday, you'd expect every guest not only to be well-dressed, but also to be in appropriate footwear. That means neat dress shoes for the gentlemen and fancy evening heels for the ladies. It's something of a tradition — one that is expected of everyone as part of proper etiquette.
Karlie Kloss, however, decided to take notes from Sarah Jessica Parker's outfit during the William Butler Yeats party (last June) by gracing the occasion in a pair of flat toe-ring ankle-tie sandals.  The leggy Victoria Secret model wore the casual pair with a bright red figure-hugging dress that accentuated her slender frame.
I guess it's just as well, really, because Karlie stands at 1.85 meters tall (about 6 ft. and 1″ tall). If she wore heels, she would have towered over everyone. But do you think she wore the right pair of shoes to go with the dress? Or should she have chosen a dressier set like pointed flats or metallic sandals?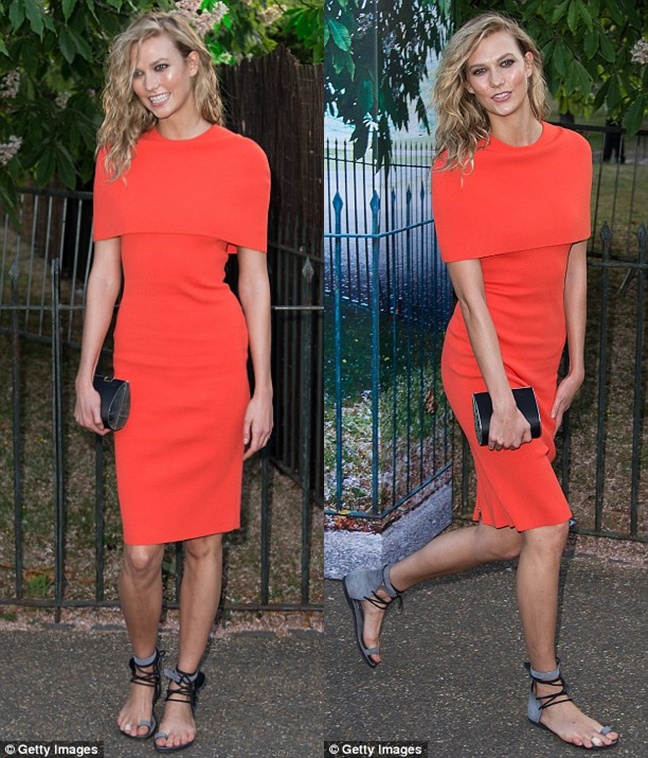 Karlie Kloss attends the Serpentine Gallery Summer Party held in London in flat toe-ring sandals, July 3, 2015
What's the verdict, ladies? Did Karlie pull off wearing casual footwear to a dressy party? You know, I think she nailed it. Don't you?
True, the sandals don't come with special add-ons like crystals and whatnot, and neither do they come in metallic material, but the plush gray suede leather made the pair decent enough to go with the dress. Besides, the ankle-tie toe-ring silhouette is really flirty and sexy.
So would be bold enough to wear Karlie's sandals with a red dress to a high-profile celebrity-packed party?
I say why not?!
But you will need to find out where she scored the shoes first, because I couldn't find them anywhere. I did, however, come across similar-style sandals that you can rock this summer. One is more casual than the other. In fact, if you're looking to steal Karlie's style, you can grab the metallic-snake "Lasso" from Stuart Weitzman below and team 'em with a dressy frock: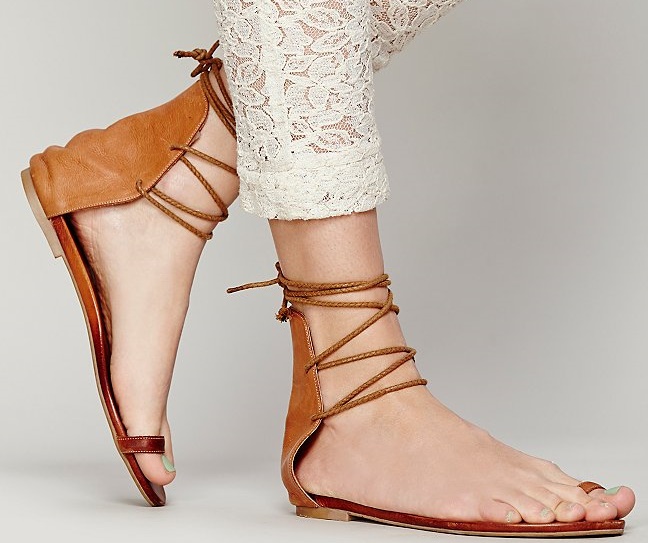 INUOVA Barachel Sandals, $90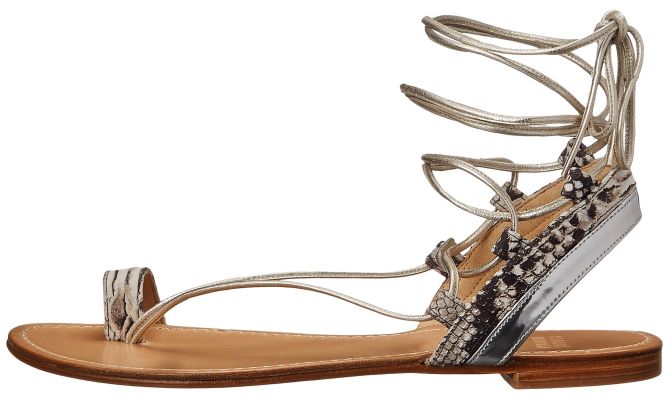 Stuart Weitzman Lasso Sandals, $345