I have this fetish for celebrities' "regular day" looks. I like to browse photos of famous stars spotted strolling around the block wearing just their simple jeans and shirts or what-have-they and doing their grocery shopping or whatever any average people do on a regular day. I'd like to see who's got the real "beauty" without the make-up and all.
Just a couple of days ago, Jessica Alba was spotted walking out of Trump Soho in New York City wearing a patterned jacket over a worn-out white graphic T-shirt and sweatpants.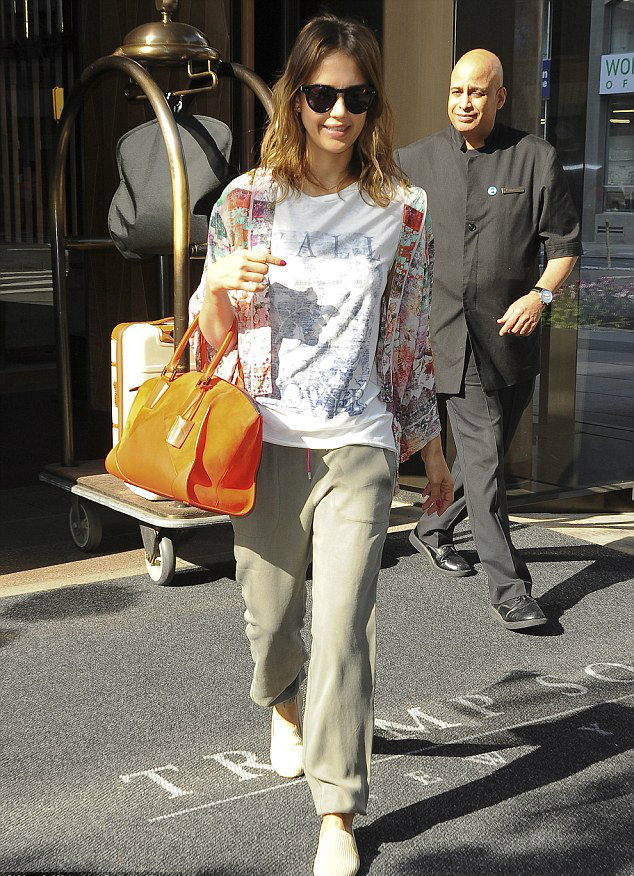 Yes, the 33-year-old actress may look "unglamorous" in that outfit but you cannot deny the fact that her stylish side still showed even in that "unkempt" state. Maybe just a little combing of hair is needed to make her outfit that day look  fine, but for me, I'd say it just looks okay. I personally like how Jessica paired her top outfits to her Yosi Samra Preslie flats. I'd say that added to her very relaxed and casual look.
And yes, Jessica is still a beauty even with that simple look. No denying the fact that with or without the makeup, red carpet or not, Jessica is really one of Hollywood's prettiests.
How do you like Jessica's look here? Ditch or hit?
Anyway, if you're fancying her Yosi Samra flats, you can purchase it online at Nordstrom. I especially love the intricate cut outs of these nude shoes. And I like that it can go literally with any outfit–not to mention that it looks very comfortable.