She is currently expecting her third child, a boy, with husband Cash Warren, with the couple already parents to daughters Honor Marie, nine, and Haven Garner, six.  And Jessica Alba has shown she knows how to dress her bump as she donned a relaxed but stylish ensemble while heading through LAX airport on Friday. The 36-year-old actress and businesswoman covered her bump in a stylish blue jumpsuit with pinstripe detailing, along with several layered knits to keep cosy for her travels.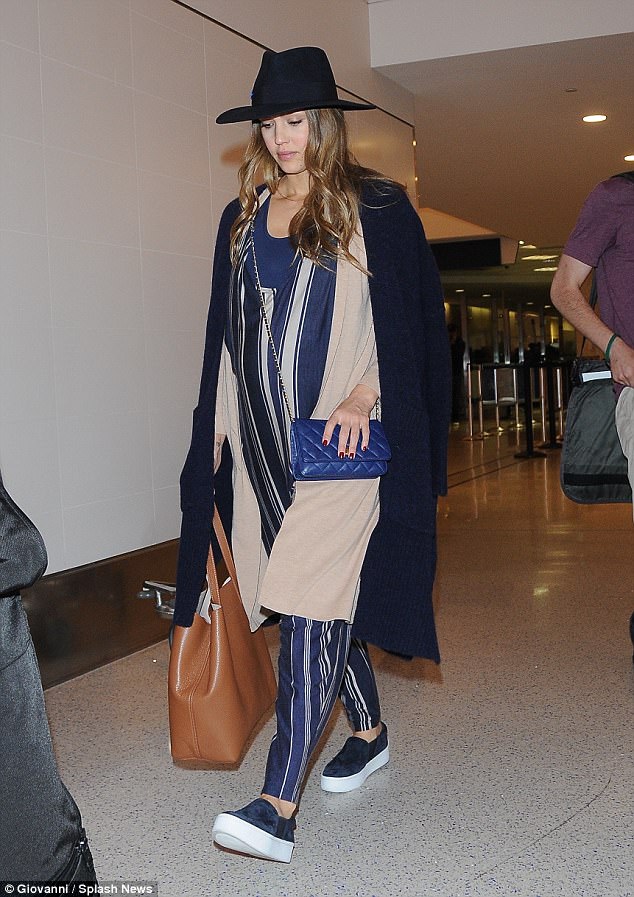 Jessica rocked both nude and navy blue over-sized cardigans, along with comfy suede blue plimsolls, and a matching quilted chain-strap bag. Jessica covered her brunette tresses in a matching blue hat, keeping a low profile as she headed through the terminal. The mother-of-two was recently spotted in New York as she attended a business event for the Honest company, a consumer goods brand the actress founded in 2012.
Documenting her business trip on Instagram, the Sin City star also recently revealed to her followers the gender of her new arrival.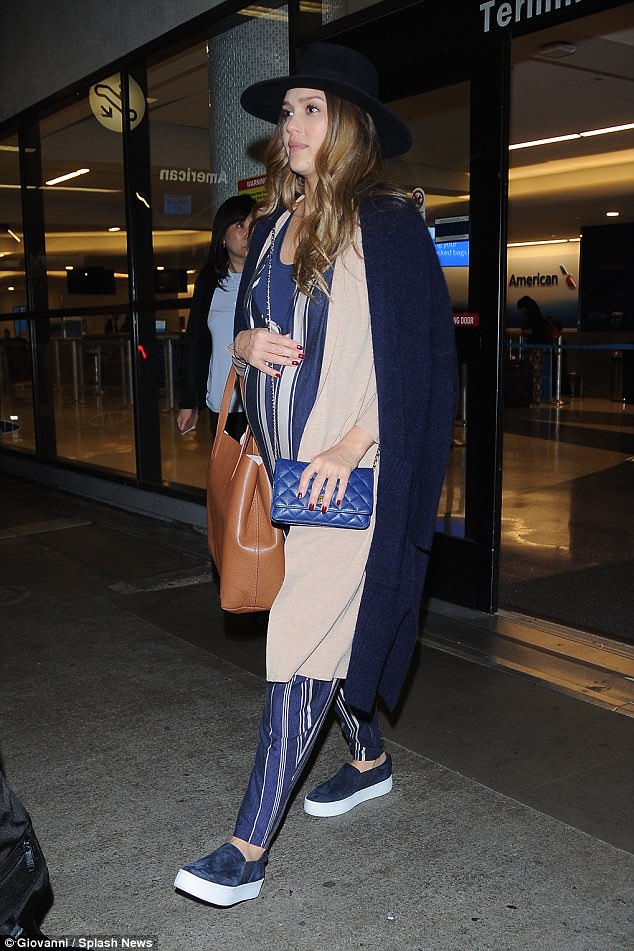 After announcing she was expecting her third child in July, Jessica revealed she was having a boy in an adorable Instagram video. Releasing a box of blue balloons and confetti with her daughters in the video, the star wrote: '@cash_warren and I couldn't be more thrilled to announce… #officiallyoutnumbered #babyboy #cantwaittospoilhim #hugsandkissesforlife #soontobemamaofthree.'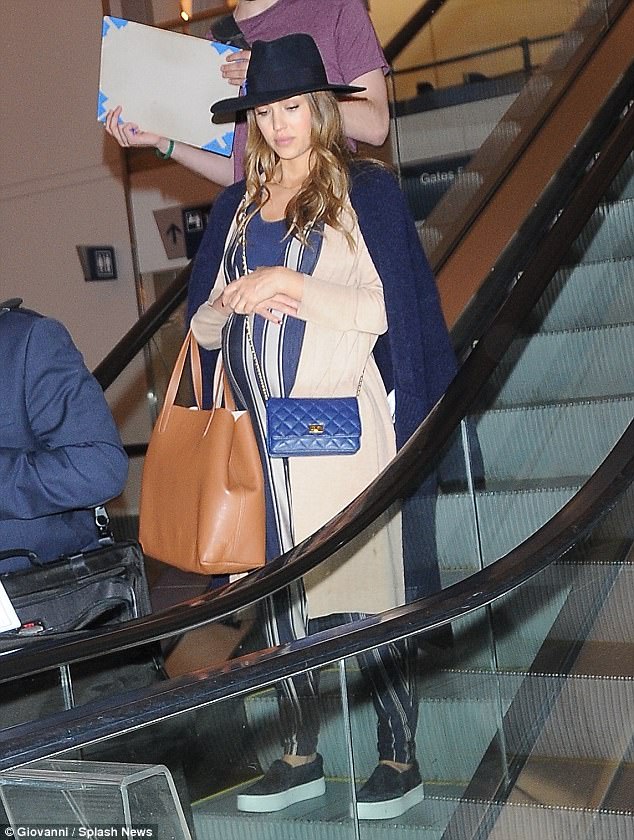 During her time in New York, the actress also made an appearance on The Tonight Show with Jimmy Fallon, discussing a name for her new son that husband Cash had suggested but she was not so keen.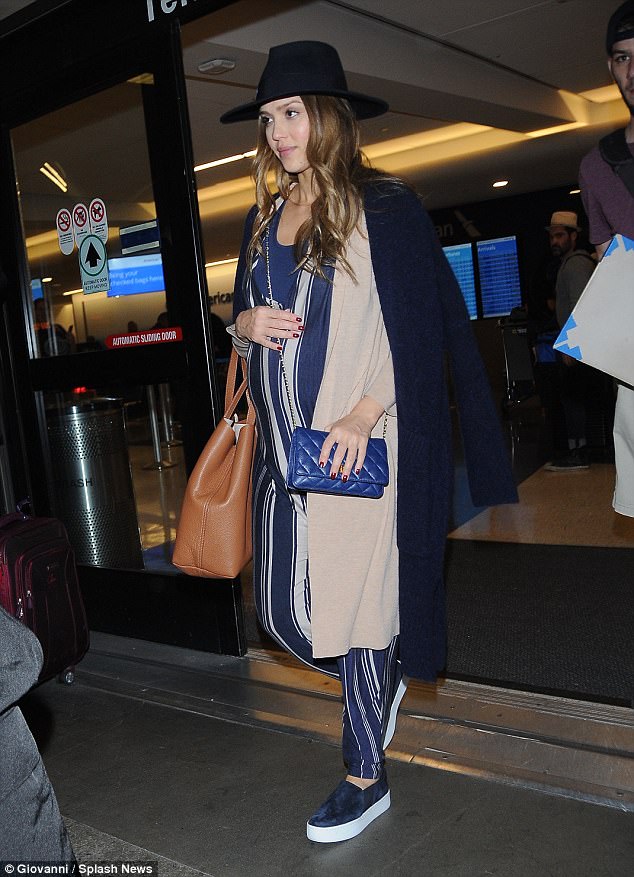 She said: '
[Cash] said, "We should name it Dick with a silent H". He thinks it's, like, old school.'  The starlet also added that while she thought she was not getting any pregnancy cravings, she had actually been craving a lot of Japanese food.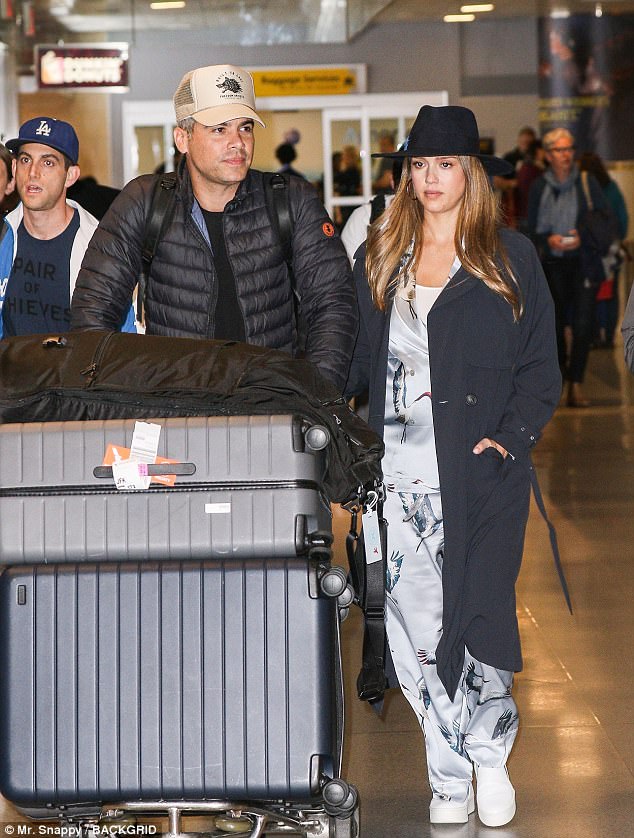 She added: 'I actually dream about desserts, but I'm trying not to gain so much weight with this baby so I just dream about them. I want all the shaved ice with ice cream on the bottom. That's my thing.'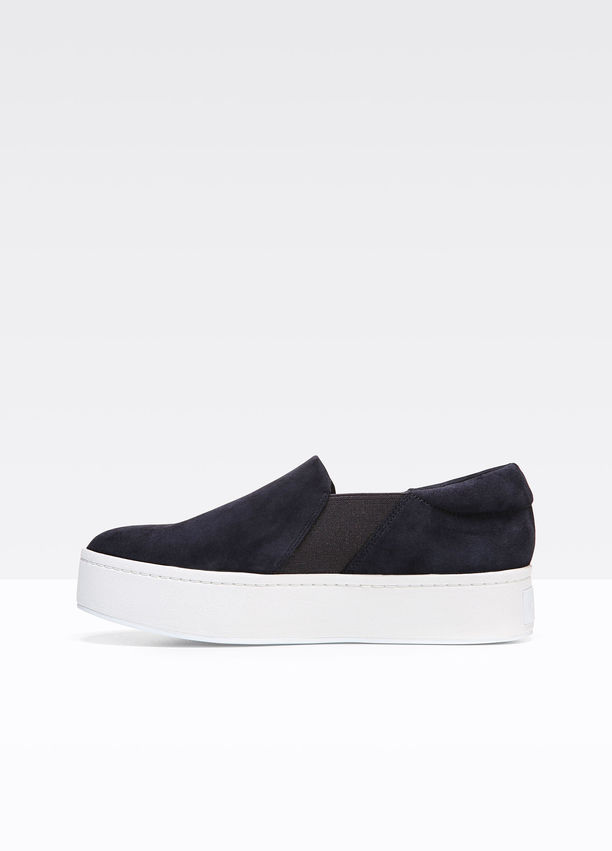 Luxe suede slip-on sneaker with a double-thick rubber platform sole that is hollowed to ensure a lightweight.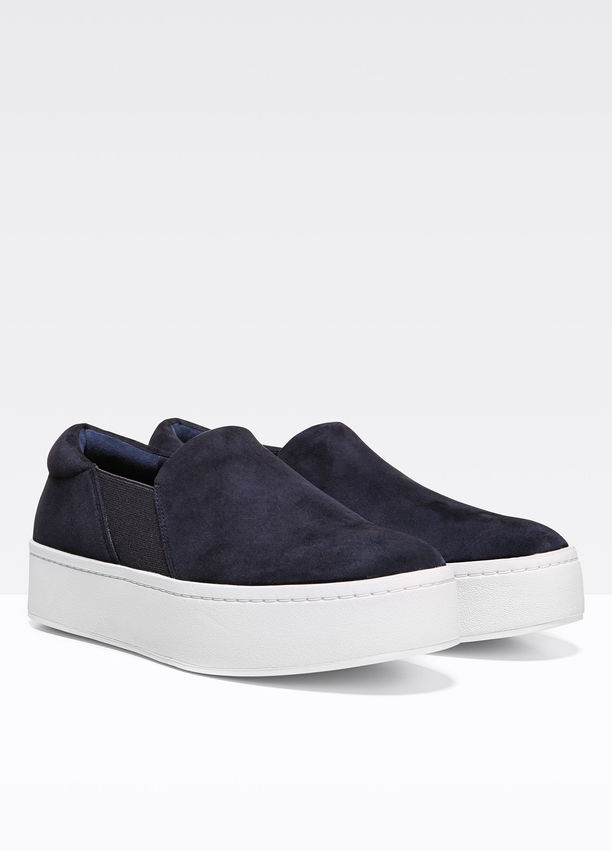 From blush to black, Jessica has a pair of these easy-to-wear trainers in every hue and we can't say we blame her! The perfect shoe paired with practically anything, these navy ones can be yours now for only £171 simply by clicking the link to your right. Whether you pair them with fresh jeans and a casual tee or a denim mini and a blouse, these simple shoes are sure to take your style credentials up a notch.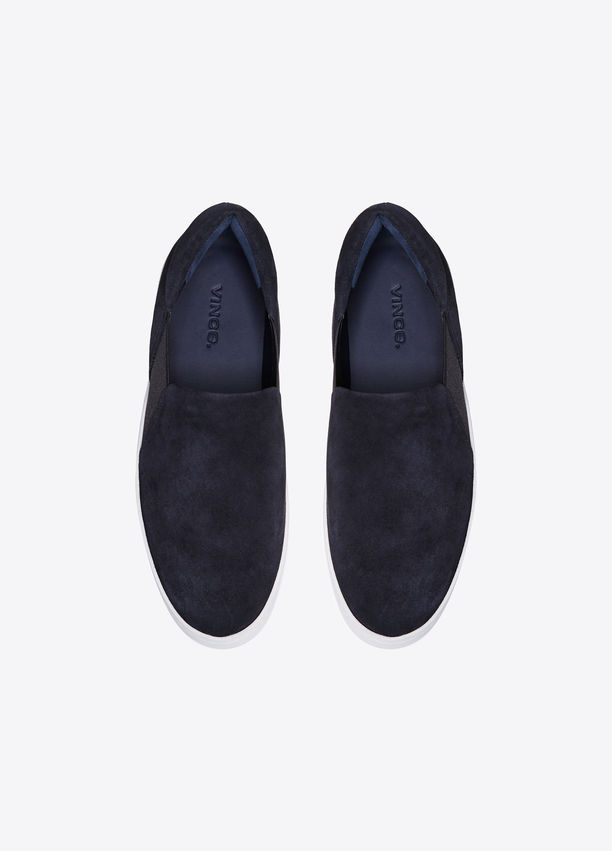 Fancy shopping around first? Why not check out our carousel below for more navy options!