Draft Day director Ivan Reitman made a good choice for picking Jennifer Garner as his sports movie's lead actress opposite Kevin Costner. Garner, after all, is not only an awesome actress, but she's also a sports enthusiasts especially baseball.
"We are a baseball house," said the mother of three whose husband, Ben Affleck, is a Boston Red Sox fanatic. "But when the
[football] playoffs arrive, we are all Tom Brady, all of the time."
The beautiful actress also grew up with the sport in Charleston, West Virginia.
"West Virginia is very much like Texas in Friday Night Lights," she said referring to the series and movie depicting the obsession with high school football.
"I was at every single [high school] game because I was in the marching band. My senior year I left the marching band, which was a scandal at the time, and I was the water girl for the team."
Thus, her role as the business manager of a football team is just apt for her. In fact, according to the film's director, Jennifer knows football well and she came to this in a natural way.
Garner had the added bonus of meeting with Megan Rogers, who is the Cleveland Browns' salary cap expert.
Jennifer may look very feminine especially when she's donned in designer gowns but she can also pull off a sporty garb just fine.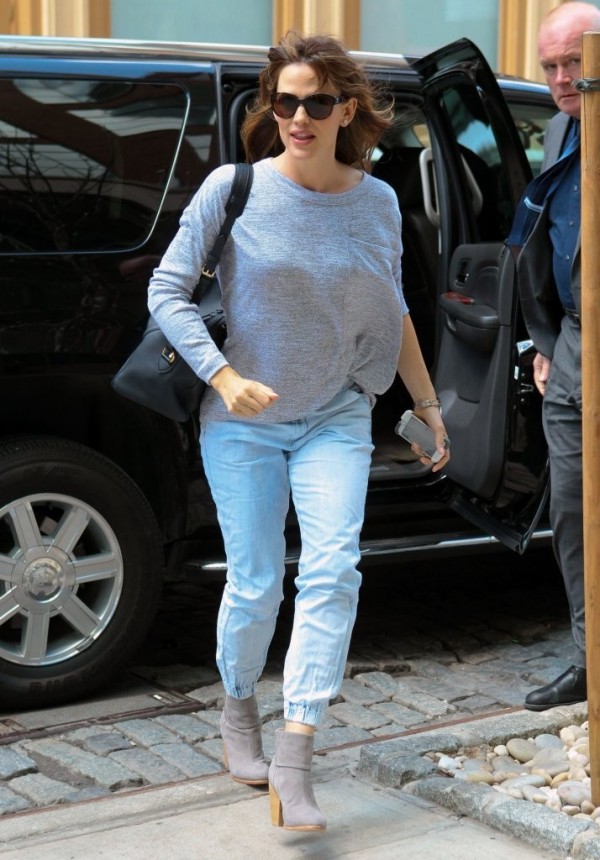 Even if her top and her jeans looked seemingly plain and casual, Jennifer's finishing the outfit with gray booties just made it oh so fine!
I'm sure you are now thrilled to try on those booties, too! It can go with any outfit you may have. By the way, Jennifer's booties from Rag & Bone. This Classic Newbury Booties is very comfy and easy to walk in.