Hilary Duff is quite busy these days. Apart from releasing a new album, the former Disney darling is also hard at work on her new film, Younger.
While on the set last Wednesday, Hil donned a bright pink leather skirt for one of the scenes, and I couldn't help but admire how well-put-together she looked in her outfit. No doubt, a stylist cooked up the combination, but that's really irrelevant because Hil looked drop dead fabulous.
She wore the leather skirt with a black top, a patterned black-and-white jacket, a gray scarf, a black structured purse, and a pair of fancy black pumps. I say fancy because they weren't just your ordinary pointy black stilettos.  The heel counters were raised and they were detailed with gold embellishments.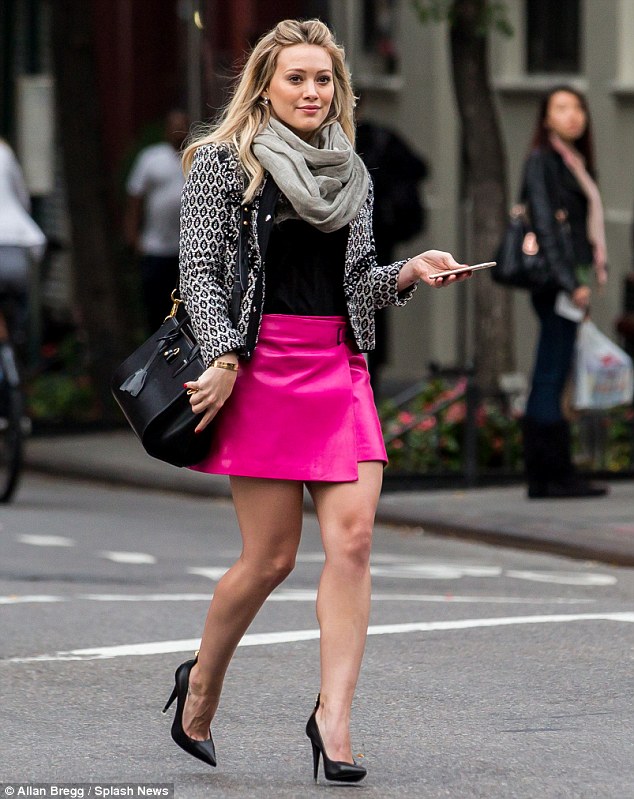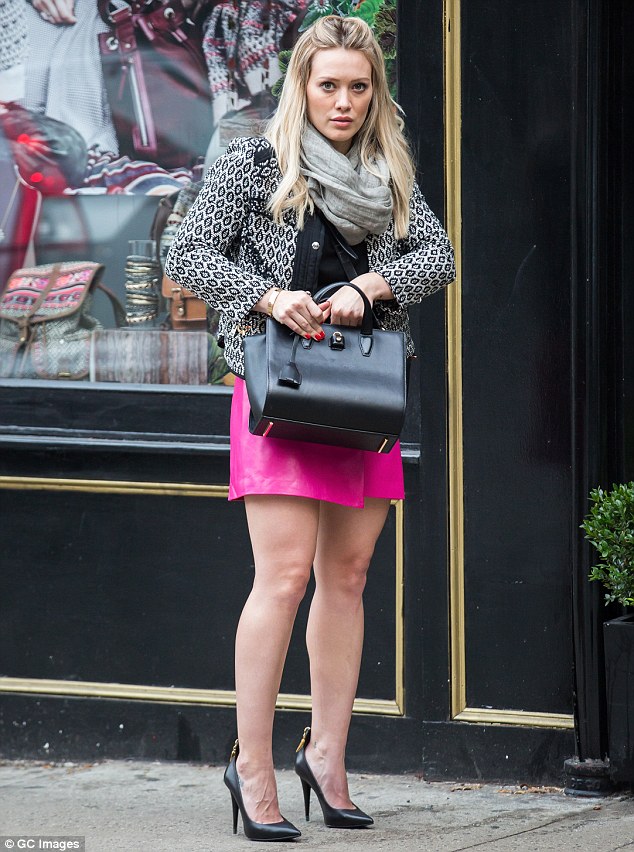 Hilary Duff wears a pink leather mini skirt while filming a scene for her new movie, Younger, in New York City on October 29, 2014
Doesn't she look fantastic in these photos?
The first pic is my favorite. She looks so picturesque, for lack of a better word.
If you fancy Hilary's outfit, then do know that her skirt and handbag are from Alexander Wang. The skirt, which is made of lambskin leather, is still available online, but you may need to get creative if you want to get your hands on the purse.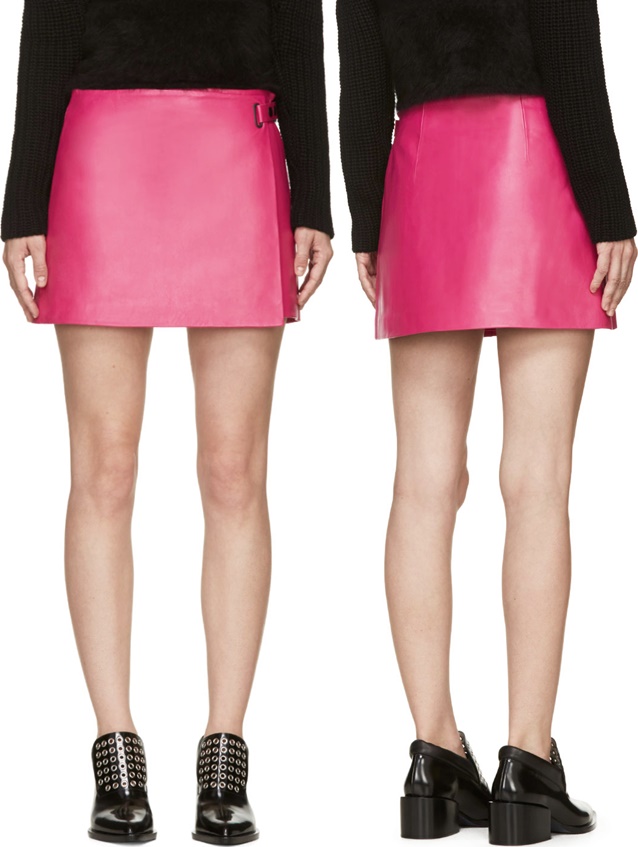 Alexander Wang Plong Lambskin Leather Skirt in Fuchsia, $650
And as for Hilary's pumps, they're from Giuseppe Zanotti. The silhouette on these shoes feature a raised or extended backstay, which I find quite unique. The back of the shoes are also detailed with horn-shaped decorative zipper pulls. Standing at 4.25-inch-tall, the cone-shaped heels of these pumps will give you the necessary lift. If you like what you see here, again, you'll need to get creative because they're no longer availablee.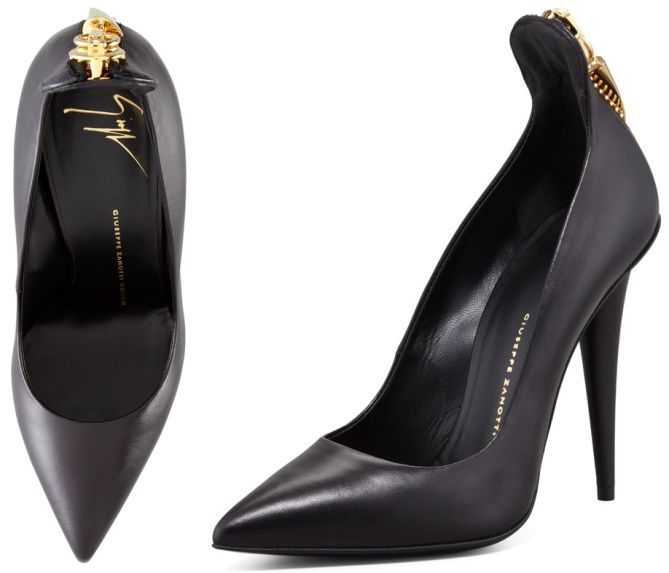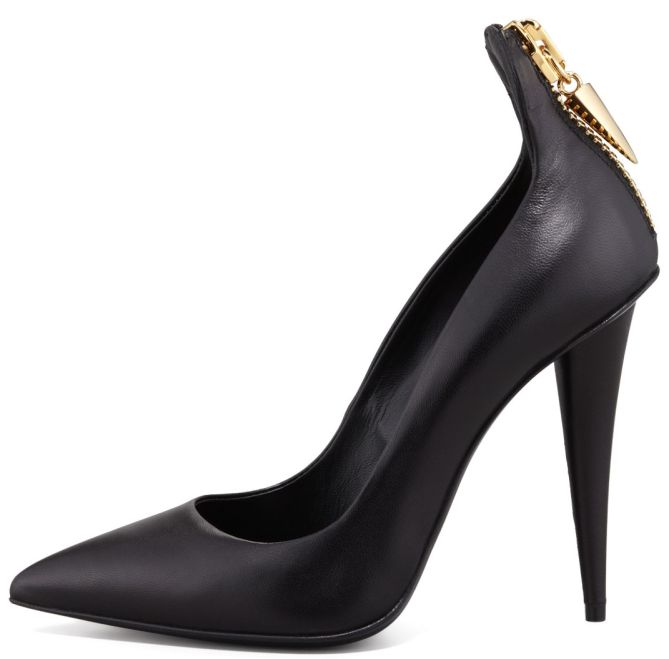 Giuseppe Zanotti Horn Zip Back Pumps, sold out
For those who would rather grab something similar and much cheaper, you can try these styles from Michael Kors, Betsey Johnson, and Dolce Vita. The first pair features gold embellishments on the heel counters while the last two feature extended backstays: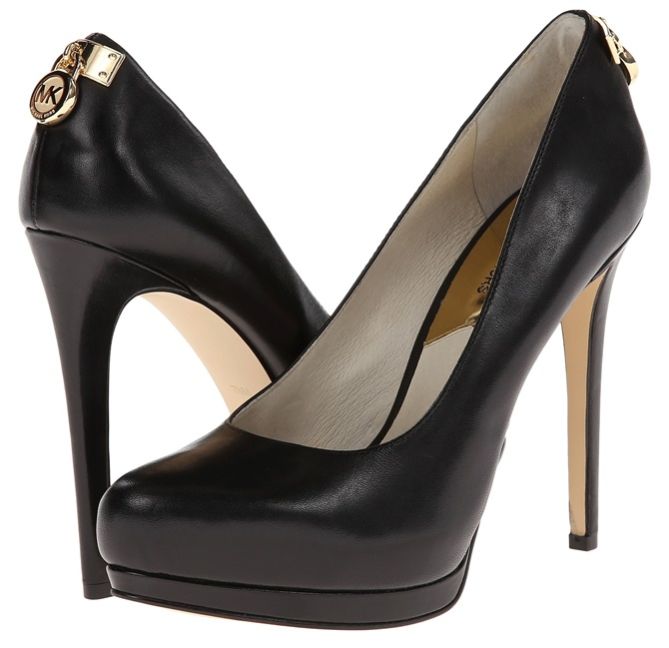 MICHAEL Michael Kors Hamilton Pumps, $165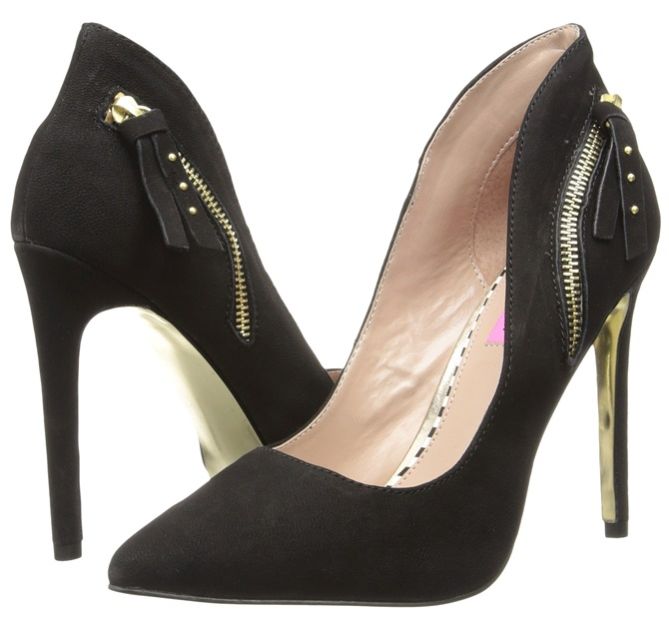 Betsey Johnson Madame Pumps, $110
Dolce Vita Kaiko Pumps, $