Hillary Duff is looking as gorgeous as ever even with less makeup and simple garbs. Just recently, the actress was spotted walking to her private acting class in Hollywood just donning a plain white shirt and grey overalls. She rocked her outfit more by wearing a head scarf,  Chanel Red Boy Bag, bright red lipstick and finished it off with a Prada Yellow Studded Smoking Slippers.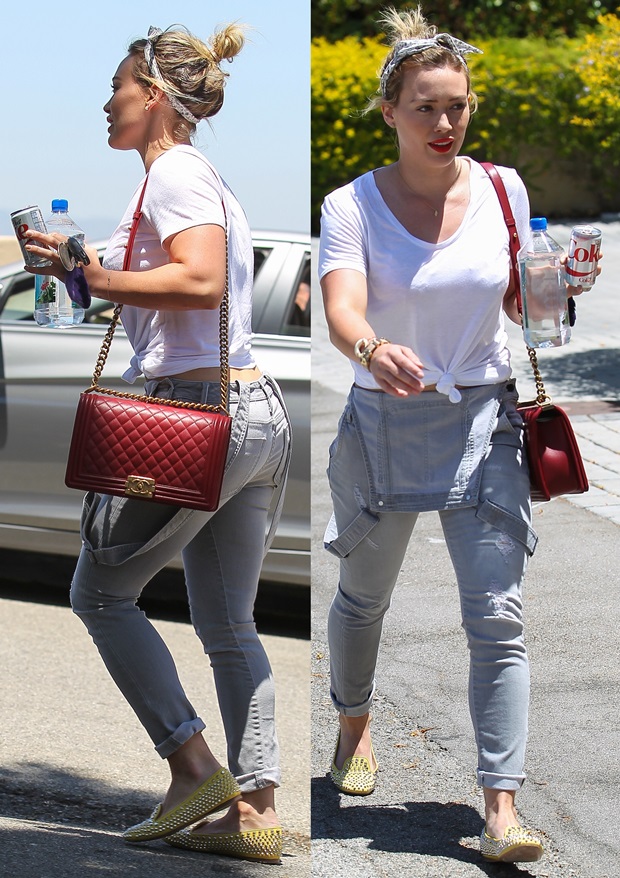 Seems like Hillary is enjoying her "me" time of late. And even with her "single" status, there's no doubt that Hillary's still blooming. According to her sister, Haylie, Hillary and her estranged husband Mike Comrie went on vacation together with their son. And Haylie feels that there's a chance that the ex-couple might get back together. She added that the family is still very close to Hillary's ex-husband.
Oh well, I'm keeping my hopes high up on this since Hillary and Mike really looks good together ;)
Anyway, if you're fancying Hillary's yellow shoes, it's actually being sold online at Barneys but it's presently out of stock. Thus, I looked for a similar style and found tons at Nordstrom. And this is what I liked best: the Jimmy Choo "Wheel" Mini Stud Smoking Slipper.