Even if Heidi Klum is getting old, we all can't deny that the German model still looks hot for her age. Her latest gig involves the launch of an intimate apparel line called Heidi Klum Intimates, and on Tuesday, the seasoned supermodel was spotted promoting the range in Melbourne, Australia.
For the event, Heidi wore a figure-hugging slip-like dress detailed with a slit that went all the way up to there. She kept her beauty look natural, opting for volume on the hair, barely-there eye makeup, and some red lipstick. Capping off the attire were a pair of strappy pointy stilettos.
At one point, Heidi almost suffered a wardrobe malfunction as her dress kept sliding up. She managed to keep it in check, fortunately. She also rained kisses on the host, male model Kris Smith, as she promoted the intimate line to shoppers. I'm pretty sure the guy felt like he was the luckiest on the planet that day.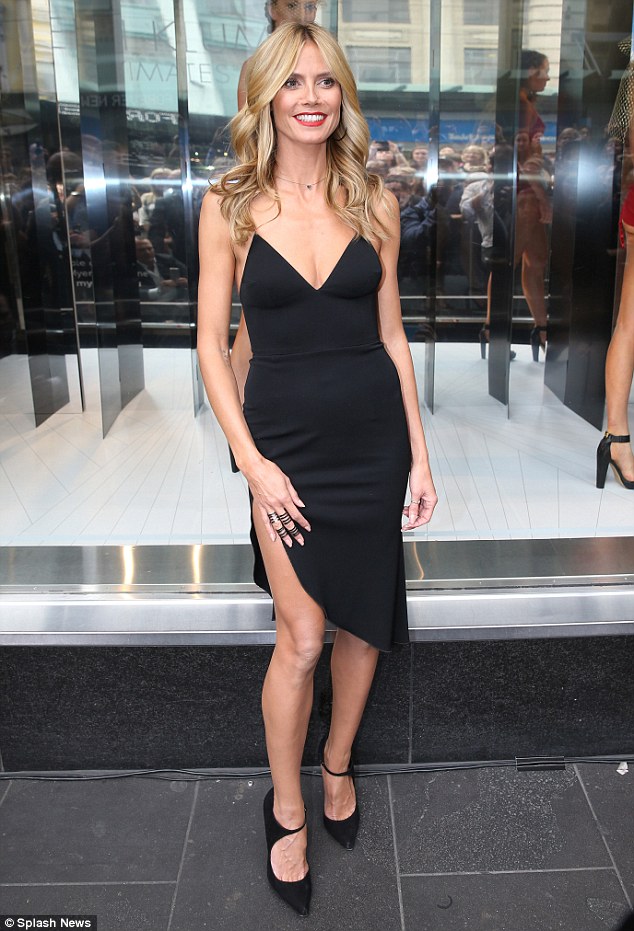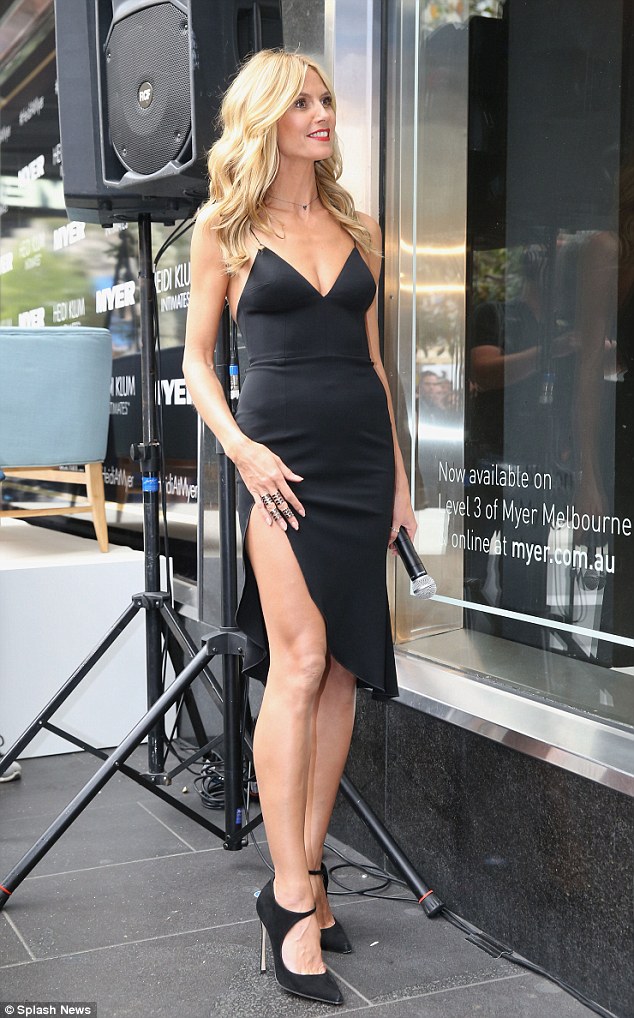 Heidi Klum tries to keep her dress from sliding up as she launches her intimate apparel line in Melbourne, Australia, on January 26, 2015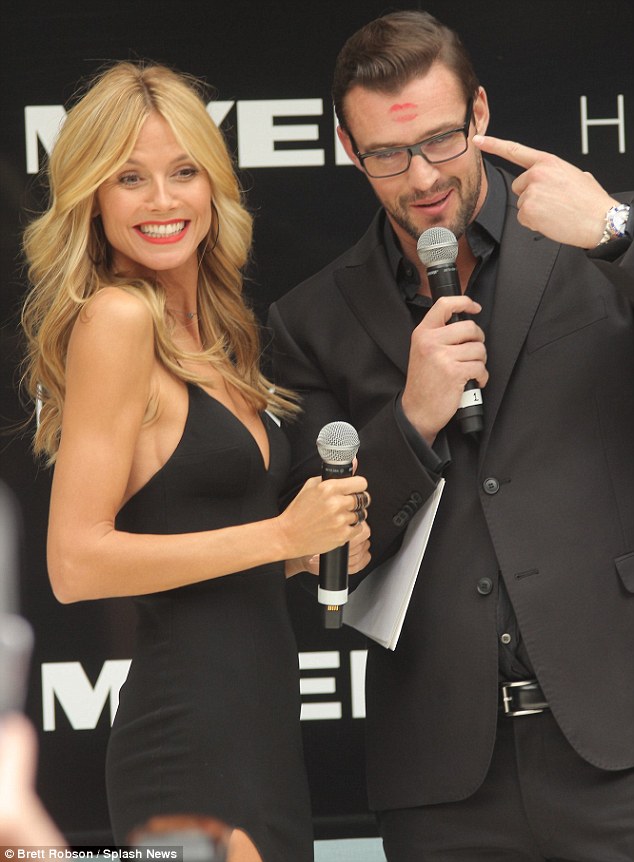 Heidi rains kisses on the MC, male model Kris Smith, while promoting the line
Like I said, you can't deny the fact that Heidi looks amazing. Yes, I see wrinkles and she seems to have lost some weight, but she's still gorgeous.
Plus of course, I love her outfit. Sometimes, she puts on risque pieces that are a little on the tacky side, but this all-black ensemble is a winner. It's sexy and elegant without looking cheap. I also like how she finished the pair with pointy ankle strap stilettos. The pair dressed up her frock and made it look classy.
I don't have the official details on Heidi's pointy pumps at the moment, but my hunch is they're the "Dali" pumps from Sergio Rossi. The style features a d'Orsay silhouette on the inner part of the shoe, while the outer portion follows a mary jane type of silhouette.
Aside from the distinct shape, the heels on the Dali are also hard to forget. They're slim and slightly flared at the bottom. Below is a closer look at the pair in Bordeaux and Dark Blue: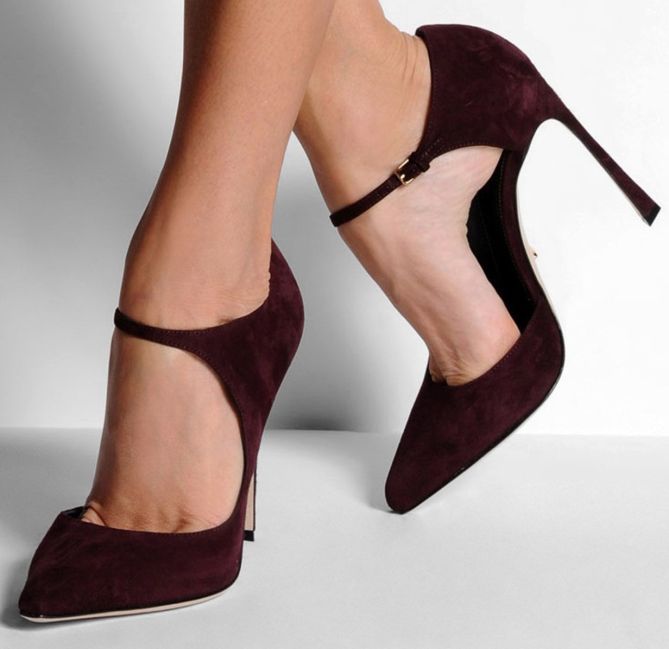 Sergio Rossi Dali Pumps in Bordeaux, $257 (was $695)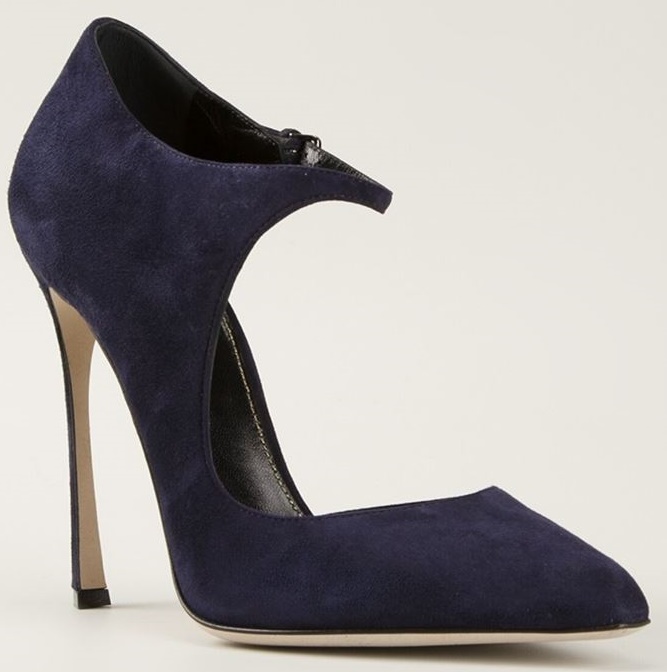 Sergio Rossi Dali Pumps in Dark Blue, $695
If you're crushing on the deep red variant, you're in luck because it's on sale. Sizes are broken, though. I couldn't find the Dali in black online, but the deep blue version looks just as classic. You can also grab these heels in nude over here.