Seems like it's the season of preggy celebrities! After Christina Ricci announced her pregnancy a couple of days ago, actress Hayden Panettiere also happily announced that she and fiance, Wladimir Klitschko, are expecting their first baby together.
The 24-year-old actress who got engaged to his boxer boyfriend Wladimir Klitschko (36 years old) last year after a series of on-off-on-again twists in their relationship. Hayden even admitted that she's so excited to start a family and felt like she was born to be a mother.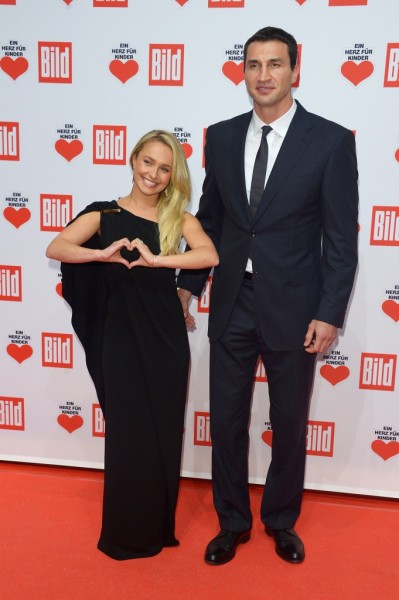 Hayden and Wladimir met in 2009 at a book party, dated for two years until they ultimately decided to split in 2011. In 2013, however, the couple reunited and decided they were finally ready to settle down with one another. The wedding, however, was put on hold due to ongoing civil unrest in Ukraine where Wladimir hails.

And yes, despite the quite big difference in their heights, the couple were able to co-produce a baby together!
So, are you excited for Hayden and Wladimir's baby?
Anyway, i'm not really a fan of Hayden's fashion but I particularly liked the Saint Laurent leather ankle boots she wore at the Late Show With David Letterman  a year ago. I also liked how she put the pieces of her outfit together that time.