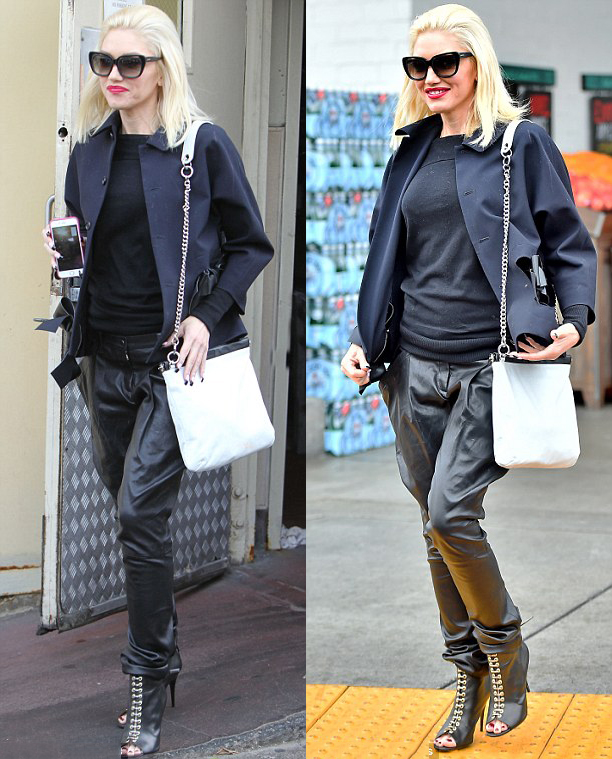 Gwen Stefani proved that she is indeed a pop star by pouring her sexy figure into that rock chic black leather trousers when she took her 3 boys to church in L.A on Sunday. The 46-year-old paired the racy, jodhpur-style garment with some black spike-heeled, peep-toe booties that are laced up to her ankles and a black jacket.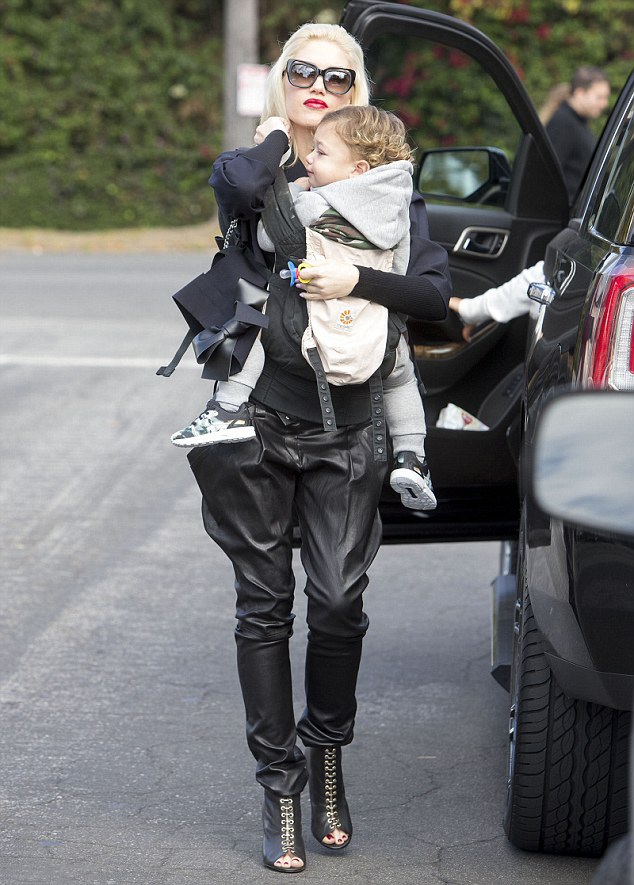 She carried a white handbag together with her precious baby, Apollo. The 1 year old and 6 month old baby was safely strapped into an Ergo baby carrier on Gwen's front chest. She kept a very careful hand on 9-year-old Kingston's arm and guided him up the steps as well as into church with 7-year-old Zuma leading the way. They were accompanied by Gwen's dad, Dennis, and then the whole clan went out for brunch right after the service.
They went into Nate 'N Al's deli in Beverly Hills and were seen leaving by the back door. Gwen seems to be trying to keep to the family's usual daily routine right after her split from Gavin Rossdale (her husband of 13 years) in August. Both ended the relationship after the Bush frontman cheated on her with Mindy Mann, their family nanny.  On the other hand, Gwen has found love in Blake Shelton (her co-judge on The Voice).
Meanwhile, she's back to her usual bright red lipstick on Sunday after choosing a softer look at the Baby2Baby Gala in Culver City. Gwen, Reese Witherspoon, Kerry Washington and Jaime King were among the many Hollywood celebrities who came out to support the organization that helps offer basic needs for the disadvantaged children up to 12 years of age. Gwen rocked a one-shoulder, lacy black frock with an asymmetrical nude underlay that may have been designed by Andrea Lieberman.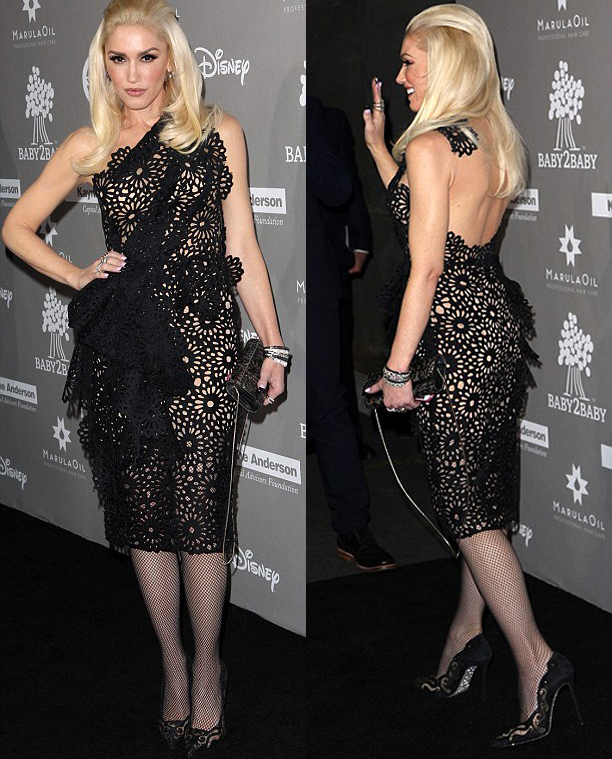 It may have been a few months of ups and downs for Gwen Stefani, yet she is still keeping her style on track. She wowed us in her all-black outfit which includes a black jacket and leather trousers that she finished off with some black leather peep toe booties from her own clothing brand, L.A.M.B. The chic 'Tony' peep toe boots ooze luxury with their opulent leather texture and the on-trend 'lace-up' detailing is actually made from metallic, so there's no laces involved. She is always tricking us. The good news is that you can snap up Gwen's exact booties here.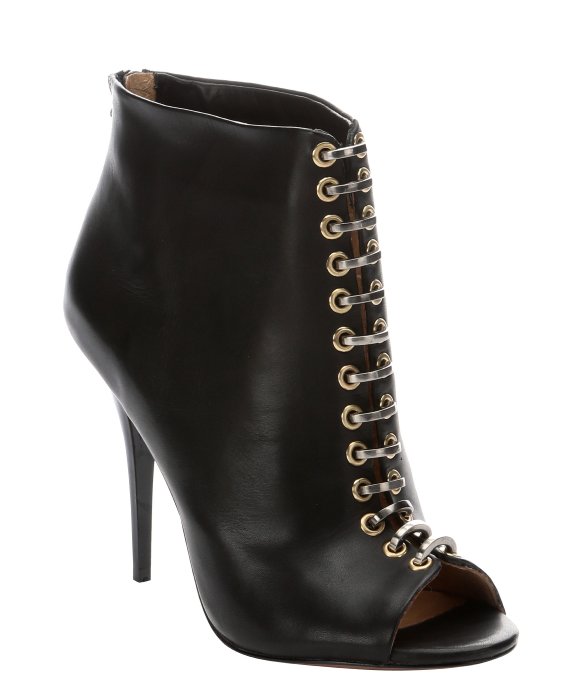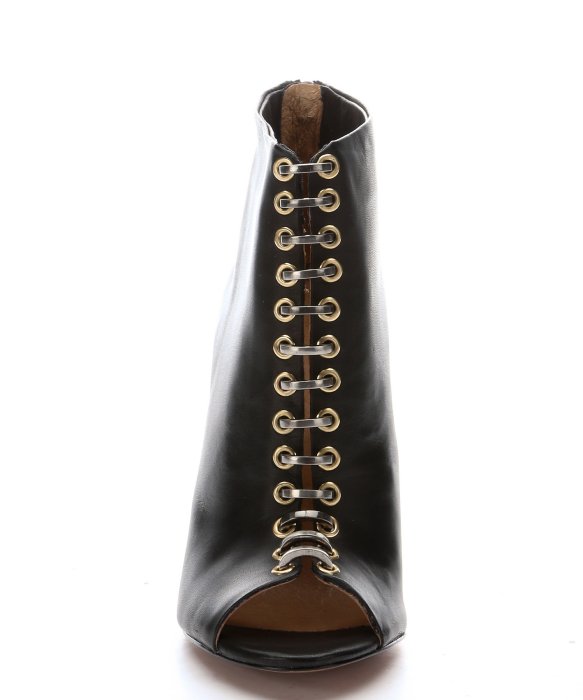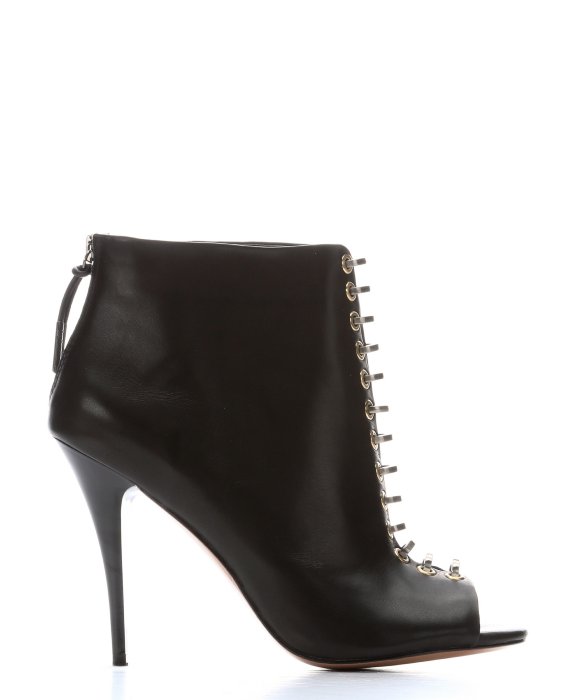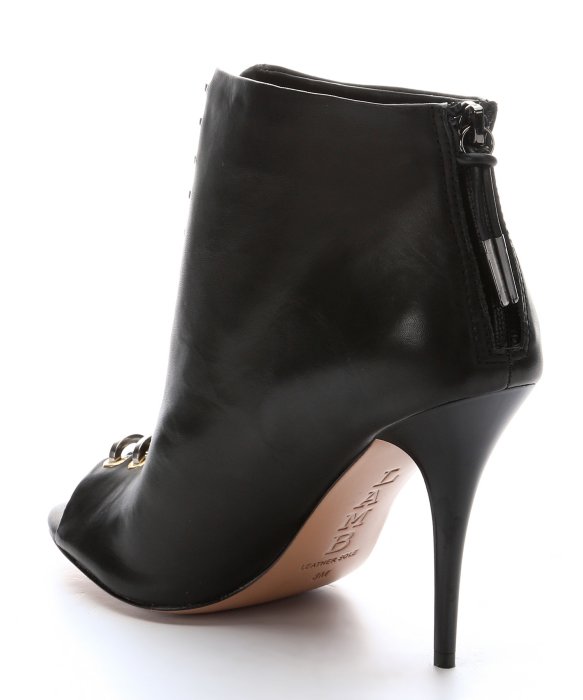 L.A.M.B. Black Leather 'Tony' Peep-Toe Booties