Gigi Hadid has been modeling since she was five, but it's only lately that people have come to know her — probably thanks to the show, The Real Housewives of Beverly Hills, and also due to the fact that she's close friends with Kendall Jenner and Hailey Baldwin.
Unlike most young models who opt not to push through with their education, Gigi actually had to finish college in order to pursue modeling — a condition her parents gave her since she started in the industry.
Besides landing gigs for countless magazines and brands, Gigi is also Ms. November for next year's Pirella Calendar. In it you will find other big-time models like Adriana Lima, Joan Smalls, and Natalia Vodianova all dressed in sexy outfits, but when it comes to fierce appeal, it's Gigi's November getup that takes the cake.
The leggy blond slipped into a black leather futuristic corset and spread her legs for famous fashion photographer, Steven Meisel, during the shoot. The shots are quite sensual, but also tastefully done.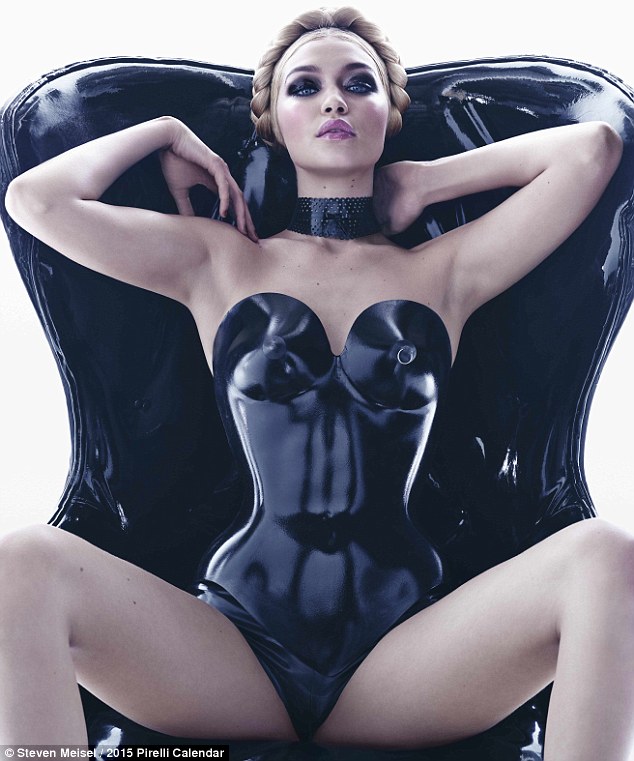 Gigi Hadid spreads her legs in a leather corset as Ms. November for the 2015 Pirelli calendar
Speaking of which, Gigi was also spotted attending the Pirelli Calendar party held in Milan, Italy on Tuesday. She stood out among the sea of models at the event thanks to the beautifully beaded and colorful outfit she wore for the occasion. The piece was cut low on the neck and short on the legs. She teamed the dress with a gold box clutch, diamond earrings, and a pair of glittery ankle-strap sandals. Simply put, she looked completely stunning in the whole getup.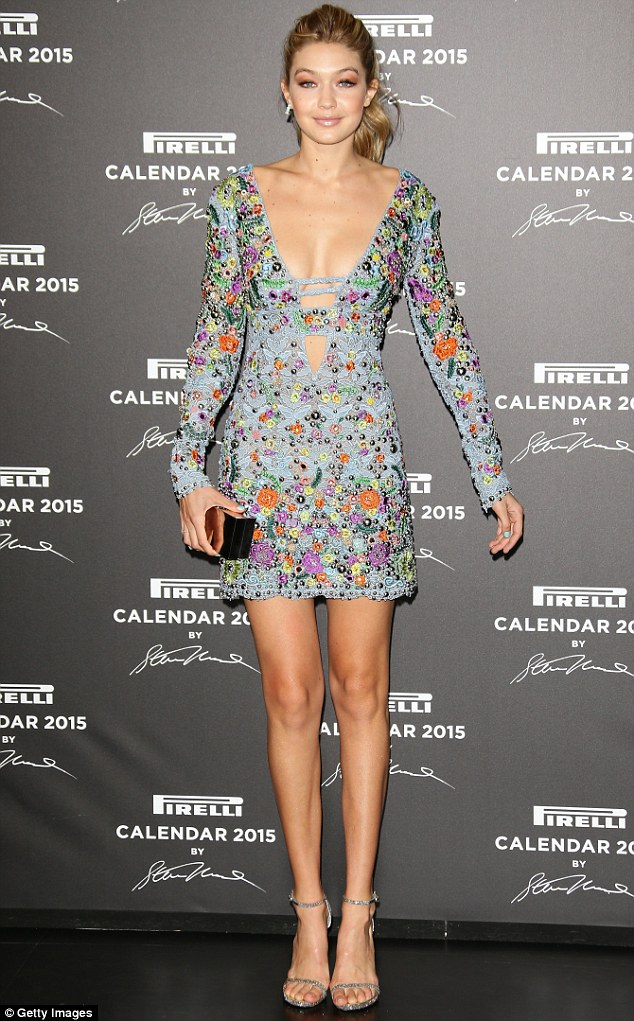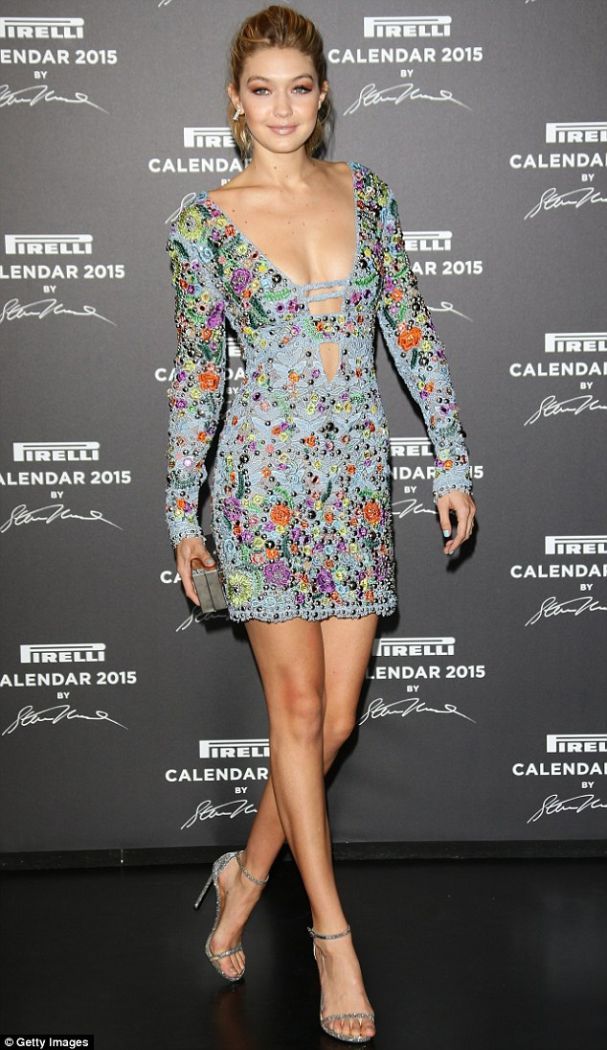 Gigi Hadid attends the Pirelli Calendar party held in Milan, Italy on November 18, 2014
Wow. That's a gorgeous dress. Would you agree?
I like how she kept the rest of her outfit simple. Her high heels, though sparkly, complemented the dress perfectly; and the same goes for the box clutch.
I've yet to ID Gigi's fancy frock, but I have a feeling her shoes are the "Nudist" by Stuart Weitzman. The style is a celebrity favorite because it is very elegant and flattering. Below is the Nudist in platinum glitter: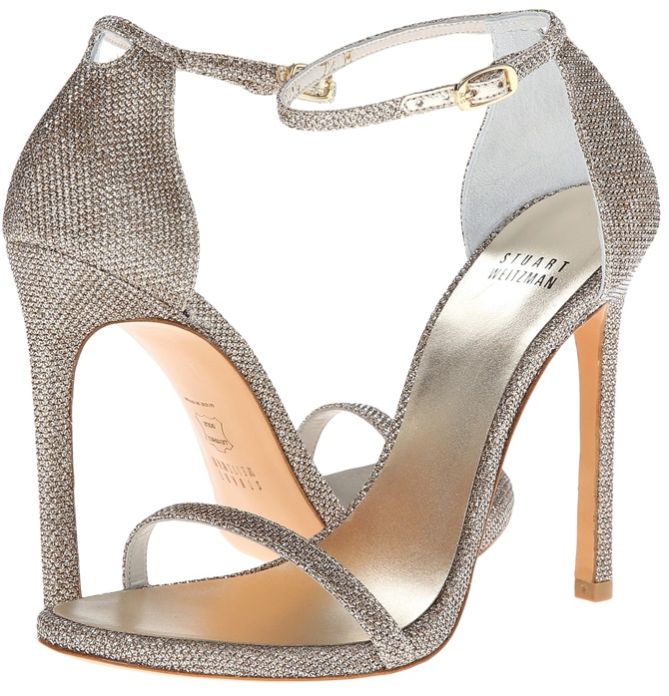 Stuart Weitzman Nudist Sandals in Platinum Glitter, $398
They feature slim straps and 4.5-inch-tall heels. What's great about these shoes is the price. They retail at an accessiible $398. That's not cheap, but not ridiculously expensive either.
I'm beginning to think Gigi has fine taste in shoes. Besides the ankle-strap sandals from the party, she also rocked a pair of super cool mixed-media booties while decked in a leather jacket and skater skirt early this week.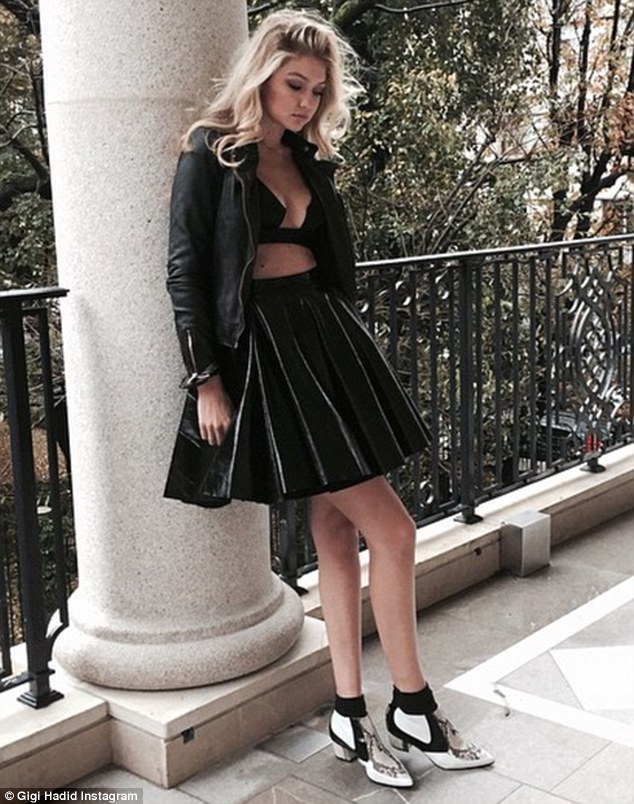 Gigi wears mixedmedia colorblock loafers with an all-black outfit before the Pirelli shot
I love those color block shoes. They look very familiar. Any idea where she scored the pair? I'm thinking Proenza Schouler, though I could be wrong.
I couldn't find anything similar to Gigi's booties. However, this pair from Jason Wu comes in almost the same silhouette save for the lace-up design. It's not as colorful, but I think it will do if you're into the look: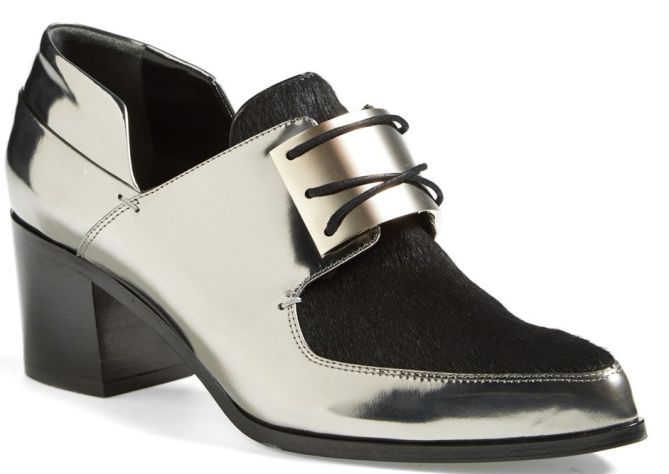 Jason Wu Metal Plate Laminated CalfHair Booties, $925