Fergie has been sporting oversized shirts lately. She uses them as dresses and pairs them with sexy high heels or  boots. While on her way to the iHeart Radio Music Fest in Vegas, she donned a large jersey and wore it with thigh-high sneakers. As soon as she hit the event, she slipped into another long top and wore another pair of thigh-high boots.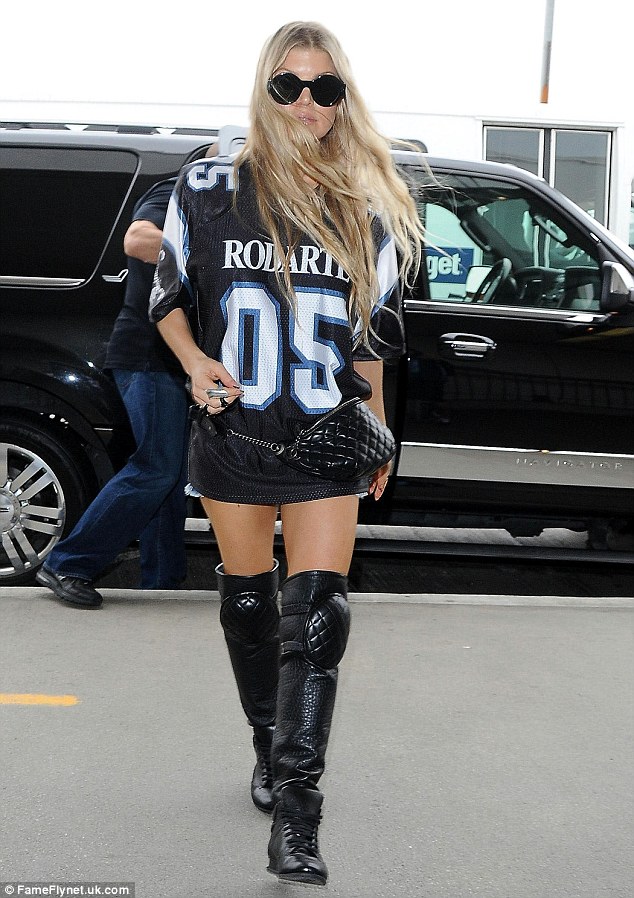 Fergie wears Chanel thigh high sneakers while arriving at LAX for her flight to Vegas, September 20, 2014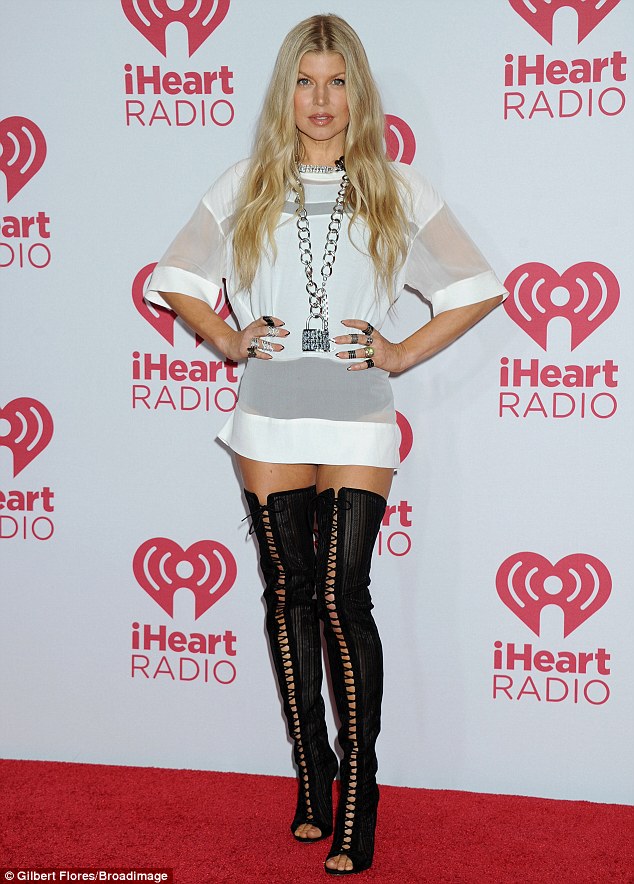 Fergie wears just a sheer top and some thigh high boots to the iHeart Radio Music Festival in Vegas, September 20, 2014
On Friday, the Black Eyed Peas vocalist stepped out in a similar getup — again. This time, she used a long jersey-inspired tank top and paired the piece with fancy gold-trimmed stilettos. Complementing the outfit were John Lennon inspired sunnies, a printed clutch, and a thick cuff bracelet.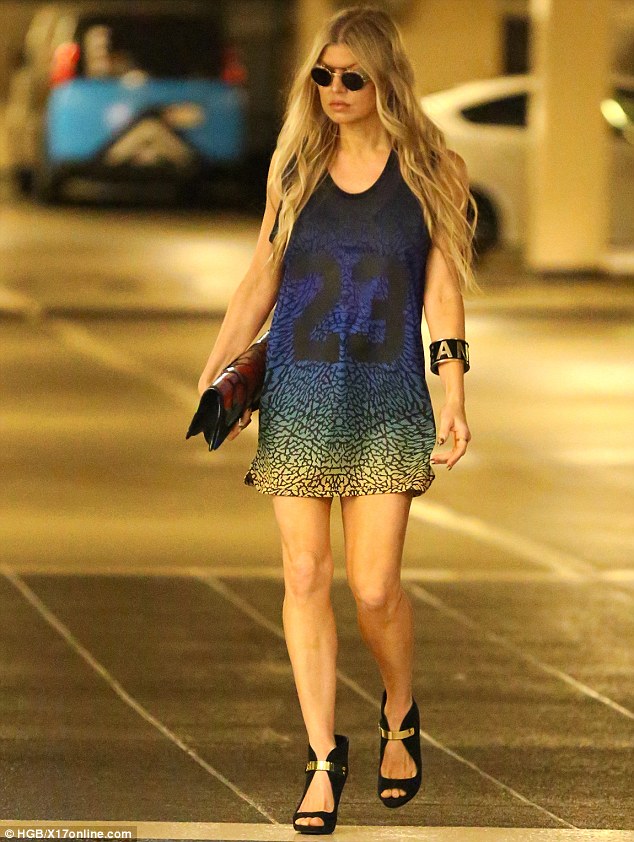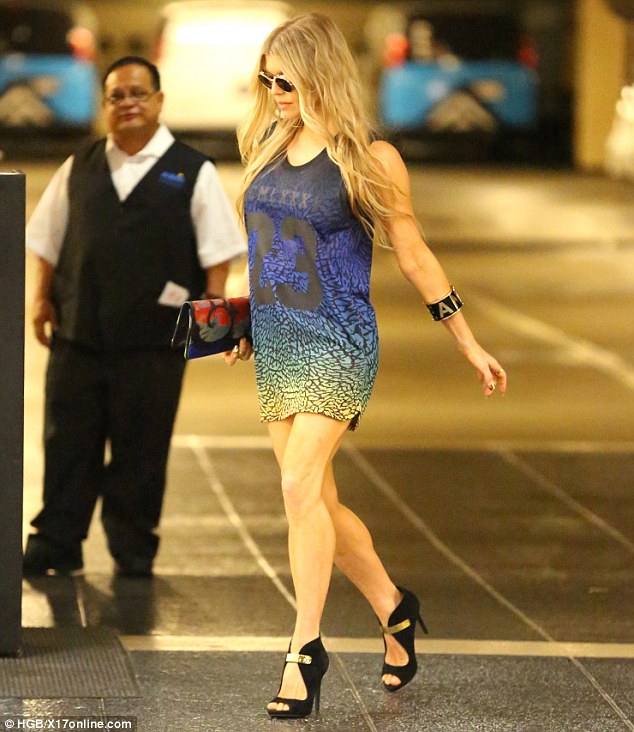 Fergie in a printed long tank top and gold-trimmed heels while out and about in Beverly Hills on September 26, 2014
What are you thoughts on Fergie's style these days, hit or miss?
If you're petite, I think wearing a top as a mini dress is nothing unusual. Of course, you do have to pick the right occasion to wear such an item. Personally, I think it's only best for casual getups and best worn with flats. With heels, however, it just becomes too sexy for me. Though I'm sure you girls have an entirely different opinion of it.
With that said, I thought I might share with you Fergie's fancy gold-trimmed sandals in case you want to get your hands on them. The shoes were easy to find. They're the "Remix" from her own footwear line, Fergie: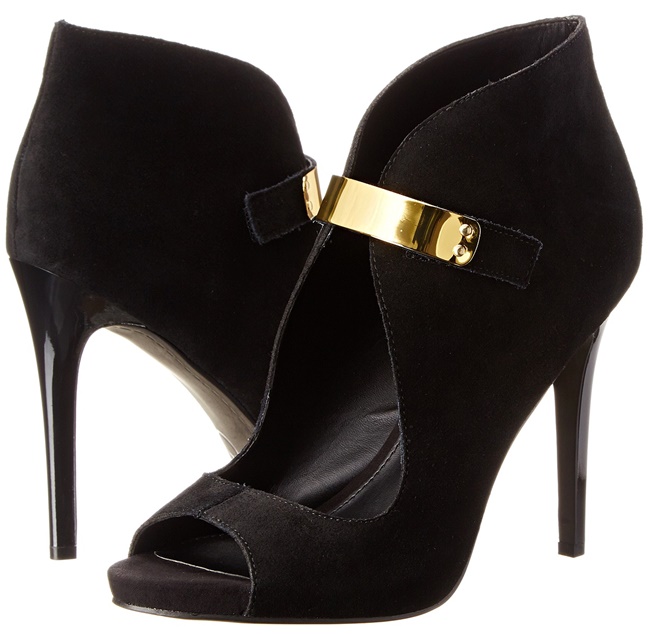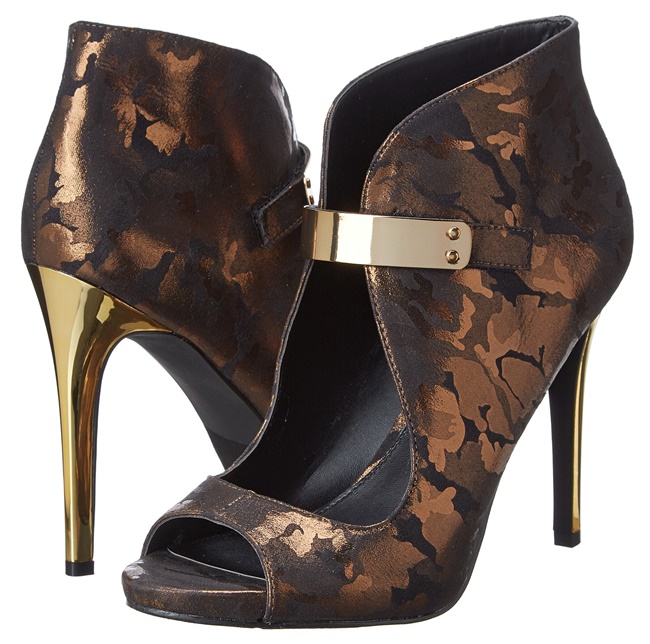 Fergie Remix Sandals, $120
The Remix feature suede or printed fabric uppers, 4.25-inch-tall heels, and a sexy bootie-like silhouette trimmed with gold plates at the ankles. If you want a pair, you can score them online for a can-afford price of $120. They come in two variations, black suede (as seen on Fergie) and printed bronze camou. Will you grab?