Is it just me, or do you also think Fergie is looking slimmer these days? It's like the Black Eyed Peas vocalist is trying to lose more weight — not that she has to, actually, because she already lost what she gained during the pregnancy and then some. Personally, I think Fergie looks better with a bit of meat in her body. It suits her face and frame. Besides, bodies that are all muscle aren't exactly that attractive.
Now speaking of Fergie, the singer was spotted showing off her famous legs while out and about in Los Angeles with her family over the weekend. The trio kept things casual for the day, with Josh and Axl both in pants and sneakers, while Fergie  sported skimpy black cutoffs with a red tank top. She also teamed the combo with a fannypack, dark eyewear, and matching metallic wedge sneakers.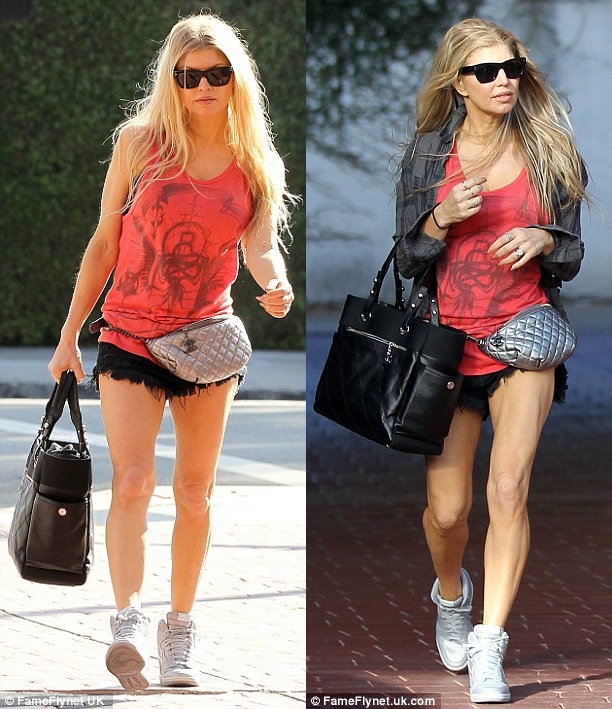 Fergie shows off toned gams in black denim cutoffs and metallic sneakers while out and about with her family (husband, Josh and son, Axl) in Los Angeles on Octobe 26, 2014
So what do you think, did she or did she not lose more weight?
I think she did, and I can't say I approve. She looks very trim and slim. Nothin' wrong with that, I guess. But I personally wish her legs didn't look so, er, ripped.
That said, I'm quite distracted by her matching accessories. How do you like the way she capped off the outfit with metallic extras. Do you approve?
Judging by the key chain, I'm guessing her purse is from Chanel. As for her silver wedge sneakers, those are from the Nike Dunk line. The pair features 2.5-inch-tall concealed wedge heels, textile and leather uppers, cushioning for support, and a classic lace-up design. I believe the style is sold out, so you'll need to get creative if you want your hands on the shoes. That is, if you haven't had enough of wedge sneakers yet.
You may also check out the Nike Force Sky High Sneaker Wedge that's currently available for purchase. Much like Fergie's Nike Dunk wedge sneakers, these feature 2.75-inch-tall concealed wedge heels and a straightforward lace-up design. Price to own is just an easy $85: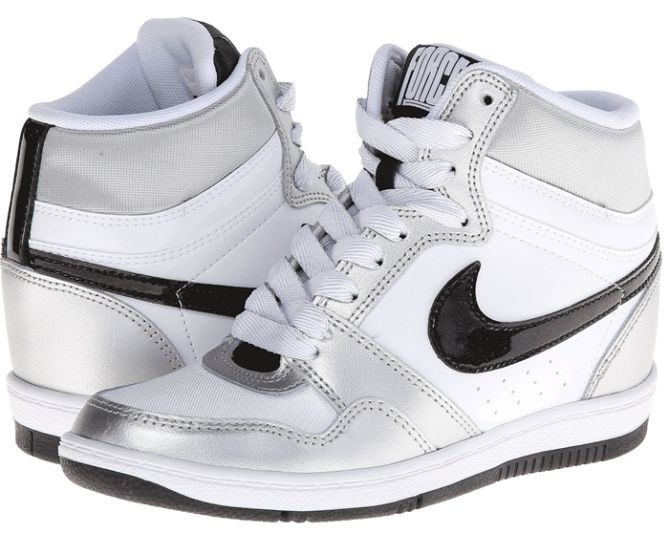 Nike Force Sky High Sneaker Wedge, $85