Knee high boots are flattering to petite ladies than mid-calf styles precisely because the latter will make them look shorter. The same thing applies to dresses. Knee-length dresses are generally more flattering to wear versus below-the-knee or midi ones.
This week, actress Eva Longoria, known for being tiny at just over 5 feet tall (she's 5'1"), stepped out in below-the-knee ensembles teamed with knee boots. On Tuesday, she wore a multicolored boucle type dress that fell just below her knees and teamed the number with black suede boots. She then topped off the combo with a long coat.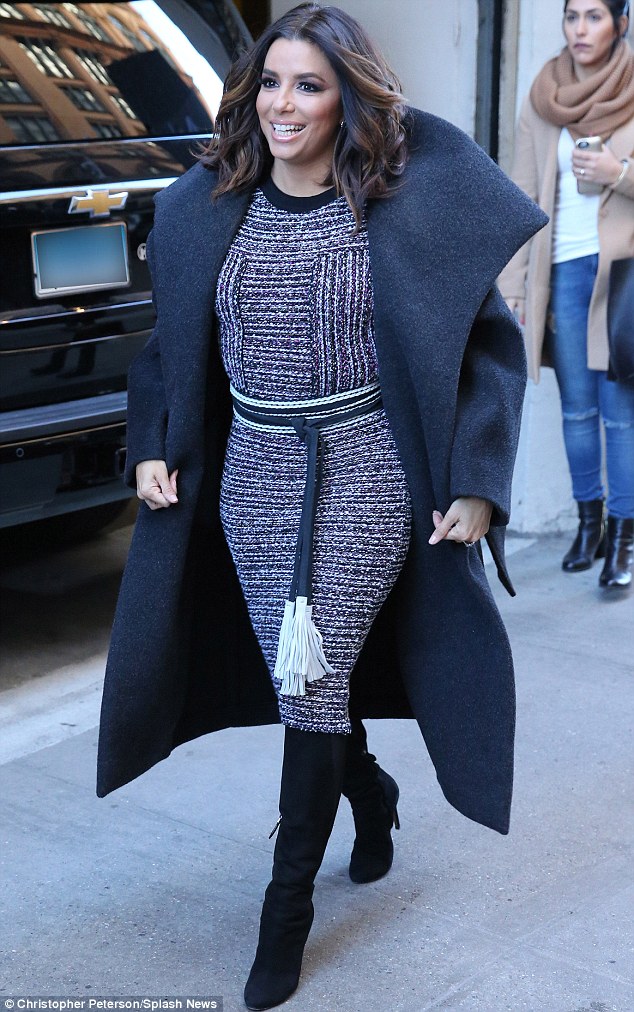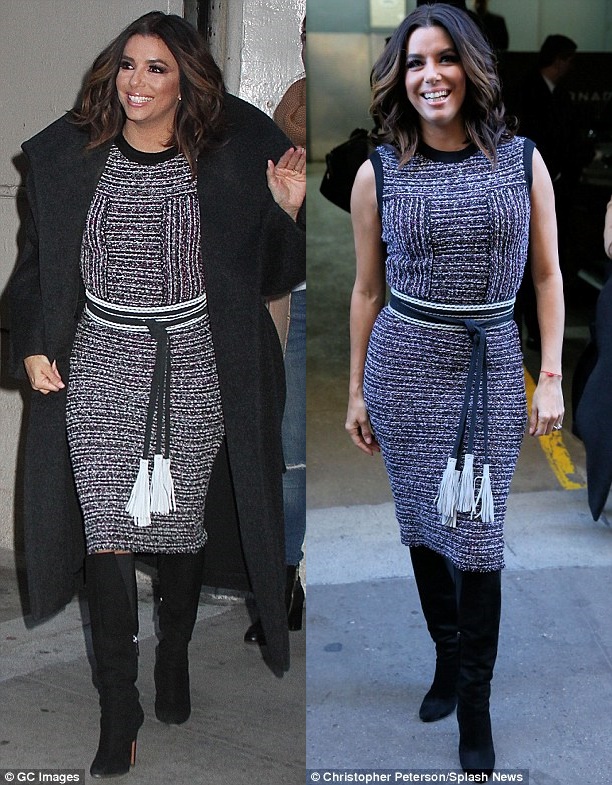 Eva Longoria steps out in New York City to promote her telenova on January 5, 2016
Come Wednesday, she used the same aesthetic, although this time, she wore a black below-the-knee leather skirt and peplum top with the boots.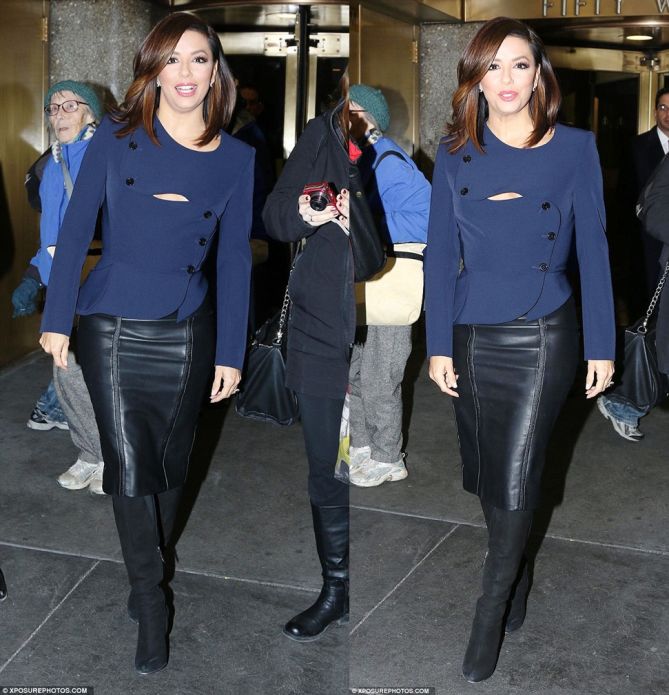 Eva steps out in another pair of boot-styled outfit on January 6, 2016
The question is pretty obvious here. Did the tiny Desperate Housewives star pull off the knee-boots-and-below-the-knee outfit combination or no?  Of the two ensembles, which one looks better on her?
I think she pulled off the first outfit, but the second attire made her legs look short. Would you agree?
Eva's first getup is by Salvatore Ferragamo while the fancy belt on her waist is from Maje. The frock is available over at MyTheresa. Be prepared to splurge, though, because it's very pricey: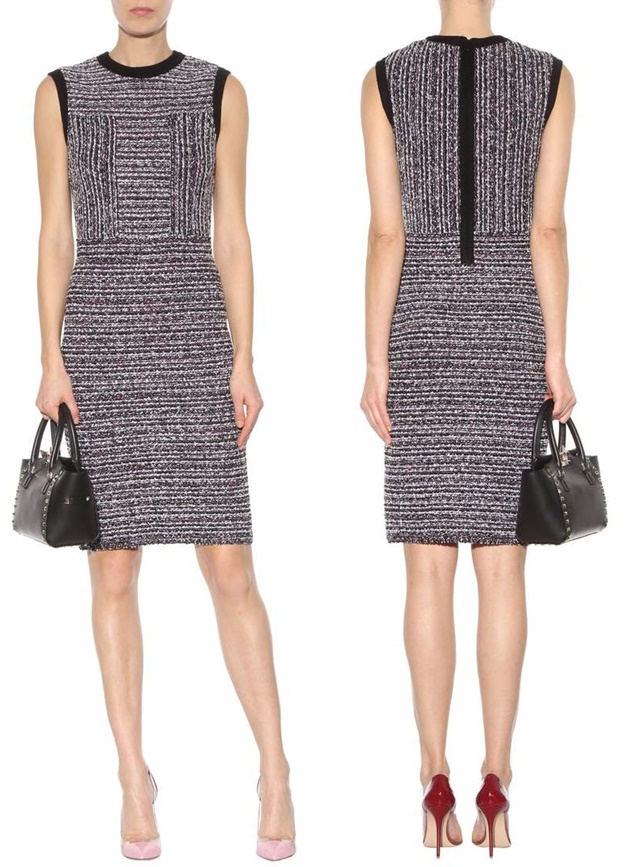 Salvatore Ferragamo Wool Blend Boucle Dress, $1430
I couldn't find any details on Eva's blue peplum top, black leather skirt, and black suede knee boots, but just in case you fancy the shoes, below are similar styles you can grab. The silhouette is very classic — pointed toes, zipper closures on the inner sides, and slim heels. Depending on your budget, you can grab the pair from Jimmy Choo or go  with the more affordable option from French Connection. Team with a knee-length dress to steal Eva's style.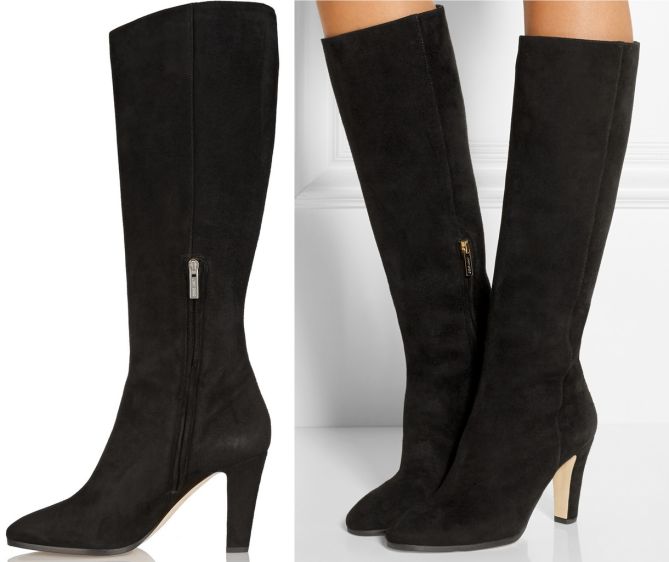 Jimmy Choo Suede Knee High Boots, $837 (was $1195)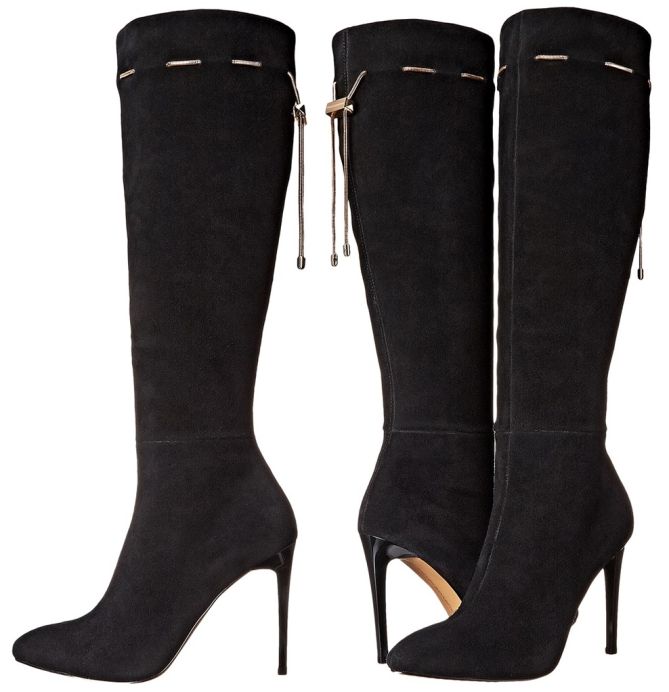 French Connection Monika Boots, $225