The 42-year-old actress is four months pregnant with the 49-year-old media mogul's child a rep confirmed to Us Weekly on Tuesday. That wasn't all the happy news as the insider told the publication that the happy couple are expecting a bouncing baby boy.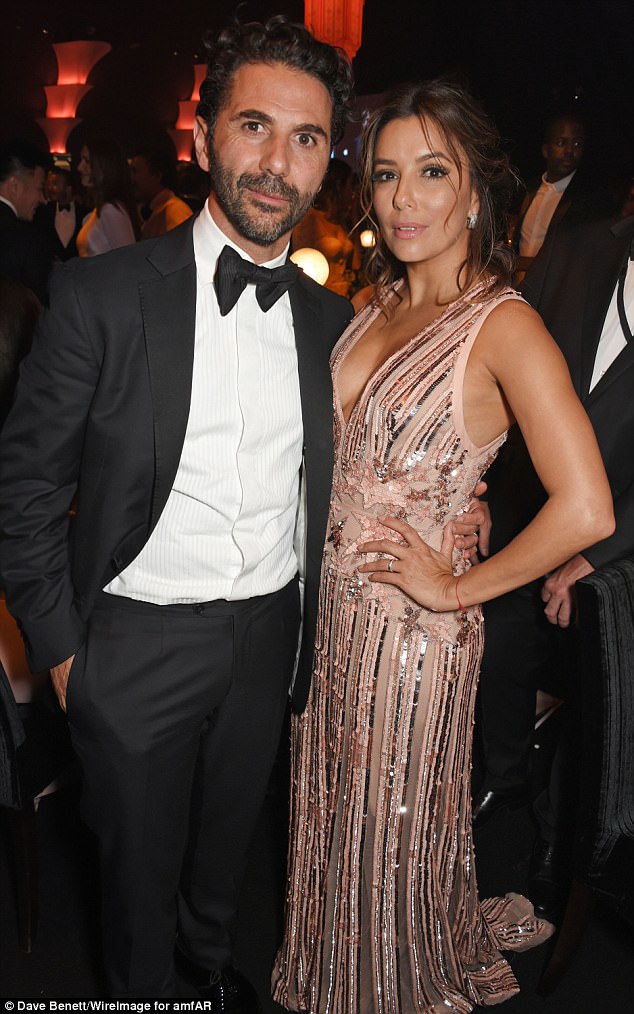 Baston already shares three kids – 22-year-old daughter Natalia and 14-year-old twins Mariana and Jose – with ex-wife Natalia Esperón. Unfortunately their son Sebastian tragically died days after birth in 2003.  Eva may have been hinting at her happy news just weeks ago at the L'Oreal Paris 12th Annual Women Of Worth Event on December 6. An insider told Us Weekly at the time that the former star of Desperate Housewives 'kept touching her stomach' while posing for photos.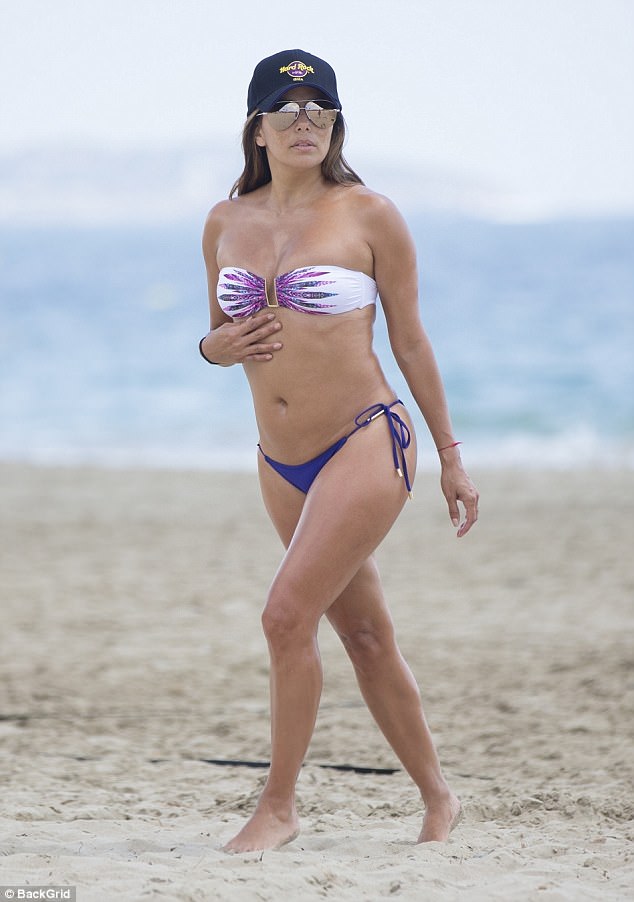 Eva last showed off her fantastic bikini body during a loved up trip to Ibiza, Spain in late July. The lovebirds could barely keep their lips off one another as they smooched on the beach. Months before that she had gushed to Us Weekly in February about Pepe as she called him an 'amazing dad' while talking about his selflessness. She said: 'You know, it's not even little things he does for me it's what he does for my friends, my family.'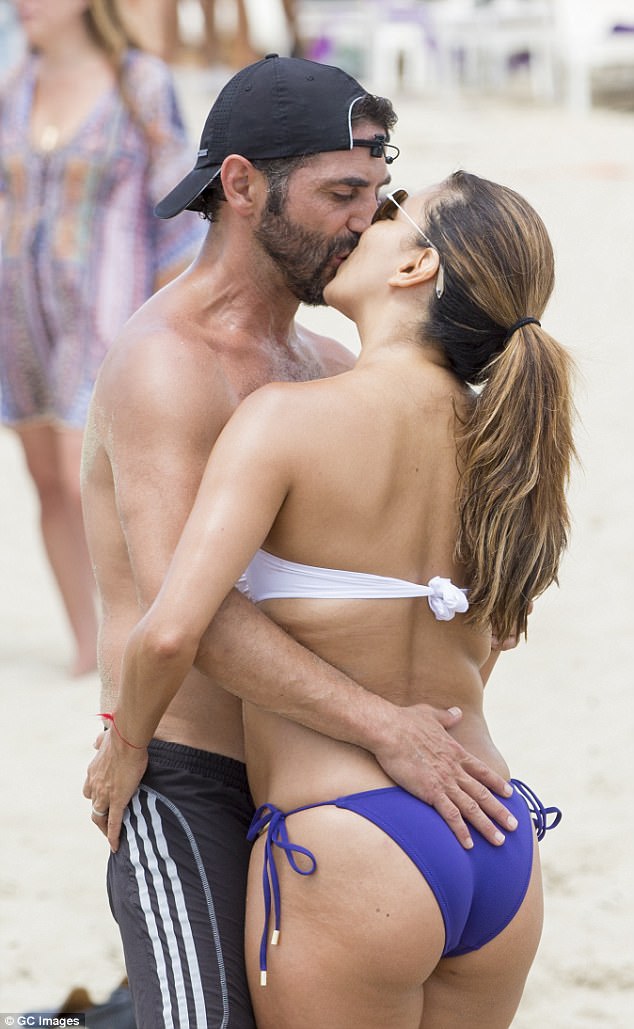 The lovebirds could barely keep their lips off one another as they smooched on the beach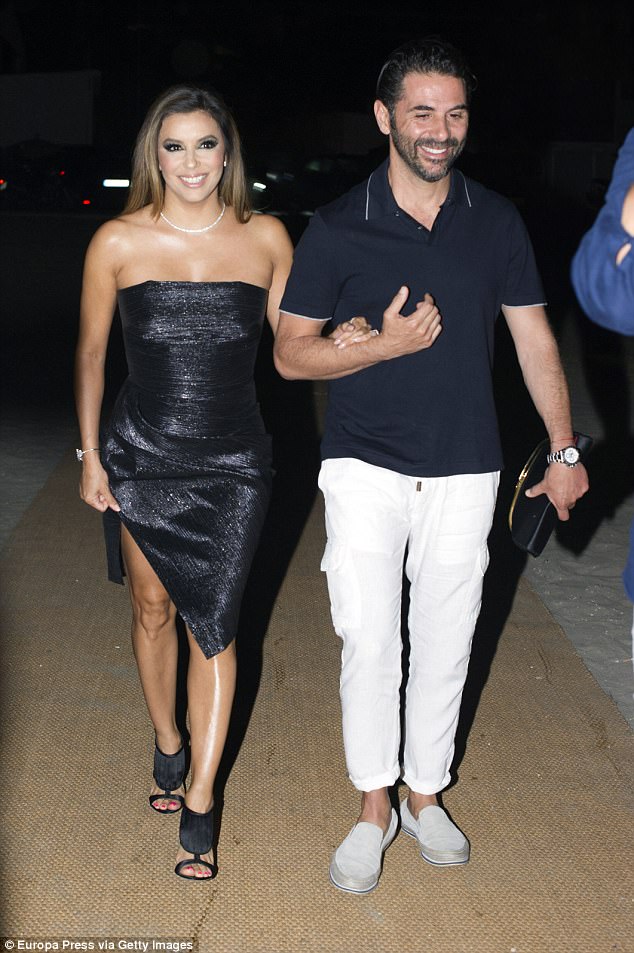 Eva said that her husband is considerate at all times including to waiters and valets at restaurants and elderly women who are trying to get in an elevator. She continued: 'And he's a very selfless person and he's an amazing dad, so his children are the most important thing to him and that's really beautiful to watch.' Two years ago in the summer of 2015, Eva questioned if it was too late for her to have children after announcing her engagement.'I just turned 40, so I have thought, "Is time running out?" Longoria told People at the time. 'I should be thinking about [children], but I feel like my life is full.'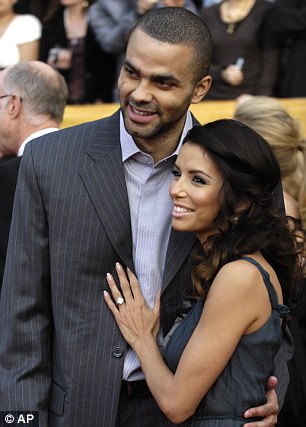 The two began dating in 2013 and were engaged two years later in Dubai. Eva and José tied the knot in Mexico back in May 2016, despite the star previously claiming to People magazine that she didn't think she would marry again. 'I'm not a fan of marriage; but I like being married to him,' she said. 'I never thought I would get married again. It's him, he makes it all worth it.' No doubt the president of Televisa changed all of that for Eva as she gushed about him and even called him 'soulmate' in an interview with Ocean Drive in October 2016. 'Pepe and I are soulmates — I don't even know how to explain it, because it's like we're two different sides of the same coin,' she explained. 'He's compassionate, kind, handsome — he's everything I wanted and didn't even know I wanted.' Eva has tied the knot before Baston as the star first married Tyler Christopher in 2002, before splitting two years later and wed ex-husband basketball player Tony Parker in 2007. She said in the same interview that she believes in their relationships and doesn't regret her past marriages. 'I think every relationship is a path to where you are today,' Eva said. 'Every wrong turn led you to the spot where you are, so it wasn't necessarily the wrong turn at the time. I wouldn't change anything — never.' Eva's acting career is still thriving as she has four projects on the horizon including comedy Overboard alongside Anna Faris which is set for release in April 2018.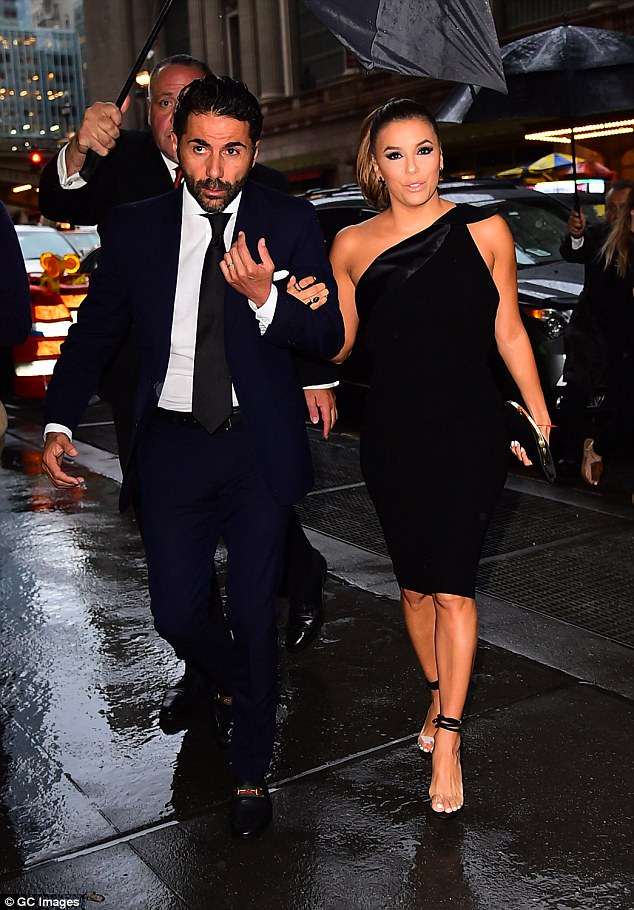 Eva gushed about the president of Televisa in an interview with Ocean Drive in October of last year, as they are pictured together back in August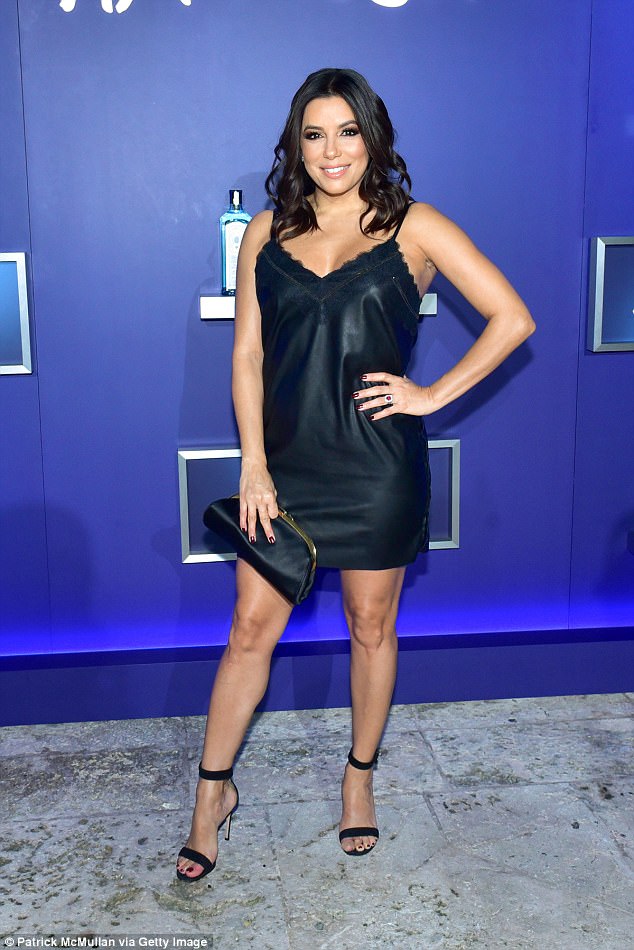 Eva looked absolutely gorgeous at the 8th Annual Bombay Sapphire Artisan Series Finale in Miami a week and a half ago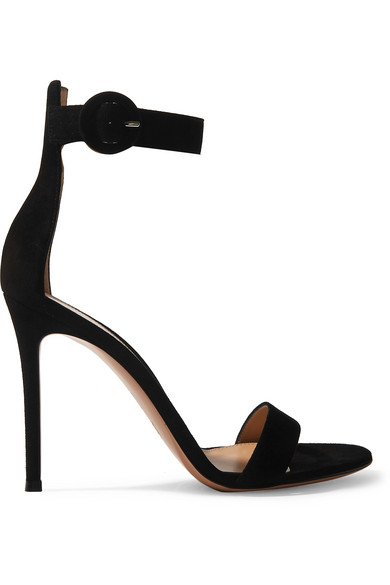 Gianvito Rossi's 'Portofino' sandals have been hand-finished in Italy from sumptuous black suede. This versatile pair has two slim straps that elegantly frame your ankle and toes and a chic '60s-style round buckle. We'll be wearing ours with everything from dresses to denim.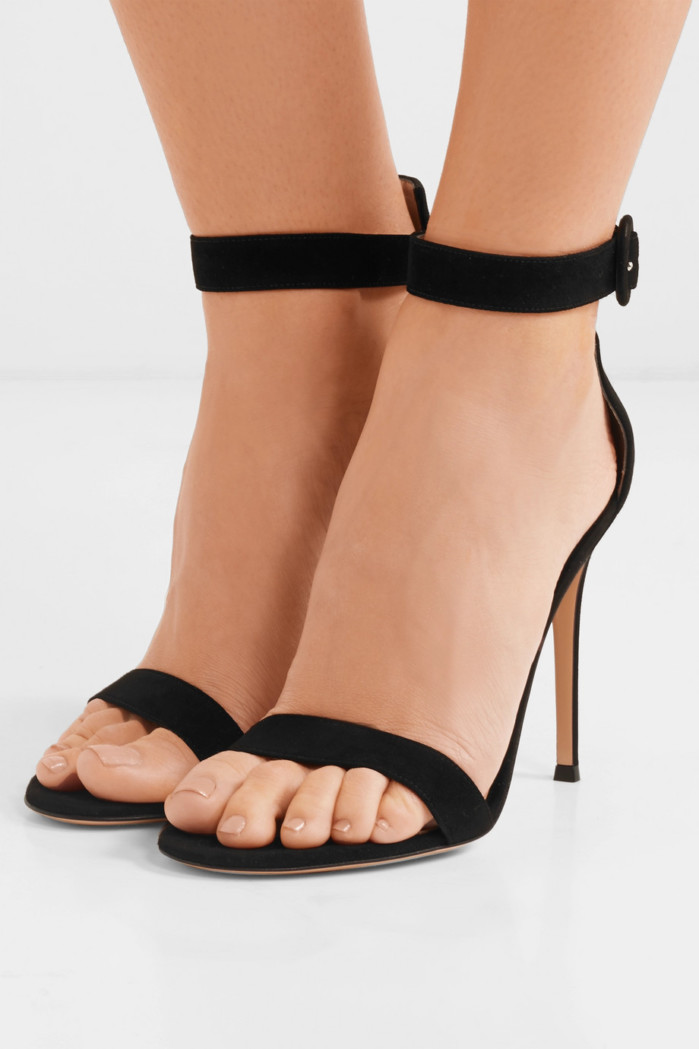 Eva's shoes feature a n ankle strap, closed back and a buckle fastening. Wear with skinny jeans and a simple vest top for daytime chic or a little black dress for evening. Sandals will work with virtually everything in your wardrobe.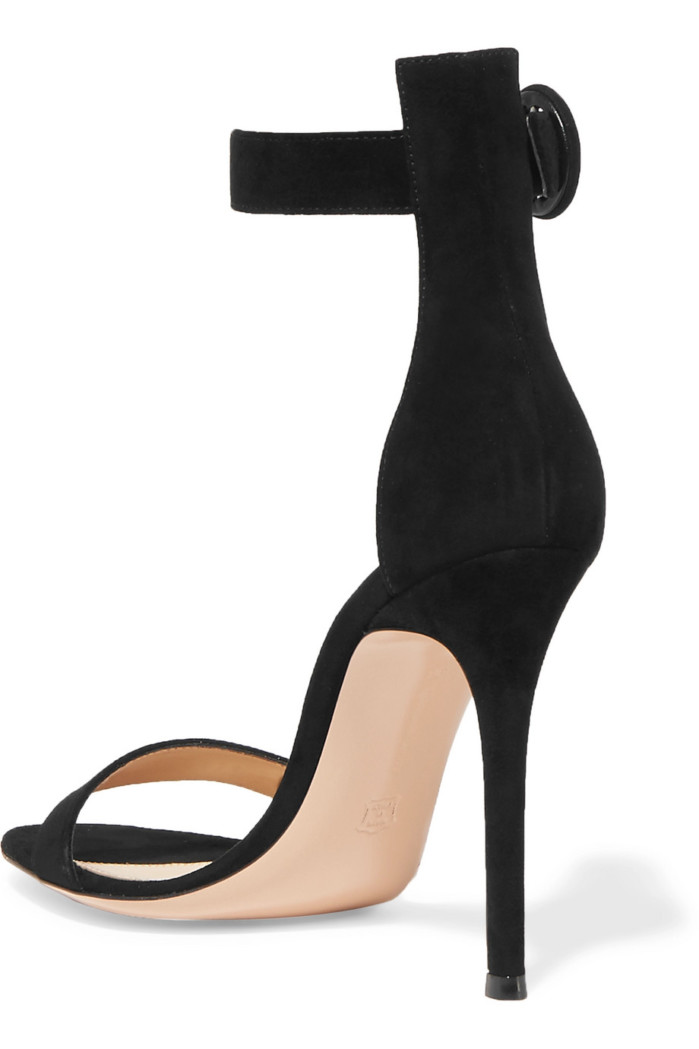 They're by Gianvito Rossi and are available to buy online now at NET-A-PORTER. Follow the link on the 'Buy' link to get your hands on them or for more choice, check out our roundup of similar styles in the carousel below: