Emma Watson usually looks on-point on and off the red carpet, but I found the outfit she wore for her plane ride to New York on Monday just a teeny tiny bit questionable. The actress opted for a monochromatic getup of black track pants teamed with a black-and-white striped tee and a black blazer. She capped off the trio with black eyewear, a black purse, and a pair of pointy ankle-strap flats.
The combination sounds elegant and fail-proof. But sadly, I think Emma failed to deliver in the "fit" department. As you know, when it comes to clothing, getting the perfect fit is the key to looking good. Personally speaking, I found her blazer a size too big, and mixing it with the track pants definitely did not help either.
Check out Emma below then tell me if you agree: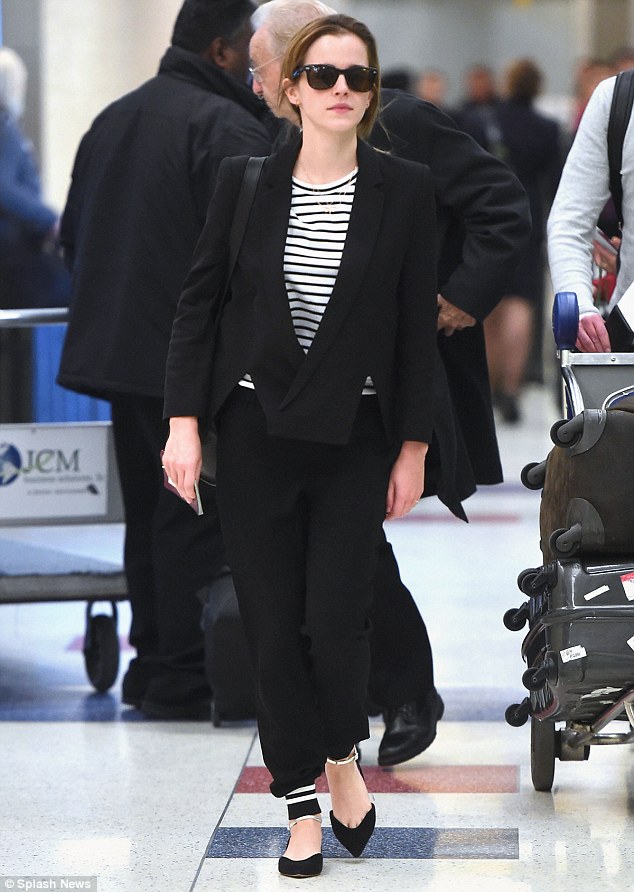 Emma Watson arrives at LAX in an all-black attire, April 20, 2015
How would you rate Emma's airport style? Did she nail the look or do you think the jacket is a tad big?
Perhaps if she wore skinny jeans instead of semi-loose track pants, this whole getup will look better even with a slightly big blazer. Would you agree?
That's not to say her blazer doesn't look fly.  I mean, the piece looks unique and edgy. You can score one for yourself if you want it. It's from Smythe, and retails for about $895.
As for Emma's pointy ankle-strap flats, I couldn't find any details on the pair, but they appear to be very similar to the "Vera" flats from Tabitha Simmons. Below is a closer look at the shoes:

Tabitha Simmons Vera Ankle Wrap Flats, $675
They feature very pointed toes and vamps that are notched at the center to flatter the feet. The Vera also comes in several renditions, from suede to smooth leather. You can find them online, they retail at $675. Will you grab?