I've always loved Emma Stone. Her acting in Easy A is totally remarkable for me, and I really find her funny in a cool way. But I love her even more now that she starred with her cute of a boyfriend Andre Garfield in the movie The Amazing Spider -Man 2. This couple is just a sweet and beautiful sight to behold.
Although not really admitting about their real status, Emma, with her cool composure, said in an interview that Andrew is an incredibly important person to her and that she's learning a lot of things just by being around him.
The couple are not only one of Hollywood's most adorable couples, but they also have the sort of relationship where they can call each other if one says something not good to the ears. Like during the Q&A session while promoting  The Amazing Spider-Man 2.  on their bullshit. Andrew made a misguided comment about femininity when asked how he got his costume. Andrew said he made it with his bare hands and he sewed it. He even added that sewing is kind of a feminine thing to do but he really made a very masculine costume.
Instead of letting the comment slide by, Emma turned the Q&A panel into an important teachable moment. She stopped her boyfriend and asked: "It's feminine, how?" The actress then further pressed her boyfriend to explain himself and in the end, Andrew acknowledged that even men all have their feminine side.
Indeed, the couple really looked comfy with each other. They' re like trying to keep the relationship low profile but because they're both sought after, it's really hard to keep it that way.
Just recently, the couple was seen walking cozily beside each other on a laid-back morning.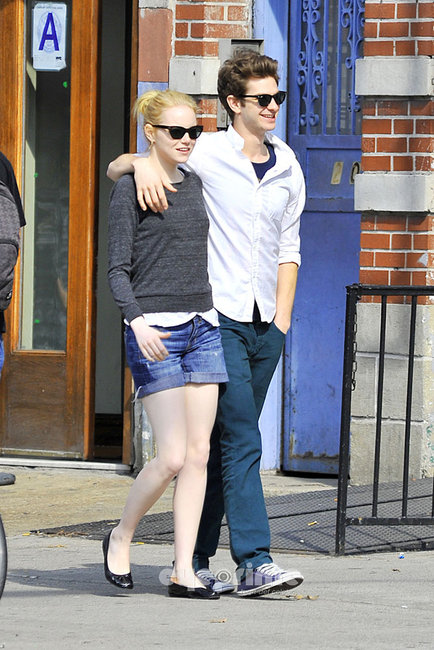 I like how Emma can make this simple outfit looked really cool.
Diggin' Emma's quaint but posh ballet flats? It's from Lanvin and it can definitely goes with any casual outfit you may have.
See, seemed like this flats is also Emma's favorite :)