Emilia Clarke sure is busy. The Game of Thrones star just wrapped up season 5 of the most-watched series on television. Instead of taking a break from work, Emilia has been busy shooting for her new romance film, Me Before You, which is also stars Hunger Games' Sam Clafin.
I'm not entirely sure what the film's storyline is yet, but Emilia's character will be using crutches in a couple of scenes in the movie. In an effort to get into character, the brunette beauty decided to limp and use crutches while out and about in London making appearances. I guess you could say she's serious about her job, noh?
But here's the thing, what struck me was how polished and put together she looked while she modeled those crutches. On Thursday, Emilia arrived at the KISS FM studios in a quirky baby blue frock detailed with appliqués of children's doodles. The drawings were beaded with sequins and they were quite colorful too. It was a really cute dress, and she teamed it with dark sunnies, matching black ankle-strap sandals, and a white Dior purse: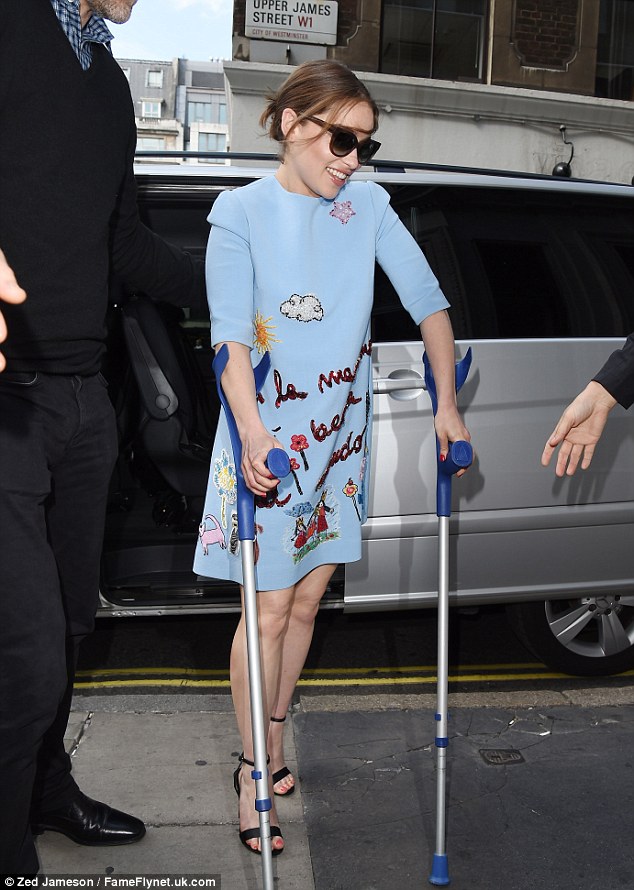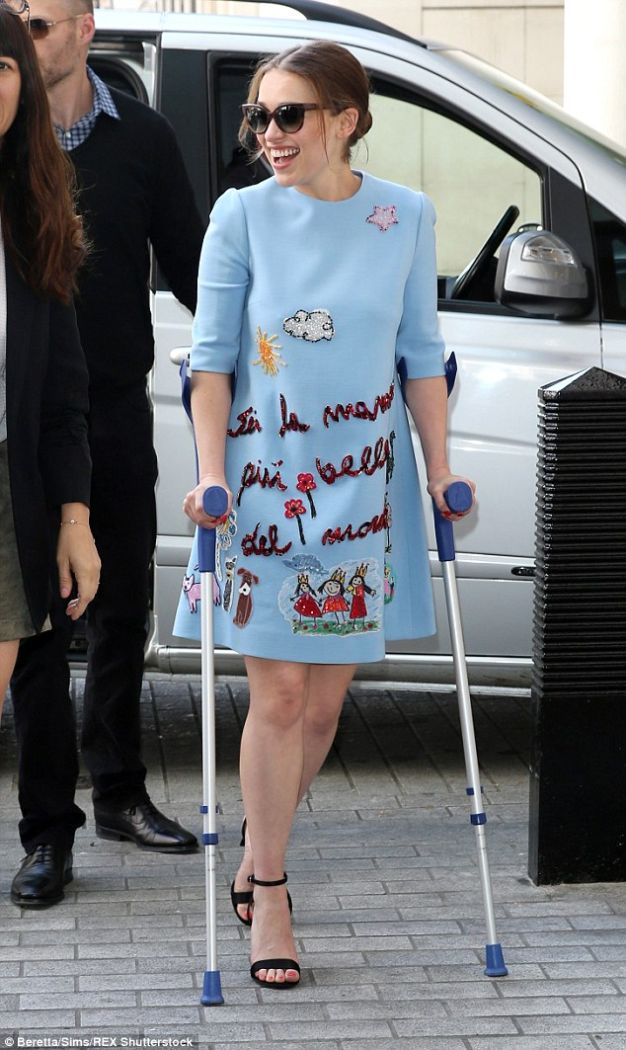 Emilia Clarke uses crutches as heads into the KISS FM Studios to make an appearance, June 18, 2015
Doesn't she look pretty? And doesn't that dress look super cute?
It's a piece from Dolce & Gabbana's fall 2015 collection. If you want it, feel free to pre-order the piece. I don't know who made her black suede sandals, but they look very similar to the "Daisy" from Jimmy Choo.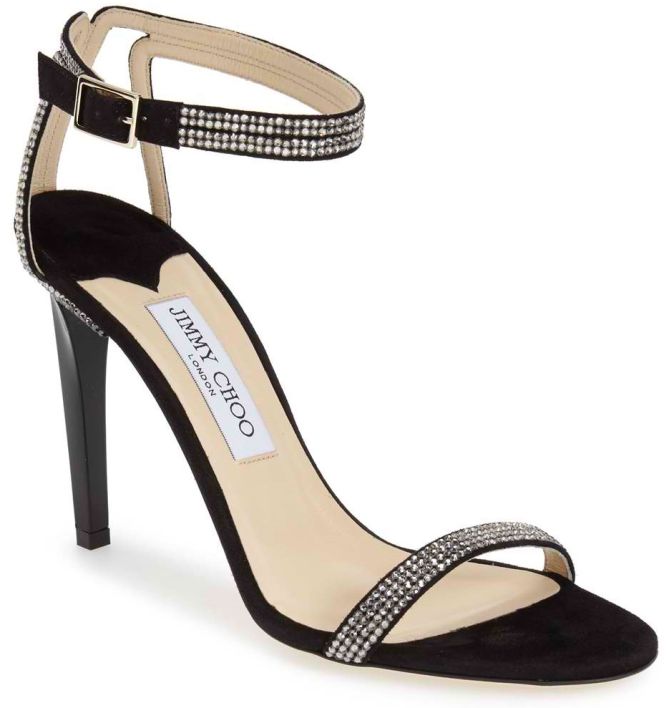 Jimmy Choo Daisy Crystal Embellished Sandals, $1095
I could be wrong, of course. After all, her dress is from Dolce, so the shoes could also be from the label. In any case, they're classic-looking so if you fancy them, you can easily find similar style shoes with a much more affordable price tag.
Besides, Emilia is here today NOT because of her black sandals. The shoes she wore soon after — a pair of tri-colored pumps that she sported with a yellow dress while making an appearance on The Graham Norton Show later in the day — were the total scene-stealers. They were retro-inspired and one of a kind. And yes, she wore them with crutches too.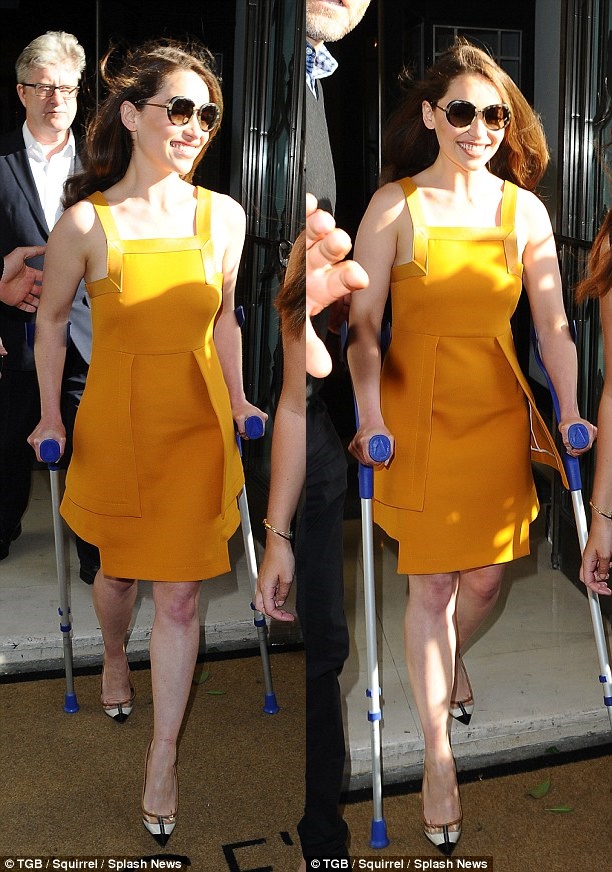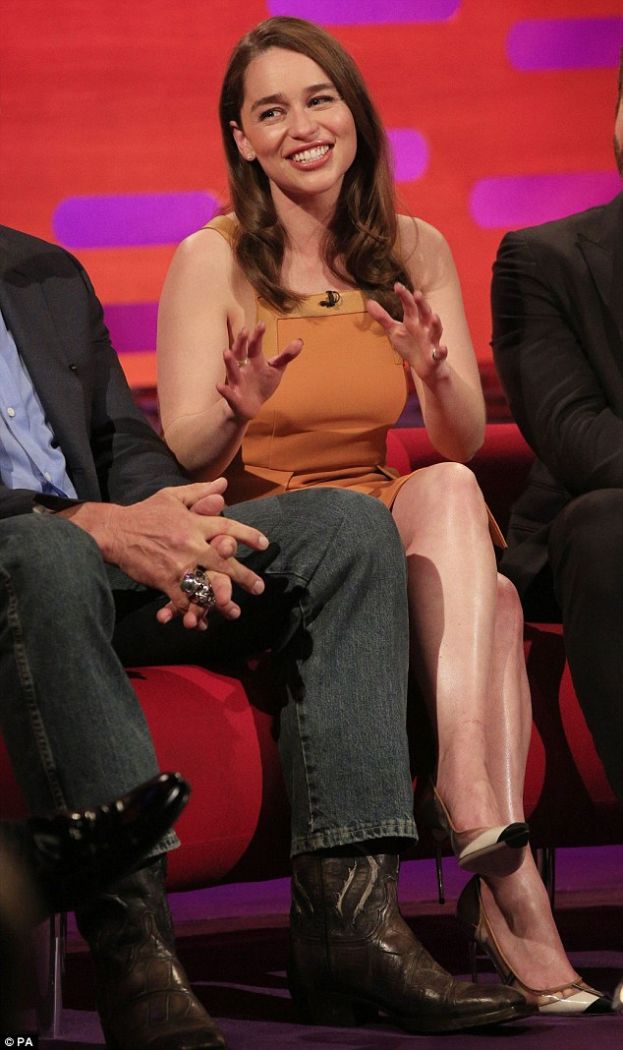 Emilia Clarke continues to wear her crutches as she switches into a yellow dress and some colorblock pumps for her appearance on The Graham Norton Show, June 18, 2015
I love the Dolce & Gabbana dress, but her colorful pumps are the winner between the two pairs she used for the day. Sadly, even though I tried, I couldn't find any leads on the shoes. I did, however, come across similar styles from Manolo Blahnik and Diane von Furstenberg. Check 'em out below. If you fancy any of these pumps, grab 'em before they're gone. Team with a shift dress to steal Emilia's style.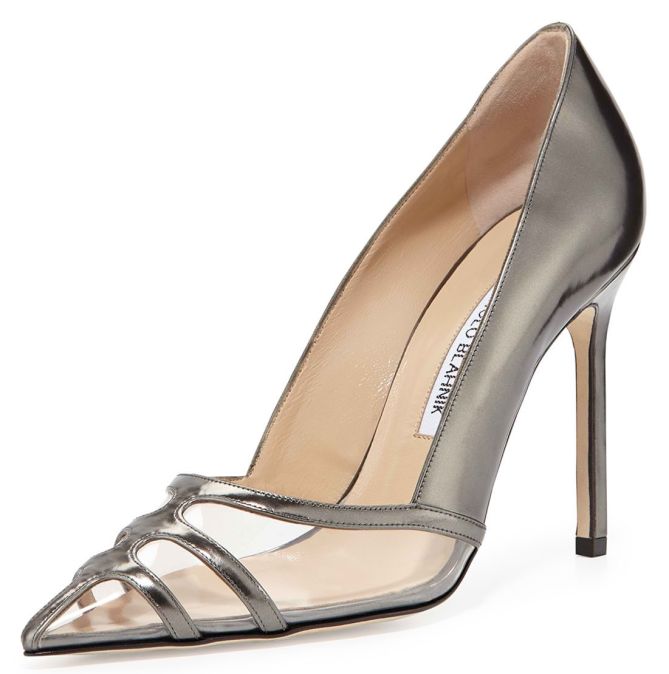 Manolo Blahnik Gotria Pumps, $392 (was $785)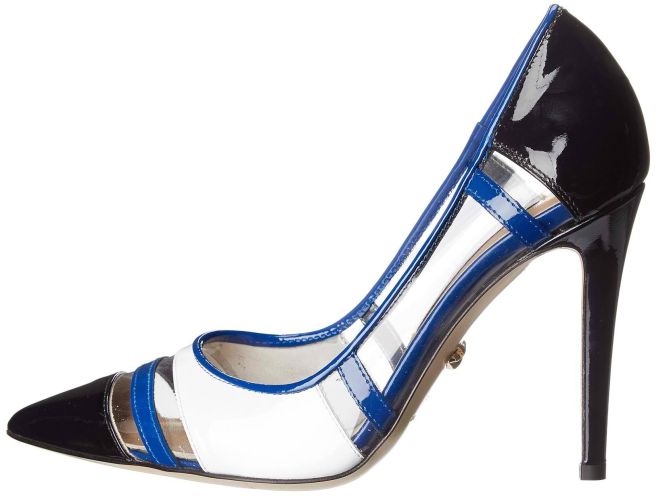 Diane von Furstenberg Becca Pumps, $350