To have the crooner John Legend as your husband is already a wonderful thing. But to have your husband be proud of you and show you off to the world is a blessing!
And perhaps, that's what Chrissy Teigen is feeling whenever John Legend brings her to a red carpet event, arms crossed in her, as if telling the world that "hey! this girl is definitely mine!"
Well, why not? Chrissy has definitely everything that any husband would be proud of! She's got the looks and the fashion style that's certainly red-carpet-worthy.
Just recently, Chrissy turned heads again when she graced the 2014 Billboard Music Awards which was held at the MGM Grand Garden Arena in Las Vegas. Mrs. John Legend was absolutely one of the best dressed during the night as walked off the red carpet with her white silk off-the-shoulder mini dress by Fyodor Golan embellished with a graphic gothic wing print plus black and gunmetal embroidery from the Fall 2013 Collection.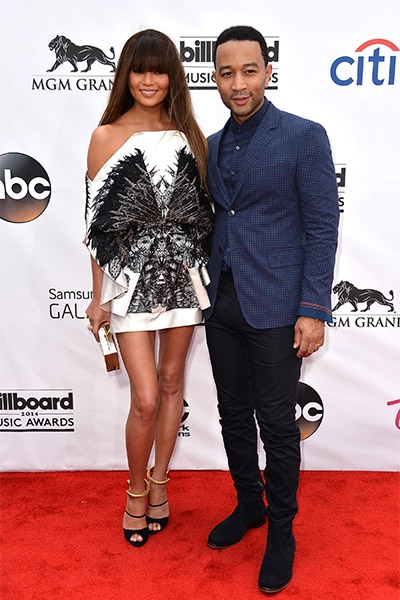 And notice Chrissy's "rawr" shoes? That's Guiseppe Zanotti's Nirvana sandals, baby! Don't they look so gorgeous on Chrissy's sexy legs? This sandals is from the Spring 2014 Collection of Guiseppe Zanotti featuring black suede, snake-effect gold metal ankle cuff and 120mm heel.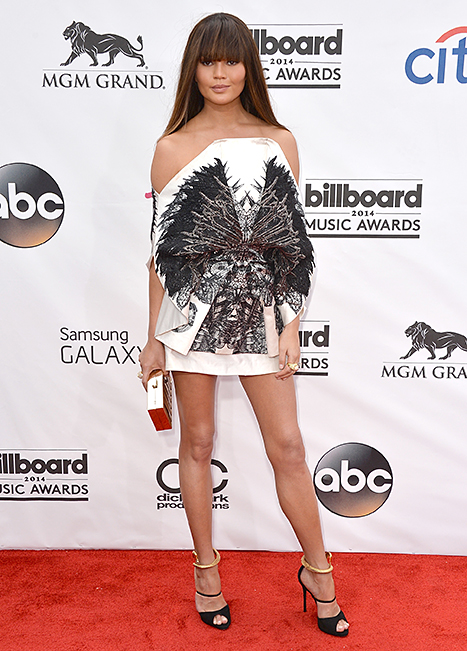 No wonder, Chrissy was a darling during the 2014 Billboard Music Awards. Mrs. Legend really got class and style!
Anyway, just in case you're fancying Chrissy's awesome Guiseppe Zanotti pumps, you can get it online at Shopbop.com.